Moser and Blazier break it down
Moser and Blazier break it down
Point/Counterpoint- Which Girls are Hotter?
By Moser & Blazier
There are certain topics that nobody should bother debating; religion, politics, how to make a peanut butter and jelly sandwich and in moto the debate that ends all debate- 2 strokes vs. 4 strokes. There are no clear winners with these topics, you end up talking in circles, argue until your blue in the face, emotions run high and feelings get hurt. We are not going to "touch" on any of those hot button topics in this Point/Counterpoint, no sir we are going to "explore" something much more significant. We are going to explore something essential to the health and growth of the moto industry- who is hotter, Monster girls or Red Bull girls? Mr. Tony Blazier and I have been trying to come together on an article for a while now.
You undoubtedly know Mr. Blazier for all his vintage videos, pictures and impressive moto knowledge, both vintage and present. If you don't already follow @TonyBlazier on twitter you should, because amongst all those moto pictures he also understandably has to slip in moto related eye candy, bikini/bike photo shoots, podium girls, and 30 second card holders, it's his obligation to adequately cover the sport. The gloves have come off the board has turned sideways let's get it on.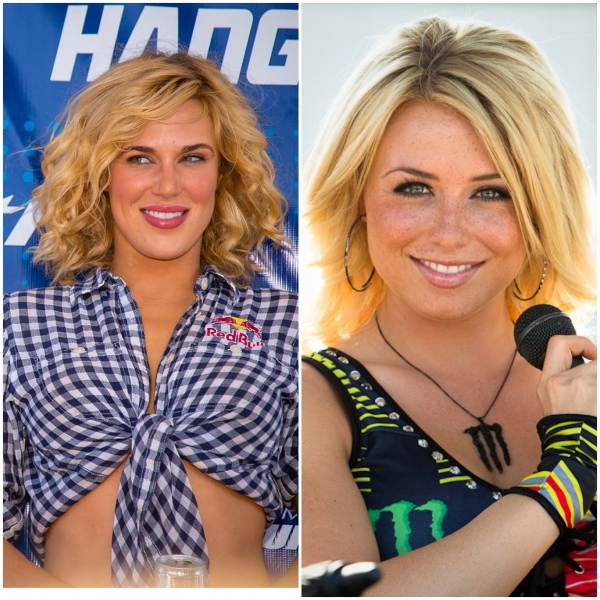 How do you like your hotties, down home wholesome or bad girl sexy? No matter your preference, the energy drink companies have you covered.
Blaze-Moser, I think you have hit it on the head with this one. While the energy drink wars get all the headlines, it's the energy drink girls that people actually care about. One look at Duke Finch holding up the 30-second board in a vintage motocross vid is enough solidify that point. Regardless of your preference for mood altering sports drinks, it is hard to argue the point that motocross racing has never looked better.
In my opinion, the question comes down to one point- who is hotter, the Dirt Shark loving hoochie mamas of the Supercross circus, or the farmer's daughters of the Great Outdoors? Each certainly have their strong points, but for me, it has to be the honey's that give you wings. This year, the Red Bull folks have knocked it out of the park with those plaid tops and Daisy Dukes. I mean for God's sake, does it get any hotter than a beautiful blond in a set of cut-off jeans shorts and a tied off shirt? It is an American as apple pie and MXdN victories. While I can admire the beauty of the girls in the patent leather mini skirts, they just can't hold a can of Red Bull to the hotties of summer.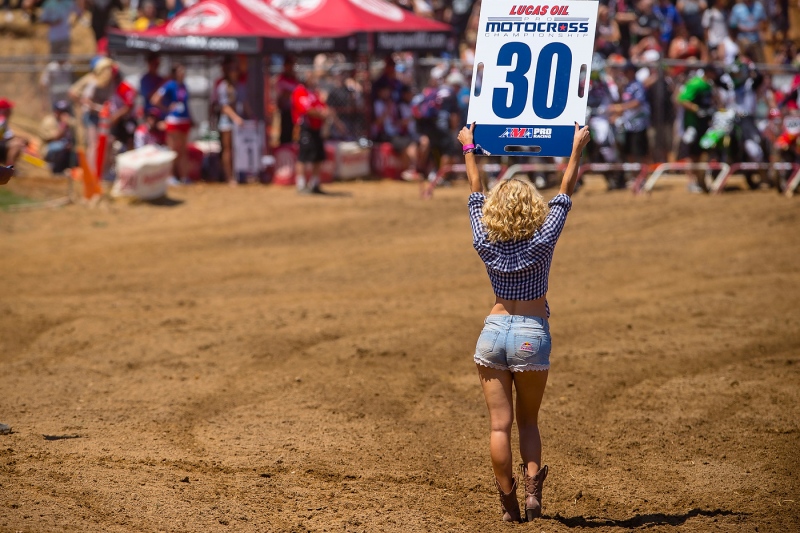 Call me crazy, but 30-seconds may be a bit ambitious. Jeff Kardy photo
Moser – Sorry Blazier you are way off base, sure the Red Bull girls in plaid shirts are cute, I'd certainly buy some peaches from them on the side of the road, I'd probably even tip them, but they are forgettable. Do you know even one Red Bull girl by name from memory? Even better, do you know any other girl promoting a product in the pits by name besides the Monster Girls? The Monster Girls are the Factory Honda of energy drink girls, they are the best "equipped" and will spare no expense on aftermarket parts to continue their rein of superiority. To use the man strength/boy strength analogy, the Monster Girls are real women (disclaimer not all parts of them are real) and the Red Bull girls are still in training bras. With the scarce amount of material used in these Monster Girl outfits it's nothing short of amazing that Kelly Louche (she runs the agency that supplies the Monster Girls) continues to find new ways to reveal more skin year after year. Hangout in the pits at a Supercross race and watch the rubber necking and jaw dropping that occurs when people walk past the Monster Girls usually followed by a guilty look, some pants adjusting and nervous sweating. The blue balls standard of energy drink girl hotness is the Monster Girls, stamp it.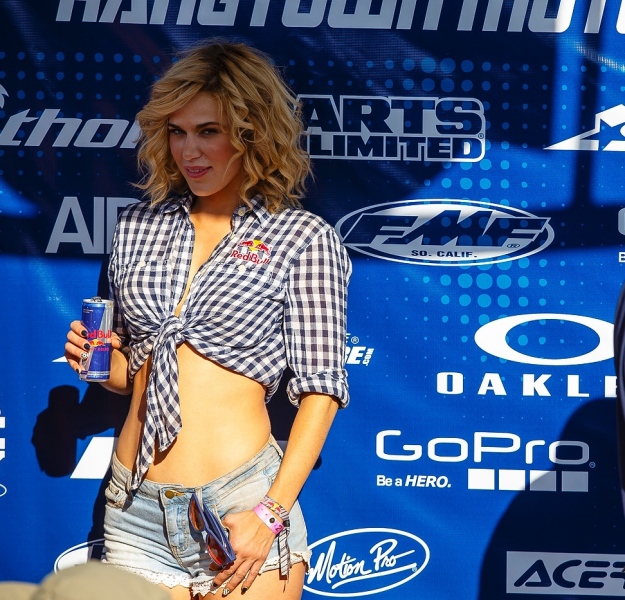 The Farmer's daughter look may be a bit of a cliché, but it avery hot cliché. Jeff Kardy Photo
Blaze- Ok Moser, I will give you that the Monster Girls are much better known. I don't think that is a function of their superior hotness, however. The fact that Monster Energy basically OWNS the Supercross telecast has more than a passing effect on their popularity. In the outdoors, we do not have a big name fitness model like Dianna Dahlgren talking to the audience between moto's. Instead, we get some clueless chick with a headset and a mic that thinks Marvin Musquin is Marvin Martian, blathering on about how Oakley just invented the tear-off.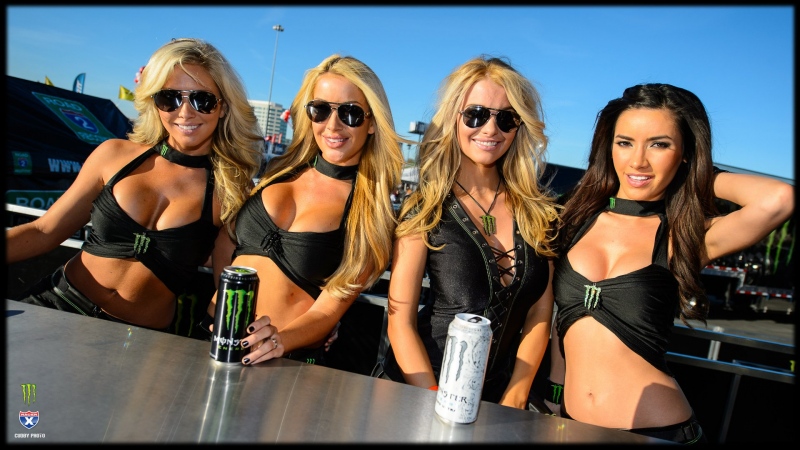 There can be little doubt, Monster Energy has quite the talent for picking lovely women. RacerX Cudby Photo
The Monster girls are featured at every commercial break, they are plastered in nearly every TWMX video and are the star of every creepy Dirt Shark video. That my friends, is called marketing, and Monster Energy pimps its girls better than anyone this side of Terrance Howard in Hustle and Flow (Its hard out here for a Pimp). Now, that is not to say that the Dianna Dahlgren is not smoking hot, because there is no doubt she is. All these women are hot enough to send you average 15-year-old boy into a testosterone fueled seizure. That is just my point. All this S&M dominatrix pseudo-porn is designed to get teenage boys into an energy drink buying frenzy. Personally, prefer my sexual innuendo a bit more classy and a hell of a lot more subtle. To continue your man/boy strength analogy: the Monster girl is a boy's fantasy, the Red Bull girl is a man's. I, being a man, choose the latter.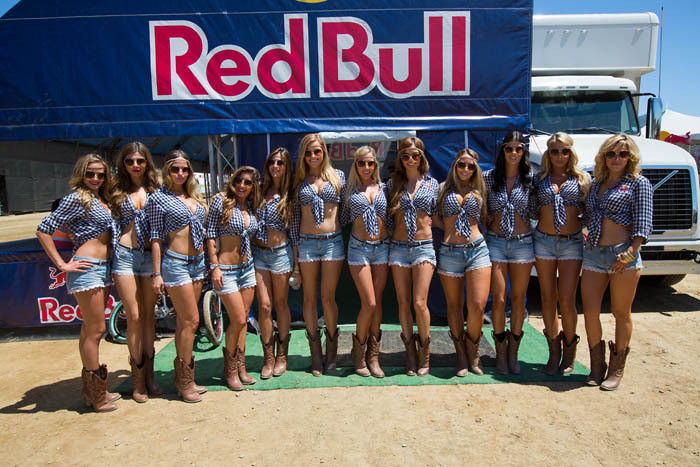 If Red Bull ran the agriculture department here in the USA, the farming industry would certainly be doing better.
Moser- I never said a Monster Girls was the kind of girl you would take home to meet mom. Classy and Monster Girls are two words that are not commonly used in the same sentence. The truth is, were not talking about classy or wife material here, we're talking about hotness. Professional motocross riders want to date and/or marry hot girls, that's what they do- insert Monster Girls. Broc Tickle married one, Tyler Bowers is dating one and the technology doesn't exist to tell us how many riders have tried to hook up with a Monster Girl. Have you seen the Red Bull girls in bikinis, lounging by the pool getting hit on by JT$? Oh wait, that's right, those were Monster Girls. A pool Blazier, they have a pool and bikinis, you can't top that, it can't be done. Look up hotness in the dictionary is says 1. Leather 2. Mini skirts 3. Bikinis 4. See Monster Girls. Is it over the top, borderline S&M/porn and setting unrealistic expectations for our youth? Absolutely, but sex sells. Red Bull may still be winning the war of energy drink sales, but they are trailing in the battle of T&A.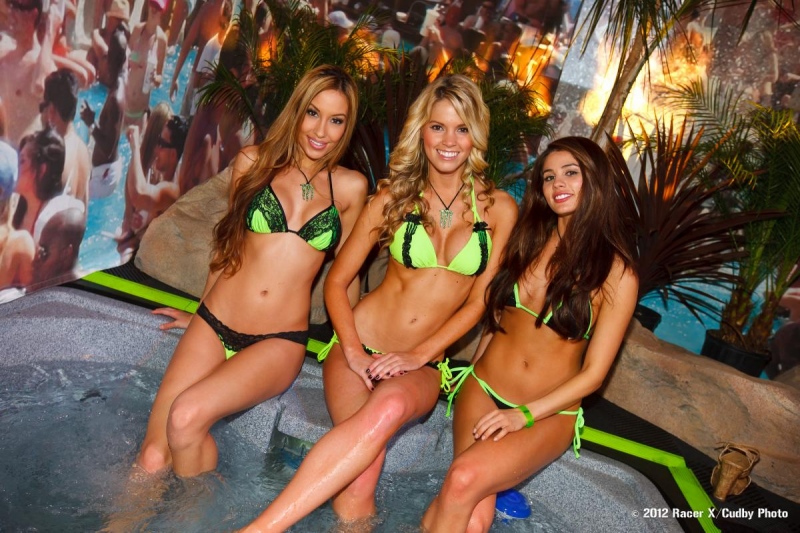 Nothing sells a can of sugar-water and stimulants faster than a smoking hot babe in a bikini. Ain't America great?
Blaze- If this was a contest of how many riders had hooked up with Pro Hoe's and Pit Tootsies, I would give it to you, hands down. In any contest of shacking up, Monster Energy wins by a mile. At this point, it seems any rider worth his salt has dipped his toe into one of those black and green cans. Sexual antics aside, however, I still say Red Bull has a better package. Yes the girls are not as well known, and yes, there are far fewer of them prancing around the races with their ass hanging out, but what few there are, define the words "smoking hot". There is an old saying- "a man's imagination is a woman's best asset".
With the Monster girls, there is no imagination at work. Their overt sexuality grabs you by the lapels and cracks you over the head like a ton of bricks. It's all fake boobs and latex clad tushies. With the Red Bull Girls, there is sexuality yes, but there is also a nice bit of innocence and intrigue built in. That farmer's daughter get up is sexy, without being brash and alluring, without being lurid. It is sexy and subtle, in a way Monster does not seem to get. Nothing fake, nothing false, just 100% American hotness in a package you could bring home to Mom. That, my friends, is what makes the Red Bull girls the hottest babes in motocross. Stamp it!