Some real great info in here
Some real great info in here
Andrew Short
Me: Your starts are hot and cold. They weren't bad in the second moto but they've been hot and cold. But still a good day for you.
Andrew Short: Second moto I actually came around the first turn in 3rd and went back pretty quick. JG had a big one in the whoops. I was trying to dodge him so I went back pretty quick. Second moto I definitely could have been a little more aggressive but finished strong. I tried to catch Reedy there at the end. I felt like today was pretty good. I was 7-8 for 6th I think. Good day.
Second moto Chad, you, Weimer, Nicoletti, all in a line for 30 minutes basically.
Yeah, Weimer was about to get me. I was pissed. I didn't know if it was him or Rattray and I actually stepped it back up. So I was pretty excited and kind of dropped those guys at the end. Tried to catch Reedy who's getting better obviously as the season goes on. So I felt like it was a decent day and I'm glad I hung tough the second one.
Maybe I'm mistaken but didn't you get Tickle on the last lap in the first moto?
No, he crashed. He had a big one in the sand whoops.
But you got him?
Yeah.
So last week you got victimized by a lapper and got passed with half a lap to go by JG. This week you get a guy with half a lap to go.
Yeah, the moto gods helped me out.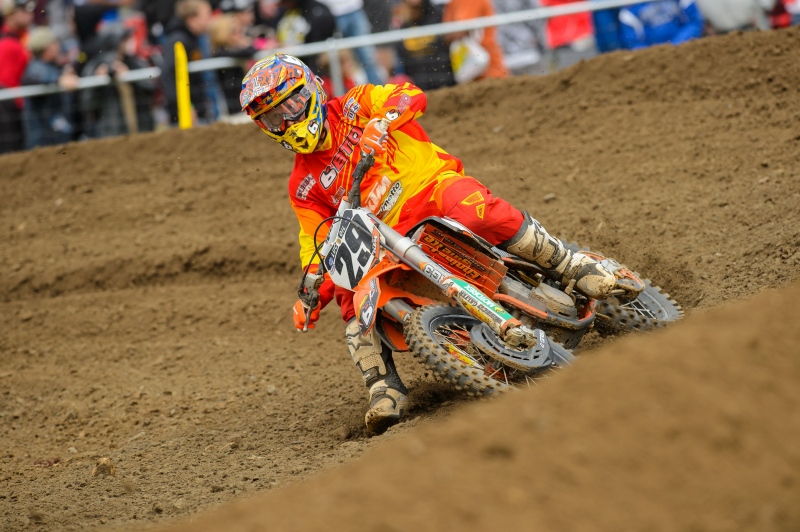 Short had a good Millville. Photo by Cudby
And nobody liked the track today. Even Alex Martin didn't like the track.
It was really hard-packed. I don't know if they left it that way because they were afraid of the rain and they wanted the water to run off or what the reasoning was, but for the second motos it was definitely better because it had some bumps. But there were no ruts and it wasn't the typical Millville that you usually see. I feel like some of the layout designs, they took out that back triple and where it would "S" and places like that. I feel like some of those areas were improved, but overall not the best I've seen it.
*****
Ryan Villopoto
Me: Here's the positive: you crashed three or four times today and you only lost 8 points. I guess it could have been a lot worse.
Ryan Villopoto: It wasn't very good but we salvaged a lot. Had a pretty big crash that first moto.
Yeah, you did!
I haven't seen it yet.
I saw it on video. You got lucky.
All in all it was decent. Coming back and Dungey only finished right in front of me, so it wasn't too bad. Could have been better the second moto but the track was tough and I was a little bit off after the crash.
So the first moto kind of affected you maybe the rest of the day?
I'm going to go ahead and say maybe a little bit, but no excuses here.
****
Mike Larocco
Me: Pretty solid day for you guys. You've got the red plate. Has to feel pretty good. And Wil Hahn holeshot again. Bogle had a decent day.
Mike Larocco: Overall definitely a good day. We had some luck our way for the red plate; not necessarily that we got it, but now it's a 26 point turnaround. So that went well. And Wil's definitely got them starts down. Really good day. Maybe not the best day for Zach but overall I think everybody was pretty solid.
What was his deal do you think? He wasn't that good in practice either so I don't know if he just didn't gel with the track?
He actually got right out away first practice and looked comfortable, and then second practice he had an electrical problem. He missed practice and then he kind of was just off the tick the rest of the day.
How much are you working with Eli now and helping him? Obviously John's a big part of his program but he's really on a roll right now.
Most people know by now when he's on, he's on. Right now he's definitely on. Washougal was good starts. To get that first 1-1 behind him… It seems like when he figures something out he kind of builds. This week I wouldn't say he got great starts but he was really fast today and everything came easy.
Jeff was giving Hahn some shit about going backwards, the opposite of the RC hard charger. But he led 8 or 9 laps today so that's a start.
The pace is fast. Wil right now, he came off missing the first few rounds. It seems like as tough as everything is right now, you get a little bit of edge off and it just bites you because everybody's going fast.
I'm guessing you're not working with him on his starts? You weren't exactly the holeshot guy…
But those who can't teach…
This is probably your favorite track. You had some incredible races here over your career. You always like coming back here?
Yeah, this definitely was one of my favorite tracks. It just had a little bit of everything; got really rough. I was watching how Eli went through traffic. It was just always one of those tracks that everybody's going fast but it seemed like there were ways to pass.
A lot of riders I talked to said real hard base today, real weird Millville. Did you hear that from your guys too?
Yeah, it looked like they didn't start as wet as normal. They came off practice with really fairly clean bikes, no real weight to them. Normally it's faster second practice where the track breaks in. It was definitely different. I assumed they were scared of rain and whatnot. It wasn't rough in practice but by second moto it was pretty rough.
****
Jason Anderson
Me: Another solid weekend. Great ride today. Coming from the back and podium spot.
Jason Anderson: Yeah, ended up with a podium. It's up to you to say; was it more than a solid weekend?
It was really good. I'm on the bandwagon next year. You're a little ahead of schedule.
A little bit. My start in the second moto was garbage again but start in the first moto and I'm able to kind of not bury myself right away, so I'm able to get going a little faster and carry my speed through the whole moto without the stresses of passing people and the carnage. It was a good day. I'm pumped to be on the podium.
Why this track? Did you just enjoy it all day? Were you flowing early? Are you usually good here? What was maybe a little different today from the usual?
I'm always pretty good here. The rest of the tracks I'm usually pretty good at. Millville I always seem to race good here. Practice, I was all right today but I always seem to race good.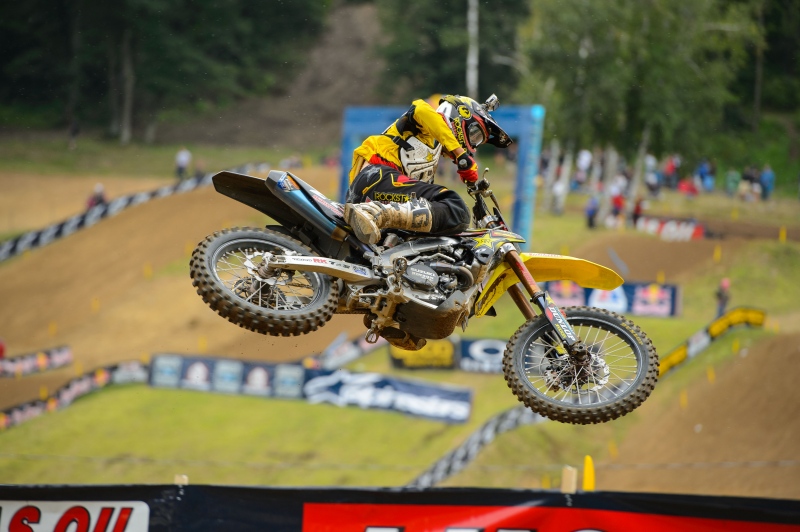 Anderson needs to keep the chest protector on. Photo by Cudby
Did you have a chest pro on today?
Yeah, I ran a chest protector.
What's up with that?
I think it looks sick, I don't know.
Just keep running it then because you got 3rd overall.
Yeah, I'm going to keep running it for sure.
I think next year is really going to be the year of the Anderson, but what are you missing right now in your mind from breaking through from those guys and getting into that lead group? You were there today kind of, but what's one thing you think maybe Tomac, Roczen, those kind of guys do a little bit better?
I think Tomac and Roczen are on another level compared to everyone else and I think that's the lead group. I don't think it's a five-guy thing anymore; it's definitely a two-guy thing and you can see it in the points. I think I'm right there. Basically right now I feel where I'm at I could battle with those guys. With a start I can just learn from them. But I think me, Baggett, Musquin, even Osborne, past that all those guys are pretty similar.
Remember when you used to get tired? Not anymore!
No, for sure.
I feel like your speed at the end of the motos is one of your strengths.
My first year I guess I didn't put in the work in the off-season. It's not that I'm scared to put in the work; I just needed to do it. It's coming around. I'm definitely getting more fit, even as the years go. Next year I feel I'll be even more fit than this year. It's just a work in progress. Just got to keep developing myself and hopefully be one of the title contenders next year.
****
Wil Hahn
Me: The good side: two holeshots, led some laps. The bad side: your team says that you're the winner of the opposite of the RC Hard Charger award.
Wil Hahn: You can't really argue, right?
I suggested we just call it the Hahn.
The Hahn Anchor award?
I think you led more laps today than you have before.
The last time I led that long was Southwick 2010. I think I led 8 or 9 laps today. So I'm happy with that. I got tight and I went a little bit backwards but it wasn't like a complete fading either. These guys are just going fast and I got to learn.
It's better than, where did you fade? What race was really bad? You were really mad after.
I don't know; Washougal? I was really bummed out after Washougal.
This was all right.
It was better. There's progress and there's light at the end of the tunnel so that's all I can focus on. I got to be happy with it. I'm getting closer to 15 grand, right?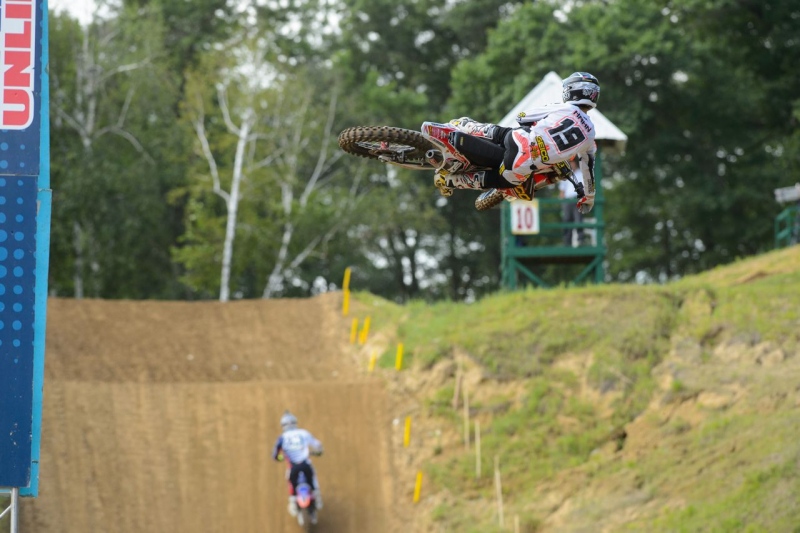 Hahn led a lot of laps at Millville and looked good in doing it. Photo by Cudby
What is the deal with the starts. I've long said that starts are mental with riders. It doesn't matter how many you practice; doesn't matter how many you do. Mike Alessi knows he can start. Wil Hahn knows he can start. What's the deal? You're just like, hey, I got it? Do you get the jump on guys mostly? Is that where it is? Do you shift at the right spot?
I think it's all the shifting. It's a big combination of how my mechanic does the gate too. I think that matters big time. I think that he doesn't get enough credit. I truly believe it has a lot to do with it. 80% of it is mental. If you're nervous on the gate, you're not positive, you're second guessing yourself about your gate, you're not going to get the start. For me, I'm totally relaxed and I have a routine. I rarely practice them during the week. If I do it's maybe five total. I think you can really overemphasize something and it needs to be all natural. I try to go to the gate and let it flow like it's supposed to. And I have NOS. I watched Fast and the Furious sometime during Supercross and I said, hey, why don't we try it? And it works.
A lot of guys didn't like the track today the way it was prepped. Are you joining that crowd?
Not at all. We just came from Washougal. This place is bitchin', dude. I loved every minute of today. It had a slick base, but I've noticed that the last couple years. Could have been deeper but, like they said, they were getting prepared for rain, so what can you blame? If it would have rained people would have bitching that they dug it too deep. How are you going to get everybody happy?
I like the "we just came from Washougal." So basically appreciate it?
Here's a shoulder to cry on. Whenever you're ready, come cry on it. Today was bitchin'.