Sipes and Troll make the "honor" roll this week
Sipes and Troll make the "honor" roll this week
Shortcomings #9 Vol 2
Photos: Simon Cudby
Millville "what happened"? It was a bit like watching a race in the twilight zone. I mean sure one of the Ryan's would have an off week sooner or later but both of them on the same day? The biggest shortcoming of the weekend wasn't even on the racetrack it was in the tower or media tent or pits or wherever the hell Matthes was when Stewart won the overall. You see I gave him a couple of cans of yellow silly string just in case the clouds rolled in and there was a chance it rained yellow, at least he would be prepared. Alas no picture ever surfaced of Matthes double fisting yellow silly string and spraying pump as far as the eye can see. (Matthes note: I carried on at Washougal and those cans would not have made it past security. Too bad.)
What I'm feeling right now is probably similar to what Matthes felt when the Leafs lost yet again in the playoffs. If I had to guess my yellow silly string is somewhere in a garbage can at Washougal or the Portland international airport. Some pump and yellow rain just wasn't meant to ejaculate all over the media tent I suppose. I'm done shedding tears and have drank my sorrows away. This week I talked to a guy who actually attended the race to get some "industry insider " information, I mean "being there" has it's advantages. I use the term "industry insider" loosely, but I'm sure @bobfromomaha listens to the PulpMX show every week and probably bought the app or maybe a PulpMX tee shirt so that's insider enough for me.
#37 Troll aka Alex Martin – Rock River Yamaha
First off can we all agree "Troll" is one of the best nicknames ever? I have plenty of buddies with nicknames but none of them come close to how funny and fitting troll is. Troll has had a rough season, his Eleven10mods team folded and he was left looking for a ride. Rock River Yamaha picked him up and he's been trying to get back into the swing of things ever since. It sounds like he might have taken a little dirt nap last week (that means concussion for all you non bros). I wanted to pick Copper Webb for this article but Boob from Omaha insisted that Troll was worse. I wasn't there and I wasn't going to press the issue with Boob, I didn't want him getting nippy with me. If you don't follow @bobfromomaha I'm not sure I want you reading my articles so either follow him on twitter or stop reading now.
Moser: So what are your thoughts for Shortcomings having "being there" yourself?
@boobfromomaha: Man, Troll has to be on there right?
I wasn't there and even if I was there I wouldn't remember.
He got 15th overall and I don't know about you but I don't lose many games of horse in my own damn driveway. Especially to my little brother if I had a little brother.
You probably set your basketball hoop above regulation.
Bingo that kid from Palsy didn't stand a chance.
What happened to Webb?
No clue what happened to Webb.
1st moto DNF for Webb, this is unacceptable, come on Boob.
No clue, I don't even remember seeing him.
So you hate Webb, why?
AC92 all the way, Webb is yesterday's news, he needs to retire and make way for some new 13 year olds. Man I saw AC92 in the pits and wow is he tiny. I tried to get a picture of him but his mom shut me down (edited for content)
So where do you think Alex should have finished?
8th or so
You're waffling
Ok fine 8th exactly. Looking at the vault he got 13th overall in 2012 and 5th overall in 2011. Actually scratch my 8th place finish prediction; he should have finished wherever his little brother did less one position. You gotta beat the little bro.
You must not be very confident in your 8th place decision if you're running to the vault to support it. Tits Legendary thinks he should have gone 1-1.
So Troll is an Optrix athlete?
Apparently. Do you have a brother and did you beat him?
I do but he's quite a bit older so no. Nowadays no problem.
Being a little brother yourself it's no wonder you hate Troll so much.
You're right Doc I think I just had a breakthrough. I like Troll but if Jeremy kills it at his home track he has to kill it too.
Do you think there is such a thing as a home track advantage?
Yes, without a doubt. All the riders downplay it but they're all liars. I think it's a confidence thing, not necessarily a I know where every rock, bump and line is type of thing.
Thanks Boob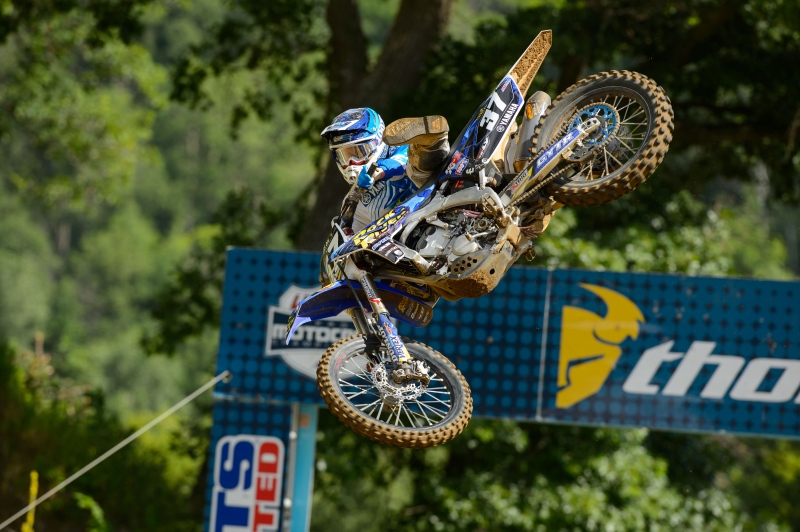 Remember those creepy little Troll dolls there were popular when we were kids? Someone needs to glue one to Alex handlebars.
The real debate here is where should Troll have finished at his home track. On any other weekend a 16th overall for him is considered ehh or ok I think. But on his home track in every sense of the word home track (literally lived there as a kid) that's where the expectations rise. So where should he have finished? I got a couple fellows' predictions or technically the past tense version of prediction.
Moser 10-10
Tits 1-1
Matthes 8-8
Swisscore 10-12
Filthy Phil 9-11
Boob from Omaha 8-8
I again asked Tits where he thought Troll should have finished and he again hit me back with 1-1, he obviously doesn't read Racerhead. If you average that out but omit Tit's ridiculous picks you get 9.4th place overall. In either the pre, post, wrap up show, Pulpmx show or Fly Racing Moto:60 show (they start to blend together) someone talked about how Milville was only prepped for the national once a year and the Martins never really got to ride it in that condition. The rest of the year it was hard packed and whooped out. This is where I think Boob is correct in that the home track advantage is more of a mental edge and not so much being familiar with the track layout. The track never breaks down the same way twice and they never prep the track the same for the amateur events as they do the nationals.
The bottom line is we expected a little more from Troll, I'm sure doing his best impression of an ostrich last week didn't help but on this day his little brother won the bragging rights, and the check and probably the girls that come with it. I featured Troll a little while back which you can check out HERE.
Shorty's mechanic Nate knows him really well from when they were at Eleven10 Mods together and when I asked who was the faster brother he said "If they were on equal bikes I gotta go with Troll just because he would ride way over his head not to get beat by his brother"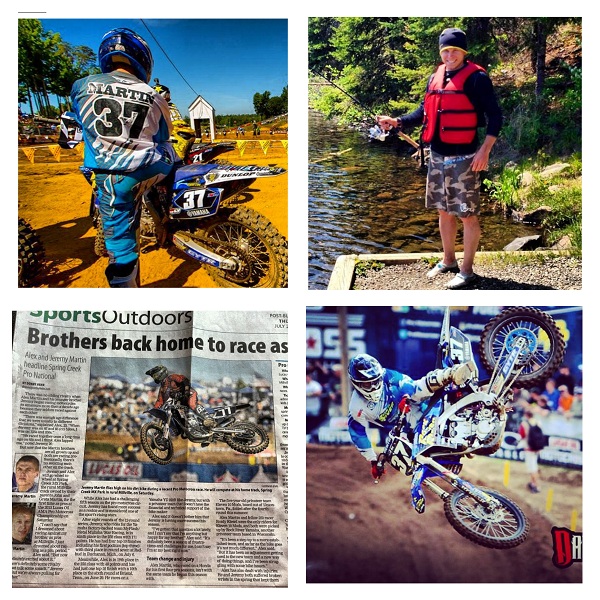 Fishing in 5 fingers shoes has to break some type of law and the very least it breaks every man law. Whipping it at Redbud. Can't say I ever made the local paper that's pretty cool
#Ryan Sipes – Rockstar Energy Drink something or other
Ryan Sipes started the season off above expectations, although with Sipes I don't think anyone is necessarily surprised if gets a 5th place or if he gets a DNF. I don't know why Sipes is struggling he hasn't placed blame on anything specific in his interviews. At least with a nagging injury you have something to work on and improve that will benefit your riding and results. Being healthy and on a bike that is working well and not getting results but not knowing why is one of the most frustrating situations as a rider and a fairly common one. Is it mental? Should you switch up your program or stay the course? If your program has worked in the past why change now mid season? I don't have the answers I'm not a shrink or a riding coach and I think it's a little different for each rider.
The Sipes (Ryan and Pooh) and the Martins (Jeremy and Troll) are some of the fastest racing families out there. One older brother seems to be fastest Ryan and one younger brother Jeremy, just a random Moservation right there. One thing I like about Sipes is he doesn't complain, he just does what the team asks. I've lost track of how many times he's jumped up to the 450F class then back down to the 250F class all in one season. The best was last season or maybe it was two seasons ago when they asked him to ride the 250F class and he didn't even have one to ride during the week so he was practicing on a 250cc two stroke. Through-out the interview not one complaint or excuse, he didn't seem to mind the situation at all, he just throws his leg over whatever bike is laying around and rides.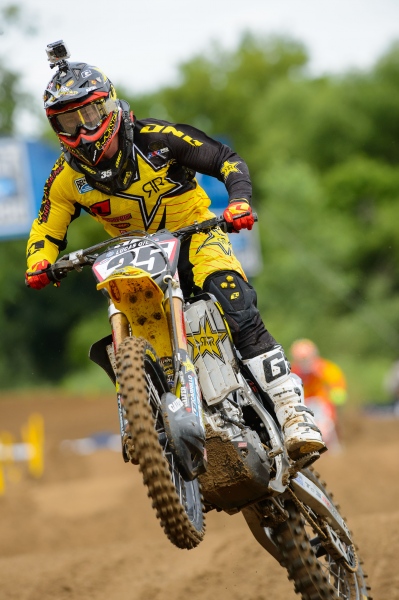 Did Sipes get his speed from running shine as a kid? I'd like to think so
Moser: Alright Boob lets move on to bigger things, literally. Get it because Troll is short? Who is your 450 shortcomings pick?
Boob: Maybe Sipes. I saw it when he went down in the whoops…..dirty.
Please describe his Shortcomings crash at Millville
He got squirrelly towards the end of the first set of whoops.
Define squirrelly.
Come on it's not like I through out Huckabuck from side to side.
Squirrelly is vague to say the least, so he swapped, or lost the front end or?
Yes swapped. I read he broke his helmet and his neck brace.
I wonder why he didn't race moto two then?
Ha no kidding tough son of a bitch
If you had to pinpoint a cause to the swapping.
Why is the sky blue? Why does the sun rise everyday? Why does Sipes crash? He did well at the beginning of the season right?
Exactly he did do well at the beginning of the season so "what happened"?
Starts maybe? I don't recall him starting up front lately except for the 1st moto at Millville.
So what caused him to crash: bike set up, rider error, hips were locked, bear trap around his neck, photographer running across the track, a laZer in his eyes?
(doesn't answer-just keeps laughing)
If you're Sipes what do you do to get out of this slump?
Pray for the old Millsaps to return.
Ok besides praying?
I don't know, maybe hop on a YZ250 two stroke during the break, have some fun and keep it loose.
With Sipes for me it always comes back to moonshine.
No kidding? Hey do you think he knows the Duke boys?
I wonder if he has a sister that wears daisy dukes. You have been at most moderately helpful with Shortcomings I thank you for your time. I will be quoting most of this.
You're in trouble if your looking to me for quotes.
This is what I like to call and interview with an "industry insider"
Oh that's good
It really just comes down to "being there".
The off week couldn't have come at a better time for Sipes, hopefully he's ok after sampling the Millville soil. He needs a couple solid results here at the end of the year to help secure a decent 450 ride for next year, he's gone on the record several times saying he is moving up next year. Time will tell if he follows through with that statement but I hope so I'd like to see what he can do on the big bikes. And remember to always sniff anything in a mason jar before you drink it, moonshine can make you go blind.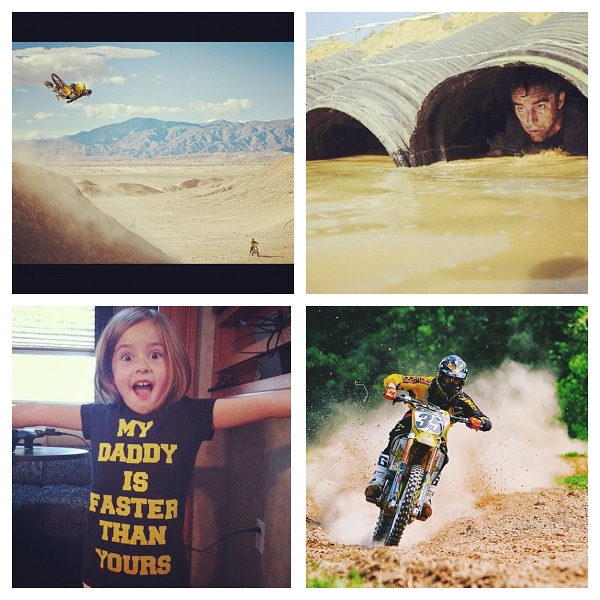 That's a sick photo airing it out in the clouds. Sipes does one of those mud races or is invading Nam. Dusty elbows up picture. Sipes is a dad who knew? I need of one those shirts for my kids though.
Thanks for reading about some shortcomings, see you next week.
Moser
Please send any and all comments to jasonw@racerxill.com