Life on top is short but it's pretty great while you're there
Life on top is short but it's pretty great while you're there
By Isaac Scoggin
Photos by Simon Cudby
What does it take to ascend the perpetually rising hill in our lives? Any wise person among us is willing to explain how the journey itself far outweighs the destination. No offense, but those wise people are simply sentimental and have most likely never reached the top themselves. Very few actually do, and yes, I too will develop a self-defense mechanism that allows me the satisfaction of a romanticized version of my life as it nears its end. It will be a wonderful path towards self-happiness and reflection, but hindsight is 20/20. And in the end we all only want to stand atop the hill, peering down on all those vying desperately for what we own. Which is piece of mind, a piece of history maybe, records or simply a gloteable satisfaction of being the best at what we put our mind to. Every rider that has ever twisted the throttle imagines a place where they belong. Whether it be the best amongst friends, a State or Regional Champion, Loretta Lynn's Champion, or a Professional Champion it does not change the scenario, the size of the Hill, yes, the motivation and pursuit of such, no. Eli Tomac is the most recent rider to be poised to reign King of the Hill, but for how long? The recent motos suggest he is here to stay and possibly to take over the battle for World Class supremacy in the 450s indoors and out. Each individual hill is different in size and grade, so let's look at his climb.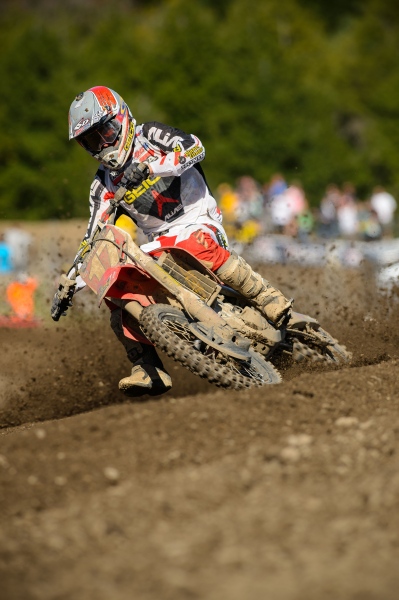 Tomac got to where he is now by working hard and putting in the time.
For many of us the hill itself starts so steep it seems impossible to even begin the climb towards the top, but regardless of which point in the climb it becomes steep, the fact remains that no hill is small. Tomac had one of the smallest grades to begin with, from the outside, as he began his career on two wheels. A famously badass father who is a legend on two-wheels himself could help with insights from training to being a professional, and even to eating healthy. The work ethic was literally breed into Eli Tomac; he did not have a choice. The amateur Championships started to pile up, Suzuki factory support early in his career, and land to have his own track all made his climb somewhat like a walk in the park. I am not saying it was, but from the distance it appears like a nice easy ascent into the beautiful sky that any of us could do. The tools were in place: the money, the backing, the family, the talent, and the resources. Plenty of experts gave their opinion that "the book of Eli" would be a long run of Championships once he turned pro.
The red factory supported 250 program came calling as they were just beginning to mount a final climb towards the top of the class. We now know that they have since made it to the top. Eli gave the entire MX community a scare and went from promising future to success by the end of the first two motos of his career. Life was good for Tomac, and the top appeared to be within reach. We all know after that what hardships he faced, and how he faltered outdoors for a few years. All of a sudden the gentle elevation turned into a vertical wall that looked mostly impassable. Indoors was another story and one that kept his head up and those around remained unwavering in his progress. He has never finished worse than second in a SX Championship and could very easily had be undefeated in his SX career had a few moments gone his way. Then again I would have been El Presidente had a few moments gone differently throughout my climb. Using his momentum from SX and the frustration of barely losing two Championships Eli bottled up his rage and uncorks it only while racing.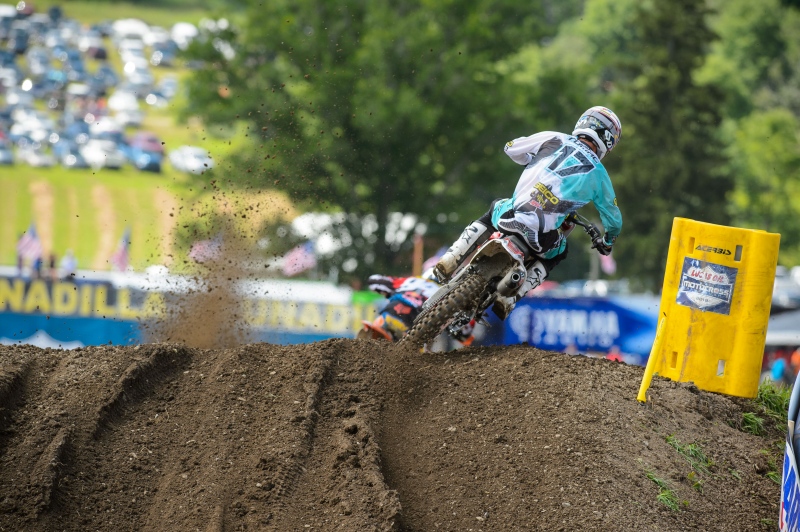 Tomac's got a bright future in the sport.
By now we see him approaching the top, if not already there, and we see his times matching the 450s often. We see how it appears once again to have been so easy for him to climb higher and faster than all those working so hard around him. It can be the weather, the track prep, the bikes, the injuries, but more than likely it is just his time. His reign is now and we can only giggle with glee at the excitement of it all. Not the excitement of what it means for the races as of now, because lets face it, it is very boring watching him motor away so easily. The true satisfaction is that we all know it will take a talent like this, a rider who is so dominate in the 250s, to even have a shot at running with the Ryan's. Look at Barcia for instance, he is a fantastic rider, but he was never dominant in MX and he is not on the level. I dare say Tomac is. How high can he climb and how long will he remain King of the Hill?
The rookies this year are also ascending up towards the top as fast and as calculated as they can. They face a daunting task to try to achieve the greatness they wish for themselves, but when progress is so easily shown it helps. Just as with team managers it only takes a few laps to build the confidence to accelerate the vertical attack on life's goals. A good start and time up front gives them faith in themselves and their future in the sport. It is easy to look at Jeremy Martin now and say you could see the ascent from a distance; you could watch every step upwards, but reality is that you cannot. From the outside we do not see the progress until it is sudden and it seems to be just that.
He was just another racer fighting for a top ten and thinking of top fives. Now he has been on the podium races in a row, plus he is the "rookie" being touted all of a sudden. It was Savatgy, Cianciarulo, Webb and Martin was just a solid rider. No one really saw his rise being so quick. We have heard a million times how confidence brings with it a "click" internally that boost everything from outlook to speed to endurance. He is on pace to contend for Eli's 250 throne next year, but the real question is not will he or won't he reach the top; the question is more when something slows his climb will he be able to regroup and attack with calm and calculation?
It is easy to look at these racers and be in awe of what they can do without seeing the true time, effort, and suffering they put in to achieve what we can't. I had to face it a while ago; I am vertically challenged, not like JT though. I don't have what it takes to ascend the hill towards MX greatness, nor could I dig under the hill (believe me I have tried). This gives me all the more appreciation for the ones that can, and our own personal hills exist whether it refers to moto or just life in general. Some day, if I become wise, I will not tell people the journey means more than the destination. I will simply tell them to find their own hill and climb it, not someone else's…their own. Then I will tell them to back the hell up! I am the King of this Hill and I don't take kindly to attempts at climbing it. It is a long way to bottom and I am not going back, so that means you are.