It's like this bro
It's like this bro
By Pookie Matthes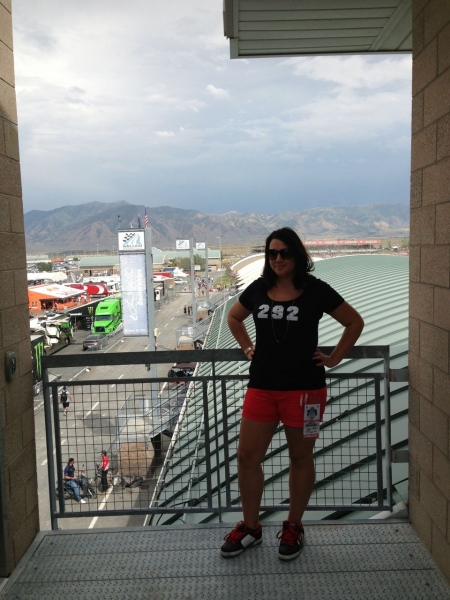 I've got paved pits, an air condtioned press box, my 292 shirt and a giant frickin pass- I'm ready for my return to the nats!
Guess who's back? After a 5 year hiatus I decided to make my return to the national series. I went to Salt Lake City for Supercross this past April and it was so beautiful there that I decided it would make a great place for my return. I also heard that there was an air-conditioned press area which made me even more happy. I was pleasantly surprised when we arrived at Miller Motorsports Park to find a cement pit area and no dirt or grass! Although we arrived at the track around 7am the day went by surprisingly fast. I did manage to snap some photos to share with you.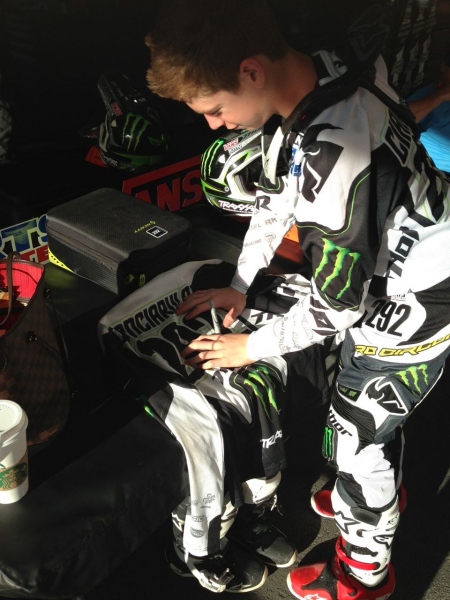 AC signing jersey (7:30 am)
First thing I did when we got to the track is to take the jersey that Steve brought home from Budds Creek to the PC truck and get it autographed. I asked him to make it out to PulpMX I SWEAR!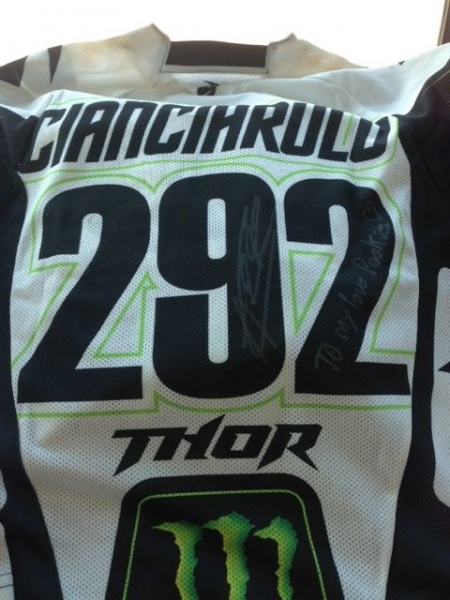 AC signed jersey (7:32 am)
What a glorious addition to the collection in the Lion's Den!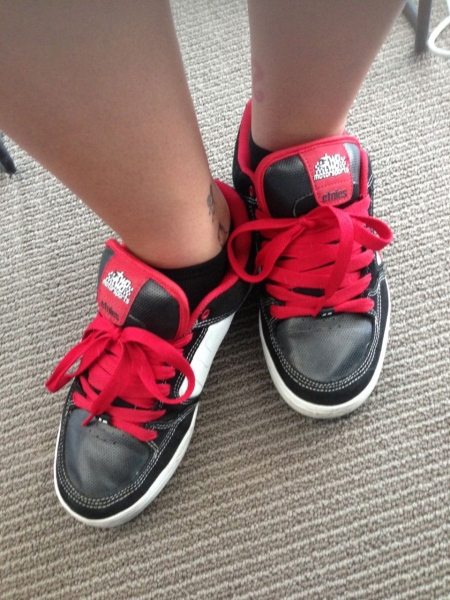 22 shoes (9:00 am)
Even though these shoes hurt my feet tremendously I still wore them with my red shorts to show support of my guy Chad Reed. Chad sent me these shoes for my birthday last year, good guy, great guy!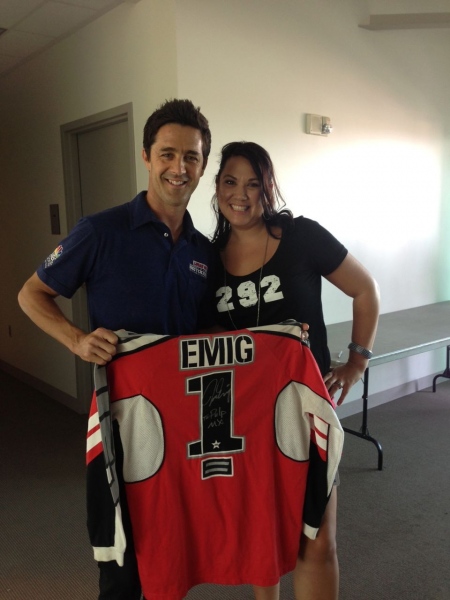 Me and Emig (11:30am)
I have had this jersey since he won the championship in 1997. It used to hang on the wall in my college dorm! I have brought it with me to many races in the past so I was "super pumped" to finally get it signed even though Steve said he had to make it out to PulpMX. (insert stank face)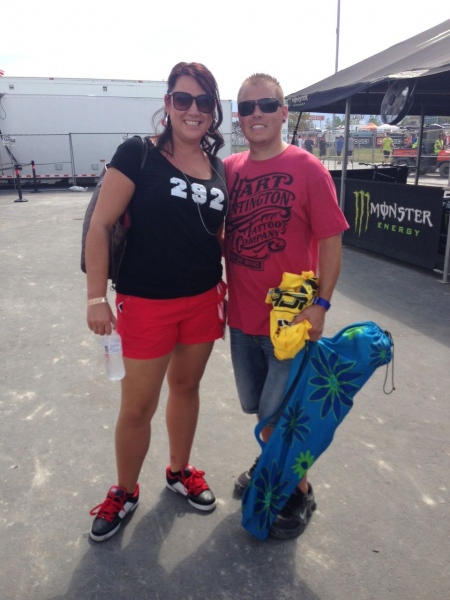 Picture with fan (12:00)
What do you know a Pulp fan stopped me and asked for a photo. Thanks to Jason P for stopping and saying hi. I love all of the show fans and I think it's adorable when fans stop Steve and gush about how much they love everything he does.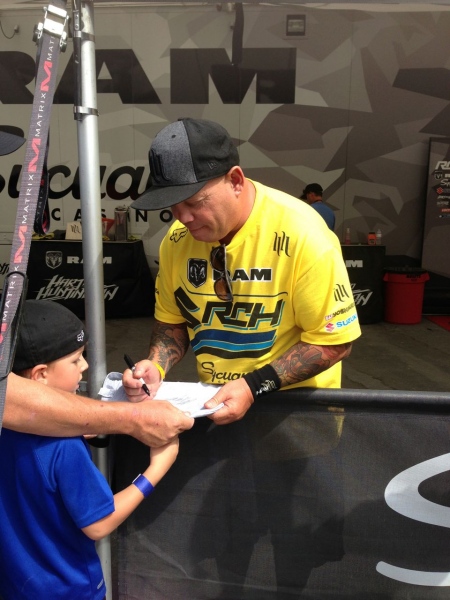 KW autograph (1:15 pm)
I stopped by the RCH truck to say hi to Berluti and what do I see? A little kid asking the OG KDub for an autograph.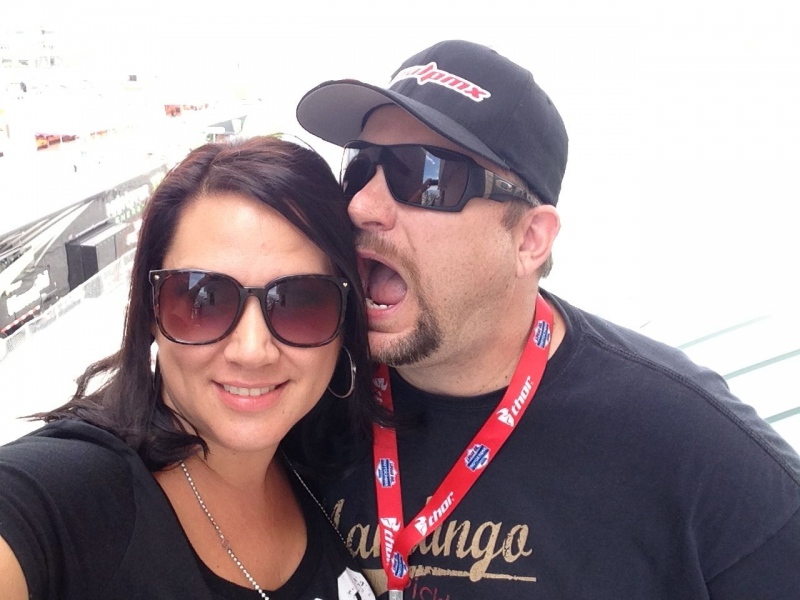 Steve and Pookie (5:00 pm)
I am aware that Adam Cianciarulo is 16 years old which is sadly less than half my age. Just like you, I am a fan of this sport and I have been for a long, long time. I have always been into backing my favorite riders when I go to the races. Adam is one of my favorites and so I chose to wear a 292 shirt. I am not interested in leaving my husband for a 16 year old. I am also sure that no 16 year old is interested in a 30-something year old woman. So yes, the Twitter jokes get a little old. Besides, who would want to leave this?
After the races are over I get to wait for Steve to walk seemingly aimlessly through the pits to get scoops, goggles and interviews. To all of you that listen to those post-race pulpcasts, I was light headed from starvation but at least you got to hear Justin Barcia's take on the race! While saying bye to Allan Brown I saw Filthy Phil Nicoletti who gave me hell for not sporting my Filthy Phil shirt that he sent me. I informed him that I flexed and the sleeves fell off but I still like to wear it to the gym because it puts me in a bad mood which he is usually in. Perfect for pumping iron.
I also got some flack from Zach Osbourne who saw me after the race and said "Oh so it was YOUR fault", referring to Adam catching him right at the end of the 2nd 250 moto. Looking back on the day I never once set foot on any dirt which I probably should have to authenticate the experience but hey, at least I kept my 22 Etnies clean! Thanks to PulpMX for footing the bill and allowing me to tag along. Until next time, bros. ELE.