Moser breaks it all down for you right here
Moser breaks it all down for you right here
Shortcomings #11 Vol 2
If you write a column every week about riders having some type of Shortcoming then you couldn't ask for anything more than what the Utah Miller Motorsports Park national delivered. Some weeks I basically make up a story because there are no notable DNF's, crashes or fades. Hard to believe I know because when I signed up for this gig I thought a shortcoming by at least one rider every week would be a sure thing. There would be a plethora of story lines to follow, it would be like shooting fish in a barrel. This week it was and when you're shooting fish in a barrel there is no limit so lets take a look at all the riders that had a DNF on the weekend, in no particular order.
#7 James Stewart
A DNF for Bubba after flat landing a jump and injuring his back. Anyone that rides knows there's nothing quite like tweaking your back wrong. It's amazing how much pain can be caused by some pulled muscles or disks or whatever the hell is going on back there. I'm still a little in disbelief over Bubbas season. I always thought his career would end like RC's where he rode off into the sunset on top, or on a stretcher. They didn't call him the fastest man on the planet for no reason and they haven't stopped calling him that for no reason either. His fall from grace has similarities of Rick Johnson but that was an era way before my time but let this be a reminder to everyone you can't stay on top forever, it's common courtesy to take your turn on the bottom.
#526 Colton Aeck
This is the kid who took an extended dirt nap on live TV. I haven't seen the footage yet and I'll probably skip it, I don't get my jollies by watching people knock themselves out. Glad to hear he's ok. How random is it that Sinjin is friends with this guy and they go riding together. I should have tracked Sinjin down to find out some more about this kid but I'm not sure I want him to have my phone number, or my email address, or know where my nearest Subway stores are. I don't know if this is the same kid Sinjin knows that bought the Moto XXX box van but we saw that box van driving through town at Washougal it was awesome. I can only imagine the amount of semen and sock lint in that front seat.
#22 Chad Reed
I checked Reed's twitter timeline to see if he posted any reason for pulling out of moto 1 but he hasn't posted anything since Friday at 3:39PM. He made it 10 laps just over halfway of finishing all 17 to finish on the lead lap. Reeds summer is another example of how mental this sport is, if you're not feeling "it" and don't want to be there and you're just going through the motions this is pretty much what your're going to get. The rumors of him possibly going to another team next year are interesting. The team did pack up and pull out of the pits before the 2nd motos even started ala JGR at Washougal last year so maybe that's where he will go. When asked about Reed's early departure from the race on the post race podcast JT$ responded "yeah he wanted to get home, you know beat the traffic, catch a matinee movie, he's got a family know ticket prices are expensive".
Anyone else see the irony that Reed hates the Honda this season and that two seasons ago he picked the Honda over all of the other bikes because he loved it so much? He turned down money and paid to ride the Honda in 2011 and he despises the 2013 so much he might walk away from the team he's built from scratch. I hope team TWOTWO Motorsports is around next year we need more teams in the sport we have too many deserving riders and not enough rides. I wonder what the resale value is on everything you have to buy to run a race team: semi, hauler, tent, tables, custom table clothes are spendy I heard. All the custom cabinets in the hauler, tools, parts. Reed could be having a long talk with his financial planner right now.
#23 Jake Canada
Jake only made it two laps in the 2nd moto, I saw a picture somewhere of a bike jammed into his back wheel and swingarm that may have slowed him down. He got 22nd in the 1st moto so not a very good day for Canada.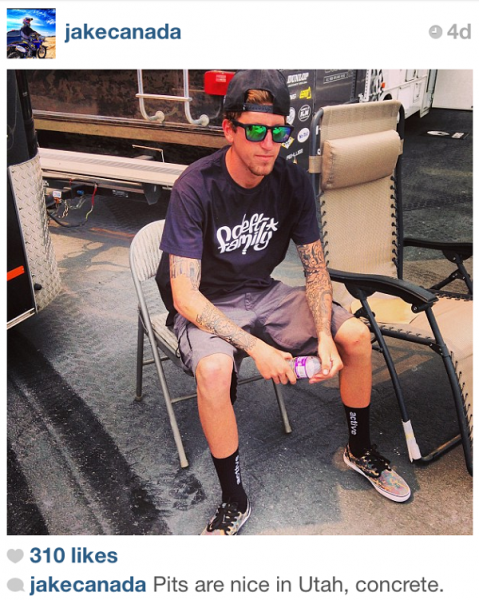 For some reason I thought Jake Canada was a clean cut kid, I was mistaken because this is more of the Austin Stroupe look he has going on here.
#20 Broc Tickle
Poor Berluti with a mechanical in moto 2, I hope he killed a few extra CL's to ease the pain. I don't even have to read the press release and I can tell you it says it was some type of "electrical issue". I thought those retro Suzuki graphics were really cool looking and of course Watson left no stone unturned and had the RCH girls all dolled up in retro attire also. Some would even say it was a game changer. If you want to see Tickle shake his ass like a Polaroid picture, and lets be honest who doesn't? Then go check out the video his wife Chickle posted on her Instagram, it boggles my mind how a white man can shake his ass like that. No word yet on how many times Swisscore has double tapped that picture.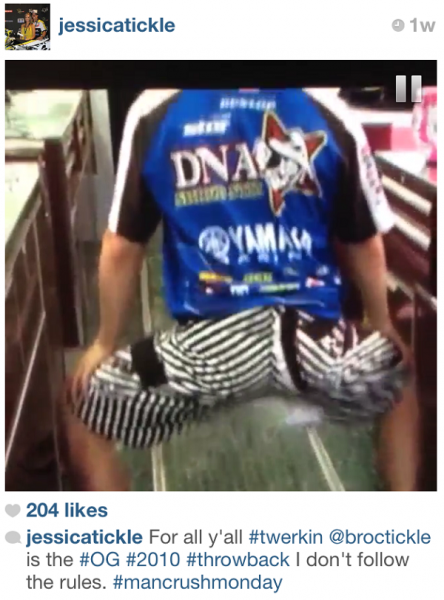 Go look up Tickle shaking his ass on Instagram you will not regret it
#32 Malcolm Stewart
Moto 2 DNF, why? IDK. Maybe the universe got him for getting BamBam.
#35 Ryan Sipes
Holeshot moto 2 followed by his back seizing up from his crash at Milville and then pulling out. Here is the GoPro footage of Sipes pulling a holeshot then pulling a rebel yell while leading. http://m.youtube.com/watch?v=ky2f8dihnT8&desktop_uri=%2Fwatch%3Fv%3Dky2f8dihnT8
#28 Tyla Rattray
Blown motor for Rattray in moto 2, of course it happens on a day he was actually riding decent. I think Geico is leading the blown motors race this season. Wil has a couple in the same day (you gotta do what you gotta do to get those holeshots) and I think Bogle had one. I think this is the first PC moto blown this season in a race, wait maybe Baggett had one. Of course Wilson had one practicing that had a small impact on his season. Now I'm just rambling, moving on.
#449 Dakota Kessler
It's amazing Weege was able to hold back the tears on TV when Kessler DNF'd the 1st moto and then was a DNS for the 2nd moto.
#77 Jeremy Martin
One week you're up the next week your down. I'd look up what happened but this is just getting silly with this insane number of DNF's.
#38 Kyle Cunningham
Well at least Cunningham didn't have the worst moto finish on the Myplash team he finished in 36th one position ahead of Jeremy Martin.
#40 Martin Davalos
DNF moto 2. Found this on his twitter page "My eye is deff struggling I think it's time to get surgery after the season to much pain and annoyin" Which is why you should never shoot rubber bands at people.
#50 Kyle Peters
This band wagon has fallen very quite since Peters injury at the end of supercross, I think the driver, cough, cough, Matthes might have jumped out of the moving band wagon with the engine running and keys still in it.
#21 Jason Anderson
Not the rebound he was looking for after a really bad day at Unadilla.
So like a said there was no shortage of shortcomings on the weekend, very odd for sure. I'm spent one more week before the off-season. Thanks for reading about some shortcomings, see you next week.
Moser
Please send any and all comments to jasonw@racerxill.com