Running them down from twenty to one
Running them down from twenty to one
Photos By: Simon Cudby
Some stats provided by Aaron Hansel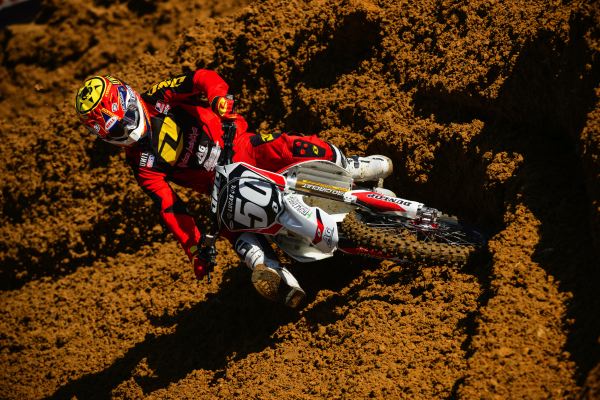 20th Place- Kyle Peters.
FIRST HALF POINTS-14 SECOND HALF POINTS-41
KEY STAT-28 points in three race stretch (over half of his points scored in three out of his ten races- clearly Peters likes Redbud, Southwick and Millville)
Matthes- This privateer was a surprise in the supercross series until he got hurt which lingered into the outdoors and Peters missed the first two races. Many times he was the first "true" privateer out there (although some of the guys in their vans would question Peters being a privateer with the money his family appears to have) and put in some good showings. I don't think outdoors is his thing but he had a good Redbud and at one point scored points in nine straight motos which ain't easy to do for a privateer in the 250MX class.
Swiz- You could have easily convinced me that Kyle Peters had skipped the outdoors. Although I think his bike is in the top five for best looking in the pits, it didn't translate to TV time one iota. It's common knowledge that I can't make it to many races during the year; my insanely busy #summerswiss schedule assures a steady stream of (red angry face Emoji) coming in from Matthes but the real bummer to me, is missing the mid-pack brawlers like Kye Peters. These guys bash their brains in every week in hopes that their results will improve and their efforts be rewarded. It's a narrow road to the spoils of the top 5 but there is plenty of heart and skill in Kyle's area-code of the gate. No flashes of brilliance like his awesome Indy ride during Supercross but 20th OA is a start.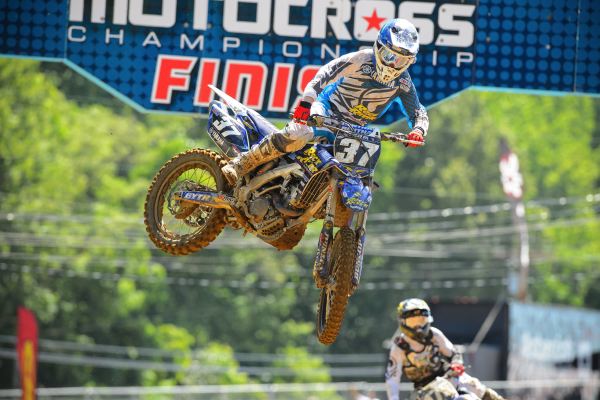 19th Place- Alex Martin.
FIRST HALF POINTS-48 SECOND HALF POINTS-34
KEY STAT- 8 (Number of motos with no points- almost half of the 22 motos he competed in)
Matthes- Nicknamed "Troll" by his friends (nice guys), Martin didn't have the 2013 that he wanted to indoors or out. Martin started with the Eleven-10 Mods team but that situation was pretty much a clown show so Martin went to the Rock River Yamaha squad early on. Martin crashed hard while practicing and missed Washougal and wasn't right for a few rounds. He's a hard worker by all accounts and so that part is settled, he just needs to get on a solid team and not have to worry about his bike and program. Easier said than done though.
Swiz- Am I the only one who still thinks of Alex's bike launching out of the whoops in SX and his front wheel attacking that mechanic like an angry bear? Hey, this is the PulpMX Honest Look and I like to write like I usually do; a stream of conscious. It comes to brain and I apply pressure to fingertips on keys. Alex certainly has seemed to flounder a bit since 2011 when he and Darryn Durham put Eleven/10 Mods on the map. Ironic how the Eleven/10 Team itself essentially took itself "off" the map with it's failings and shortcomings (Moser). Alex has a lot of great resources in his program with Zach Osborne and his brother Jeremy to help get straightened back out.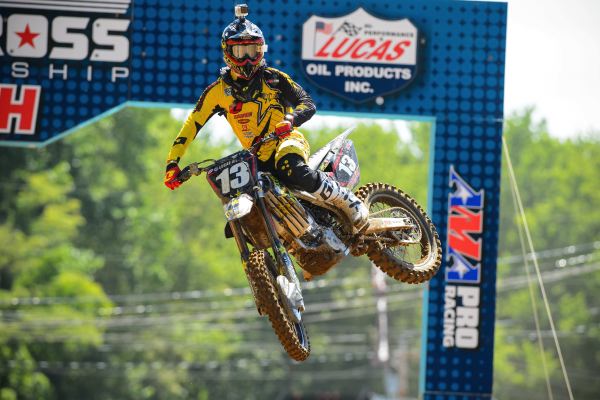 18th Place- Blake Wharton.
FIRST HALF POINTS-85 SECOND HALF POINTS-0
KEY STAT- 6 (Number of races competed in due to, well, we're not 100% sure)
Matthes- Wharton's season started off rough with two great starts and two serious fades at Hangtown. We were all told that he had some surgery on his nose and his season would be better in a few weeks. And at Muddy Creek it appeared that way as he got ninth overall. Blake himself told me after the race that it was the start of the turnaround. And it did turn around but the direction was down as he struggled badly in the next few weeks before his disappeared for good with what we were told was a virus. At one point his team manager told me that his "virus or whatever" was what was holding him back from showing up. Not exactly a emphatic statement on his health right? In the past Blake's gotten two 8ths and a 7th overall in the motocross points so he's not exactly slow. He's a talented guy but he's out of a ride and it's hard to see him doing better in 2014 team-wise so it's safe to say that 2014 is huge for Wharton and his career.
Swiz- Wharton has become a mystery to me. He's won a few Supercross races, convincingly even but they still appear to be blips on the radar, not the steady baseline of a perrenial champion. Not real sure what happened this year outdoors, who is? But I'm not ready to give up on this guy. As long as he keeps band practice to a minimum in 2014, he'll get a good ride and showcase another blip or two.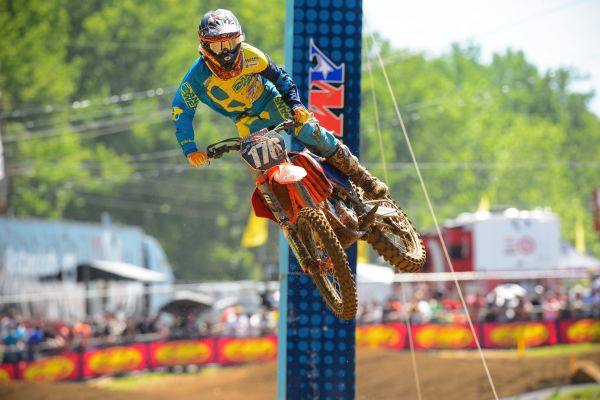 17th Place- Joey Savatgy.
FIRST HALF POINTS-89 SECOND HALF POINTS- 0
KEY STAT- 9 (motos to get 89 points which averages out to an 11th place)
Matthes- I had an industry guy that follows amateurs closely tell me in supercross that he didn't think Joey would do nearly as well as he did because he was a "way better" outdoor rider. Interesting then that we saw a flip of that theory in Savatgy's rookie year. Joey's team went bye-bye so he got to the races with some help by FMF and KTM and at times he was fast. This spot is with him only scoring points in nine out of the twenty-four motos. We saw how good he was in supercross and really the jury's out on him in motocross. We'll know more next year as he joins the Rockstar KTM squad.
Swiz- Joey wasn't even sure he was going to have an outdoor ride hooked up before the season started and considering he only made 5 rounds and ended up 17th, I'm feeling pretty optimistic for this kid on the Rockstar KTM team in 2014. He nearly held off Tomac in a SX heat race too when Tomac was on his tear in Supey. Yup, 2014 should be good for Savatgy.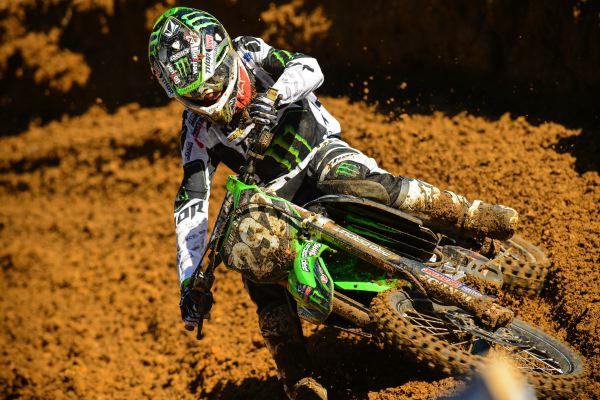 16th Place-Adam Cianciarulo.
FIRST HALF POINTS-32 SECOND HALF POINTS-106
KEY STAT- 3 (Position for AC in the first moto at Miller which was the only moto he was in the top 5)
Matthes- Well that didn't go as planned huh? The amateur phenom contracted salmonella poisoning before the first round that stayed with him for the entire series to the point where his dad was showing me his blood levels at Miller and how low certain elements were. And then Adam told me how he's had runny poop all summer also. Yeah, awesome right? What we saw was a kid who had skills and was fast but got tired a lot. Which didn't make sense as he's training with Aldon Baker and doing all the same things that Villopoto was doing. Which some insiders will tell you is part of the problem as he's 17 and weighs about 140 pounds and perhaps was going too hard (I think a certain guy in a wheelchair might tell you that also if he was being truthful). Cianciarulo's season would be a complete washout without that third in the first moto at Miller and the great second moto ride. That had to be a relief to AC and all his people that he could do that. It's easy to say this now but perhaps Adam would've been better off to stay amateurs another year but in the pre-season testing he was very fast, he had stamina and it all looked good. That's why you have to think he'll be so much better next year. His program and it's pedigree is too strong to not be.
Swiz- Prior to the outdoor series in a PulpMX Point/Counterpoint, I stated that I felt this was the wrong move for Adam. Sickness struck and postponed his debut and even when he debuted he wasn't healthy. Shit, he was really only approaching full health going into the last two rounds when Blake Baggett chose to warm up his Dunlops on Adam's body. Inexplicably, Adam has had really bad starts for most of the motos he raced and that, combined with his health, were his biggest detriment. He's got the speed but just like we've seen with other rookie season's, he's been hindered by unfamiliarity in the class. He's found it's much more cut-throat than he had expected. Many of my reservations I stated in that PulpMX Point/Counterpoint proved to be reality but I can honestly say I disagree with my prior stance. Adam and his crew opted to enter Pro racing this series with an eye on the future, not to be the flashiest rookie season ever. He met many road blocks and battled through all of them, keeping an optimistic perspective based in reailty. It's been said a thousand times, this kid has "it". The fact that his rookie series was as stifled as one could be, I think it will make him all the stronger when the green flag waves on 2014.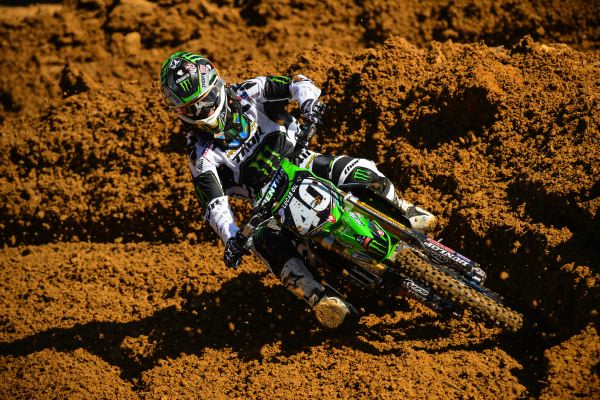 15th Place- Martin Davalos.
FIRST HALF POINTS-73 SECOND HALF POINTS-95
KEY STAT- 7 (Davalos' best moto finish this year, achieved three times)
Matthes- Martin's seventh year in the 250MX class and his worst points position in a few years as he missed three races with injury. Never a true outdoor motocross warrior he was his typical self in many of the races. No matter where he starts he usually goes backwards or forwards to his ninth-twelfth place spot. He did have his usual strong Washougal though and got a seventh in a moto at Unadilla (with a holeshot though). Breaking News: He needs to get into better shape but at this point he is what he is. His buddy Davi Millsaps told me that he's finally realized that all his shortcomings at the races are in his mind. Which I suppose is a good first step, Martin's had good equipment and good teams his whole career and really hasn't ever done much with it (three top ten overall MX points standings finishes in his career) due to various issues. On another note this has got to be the year he's finally going to win a supercross right?
Swiz- What is there to say? I feel like at this point conjecture about Martin Davalos on a 250 is pretty pointless. We know who he is and what he's capable of. Pro Circuit has not changed him in his first year on the squad but he will be back with PC next year. Perhaps Mitch's threat of sidelining certain team members will light some long dwindling fire? Or maybe he'll just start making his summer plans prior to Vegas? I have nothing against Martin but if it walks like a duck and quacks like a duck, it's probably a duck.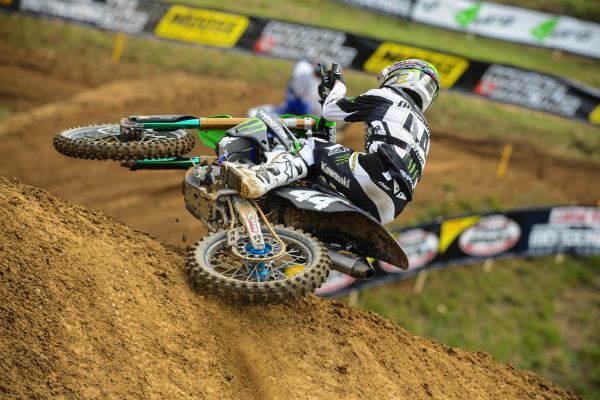 14th Place- Darryn Durham.
FIRST HALF POINTS-84 SECOND HALF POINTS-87
KEY STAT- 10 (Laps led for Durham on the year, all at Budds Creek)
Mathes- Durham missed basically a year with a shoulder injury and was looking for big things in the 2013 outdoors. I'd love to have been able to see what could've happened if it wasn't for the second moto crash at Hangtown. To recap, he got a strong sixth in the first moto and was running sixth again when he crashed hard and DNF'd. He had a cut and some serious bruising- enough to miss the next race-and it affected him for a while. Durham did get a third in a moto at Budds (he always rides well there) but the crash really set him back in confidence and preparation time for the first half of the series. After the crash he couldn't get going (other than Budds) and it wasn't the year he wanted to have. As I've written before, good or bad result, Darryn has smile on his face after the races and is cool to fans and the media alike. Next year is the last year of his Pro Circuit deal and Payton thinks he can win a 250SX title if he can stay healthy. Needless to say, next year is huge for Durham.
Swiz- Double-D had a forgettable year. Coming back from injury and never really finding his sustainable groove. Maybe it's the re-emergence of the old "louder" Mitch Payton that throws him off, or maybe it's just "racing back into shape"? He'll be back next year on PC and bet dollars to donuts he has his best year. He's just got to.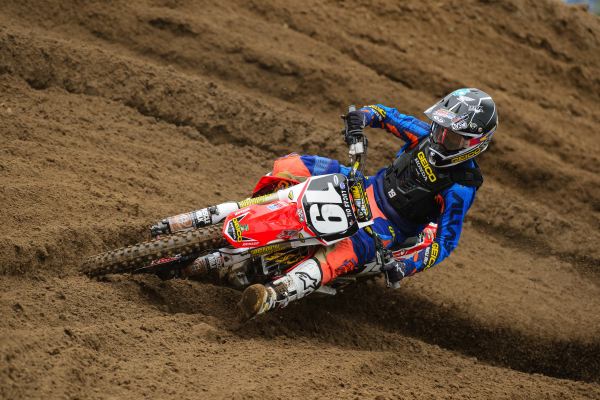 13th Place- Wil Hahn.
FIRST HALF POINTS-31 SECOND HALF POINTS-141
KEY STAT- 8 (Number of holeshots for Hahn in 16 motos)
Matthes- Hahn missed the first four races so in the twenty motos he did compete in he got eight holeshots and led ten laps. Pretty astounding right? And not counting Southwick where he DNF'd both motos with bike issues early on, he averaged 12.2 points per moto which is a 9th place. Hahn came into the outdoors without much practice as per usual with guys who are in the points race, he was practicing SX at the end of the year, not MX. So it's tough to just jump into the motos (ask Cianciarulo) and knock it out of the part. I think he's coming back to 250MX next year so he'll be better as long as he stays injury-free.
Swiz- Usually when looking back at the series results you'll hear "it was the quietest 3rd I can remember". Somethign to the effect of a great result not being as flashy or hyped as it really is. Well in Wil's case this outdoor series, it was the loudest 13th place series finish in history; possibly in any sport! When Wil came back from his Vegas SX hand injury, he made his abbreviated season count more than any other rider I can recall; in terms of TV-time, and checks cashed, which includes the big one, the holeshot award. It was uncanny the way he reeled off holies, one after the other. 13th with a sonic boom.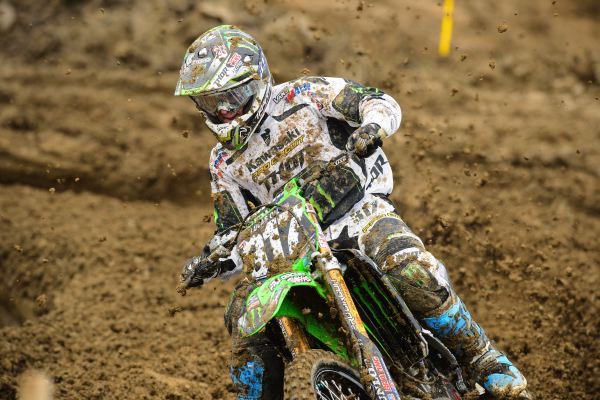 12th Place- Justin Hill.
FIRST HALF POINTS-109 SECOND HALF POINTS-108
KEY STAT- 7 (Motos out of 23 that Hill scored a 10th or 11th place in)
Matthes- Ladies and gentlemen, in 12th, 14th, 15th and 16th in points we have your 2013 Pro Circuit team! That sound you hear is Mitch Payton hitting himself in the head with an old silencer. I'm split on Hill's season, I have no clue whether it was good or not. Hill was the second best guy on the team this year points-wise so there is that. And he was a rookie so this isn't so bad. But he's also on Pro Circuit so this isn't that good of a finish. But he also scored points in every moto but one where he crashed and his bike was roached out. So that's good. See what I mean? Every time I would interview Mitch Payton after the race he would tell me that Hill just wasn't fast enough and they would tell him to go balls-out and not worry about getting tired but he just wouldn't do it. There was hope with Hill after he did well at Washougal (which is to be expected, it's his home track) and then backed it up with another good ride at Millville. But then Unadilla and Miller was tough on him. I do think that if there was one rider that drove Payton nuts this year, it was Hill. In my opinion he needs a big supercross next year or he won't be going outdoors for Payton in 2014.
Swiz- I feel like Justin Hill's excitment over getting the PC ride began squeaking away like an unknotted balloon pretty early in the Supercross series. Almost all phenom amateurs are dealt a debilitating reality check their first year in pro racing. They come from a small pond where they are the top of the food chain and in the snap of your fingers, they are preyed upon like a minnow in a shark tank. Not only are thier skills no longer heads and shoulders above all, their body, mind and preparation are almost always proven to be lacking in severe measurments. 2014 will tell us if Justin was flabberghasted or compelled by his rookie year.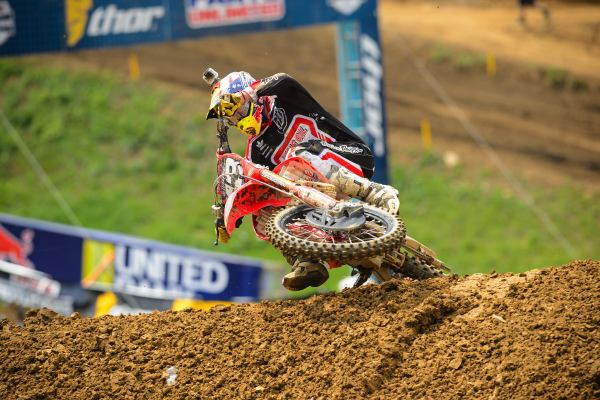 11th Place- Cole Seely.
FIRST HALF POINTS-104 SECOND HALF POINTS-119
KEY STAT-6 (Overall spot for Seely at Southwick, his best on the year. Somehow the California kid can ride sand)
Matthes- Seely missed all of the 2012 nationals with an injury and will never be mistaken for an outdoor warrior so this placing isn't that bad. Seely had a tough start to the series and looked to be out of shape in the first few motos but he got better as the season went on. At one point he was inside the top ten and looking good before having a crappy Millville and one moto at Miller. I wonder if next year we see Jessy Nelson force Cole to step up his game? Seely's the best guy on his team right now and nothing breeds competitiveness like having a teammate there to push you as none of these guys want to be the looked upon as a "second" guy on a team. Seely's in a nice comfy place at TLD Honda but he's got skillz (see what I did there to relate to the kids?) and he just needs a little more gnarliness when it comes to the outdoors.
Swiz- Cole became a battler in my eyes this year in the Nationals. He was consistent and though I've never thought of him as a grinder in the outdoors, he's clearly not just going through the motions out there. 11th place isn't what it used to be and coming off a super scary injury in SX last year, this is his best series finish in the Nationals and he achieved it in a far deeper field than years past. Strong.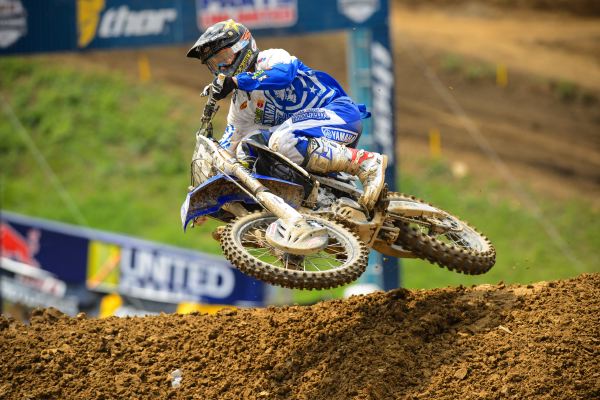 10th Place- Kyle Cunningham.
FIRST HALF POINTS-131 SECOND HALF POINTS-97
KEY STAT- 3 (Number of spots Kyle dropped in the points from the first half to the second half as his -34 point differential hurt him bad)
Matthes- Oh what could have been for Cunningham. DNF'ing three out of his last seven motos knocked him back in the points but at one point he was the best placing Star Yamaha guy for many weeks in a row. At the halfway point of the series (after RedBud) Cunningham was seventh in the points and just four back of Jeremy Martin. Then it went to crap for him. He scored 131 points through the first six races and just 97 in the second half. This is a guy who once got fourth overall in the motocross points so he's got skills. His crashing ways seem to be a bit behind him these days as he gets older and probably a bit smarter. This placing wasn't enough for him to keep his ride and he'll most likely be on Valli Yamaha next year and onto the 450's. Or that's at least what I've heard.
Swiz- Kyle is the elder statesman of the Blue brigade in the 250 class. I hope this is his last year on the 250's because he's shown he can get down on a 450 quite well. There isn't anything left to prove on the 250 and this 10th in points isn't proving anything in his favor anyway.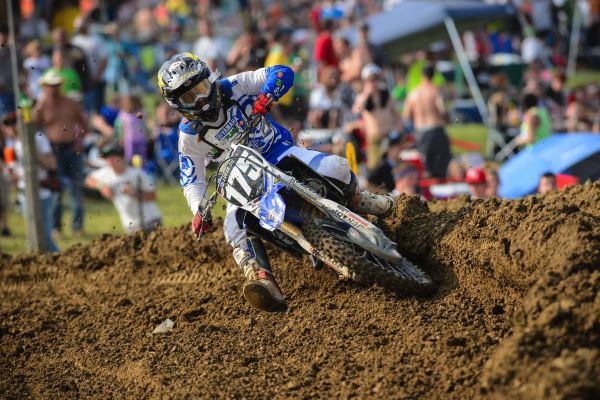 9th Place- Cooper Webb.
FIRST HALF POINTS-113 SECOND HALF POINTS-142
KEY STAT- 3 (Number of motos it took for Webb to make the podium as a rookie)
Matthes- Webb came into Hangtown as a complete rookie (as opposed to his teammate Jeremy Martin who rode some nationals last year and no one is sure if he's a rookie or not) and he had a great rookie season and although to me we saw him more up front in the first half of the season as opposed to the second half, he actually scored more points in the second half. Shows you what I know. Webb was a typical rookie in that he was a bit inconsistent at times but he'll figure it out. One thing that's apparent in going to the races and watching him is that he's got serious talent and bike skills. Maybe he needs to slow down to go fast as the old saying goes but he's got stuff you can't teach. He'll be better next year, just watch.
Swiz- Cooper had a strong rookie series. He was moderately consistent and never looked to be intimidated by anyone on the track and that's important and admirable right off the bat.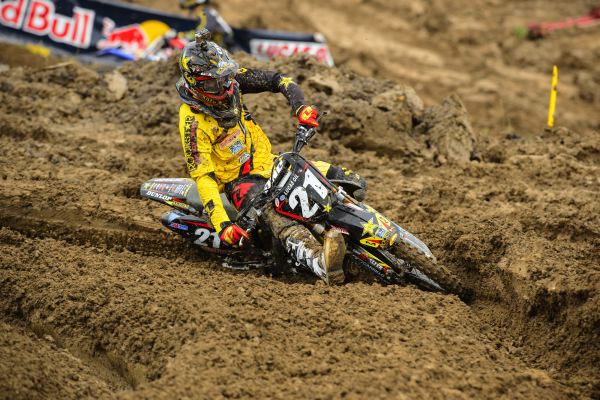 8th Place- Jason Anderson.
FIRST HALF POINTS-161 SECOND HALF POINTS-99
KEY STAT -62 (Jason's -62 points from first half to second half was the biggest drop in the class)
Matthes- Anderson had a good season going but DNF'd three out of the last five motos with crashes. That wasn't so good and if he wants to be a threat next year he's going to have to cut that out. His endurance seemed to be on point, his speed was fine and he seemed to get faster and figure things out as the moto went on. Perhaps his sprint speed is one area that he could work on and it will be interesting to see how he adapts to the KTM next year. I don't know Anderson that well but he seems like a nice kid, a hard worker and I'd look for him to move up into the top five next year.
Swiz- Anderson's 8th place finish is his best but he didn't end the series on a high note. He's finally got the preparation figured out, he's always had the speed, now he just needs to mix in series consistency and the Horizon Award winner will be, well, a little behind schedule but on the correct road nonetheless.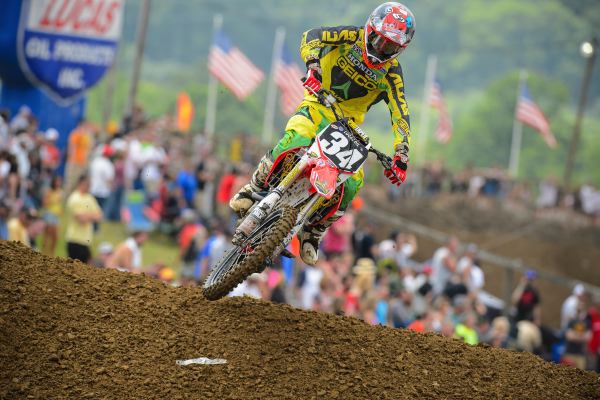 7th Place- Justin Bogle.
FIRST HALF POINTS-122 SECOND HALF POINTS-169
KEY STAT- 16 (Number of holeshots out of 24 motos that GEICO riders secured. Bogle got 3 and was third in the class in number of holies)
Matthes- Hooray! A career is saved! Bogle had some great races straight out of Loretta's and averaged a sixth place overall in his first four motocross races of his career. Then last season he was hurt and appeared to struggle at times to a 14th overall and an average finish of eleventh. And of course we all remember a couple of meltdowns by Bogle in 2012 supercross. Bogle missed supercross this year with an injury and so this was a big half season for him. And I'd say he responded. A bit of a rough start but he picked it up and showed some speed the rest of the season. Bogle's got to buckle down and not get too sucked into the SoCal bro-life that his money and status affords him. Stick to his Oklahoma roots, the Canard program and he'll be fine.
Swiz- Remember when Justin Bogle was bitch slapping Mookie and jumping into dudes in Supercross, then getting mad at them for being in his way?! He had a pretty bad rep amongst core fans but I was doing my best to back him saying that he was just a kid and figuring it out, well guess what? He's figuring it out and beginning to bloom in his 2nd full season. I still see major up-side for Justin and he appears to still be improving and gaining confidence. He has a great cast of teammates around him who have recently tasted success with him in their midst. He's soaking it up and taking notes.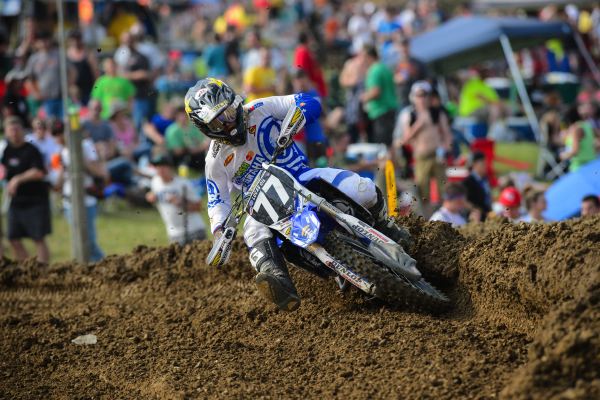 6th Overall- Jeremy Martin.
FIRST HALF POINTS-124 SECOND HALF POINTS-176
KEY STAT- +52 (Martin's first half to second half points were tied with Osborne for biggest improvement)
Matthes- Regardless whether or not he's a rookie (we've got to figure this out) Martin's first full year was one that indicated he's on the way to being a top guy. Built in the mode of Jeff Stanton, he's not flashy or anything but he appears to be in good shape and had more than a few great rides this summer. And don't forget he got a podium in supercross as well. Martin had four motos where he didn't score any points and that hurt him as well as some of the typical rookie inconsistency. His teammate Webb outshines him in style and flash but many times Martin was the one who finished better when the checkers flew.
Swiz- We heard that Jeremy was faster than his big (by birthday that is) brother before he entered pro racing and he has certainly not disappointed. I'm often thrown by Jeremy's Euro riding style but he makes it work and all on an 8 year old bike to boot. It'll be interesting to see how he does on the new Yamaha 250. I think Jeremy's outdoor series was one of the positive surprises of the 2014 year.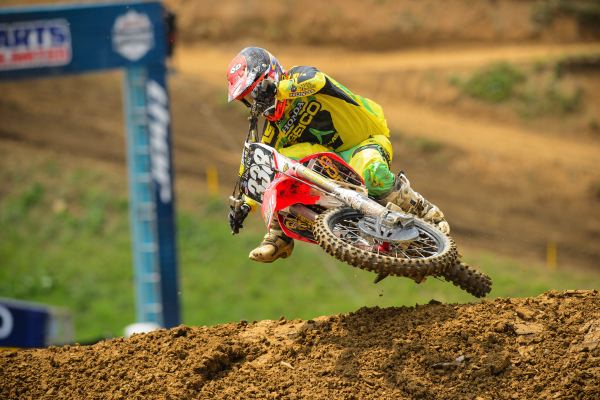 5th Overall- Zach Osborne.
FIRST HALF POINTS-124 SECOND HALF POINTS-176
KEY STAT- +52 (Tied with Martin for the biggest second half gain in points)
Matthes- Well, well, well lookee here you can be written off, forced to Europe and then come back and still be good! Osborne was solid all year long despite some first moto problems that haunted him at many races. A solid fifth overall with some podiums and laps led (along with being one of only four riders to score points in every moto.) With over a fifty-point lead on Martin in 6th and almost 50 points back of Blake Baggett in 4th it's clear that Zach was sort of stuck in being the fifth best guy in the class. But he's got the top two guys moving out of the class so he should be better. Team manager Mike Larocco told me that Osborne is great because he's a turn key rider and doesn't need to be harassed to work hard or practice or anything like that. Osborne's second half of the year was very strong.
Swiz- Not since Robbie Reynard has a pro had such a debilitating case of arm pump and not been afraid to say so. Zach had a lot of great motos this series but he was also capable of more. We know this, becasue he knows this. 5th overall was his goal prior to the series and it went better than his Supercross series but Zach isn't the guy who accomplishes a goal and feels satisfaction; it just makes him want more. And I think he'll get it next year with the arm pump issues settled.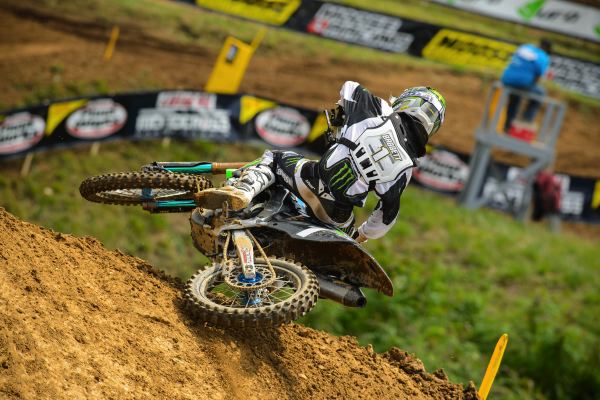 4th Overall- Blake Baggett.
FIRST HALF POINTS-223 SECOND HALF POINTS-172
KEY STAT- 10 (Average number of points scored by Blake in a 5 moto stretch from second moto at Southwick to first moto at Millville. The 11th place average for these 5 motos sunk his title chances)
Matthes- Yeah, I just don't know what happened here. Was it the wrist? With him going back in for surgery this off-season you have to think that was part of the problem right? But he was good at the first race with not much prep and he won Budds Creek (I thought that was a clear signal he was on his way) so was it that bad? He broke away from trainer Aldon Baker this year and we didn't see the incredible charges from the back like in years past. Was that it? All I know is that he wasn't the same guy as he has been in the last two years. Crashes and no charges equaled a pretty meek title defense. Like Bogle this year, next year is huge for Baggett as far as his career. Payton and Pro Circuit have to get a better Blake Baggett next year.
Swiz- I know Blake won the title last year but coming into this series I honestly didn't think he would be in the running for the season podium. Stranger still, my reasons for thinking that way had much less to do with his wrist surgery than my expectations of Roczen and Tomac. He showed his "Chupacabra'essence" a few times but that wrist really jacked him and his potential. He'll be all 250'd up on PC next year too and with that wrist getting fixed up properly, he'll be scary fast again.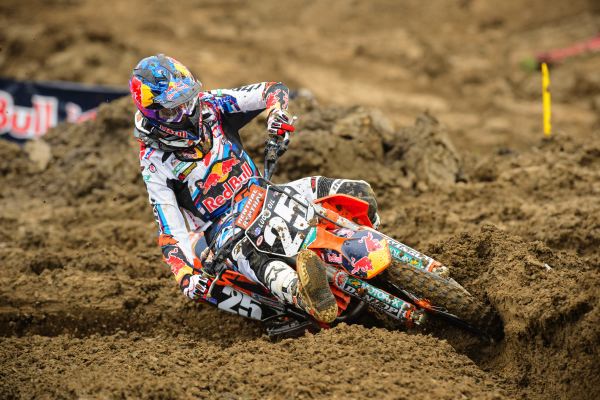 3rd Overall- Marvin Musquin.
FIRST HALF POINTS- 222 SECOND HALF POINTS- 189
KEY STAT- 0 (Number of laps led in the second half for Musquin which is a stark contrast to the 34 in the first half)
Matthes- Musquin was an early season revelation as he won two out of the first three nationals and looked to be a title contender. Yeah sure he only won one moto out of the four at the two races he won but hey, they still count. It was wondered by many if when the tracks got rough and the temperatures got higher if Musquin could match the "balls-out" (trademarked Pulpmx.com LLC) effort of the top guys and truthfully, he couldn't. Musquin faded as the year went on and we saw less and less of him up front as the races went on. Still, it was a good year for Musquin in winning two races, almost winning the SX title and he'll be a front runner next year if he can just work on his "staying fresh-ness" in the outdoors.
Swiz- Great series for Marvin, he made it all the way through without injury but seemed to be a little deflated in the second half at times. It wasn't a typically hot National series this year so maybe it was just the grind of not being injured and actually racing full-out all year? Stellar year nonetheless.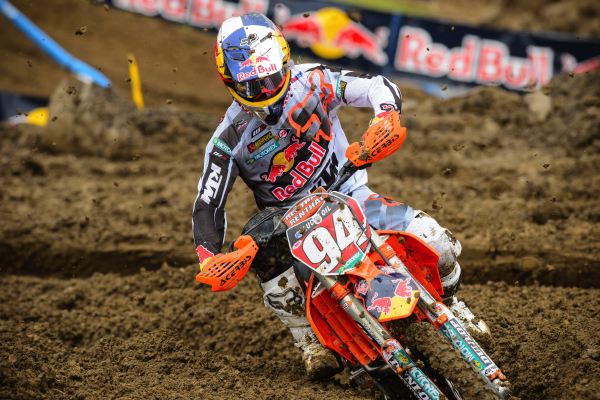 2nd Overall- Kenny Roczen.
FIRST HALF POINTS-265 SECOND HALF POINTS-228
KEY STAT- 18 (Number of podiums out of 24 motos for Roczen)
Matthes- Oh what could have been had Roczen not gone down at Millville in the first moto. Yeah Tomac was coming on and was probably going to win the title but Roczen would've made it a fight to the finish. Instead the crash and DNF took the wind out of his sails and Tomac walked to his first title. Kenny was much better this year than last and I'd say questions about his fitness in the hot races that were raised from last year's performances have been answered. I also like how a few times this year (Southwick, Redbud) he rebounded from a first moto beat-down to win the second one. He's a champion, a winner and a great guy at the races. And I hope he never gets jaded or loses his European naivety. Then he'll turn into one of so many guys in the pits. If I was Roczen, I'd think about staying down in the 250's in motocross next year, why the rush to move up?
Swiz- Ken Roczen had a point of demarcation in both the Supercross series and National series where it could have gone up in flames. In Supercross, he was not bitten due to a anemic performance by Eli in SLC but in the Nationals he was unable to rebound from the DNF at Millville which was earily similar to his SLC debacle. I'm not questioning Ken's toughness becasue that Millville crash clearly knocked him a little silly but as many fans questioned following the crash, do you think Eli would have pulled it into the pits after that? It's too bad Kenny is eagerly making the jump to the 450's next year, he would clearly be the title favorite in the 250 Nationals.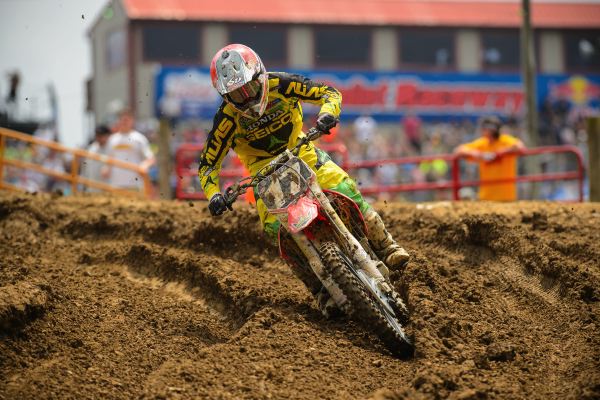 1st Overall-Eli Tomac.
FIRST HALF POINTS- 258 SECOND HALF POINTS-292
KEY STAT- 9 (Oakley Bomb Awards for Tomac signifying the fastest qualifier out of 12 races. That says it all)
Matthes- At the start of the series it was all about Tomac's ability to get a start or not. And many times he did not. And that fact looked like it might cost him this title as after he won the second round, he didn't win another overall until round eight. But of course his starts came around and he won the last five rounds to clinch the title with a race left. Roczen was awesome but there was no doubt that Tomac was a bit better through all 24 motos. Tomac could come through the pack when he didn't get a start and sometimes Kenny couldn't. Eli brought the speed and endurance each and each and every week and he wore the competition down. Also being tall, he really looked to be able to "place" the front wheel wherever he wanted to while he was riding. Last year he was very good and almost won the title in a late season charge. This year, he got it done. Onto the 450's for him and more great things lay ahead for Tomac.
Swiz- Elit Tomac looked like the big fish in the small pond again this series. He was transported back to his amateur days where he just trounced the field, except this was the pro class and he was making most of the field look silly, often. Eli's program is clearly working well for him. Tits Legendary believe heat is his weakness and I have to say he's at least partially correct. if there is one area where Eli looks almost human, it's when the temperatures get extreme. This outdoor series was atypically moderate in terms of heat, if they return to the norm in 2014, Eli could look like the polar opposite of himself in this years dominant showcase.