This week it's Unadilla, Dubach and the YZ360
This week it's Unadilla, Dubach and the YZ360
Hi everyone, from the late 80s through the mid 90s I was a contributing photographer for Hi-Torque Publications (MXA and Dirt Bike magazine). The photos that you see here were never published and have been stored as 35mm slides for the last 15-20 years. A month or so ago, I finally got around to purchasing a quality scanner and the journey began, going through these images has been a revelation, as I haven't looked at any of them since I put them away and had only seen them as tiny little 35mm slides. Scanning them, then seeing the images on a computer screen has been like seeing them for the first time, they stir up lots of great memories, and bring back a great era for motocross, lots of bright color, big characters and of course, some true legends of the sport.I hope you enjoy viewing them as much as I have-Mike Sweeney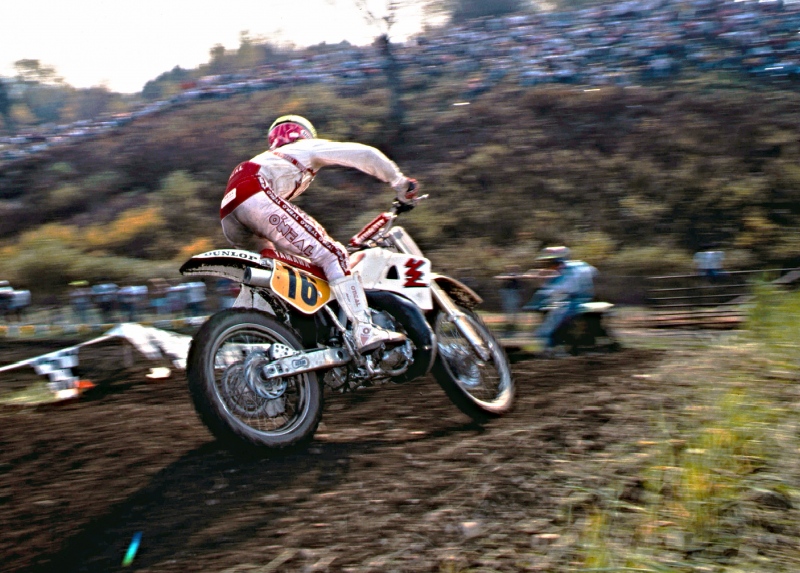 Mike Sweeney- "Doug Dubach on the YZ360?
When I first saw this photo full size it kind of threw me for a loop because the bike has radiator shrouds, yellow plates and is obviously water cooled. You guys that remember the old Yamaha YZ490s etc… will remember that they never made a water cooled version as a production bike, so that kind of jumped out at me. Anyways, I really like the flash fill stop motion thing going on, but I didn't really think twice about the bike after that, just wrote it off in my head as "he must've been on a works bike".
Only problem, that wasn't possible, not then at least, another Doug would later run what was essentially a Yamaha 400cc works bike in the 90s but that's a story for another time. So anyways, my buddy Billy saw the photo and pointed out that he must've been on a YZ250 with a 360cc kit which was actually pretty common at that time as the YZ490 was not competitive. Of course the light went on and I thought to myself, shoot, that's right, I forgot about the conversion kits, another beautiful thing about the old 2 smokes, change the cylinder and piston and you're good to go for the most part. Now that I think about it, my god those things sounded awesome!
Another thing about this shot, I think it's cool that his O'Neal gear is pretty timeless, still looks good today, I know a lot of the gear in these old photos look pretty heinous some 20 years later, but that's also a topic for another day, I definitely have some pix of guys wearing some crazy stuff, look for that in weeks to come!
Doug was/is a great rider and was always a hard charger, I have a bunch of good photos of him and landed more than a few full color pages of him back in the day. (no small feat, back in the 90s the mags didn't have a lot of color editorial and most of the small photos were black and white) I was saying the other day, if you're to young to remember Doug racing he was a lot like Shorty is now, hard working, hard charging and a fan favorite, I'm glad to hear that Doug's making a full recovery from that awful get off up at Mammoth.
Doug Dubach- "This was the Yamaha YZ250 with the 360cc kit put into it. I certainly had my complaints about the bike but that is just me also, my whole career I was never satisfied with my bikes and always wanted to make them better. I had the advantage of being aboe to ride that bike more aggressively deeper into the motos and that was great but we struggled off the start. That engine didn't rev like a 250 and if you drag raced against our race 250 bike, it would lose. It was torqey and when the track got slick or rough it was fun to ride because it had a wider feel than what those other guys were riding but it wasn't fast in a drag race. It didn't have the top end. And even me being a good starter, I was always coming from the back, most times I was fifth or sixth and trying to catch them.
We were excited to ride this 360, our 500 was dated and I remember we had Steve Lamson and Shaun Kalos also on the team. It was just when you needed that bit of extra power it wasn't there like a 500 two-stroke. It was a short series and at times it was frustrating. We didn't have a lot of time to test before the first race but we did what we could. We had bad vibration and didn't seem like it wanted to break free. We did get some balanced cranks at some point and that helped a bit but that was just at the last few races. We never achieved that perfect engine, the KTM 300 nowadays is pretty fun and they've got it down but back then, the way the tracks were laid out, there was some long sections that the 500's shined on. I would end up chasing someone down late in the moto and pass them a lot because they were tired on the 500, that was a positive.
The faster guys, like Stanton, Ward and those guys were gone. There were basically five guys in the class that year, Stanton, Ward, Lechien, Johnson and Bayle and I was a semi-factory Yamaha guy. I would beat one guy each week and I think I got a fifth or something like that every round where a five would be in my number. I'd go 7-6 for 5th overall, 6-4 for fifth overall or on this day I went 5-5 for 6th overall! It was always something involving fifth and me beating one of those factory guys. I'd have every moto combination from 9th to 4th to get a 5th overall. Me going 5-5 on this day, I needed a 7-4 to get a fifth.
Yamaha put us on 125's many years in the second half of the series but this year they said we had to ride the 360's. We rode 125's in '92 and '93 while Damon (Bradshaw) rode that WR500 in 1991. And he rode that thing pretty good, I watched an old race the other day and he passed everyone and was leading the moto. And of course he won one moto on it. Our 125's weren't as fast as the factory Honda's and Kawasaki's but I didn't mind the bike. Of course Damon didn't know that the bike wasn't that good, he just twisted the throttle!
My teammate Micky Dymond beat me this round and I think it was the only round that he did. Not many people know but he had a big crash pre-season testing at Washougal. There was the knuckle jump after the Chuck Sun jump and he did a little swap or something before it, got whiskey throttle off that thing and just launched. Normally you come up to it hard, skid a bit and just barely catch any air but he flew. He must have been 40 feet in the air and landed on the side of the track in the grass and almost landed on a guy putting fence posts in for the upcoming national. It was insane, I was sitting there with Keith (McCarty) and we just talking when he came around and it was "What the hell?". I'm telling you it was so high. His divots in the grass from his boots were so deep. He bruised his feet and missed the first couple of races. And that was why you didn't see him until later on in the series.
JMB won this day, it was another trip back from Europe for him and like he did earlier at Gainesville, he won the national. The one thing I remember about him was he was just a good motorcycle racer. Bottom line he was so talented, calculated, was so precise and every time he swung a leg over a bike, he could beat anyone. And I always liked him, I was one of the few guys! Some people didn't like him for winning everything, he was from France and you could throw all the stereotypes at him but he always treated me well and was a nice guy. I was fifth and he was winning, maybe that was it! (Laughs) You could just never deny his skill. What else can you say?"
This year (1989) was my best year in the results. There were some motos that weren't great but I was never horrible. I was sixth in 250SX and MX and fifth in the 500's and it was my most injury free year. That next year I was #7 and I missed big chunks of races with casts on the next two years. But this year, through all the races, was my best season. In 1990 I had a pre-season injury in Japan with my foot and ankle and in '91 it was a knee injury in San Diego. I missed almost the whole SX season and came back to just get some time in and I won my second race back! None of it makes sense, you work hard for every race and don't win but the races you just come back to get some seat time. You win! Shows you the cards are played a certain way no matter what.
RESULTS- 1989 Unadilla 500 National
1-JMB 1-2
2-Jeff Stanton 4-1
3-Jeff Ward 3-3
4-Rick Johnson 2-7
5-Micky Dymond 7-4
6- Doug Dubach 5-5