The team manager of JGR Yamaha talks past and present
The team manager of JGR Yamaha talks past and present
PHOTOS BY JAMES LISSIMORE
Me: Welcome back to the real world from your vacation in Cabo trip you just got back from. And by the way, you did not see Sammy Hagar.
Jeremy Albrecht: I didn't see Sammy. I like Sammy. It's good music in there though. They play a lot of old rock in there. And when the band takes a break it's more new style music, but it's a good time. I needed a vacation.
It's a long year. It must be nice to be on vacation for a little bit.
Yeah, definitely.
Let's talk about this past season. Brayton had about 8 motos he was really good, and the rest of them, not so much. And Grant was pretty good, at times really good. A little inconsistent season for JGR Yamaha. Do you agree with me?
Yeah, totally. Definitely agree with you.
But there were flashes. Let's get to Brayton. Why was Brayton so good for about six motos in a row, and then not so good?
I wish I had the perfect answer for you. We're going to look at all that and try to figure that one out. Brayton definitely puts in the work, so it's not that. We've been trying to talk about it and figure out what it is we need to do different. Obviously it's not just working harder, isn't necessarily the way. He's looking at some options and trying to figure out a way. Our sport is tough. When you don't do well you point the fingers everywhere, whether it's the trainer, the bike, the trainee, just do something different. We've got to figure out what it is that he needs to do different to get to the end result.
He started working with Buddy Antunez actually toward the end and I think that really helped a lot. That's one of the things he was going to do more of. Just work on speed and technique, because he's worked so long on fitness that you forget the basics sometimes. Buddy actually brought a lot of the fun back and working on his riding and just thinks about what he's doing, instead of just doing the laps. So I think that's going to help. I think that's what we saw a lot of the flashes of brilliance. But he's had, like anybody, he had a lot of things going on. A lot of stress.
Off the track stuff?
A lot of off the track stuff for everyone. Brayton moved, he got married just Saturday. There are a lot of things people are working on and some people can handle things different than others. We don't really know why but he definitely had some great motos and had some not so good motos, but none of it was terrible. The cool part for us as a team is we see that the possibility is there. He got some really good starts. At Elsinore I saw four really good laps, which is better than none. So I know he can do it. We just got to figure out how to do it. That's exciting for us so we're going to work really hard on that, trying to figure it out.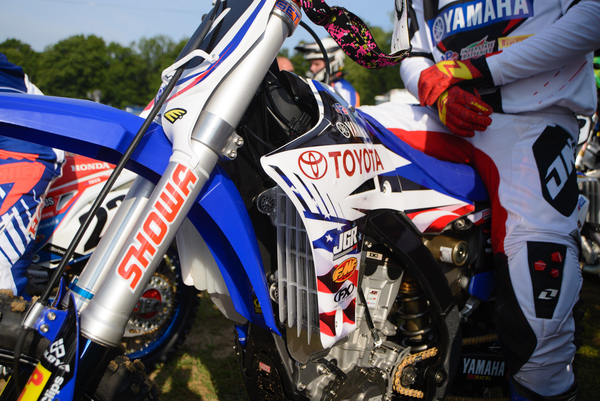 Team JGR Yamaha has had its ups and downs since starting off in 2007.
He made the comment to me that he hates Hangtown and doesn't ride it well. And every year his outdoor season starts off shitty because of the track, SoCal track and whatever. He thinks that if he spend more time out in California it could help.
Yeah, Elsinore was tough for him too, for a lot of people, probably. The track isn't the best. That's the hard thing; trying to go, even though you're telling everyone… If you don't like and you're faking it, it doesn't help. You have to say, it's okay, it's okay. But if it's not a great track, you're not having fun, it's harder to do good. But everyone likes Red Bud. Both my guys rode really well there. But we just got to figure it out and put it together more often, for sure.
And Grant's outdoor season, what do you think?
Honestly, I was happy with the end of it. Him coming into it, he didn't really get to come in prepared because of his shoulder. And really we knew it would probably take five or six races before he would be into shape. So I knew we were rushing it. I was happy he was actually allowed to ride, because he really probably was border line if he should be riding or not. But he knew he had to if he wanted to race. Which wasn't great with him already not really prepared. So you don't really know what to expect. He actually rode good at Hangtown. Got taken out by Wilson and the race was all done. But there were flashes there. We knew he was going to get tired. Each week he got a little better, a little better, and then in the middle I think stress kicked in.
That's when reality's hitting that we're working on contracts. It seemed like that maybe affected him a little bit. Like, he was trying to let it not and I was trying to let it not affect you, but it has to. We're all human and stress does crazy things, and he's got a family. So we were all working on that stuff; it got a little weird. Then once we all decided we wanted to sign him it seemed like he definitely rode better. He had some good speed there. The last race obviously him not getting to ride the second moto was an eye-opener I think for everybody.
The good thing for me, like I told him, and everyone that works here, we all talked about it, it's hard to be that good and that fast. That's the hard part to get. To get in shape is actually the easier part. To like the bike and to know you're that fast… If you know you're that fast then all you got to do is pick up the training. So he does. He's definitely doing more work than he ever has. He's excited. I think he did come into it not prepared to being with, he was doing more than he ever has, but riding at that speed. He just needs a little more. I think that should have been a great thing for him, too, to see that he's got the speed and just do the work. I think it was great.
There's a lot of debate with his Elsinore performance with myself and others. Is it good to show speed, lead races, get 3rd, and not race a second moto? Or is that shameful and embarrassing like some people on my Twitter timeline said?
Obviously you wouldn't want that from anyone. But to me, I would rather see the speed and that he gave us everything he had to where he was ready to fall down. Which there's not many people that'll do that. There's nobody else. There are people, I'm not going to say names, but they'll pull in and say they have heat exhaustion halfway through the moto or say they broke a leg or arm and then they're out the next moto. He definitely is going to give us all he has while he's out here, in shape or not. You got to go for it.
We knew he was a little squirrelly but I didn't know he was that bad. When he came in he bounced all over. He was going to try to get in the ice bath and cool down but he couldn't. The decision to go get an IV, it was more just to be safe. We're not going to change the series, and that's a bummer. I at least was happy. He showed us what he has. Now just do the work. Obviously he felt like he did everything coming up to that.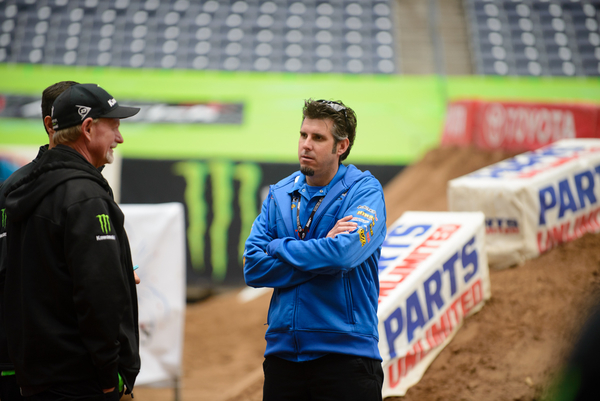 Albrecht talks to his old co-worker Rick Asch at Kawasaki.
I suppose leaving everything out on the table is to be admired.
That's the way I look at it. It's not like he came into it partying all week. He told me. He rode, he trained. He knew it was going to be hot. He came in, he felt prepared. He knew it was going to be hot, so he didn't dehydrate himself all week. He felt like he drank fluids and he ate right, he did all the things. He said he did it more than he usually would in the past. He's actually training more now than he ever has. Now, is there something more he could do? Obviously. So that's the cool part. I think he knows he has some stuff to work on and he's going. That to me has motivated all of us, even him. I'd rather have him do that than go out there and roll around in 10th the whole moto because he knows he can't make it. Tenth does nothing for us.
With him, he's just got to stay on the track. He's got to stay healthy. That's the big thing. It's been years since he's been able to do that. Last year I think he was okay but he still missed some races.
That was one of his better years in a while, to be consistent anyway.
So you re-signed him?
Yeah, he just signed on Friday night. One-year deal.
And Brayton's in his last year of his contract too right, for next year?
Correct.
What did you think of Miller Motorsports? The track and the facilities, is that something that you guys want to see more of, less of? Do you understand what was happening or do you think it was just a cluster like some people thought?
I don't think it's bad like everybody thought. I think it's what our sport, outdoors, needed. I bet the first time they stuck one in a stadium for Supercross everyone thought it was a dumb idea too. I think if you're a fan and you want to watch motorcycle racing, the only way to get more people go there is have a better place to watch it. So I think it's actually what they need. My opinion is the track was a little far away from some of the places to sit and watch out of the shade. But it was crowded. Way more people than what I expected from being way out there. I'm like, who's going to come out here? But it was a great crowd. They were into it. And people were happy we were there, which is a good thing. I don't know what it was to get in there, but people seemed to be happy to be paying. They were eating, they were drinking. People seemed to be happy and having a good time. That's really what it is. So, do they care if the track is no good? No. They're fans watching a race. They think the racing was good. It would have been better if it was earlier in the series probably but some people were kind of over it probably, good guys pulling out which was a bummer for fans that want to see their guys.
But overall I think it was great. I think the dust, and you can do anything with heat and wind, the track's going to suck no matter what. The only problem is that dirt is kind of like the Elsinore dirt. So if you water it too much it got slick. That's what I think made it tough for all the racers. I'm one of the one's that went up and asked them not to water right before the race, which created dust. But I would rather that than have the guys sliding all over the place. So it's kind of a hard balance because you don't want the dust but at the same time you don't want it slick and dangerous either. And that's the whole thing; it's the first time were there. I'm sure everybody learned from it. I'm sure it'll get better every year. But I don't think it was terrible. I don't think it was dumb. I think that obviously everyone learned.
What have you learned about the 2014 YZ450F? What has Yamaha told you? What do you think it'll do better? Talk about getting that thing ready to go.
Actually the funny part is Brayton's rode it a little bit but not a lot yet. Josh Grant spent a little more time on it. He rode one back in California for my Surfercross. They were the Transworld Moto X bikes. They let him keep it for two weeks, so he rode it. He's spent the most time on it. He rode a '14 all the way up to Unadilla, flew there and rode his race bike. That's really when he could tell what the difference was. He really likes the new bike. He likes the way it corners. It runs really good. Brayton is excited to work on it. They've both been out with Yamaha riding with them on their race bike out in California on some outdoor tracks. Grant just went out on the Supercross track the other day and he'll be out there a few more times this week. Then we'll be testing next week with Grant for Monster Cup. And then Brayton will be when he gets back from his honeymoon we'll start with him.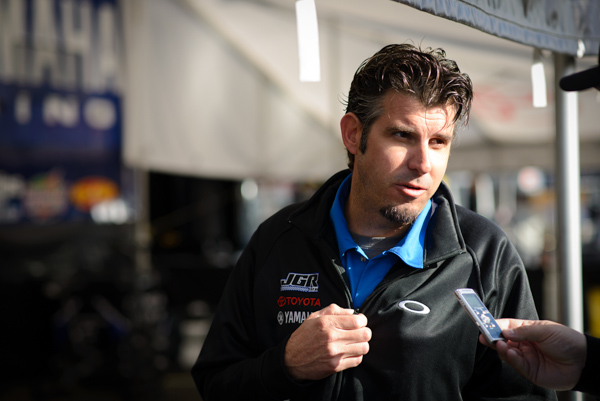 One of the most successful mechanic's ever, Albrecht likes being on the managing side.
You riding the Monster Cup on the '14 is the plan, right?
Yeah, we'll ride a '14 for sure there. That's been the goal all along. Just take our time and make sure the bike's ready before we just hop out there and race it. Honestly it's the first time the guys can ride a stock bike and be totally fine with it. Grant rode it two weeks and he didn't care. Loved it. Pretty tough to make them happy. Even though they're like, "Oh, well, it's not as good as my race bike." I"m like, "It shouldn't be!" It's a stock bike. What is it like compared to last year's setup bike? Oh, way better. Well, that's all I need to know. Don't compare it to your race bike. I hope our race bike's better than the stock bike.
You've swung and missed on a few riders here and there to sign them, and a lot of it due to the bike and not your team. How much damage, the failed James Stewart thing, how much did that hurt your program looking back on it?. But how much did that hurt?
I think it definitely hurt more than I was thinking it would. But you never know. But going back on the Stewart thing, for us personally our whole goal was to come in and win races and build it up and get to the next level. We did win some, but we didn't win any more than we really have in the past. We won two Supercrosses our second year. Grant won one and then Grant won Red Bud. So we didn't go in 8 in a row and we were all pumped. And I didn't go out of it with just the mental side of it, or come into it being that bike and all that. But in the end I was worried what if James comes out and wins every race when he gets on the other bike? That didn't really happen, even though it started to. I was like, oh, man. But then things just sort of happened.
But either way it doesn't really matter because no matter what James had to go do that. He really believed that's what it was. So he goes and does it. It would just have been a miserable year this year too. And he would have still thought, "I need to hop on that bike, because I think that's the answer." So he needed to go do that. No matter what it wasn't going to be good for him or us to keep going wondering. I don't wish that would happen. If he had won every race, yeah, that would hurt. But we weren't wishing that he's going to crash. That's not what anyone was wishing. I would like it if he got 2nd or 3rd here or there, that would be nice. No one wished anything bad on him. In the end I feel like he did as good on our bike, but he wouldn't have known that until he leaves.
As shitty as the whole deal was, I think it was admirable that you guys and him parted ways, stopped the bad decision and the bad racing right away, took your lumps and moved on, as opposed to like you said, you would have still had him this year, and who knows how miserable it would be.
And maybe it could have been different; I don't know. People always say, if you would have signed this guy, the guy would have been hurt all year. How do you know that? The same thing wouldn't happen because he probably wouldn't have been riding the same place. You don't know what would happen. It seemed like he needed to make a change because it wasn't working. He felt like it was the bike, so he had to do something. At the end, that's how I always see it, which is true, if you think that the other guys that we have are that good that they're making a really amazing ride with our bike? How good would they be if it's the bike? Are they way better than what they're doing? Even when Davi was on our team, Davi got 2nd in the series. Would he have won if he was on something else? Maybe some bikes they do a little better but that's the whole point. There's few brands and some guys get along with some. Chad Reed rode the Kawasaki that time and he didn't do good but he's obviously good. Some years, some things, it's not always the bike and it's not always the rider; it's the chemistry. And we were all hoping the James Stewart thing was going to work. He was too. And it actually was going good until we got to the first race and he got 3rd or whatever but crashed again. That just spun him out, because he was coming in there thinking he's going to kill it, so were we. So he was happy all the way to that point. And it's hard to bring it back. You almost need some luck to bring it back and we didn't get that. It wasn't miserable. A few drives here and there to Florida. Thinking we were a little tired, a little crazy.
Honestly I wouldn't change any of it. It made all of us better as a team here. It made us learn a lot. We actually did a lot with the bike that we didn't even know we could do. So that was interesting to build a skinnier bike and do all the things that he wanted us to do, which was really cool. It ended up that every guy we tested with wants it too. So it's not like it's all in a crazy direction. There's a lot of things it made us do and step up.
Yamaha at that point realized that we were for real and we ended up getting a three-year deal. A lot of things were positive from it. It's not all negative. Definitely other riders would question it, but then when they ride it I think that it's not as questionable, but then they're still wondering in the back of their mind, "I liked it; I wonder what it is that he didn't like." And that's the part where we just need to keep working at it and people will believe it. It's going to be good but it could definitely take some time. Suzuki, the funny thing is, years ago when Ricky did it everyone thought he was the craziest person ever to sign with Factory Suzuki, because he's Honda or whatever. They actually offered all the three top guys, whoever signed first got the deal. No one thought he would do it. They all were kind of holding out. And then he does it. Everyone thought he just screwed himself up, and he goes and wins it. It's all mindset, working at it.
And that bike back then everyone thought it was really bad. But you can make it good. But for our sport the hard part a lot of it is the rider. I wish it wasn't. It's more rider than… You can have a good bike or a bad bike and it might you a couple positions off, but when Villopoto's on it he's going to win anyway. And when Josh Grant's riding good, his bike looks as good as anybody else's. It doesn't look bad. Definitely the team you have, the people that you have working on the stuff, what you start with, where you get it, and the decisions you make and all that, but in the end it really comes down to what the rider is capable of doing and if his mindset's right, and he's happy and everyone's getting along. That's the hard part. It's not easy. If it was, we would have done it already.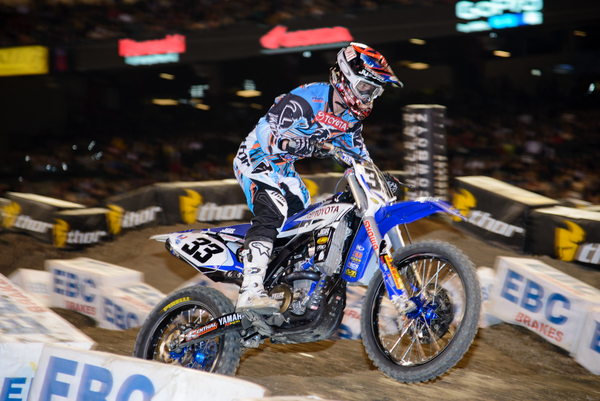 Josh Grant just re-signed with the JGR squad for 2014.
Well it had to have been satisfying to see Davi, yeah there were injuries, but it had to be satisfying for you to see him get second in the series.
I thought he rode great. He's what saved us as a team that year to not feel like we totally failed. We were really bummed when James wanted to leave. That probably hurt more than any of it. He was back and forth. So in the end we all decided if we're all questioning it let's just move on. And that's what we did. Davi kept us happy, doing good. Don't quote me but I think we were on the podium 11 times or something that year. We had 2nd in the series. James got 7th. We got 2nd and 7th, which is not bad. It's funny; I'm wearing the shirt today, the Factory Effex shirt, and it has our team thing and it says it's established in 2007. When I had it on I was realizing, you haven't even been doing this that long, compared to a lot of other teams. I think we set our expectations pretty high. But I think we're doing fine.
What's the best thing about working for Coy Gibbs?
Just that he's a normal, real person actually. It's kind of like a little family. We can be here and make decisions and I don't have to go to any other high up boss. I just walk in his office and get an answer. No layers of management stuff; you just go in there and see what he thinks, if he likes the idea or not. It's a really small but yet if he needs they do have a whole company down the street with 400 and something employees that are willing to help, and they love racing. They're all about racing.
I couldn't believe it when I took a tour. Everyone was into it and everyone was asking Coy about it. Coy was like, this guy did this, built this for us, and this guy built this for us…
And they love it because it's new and it's different. Usually when you see 400 employees, because they sell other stuff – they sell motorcycles or they sell something. All they do is race. All those people there ride. It's funny; Coy's dad, he'll come in and be like, what do I need? Is there anything that can make us win? Is there a machine or something we can do to win…
He's like "Can we build a Ryan Villopoto"?
That's the hard part in our sport. You can make the fastest, baddest bike but it doesn't mean you're going to win. And that's the one thing I feel good about it. I never told him hire me and you spend this much money and do this but you win. I told him it was going to be hard from the beginning. Everyone's willing to work on the goals. They don't want to come in and buy the top guy right away. Everyone wants to earn it. Definitely some things aren't the exact path we were going to take, but they all have helped us get to where we are and we've learned through all of it. Honestly if Josh Grant or Justin Brayton do really well I think it'll show more of what we are than if we just bought somebody. We tried that already actually and it didn't work. Our plan is to get up there and do that, so it's not like we're never going to do it. But we have tried to go after guys and everyone will bag us, why didn't you get that guy? I feel like every time I get the best guy that's available that fits what we're trying to do.
It's not for lack of trying, either. You've been in on the running on some big names and some big riders. It just hasn't happened. Eli Tomac being the latest, Dean Wilson, Broc Tickle. You've made competitive offers and you just haven't gotten the guy, but you've been there.
We're in the game. We're not just sitting here. But I am happy. How the year ended I'm happy to see that the guys that we're going to have next year show that they have the speed. Now we just got to work on different stuff. What I was looking at with Josh Grant, What I didn't want is, say we did do somebody else, and if I wouldn't have been able to do him, which we never got to that point, I didn't want to have to let him go. I want him to be here. I feel like he's just turning the corner. I didn't want to be on another team and do the Davi thing. Davi was improving each year and then he started doing great this year. And that's the tricky part. It's all a gamble. I wish it was easy to say "yeah, hire that guy," but it's never that simple. But we all still work together. I feel like we have a good team. We know how to work with each other. We'll see at the Monster Cup to start it off, which we should be a lot more prepared than we were going there last year. So we're excited.
What's the worst thing about working for Coy Gibbs?
Well, depends who you are on the team, but he makes fun of you a lot. He jokes with you and rags on quite a few guys. Some of them definitely get picked on more than others. He's pretty good to me on that part, but he definitely plays around with a lot of the guys. He likes to joke around all the time. You got to be able to take it. We were at Brayton's wedding on Saturday night and he's ripping guy's suit pockets off and these guys were his friends. He thinks it's funny. Not everyone thinks that's funny. He's laughing and I see this guy and I don't even know if they know each other and he's freaking out. I find out later he gave the guy a ride to the wedding and home, Just ripped the guy's suit pocket off. You have to be able to take it. But he's a fun guy, really easy to work for, to do your work. You got nothing to worry about. I've had no problems.
All the riders you've hired over the years, is there one that you wish you had a do-over on? Something you would have done differently with some rider over the years?
James, I feel like we did what we could there. I don't feel like I would have handled that different other than I probably would have at some point just said, "Hey, just ride it." And that's the only thing I would have done different instead of kept trying to come up with something to help him. I was just thinking it was a mental thing and I wanted to help him, but we never got to there.
You know how that goes with riders because the moment you stop helping them is the moment they turn their back on you and say fuck those guys.
That's how I always felt. There's no reason to say "shut up and ride it" because I always think we can do better. And that's the only thing that I feel like I should do at some point. But that's the hard part for me. But if I had to say a do-over maybe even the Gavin Gracyk thing didn't go over like I was hoping. That wasn't really what I expected. Josh Summey, it was good for what we were doing. I thought he did pretty good. Obviously you wanted me to keep him longer.
I thought he deserved one more year.
The Cody Cooper thing didn't go over like I was hoping. Great guy, awesome, but the results were not there at all. But he's one of the most fun guys I've had here.
That was very strange why his outdoor results weren't any better either.
He freaked himself out. He'd never been hurt. I didn't know that. So when he hurt his knee that spun him out. He's never been hurt. That's the first time. So he had a hard time getting going after that. He was kind of scared a little bit. Seems like he's doing a little better now. Gets a little homesick, too. He used to only come over for a few races for outdoors and head back home. It wasn't that serious. That always the hard thing too; when you're doing it on your own. It seems like back in the day a Mike Brown or some of these other guys, Kehoe or whatever, they do good when they're doing it on their own, like Steve Lamson. But then when you get them in a real deal the pressure is a little different. Not everyone can do that. And I don't know if that was Cody Cooper's deal…
That might have been Gracyk's deal too.
It could have been, but he did great on his own too. But that's always the hard part for me, when people are like, oh, give this guy a shot. It sounds great but it's hard to know what they're going to do. And if they do worse everyone's, "oh, that's because your bike's no good." So you're in a tough little spot there because they all want to put it on the bike when it's only probably 20% of it is the bike. But they probably all want to take credit when we win, and it's all the bike, but honestly a lot of it is the rider.
It's like the Weston Peick thing. He went 5-5 at Miller. Trey Canard, Dungey, Villopoto, and Barcia beat him, I think. You give him the best bike in the world; he's not getting better than 5-5.
He might have been closer to 4th but he still would have got 5th. You're going to get the same result, but what you're getting is you get the team of people to help you make your job easier. In the end the result is not going to change but maybe if you're lucky, two positions. But not him. Maybe two at the next race at Elsinore when he didn't ride as good. But everything fell into place. He rode awesome that day. His bike didn't work great but he tried really hard. But if everyone tried that hard, it'd be a really good race. I joke around all the time with the Kawi guys, I'm like, Villopoto's cherry picking; you guys got to move him up. Because from 2nd back is packed with a good race. But Villopoto's gone. Jake Weimer's on the same bike and he's not right behind him. Some guys know how to set their bike up, too. There's a lot of things involved in that.
In the end you do have to know what your bike's going to do so you're willing to push it. But you have to be willing to push it. That's to me what Grant will do. Grant will push it. Brayton, it needs to be a little more set up for what he wants for him to push it. Some people will push out of comfort zone, some won't. Villopoto to me pushes way out of his comfort zone. It's awesome to watch. Not everyone can do that. But overall as the whole, I'm excited. I ended on positive thoughts thinking it's going to get better. The whole year I was really nervous. It wasn't going that great.
Seven years ago you gave up being a mechanic for Stewart. You were winning everything and you moved to North Carolina to be a team manager. Looking back on it, what's been good or bad about it?
I definitely needed to do it. I think it was the best thing for me personally. I wanted a challenge. It was definitely harder than I thought. I used to be in the shop talking and just say, oh, why doesn't Bruce (Stjernstrom, his old Kawasaki manager) just hire this guy. How hard is it? Call him and pay him what he wants. It's a lot more difficult than I expected on the contract side. I respect that side a lot more. Worrying about other employees. Everything we do affects them. I've never had that. My job never really being done was hard for me. You're thinking either next year or a sponsor or working on really future stuff and it's never finished, where before I just worked on a bike. So when I knew my bike was done for the day, I was good. My practice bike was good and my race bike was good, I'm done. Anything else if I'm oiling filters it's because I have extra time and I'm good. That actually got me into trouble back in the day. I didn't oil all my filters. If you have James Stewart as your guy you won't have any time to oil filters. That's a little funny joke.
But definitely more work than I expected. But I can't even explain to you what it is that I do all day because it's always different. That's the hard part too; I don't know what each day is going to bring. It's a little bit different. It's not like, oh, I just got to go get my race motor done tomorrow and I'm good for the week. It changes. But I like it. It's challenging. I like people, I like talking, I like making things look cool and fun and good. It's definitely different than I expected.