He's retired now but that doesn't mean he doesn't have regrets.
He's retired now but that doesn't mean he doesn't have regrets.
Matthes: JT, I was sitting there watching some older races the other day and thinking to myself that, please forgive me, you were pretty good. Think about all the main events and national numbers you got. Even on a Husky it wasn't that bad!
Here's my question for you, what, if you could, go back in time and do over? What was a bad decision for you? Think about all the colossally shit-show teams you were on? One team had a semi almost get repoed. One team just stopped near the end of nationals. One team was a sham from the start. Another one was, well, Husky.
Let's say you had a do-over on your career, what would you do?
JT: The biggest mistake I made was not re-signing with Blackfoot in the summer of 2000. I had so many things going for me, so much momentum. Blackfoot was going to race supercross in 2001 and then go back to Canada for the outdoor championship up there. They had made it clear I was in their plans but didn't have anything on paper yet. Our Tom Morgan bikes were really, really good and I should have stayed put to be honest. My biggest problem was that I really wanted to race the outdoor nationals in 2001. I was finishing as the top privateer at most every USA race I went to and I was chasing that factory ride. I honestly was doing really well. Maybe not winning but if someone was going to give a kid a shot, I was going to be that next guy. Eraldo Ferracci wanted me to be Lamson's teammate on the Husqvarna 250 for 2001 and it all sounded so awesome. There were a lot of things I was too young and naïve to see through at the time and I low-balled myself at the same time. I didn't even get a practice bike until November and things were just not what I expected.
The bike was way behind where I should have been with Blackfoot Honda and my whole year was just a disaster. I went from and up and coming guy to a complete let down in that 2001 season. The season was going so poorly that I let it affect my effort and I just lost all motivation. Coming out of 2001, no one really wanted to take a chance. It took me a few years to really recover from the steps back I had taken. I feel bad talking poorly on the team because there were some great guys over there but we were swimming upstream from the get go. Having a full road race crew trying to run a motocross team isn't ideal. They didn't want to be at a motocross race, they wanted to be working on works Ducati's. It was just a bad deal for everyone except maybe Lamson, he was getting paid really well. Regardless, it was the #1 regret in my career.
Matthes: So to be clear, your BIGGEST mistake of your career is not signing with a team to go to Canadian nationals? Picture me silently fist-pumping right now. More teaching from Ross Pederson? More visits to Manitoba? Looking back, these were all things you SHOULD'VE done?
I consider this a victory. Anyways, you did make some good money from Husky so there is that. And you could've made more by taking all your cracked swingarms to a recycling plant and get cash that way also.
By the way, can you give me your favorite Husky moments out of the following?
1- Having Eraldo call Steve Lamson "Lance" all the time?
2- Eraldo almost choking out Kiwi, your mechanic?
3- Meeting Eraldo's "friends" that he bought brought to the races?
4- Running out of gas five straight motos?
So now that we've covered what you should've done in your career, can you tell us the worst moment of your career? I've narrowed down the options here or you can go off the board and select your own:
1-Running out of gas five motos in a row?
2- The broken leg from Matt Boni?
3-Deciding to race 250SX in 2009?
4-Breaking your wrist in 2002?
5- Having Team Excel fall apart before it began?
6- "Too Slow, Pull Off"?
JT: As for Eraldo, he was a real piece of work. He was very opinionated and very sure that his way was ALWAYS the best way, even if it was his first time doing it. He was always really nice to me, though, even when he was mad about my results. I did love hearing him exclaim "Lance!" every time Steve pulled into the parking lot though. I will never forget that.
I would say both the 2002 and 2008 injuries were both pretty devastating. In 2002, I was really starting to find my pace and had just rattled off a few top tens and had won my semi that night at St. Louis. I was around 4th off the start and had to check up on a double and Ryan Clark landed on me. I dislocated my wrist, much like Matt Goerke is coming off of now. It killed all of my momentum and 6 months of training I had done with Tortelli that off-season. Pretty tough blow.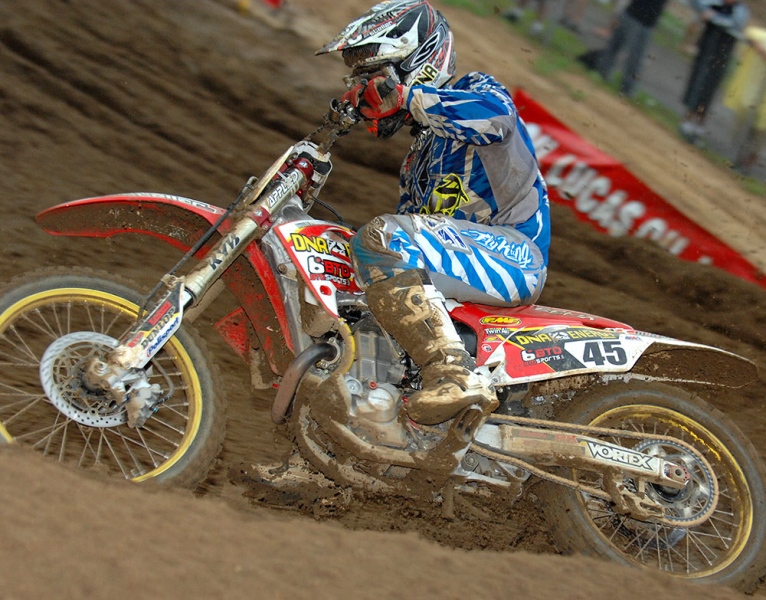 Getting injured and forced to the 250 class in this season wasn't a good choice for Thomas. Photo by Carl Stone
The 2008 injury with Matt Boni was a tough one. At the US Open, I fell in the first turn and was picking my bike up when Matt slid into my leg and broke it. It wasn't anyone's fault, just a racing incident. Being in October, I was just ramping up my schedule for overseas sx. I had signed some big dollar contracts for races and was looking forward to it. I had trained straight through September after the last national and was really feeling good. That injury kept me out for 5-6 months and was hard to recover from with my leg being so weak afterwards. When I came back, it was still not even fully healed and nowhere near strong enough to race a 450 so we decided to race the 250 class, as you eluded to. Basically, it was either race the 250 or sit at home. I knew I wasn't ready and so did everyone on the team. I wanted to get back up to speed and was tired of watching so yes, I did struggle but I think it was the right move overall. By the end of the series, I was back on the 450 and making main events again which was the goal.
Matthes: This reminds me, you've famously been a riding buddy to Tim Ferry, Sebastian Tortelli and Chad Reed. And we've all had fun with your bro-mances with these different people. But without their help, you probably wouldn't have had as good of a career as you did have. So what were the differences in these riders programs? Who did you really get along with the best? Who was the hardest guy on you? Wait don't answer that one. Who did you learn the most from?
JT: To say I was fortunate with my riding buddies is a massive understatement. Keep in mind before this, I used to go ride with your favorite rider, the Goat himself Ricky Carmichael. There is no way I would have had 1/10th of the career that I did without these guys.
I would have to give the most credit to Timmy as he was the one who totally molded my program and work ethic. I started riding with him in the summer of 1998 and even though we had a rocky year or two in there, I was there most every day for 7 or 8 years straight. He made me into what I became, solid and in shape. I didn't have the talent that many guys did but he made sure I could outwork them and be there at the end. I actually moved from Gainesville down to Tampa just to be closer to these guys. I owe a unpayable debt to all of them really. They let me ride with them on their tracks and always gave me advice and tried to teach me along the way.
Tortelli was one of the nicest, most optimistic people I had ever been around. He would bend over backwards to help me and was genuinely awesome to be teamed up with. We would run this loop around his property every morning at 7am for an hour and then have breakfast and coffee for a bit and then ride. Then lunch and head to the gym in Gainesville that afternoon. We did this same routine, day in and day out for 4 or 5 months straight before the 2002 season. I was incredibly prepared for that year and even though I got hurt, I still had some great rides. I have a ton of respect for him not only as a racer but just as a person. Great guy that Seb.
Chad Reed, where do I start with this gem haha. I actually used to hate this guy as he was so damn cocky and standoffish, I just had no real desire to know him. When he moved to Florida in 2003-04, I just rolled my eyes and really didn't give him a chance. Once I actually rode with him a few times and got to know him better, I still thought he was arrogant and not always the nicest guy to be around but he was growing on me. As time passed, we got to be close friends and went through a lot of life experiences together that built a strong friendship. He was pretty hard on me and still is but that's just his way of showing he cares. He was always there if I needed something and I always tried to do the same for him.
He has gone through his share of ups and downs and maybe none more than now. Everyone has counted him out for 2014 but that's pretty foolish if you ask me. He is incredibly stubborn and persistent and if he puts his heart into being ready for next year, look out. He taught me a lot obviously but probably the most important thing was self-belief. The most powerful tool a rider can have is believing that it is possible. He is a huge proponent of this and I really took it to heart. Even when all of the odds are stacked against you, it only takes one person to believe and make it happen.