Stanton talks about the 1992 250USGP at the hallowed grounds of Unadilla
Stanton talks about the 1992 250USGP at the hallowed grounds of Unadilla
Hi everyone, from the late 80s through the mid 90s I was a contributing photographer for Hi-Torque Publications (MXA and Dirt Bike magazine). The photos that you see here were never published and have been stored as 35mm slides for the last 15-20 years. A month or so ago, I finally got around to purchasing a quality scanner and the journey began, going through these images has been a revelation, as I haven't looked at any of them since I put them away and had only seen them as tiny little 35mm slides. Scanning them, then seeing the images on a computer screen has been like seeing them for the first time, they stir up lots of great memories, and bring back a great era for motocross, lots of bright color, big characters and of course, some true legends of the sport.I hope you enjoy viewing them as much as I have-Mike Sweeney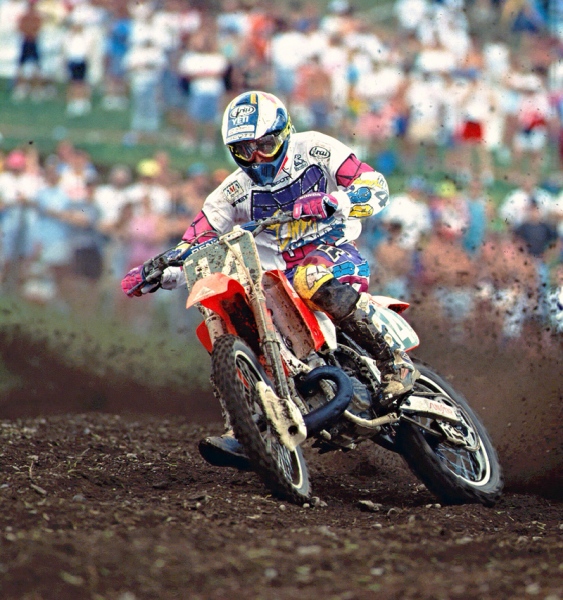 Sweeney- "The 1992 USGP at Unadilla, that was an interesting one for a number of reasons. First off the FIM lost their freaking minds in that they changed the moto format from 2 45 minute motos to 3 30 minute motos. In typical Unadilla fashion we had a hot humid day and of course it downpoured between the first and second moto, so all 3 motos had different track conditions and the mechanics and tire guys were scrambling all day.
In 92 there was a bunch of fast ex pat Americans running the GP circuit, among them were Trampas Parker who was the current World Champion on a Honda, Donnie Schmidt and Mike Healy on Suzuki's. There was also a bunch of fast European guys, Marniq Bervoets, Edwin Evertson and a host of others, so going into the race and qualifying it was interesting and we were wondering if anyone was going to give Stanton, Kiedrowski, etc… a run for the money.
I also remember that Jeff had said something about the Americans running in Europe not being able to cut it here and that set them all off and definitely gave them some motivation. He also showed up with "Mr. Mean" on his leathers, which was pretty funny.
Anyways, they were mad and Jeff got bad starts in the first two motos and I'm pretty sure he passed all of the American GP riders on the outside, just to make the point. He holeshotted the third moto and left them all in the dust. Jeff definitely showed that not only was he the fastest man on the planet, but the fittest on the track, didn't even look tired after the race.
I think this was also the first year that the big rigs started replacing the box trucks, I recall Kawasaki rolling in with one and thinking, "Well, this will change the game" and sure enough, it did.
Jeff ruled the day in 1992, just owned the place passing people wherever he wanted, bad starts, bad weather, weird moto format, didn't matter. He just plain went fast and stomped everyone.
Classic Stanton at his peak."
Jeff Stanton- "I always loved Unadilla, it was so awesome and when I could race it, I would. When you showed up for a race, the grass was knee high and it was perfect. They wouldn't touch the track and by the end of the race it was down to the shale like it is now but for those GP's there, it was sweet. You go out there and just rip it up. I remember that my mechanic Dan Betley would get so pissed off at me because they would line the track with these posts deep into the ground and we as motocrossers would try to stay as far out there as possible and after practice, those $2000 HRC factory pipes would be flattened and beat up from those stakes. And Dan would yell at me and I'd just say the budget sucks. I'd beat the shit out of those pipes.
I always enjoyed going to the GP's, I think I won all of them that I raced there. This year it was three motos and Donny Schmit was there, he was leading the title then but he crashed out in practice and missed the first moto trying to get back from the hospital! I liked Donny, he was always a good guy. I was looking forward to this race because Donny was fast and leading the title and I was one of America's best guys.
The hype was there because I had made a comment about Americans who race the GP's are second rate or something. And it was more directed towards Mike Healey who had tried to beat the shit out of me on the podium at the GP in Japan at the end of 1991. And I suppose I was pissed off when I said that, I'm not sure now. Guys like Donny did well here and had a second life over there, it was more towards Mike and how he treated me.
I remember there were some races I led every lap here but not this one, in the first moto I got a bad start and fell at some point. So I had to come from the back and I remember that it was Marnicq Bervoets that led the whole thing until the end when he went over a berm at the bottom of Screw-U. Bervoets was a good rider man, he was solid.
It rained after the first moto and in the second and third motos I got the starts and made it happen to win the other two motos. I remember that Mike Keidrowski was there and I was worried about him but after the first moto I never saw him that day.
That GP where I rode the 125 support class (1989) was great because I had never raced 125's and I beat the guys who were racing and winning the nationals that year. That race was special, whenever I see a picture from the race I save them and print them off. That one was special, they're all special to me but that one was a little extra.
I have no idea why Mr Mean was on the back of my pants. That was something AXO did for me back then, I was Mr Pink, Mr Clean, Mr Speed. AXO just did that and I guess it was because I was a mean-ass to everyone. I don't think it had any particular meaning. Sometimes I think I had Mr Moody on the back. Sometimes I was pretty mad though, you know that.
I did a lot of GP's whenever I could but I have a regret about not going to the MXDN in Australia. I should've went. I talked to Justin (Barcia) about this when he was debating on whether he wanted to go this year if he was asked and I told him at that time that if there was one thing I regret that I didn't do it was not going. I was in the middle of 500's and I wanted to win that series but I should've gone. I just wanted to win 500's so bad and that was probably why I didn't win it, I was cursed. What can I say?"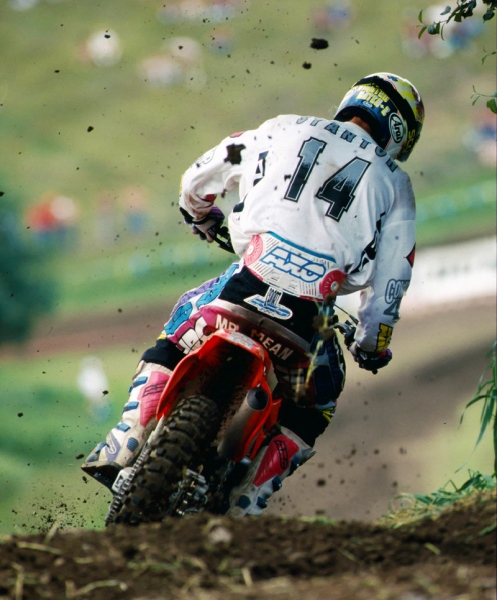 Mr Mean strikes again!