With the Grammy Awards airing last Sunday night (we swear we were watching Sunday Night Football), we figured what better time to announce the winners of the very prestigious Pulpy's.

With the Grammy Awards airing last Sunday night (we swear we were watching Sunday Night Football), we figured what better time to announce the winners of the very prestigious Pulpy's.
Now obviously some of the categories were created with a specific winner in mind so… get over it. It's the PULPYS!
Without further adieu, we bring you the 2013 Pulpy Awards!
By Swizcore, JT$ and Matthes
Photos by IG, Google, Simon Cudby and James Lissimore
---
The "Just Kidding" Award (aka "Gotcha!… (again))-
Awarded to the rider who continually wets the appetite of his devoted fans for a comeback… that never happens.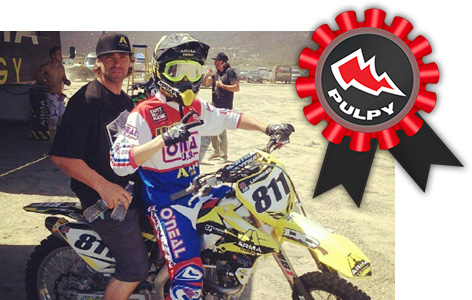 The Pulpy goes to: Jason Lawrence
It's over Johnny. Lawrence isn't coming back to ever being a factor in pro racing again. Sure he may race again but never again at a high level. And he probably doesn't care. But what he can do is keep coming out to open practices, get some hype going with some X Games here and there but lost in the Lawrence myth and mythology is the fact that he really wasn't that good the year after he won the title and then later on the 450, he again wasn't very good. But he'll keep the hype going so that his pockets don't become empty and good on him, it's the American way.

---
The "Best Impersonation of a Lawn Dart" Award-
Awarded to the rider who survived the most spectacular get-off.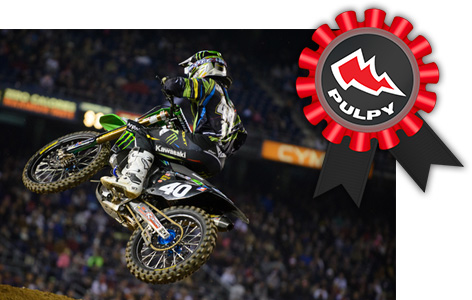 The Pulpy goes to: Martin Davalos
Martin Davalos easily had the most spectacular get-off in 2013 at the Phoenix SX. It left all of us concerned for his health but the elder-statesman of 250SX not only got up, he raced the main. That counts for something. In case you forgot, HERE it is in all its gory glory.

---
The "Best Twitter Account" Award-
Awarded to the rider who not only uses Twitter best but uses it to flip the script on moto fans everywhere.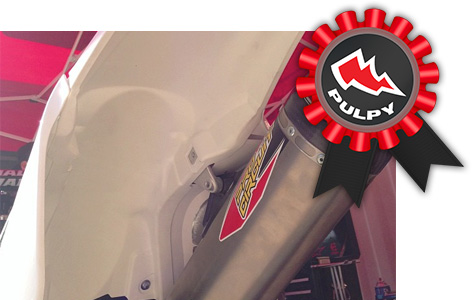 The Pulpy goes to: Chad Reed
I mean c'mon, can there possbily be anyone else? Reed's a rider that gets what social media is about. He doesn't use it to shout down the critics or tell us all how hard he's working and how bad he wants "it". What he does do is answer some fans questions, provide fans into what goes on behind the scenes and his interaction with his friends on there is golden. No other rider even comes close, it's a landslide winner right here. It's been proven people who don't like Chad Reed on Twitter also don't like puppies.

---
The "Best Instagram Account" Award-
Awarded to the rider who you'd pay a subscription fee to follow on Instagram.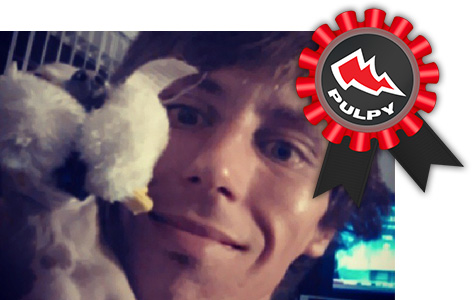 The Pulpy goes to: Jason Lawrence
There are a ton of people out there who are rabid J-Law fans. There are also a ton of people who abhore him. We're in the middle and look forward to every single J-Law post on Instagram. He's living life and enjoying himself. He's not asking for anything, trying to portray himself as something he's not. Every post is comedy, bizarre or fun. What's not to like?

---
The "Well THAT Didn't Go as Planned" Award-
Awarded to the rider who's year started wrong and never got right.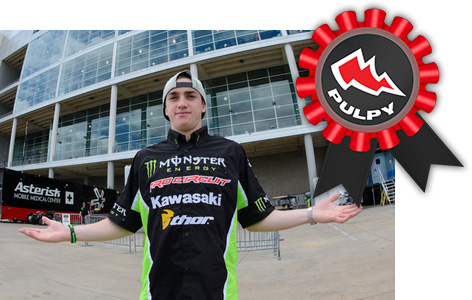 The Pulpy goes to: Dean Wilson
Oh no Deano! Did he walk under a ladder while holding a black cat? Wilson started off by voluntarily leaving the Pro Circuit team for a contract with Jeff Ward Racing on a 450. His mechanic from PC quit after one day and shortly after Dean quit as well. The team pulled one of the infamous-in-this-industry moves where they tell the sponsors they have rider X but they really don't, they're telling rider X that they have this sponsor and they're hoping when the music stops they'll have everything lined up. Sometimes it works but in this case it didn't. Wilson should've known right there his year wasn't going to go very well. He went back to, wait for it, Pro Circuit with the hopes of walking to a 250SX title. Oops, that didn't work (bad crash and unexpected challenges from Wil Hahn and Marvin Musquin) and then his 450 season, that ended when his bike locked up and threw him over the bars and it was back to the doctor for Dean. Seriously, you wouldn't wish this on your worst enemy.

---
The "Marty McFly" Award-
Awarded to the rider who wishes they could get in the Delorean and head back to 2012.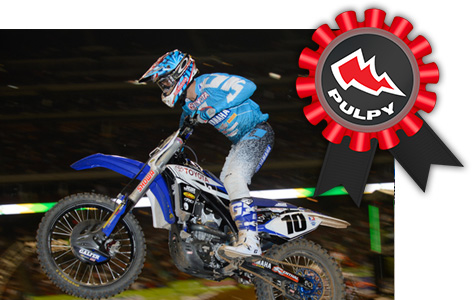 The Pulpy goes to: Justin Brayton
Brayton was on factory Honda last year, remember that? And he was fast in supercross. Made a whole bunch of podiums, led some laps and looked to have been one of those guys in the Micky Dymond, George Holland, heck just about every rider, whose career blossomed once on big red. Yeah we know it was a depleted field but he just looked, we dunno, different. But that was it, one and done at Honda and it was back to JGR Yamaha for JB. And this year was, well, just ok. In fact he looked a lot like Justin Brayton the first time he was at JGR. There were some great rides for sure but not that step we thought we'd see. This just in, Broc Tickle, Jake Weimer and Justin Brayton all loved the injuries in 2012 because they got paid big-time.
---
The "Wait, There Was a Race This Weekend?!" Award-
The award that goes to the race which sported "extracurricular activities" which left you wondering if there even was a race?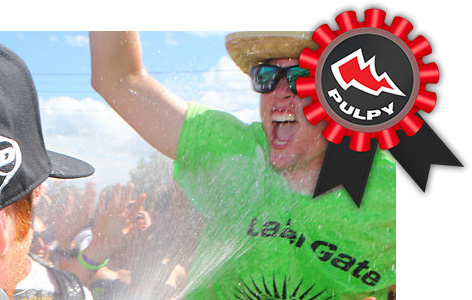 The Pulpy goes to: Washougal and LaZergate
This thing really escalated fast didn't it? In one of the most bizarre things ever to happen at a race Jeff Alessi shining a light into Ryan Villopoto and Malcolm Stewart's eyes has to rank right up there right? As if that wasn't bad enough, the way the Motoconcepts team handled the incident followed by owner Mike Genova and Tony Alessi's ranting and raving on the Pulpmx Show made for a VERY memorable race. What? You don't remember the race? Yeah, us neither.

---
The "Vote for Summer" Award-
Awarded to the PulpMX Show co-host who perrenially tosses in one-liners which leave us in stitches.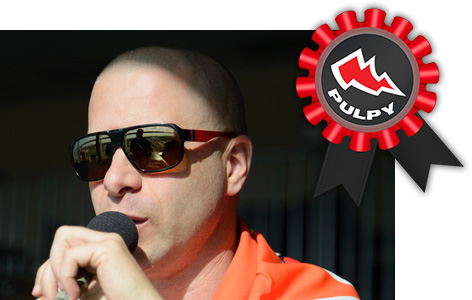 The Pulpy goes to: Jason Thomas
It's a damn shame that JT can't be in studio regularly but as long as he keeps knocking out his sometimes obscure, other times known but ALWAYS humorously-genius one-liners, it works. A dry sense of humor, impeccable delivery and an impressive mental database of cinematic quotes are the formula but not just anyone could make it work. Synergy, people. And no, this one wasn't written by JT.

---
The "2010 Was More Fun Than This" Award-
Awarded to the racer who's forgettable 2010 season was more enjoyable than 2013.
The Pulpy goes to: Chad Reed
Man, we thought Reed was bad in 2010. At least that year he won one race. Reed just never got it going this year from being a bit late on preparation in the off-season to showing up not in shape to not liking his bike and eventually just pulling out of the mx series with three motos left. Reed's going to be a new bike next year (bet on green by the way) and hoping to try and rebound. Don't count him out but it's going to be his biggest challenge yet.

---
The "I Broke My Dad, No I'll Break All of You" Award-
Awarded to the new gnarliest guy in town.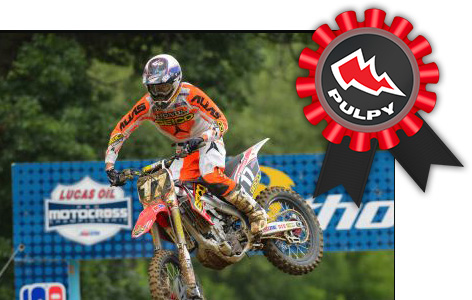 The Pulpy goes to: Eli Tomac
The tales of the gnarliness of John Tomac have been told so often that they morphed into a moto-clichè. But that doesn't make them any less true. When news spread of Eli one-upping gnarly-John, the reactions were nothing short of sasquatch being seen or alien life being discovered. Eli instantly became superhuman-like and it appeared to also affect either his opponents or his own confidence. An impressive story which won him the Pulpy.