For the second year in a row the US was forced to send a team to the MXdN which was not lead by our countries most elite.
For the second year in a row the US was forced to send a team to the MXdN which was not lead by our countries most elite.
Photos by: Simon Cudby
A year ago the United States was dumbfounded by what they were presented with at Lommel. Infamous for it's incredibly brutal sand, it was even more brutal than typical as the FIM prides itself on presenting a MXdN track which is more treacherous than anything racers, on either side of the Atlantic, see at any point during their respective race schedules. Bike setup was key and watching the American team, it was clear they were searching and about the blocks away from the ballpark. The bike setup issue, among other circumstances including the alien-ness of the track being a large one, had the American's looking like sudden unlikely underdogs from the moment qualifying began.
Fast-forward to this year's event held at the much harder-based Teutschenthal in Germany, one would think the track would be a more level playing field, thus justifying the belief that the American's were once again, favorites. And following qualifying, that belief held strong. Eli Tomac nailing the top overall qualifying time, on a 250F no less, left us Americans puffing our chests up a bit. Then as the first moto ticked along, Eli again looked stellar as he made his way forward, reeling in his MX2 National-rival and hometown favorite, Roczen.
Shit went sideways fast though and what had looked inevitable, changed the tone for the rest of the day in the Team USA camp. When Eli got crossed up, ejected and separated, Superman-style, from his bike as he was setting up a move on Roczen, every American suddenly changed tone, from confident to cautious. With Eli, who had set the Team USA tone with his qualifying effort, suddenly remounting mid-pack, and Dungey struggling to move forward, our "sure thing" notion, went up in smoke.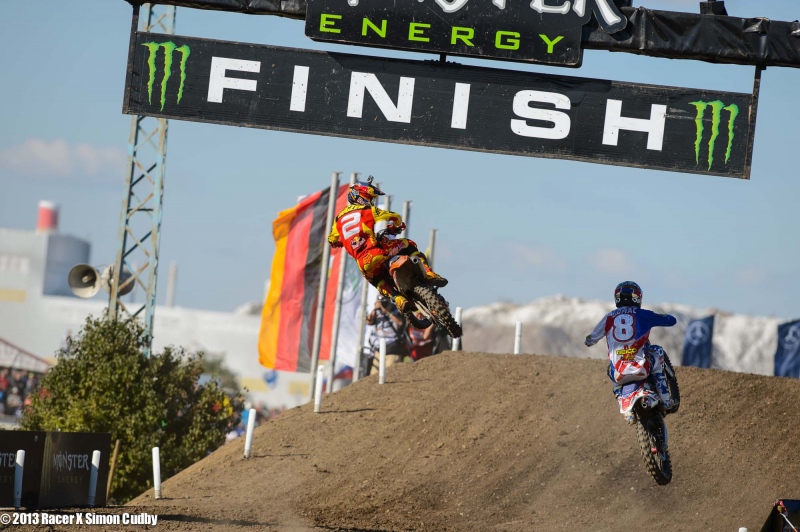 Do not adjust your screen, this is the MXdN, not the 2013 250 Nationals.
Eli hit the deck in 2nd and ended up 16th. It's the tragedy and the crapshoot that makes the Des Nations so unique. Every rider wants to do their best and Eli clearly felt (and it showed) that he was capable of winning the race. Being the first moto of three, with all the cards still up in the air, perhaps 2nd place wouldn't end up being enough? And Eli certainly looked capable of taking the moto win, so it's silly to fault him for not just checking up in second. Eli's most dominant ride ultimately became the score which the US had to throw away. Such is the cruel formula of the Motocross des Nations. Eli put in an incredible rebound ride in moto-two with very little recuperation time, to finish runner-up to Ken Roczen by less than a second. Wow. Incredible rookie effort.
Ryan Dungey was actually, not surprisingly, our most consistent rider, finishing 6th and 7th in his motos. When you're the United States though, your #1 guys has to be better than 6th and 7th. I have tremendous respect for Ryan Dungey, how could anyone not? But there was something amiss with Dungey in Teutschenthal. Apparently, citing an interview with MX Vice following the race, DeCoster openly stated that Ryan felt his bike was holding him back but Roger rebuked those complaints and believed Ryan needs to look inside and hold himself accountable for the shortcomings. I hate to say that he looked uninspired but I gotta call it like I saw it. Maybe he really was just that uncomfortable on the bike but that seems so implausible in this race. I mean, Justin Barcia managed a 4th on a bike he had struggles with all year and Chad Reed couldn't run away from fast enough, yet Dungey, on a bike designed around him, felt it was holding him back? Remember how much winning Ryan did in 2010? Remember after Roger left for KTM how much Dungey wanted off the Suzuki, the same basic machine he trounced the field on in 2010? Is there a pattern forming here?
Will Dungey look in the right places for the improvement he seeks?
Justin Barcia represented the USA for the second straight year and put in some really solid rides, though his second-moto started terribly after getting caught in a first turn pile-up. 0-2 for Justin is certainly a record he will be eager to avenge if given the opportunity.
Ryan Villopoto's worst nightmare came true with this loss. Ok, that's overly dramatic but it stands to reason that a country so saturated with National pride will take issue with Ryan's decision to put the Monster Cup importance over that of the Des Nations. Perhaps Monster had the final say but the FIM's scheduling of the Des Nations forced his hand a bit if it were solely his decision. It'll be interesting to see if fans have moved on or remain bitter when RV makes his appearance at the Monster Cup in a few weeks. I'm betting the page is turned and RV is not held to the flames.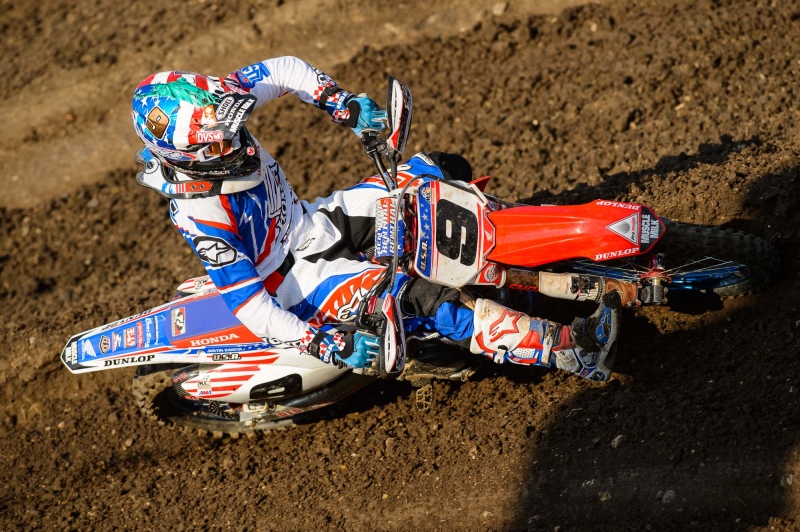 Barcia was impressive with a 4th and an 11th full of heart.
Loss at the Des Nations is always bitter, especially for the USA, who once had a 13 year streak to hang our hats on. When it happens, the hindsight begins and conjecture on what could have changed it all. Even with Dungey's lackluster 6-7 finishes (yes, they are absolutely lackluster for a 5yr MX1 veteran of the Des Nations), Tomac's crash (and subsequent throwaway result), and Barcia's remount from 36th in the last moto; the US came only 3 points short of victory. It means shit, yes but it's all the more infuriating that we flailed in so many ways, yet still came that close.
Brutal.