Moser: This has to be the first interview done in the middle of defensive driving school.
Osborne: This is horrendous.
Moser: This has to be the first interview done in the middle of defensive driving school.
Osborne: This is horrendous.
Why are you spending your Saturday in a defensive driving school, too many tickets?
I've only had 3 tickets in 8 years but this last one was for 77 in a 55 and to get it taken off my record I have to take this class. I would pay a solid amount of money not to be here right now.
I saw that Weege had a "Conversation with you last Tuesday" but it wasn't his best work he missed some key questions so let's fill in the blanks. http://www.racerxonline.com/2013/10/08/tuesday-conversation-zach-osborne You've said throwing up before a race is part of your standard pre-race routine. Without Adam Cianciarulo there to throw up on, anything or anyone notable in Sardinia have the pleasure of some Osborne regurgitation?
I had a few puking episodes in Sardinia but no one person actually got it! It was a big joke amongst the team every morning though!
How does ISDE rate on the gnarly scale? You have raced all over the world in a number of series.
It's at the top of my gnarly scale. Nothing I've ever done even comes close. It's on a different level to a GNCC or anything I've ever attempted.
What kind of fan turn out did it have, is it anything like Baja with people laying down in the track and stuff?
I was surprised that there were so many fans along the side of the trail and especially at the Moto race. It was crazy the amount of support and people that were cheering me on. Also, the opening ceremonies were straight in the middle of town so they basically shut down the whole town and we did a flag parade down the streets to the paddock. It was pretty awesome.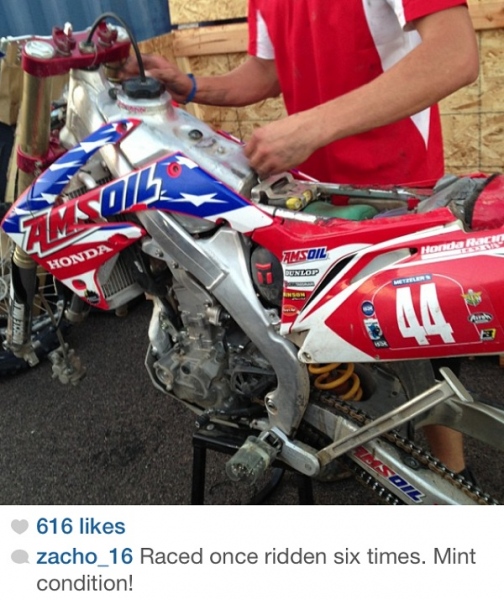 Buyers beware this bike took a beating, but Zach says he will also consider interesting trades.
What are the accommodations are you staying in every night, are you pitching a tent or is it a different hotel every night sort of thing?
You start and finish at the same point every day so we were in the double tree Hilton the whole two weeks so the accommodations were prime!
With your travels throughout Europe I'm sure you have learned what food to avoid and how to play it safe. What was the best and worst meal you had over the 6 day race?
Italy has the best European food. Pizza, pasta the full deal. The only problem was I eat Gluten Free so I had a hard time but no bad meals. A lot of big salads with tuna and some gelato always did the trick.
You were on the bike for countless hours please tell me you had to pee your pants at least once?
No pee my pants incidents. Normally you have a few minutes at each time check to eat, drink and pee. I did have a few times where I forgot or got tight on time and considered peeing my pants!!!
I was surprised you told Weege you weren't that sore. Just thinking about racing for 6 days makes my hands, butt and back hurt. The blisters you got from the GNCC races were gnarly what was the difference?
GNCC is all out war for three hours. ISDE is more like an hour of racing and 6 hours of trail riding. It's more mentally tiring than physically, for me anyways. I felt a little bit lethargic a few times but never like dead like I was after the Florida GNCC. Mentally though, day 5 I was like confused all day. I couldn't get my mind up to speed for the life of me. Energy drinks, sugar, chocolate nothing made it happen for me. It was by far the most mentally challenging and taxing thing I've ever done.
One of the most commonly discussed aspects of this race is the bike maintenance you have to perform yourself, especially the mousse tires. Before the race you were claiming you could change a rubber in 1 minute 45 seconds so how did they go during the race?
The maintenance isn't that hard but the last thing you want to do after being on the bike for 7 hours is change two tires and go over your bike but it's really not super hard. All of the trophy team guys can do two tires, go over the bike and have a few minutes to spare. The hardest thing I had to do was change a shock in the morning work period which is 10 minutes. That was a little tight but I made it.
This is a quote from your buddy Filthy Phil "I saw RacerX posted a video about ISDE & at the end of it Zach was changing a tire & looked absolutely miserable, which made me feel good." Any response?
If I'm miserable once a year that's still 364 times less than Phil in that same year so I'm ok with that!!!
Weege lives eats and breaths off road racing but to us common fans please explain what these DOT tires are you have to use. Is it a brand a compound? I'm lost other that you said it'a a hard and slippery rubber.
The main thing is the side wall is super soft and gives you no feel before it goes away. The euros have such a good handle on suspension set up with those tires. For us it's a once a year deal so it's just a completely different feel.
I'm still confused, who makes them?
Metzler, Pirelli and Michelin make the best ones for competition use. It has super low knobbies and eco friendly rubber.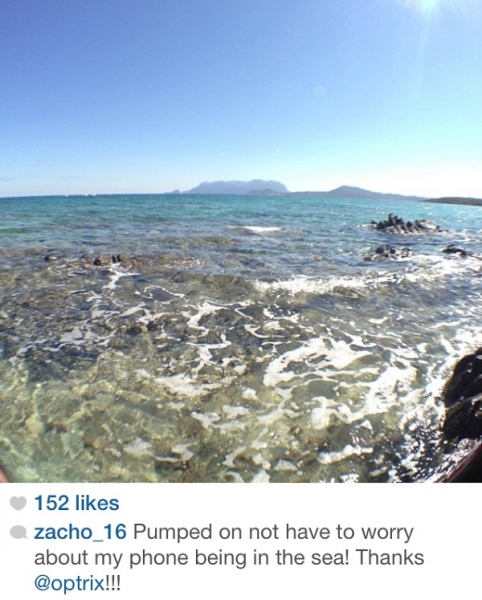 When Zach travels across the world to represent Team USA he trusts Optrix why don't you?
But it's a spec tire like NASCAR everyone has to run the same type?
Yeah everyone has to have DOT (road legal) tires. They aren't spec like NASCAR there is more than one brand.
Did you put that headlight to work and do any riding at night?
No night riding. It's so hard to ride with that thing at night because it bounces everywhere.
So what is the headlight for exactly?
The whole bike has to be street legal. Hence the DOT tires, headlamp, taillight brake, turn signals, and a license plate.
Now I get it. Do you remember your license plate number? Did you get a custom one like "sukitping"?
Laughs. No I got some random one from Ohio that the AMA gave me.
What other races are on the bucket list? The Erzberg race looks like ummmm an adventure.
Erzberg is a definite no. I'd love to do ISDE again and maybe Baja someday. Dakar used to be on my list but after ISDE I'm not sure about that anymore!
You have raced the MXDN which may be the single coolest moto related event in the world. Shocker I've been incorrectly quoted several times by Matthes, I don't fault anyone for taking the opportunity and once in a life time experience to race in the MXDN. My dislike is of the loop hole that allows Puerto Rico to race with Americans on the team. Regardless of the fact they are an unincorporated territory of the USA they have their own flag and everyone considers them to be their own country. My rant is neither here nor there the point being how was it to represent the red white and blue and race for Team USA at the ISDE?
It was an honor and an awesome experience. People have questioned my patriotism or loyalty to my country because of the PR deal but nothing could be farther from the truth! I'm American to and through!
Matthes wants to know if any monkeys or lions chased you during the race?
That's a negative. It was Italy not Africa! He's not that sharp!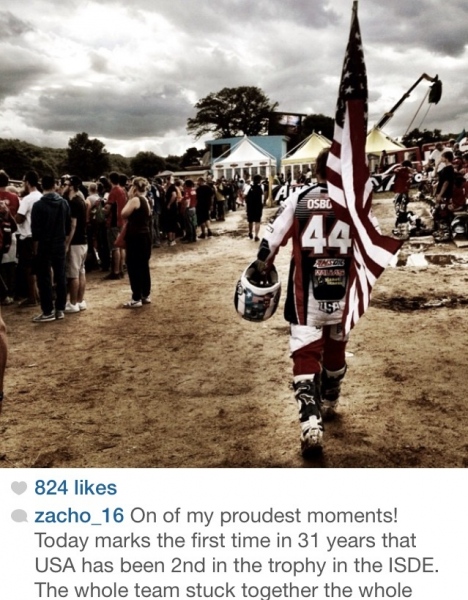 Despite riding for Puerto Rico at MXDN there is no doubt Osborne bleeds RED WHITE & BLUE
The beaches looked like they didn't suck, did you have time to build a sand castle and take in the scenery were the beaches topless?
The beaches were awesome and the water was so clear! The whole island was really nice and super scenic. They weren't topless beaches but there may or may not have been some boobs.
If you ever do this race again how would you train differently?
I wouldn't really prepare any different but I would be more prepared simply by knowing the format and what to expect. For a first effort I think it went pretty good.
Did you pass your defensive driving class?
There wasn't even a test at the end it was dumb. Next time I'll probably just take the points against my insurance.
Thanks for reading and please send all compliments and complaints to jasonw@racerxill.com