Part two of the must-read list
Part two of the must-read list
GEICO Honda: Mike Larocco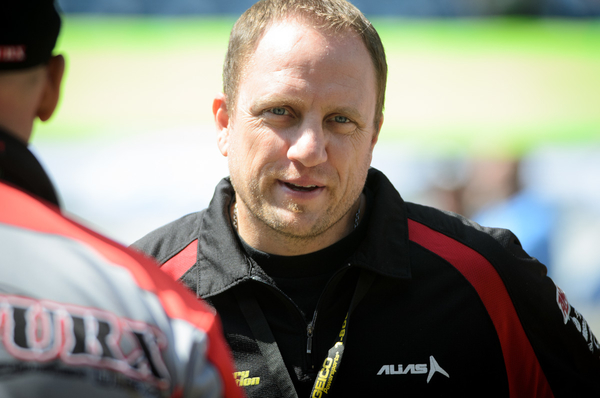 "Iron" Mike is actually not that hard, he's a nice guy. Just quiet. Lissimore photo
There's no way I ever thought that Larocco would ever be a team manager. He's pretty quiet, he's pretty intense and I just thought that once he retired he would be happy to be left alone somewhere in Indiana. But here he is doing a good job and one of the things that's most surprising is I hear he really shakes down the bikes before testing and has simplified the testing process over there at GEICO. Yes, Iron Mike is still fast and he can still ride supercross. And his nickname The Rock still applies as he's not exactly a beam of sunshine over there but when you do talk to him, he's friendly and honest. But he's not going to start many conversations with you, let's put it that way. There's also no denying that although he's not the only reason, there's no doubt GEICO has really come on strong since he took over late in the season a few years ago. I also like the look on his face when Wil Hahn hugs him every now and then.
RESPECT LEVEL: 5 Clipboards out of 5 (Mike leaves the day to day running of the team members to others but he deals with the riders and testing. In other words, he knows what he's good at. How can you not respect the things he's done, including getting drop-kicked in the ribs by Jeff Emig during a race and then just get up like nothing happened?)
INTIMIDATION LEVEL: 3 Clipboards out of 5 (Mike's actually a softy once you get to know him, I can't see him really getting mad and freaking out. But I bet if he did, it would be scary)
Motoconcepts Racing: Tony Alessi
Say what you want about Tony Alessi (and a lot of you have said a lot over the years) but he seems to be able to get the most out of his kid Mike and that's why he's the team manager over there. He's a hard worker and he's organized but I do wonder about his contacts in the industry. He's burnt a lot of bridges where some companies don't want to deal with him so is he getting the best stuff he can get for the teams bikes? I'm not exactly sure, just wondering. Tony's also the only manager out there that when the Laser-Gate stuff broke, no one was automatically jumping to his defense. It's like most of us thought that there was no way Tony put Jeff up to that but there was that small 2% chance in our brains that just maybe he DID ask Jeff to shine a light into Mike's competitors? He's crazy enough to keep most of us guessing. For a while Tony was getting a lot out of Jake Canada (until that went sideways) and he had some good rides out of Gavin Faith as well so obviously he's capable of working with someone without the name of "Alessi".
RESPECT LEVEL: 2 Clipboards out of 5 (There's just been too much drama for Tony over the years and his behavior hasn't always been the most professional)
INTIMIDATION LEVEL: 1 Clipboard out of 5 (Speaking from experience as I was on the business end of his finger in my chest I can vouch for the fact he's not intimidating whatsoever for anyone not named Mike Alessi)
N-Fab Yamaha: Allan Brown
Brown is a team owner/manager and that's always a bit more tricky for someone-full disclosure here, Brown's a Canadian and my ex-roomie so we're good friends- as it's harder to make decisions when you're trying to also save a buck and have a good race team. I think it would be best to separate those jobs but then you're not saving any money as you pay a manager 60K so it's just a circle around and around. Anyways, Brown was a mechanic forever, took over Moto XXX for the last few years, then did some motor work and was also team manager at Star for almost a whole year. Brown's ran a nice, tidy team the last few years going up against the giants with a shoe-string (that's for you Weege) budget. There's no denying that riders like Damon Huffman, Kyle Lewis, Tim Ferry, Phil Nicoletti and others have enjoyed some unexpected success with Brown and his different teams over the years. It's just hard for someone like Brown to build a solid program when the funding gets secured and the decision to go racing is made late in the year. Allan's life would be better if he had more money but newsflash, so would just about everyone's.
RESPECT LEVEL: 3 Clipboards out of 5 (Brown raced pro back in the day, he's been around the industry for a long time so he's got respect from people in the pits but his one and done at Star may hurt him in some people's eyes)
INTIMIDATION LEVEL: 2 Clipboards out of 5 (He's too nice of a guy to really scare anyone)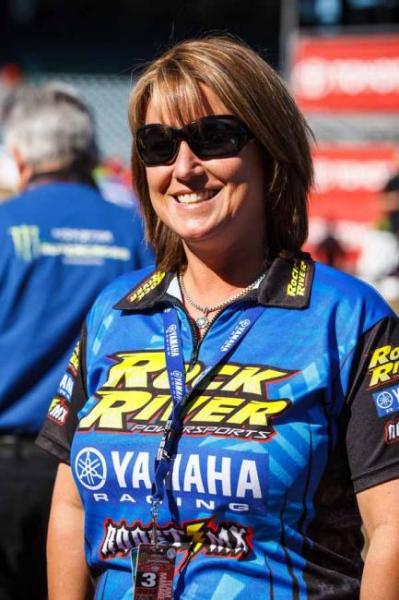 Christina Denney has two things going for her: one is she's a female so everyone treats her nicer and two, her riders don't usually complain- they're happy to be there! Cudby photo
Rock River Yamaha: Christina Denney
As the only female manager out there Denney's got a unique situation on here hands because, well she's a women and the Rock River Yamaha team is more of a housing program than other teams. In other words, if you're good enough they carry your Yamaha around but you're on the hook for expenses and all that. No big-time salaries here folks! At the end of the day Rock River is doing these riders a favor so it's tough for anyone to judge her teams results- it's just such a unique program. But riders like Ben Lamay and Weston Peick have put in good rides for the team and the team makes it to race after race all these years so there's that. Denney's a nice lady, she seems to be running a tight ship and the program seems to not be oversold to anyone which is something in these days of people telling other people how awesome they are and how much money they have.
RESPECT LEVEL: 3 Clipboards out of 5 (She's a vet on the scene nowadays)
INTIMIDATION LEVEL: 1 Clipboard out of 5 (As I said the team isn't really like the other ones in the pits, there's no hiring and firing of racers and a pressure to perform. Plus she's super nice.)
Monster Energy Kawasaki: Dan Fahie
Dan comes from a roadracing background but he did used to race moto up in Canada (yeah that's right, he's Canadian but he doesn't like hockey- weird right?) so he knows all about the dirt. After some turbulent times with ex-manager Mike Fisher I think Kawasaki just wanted someone to come in that was low-key and could run things while Ryan Villopoto goes out and does what he does. Well, mission accomplished as the team hasn't missed a beat with Fahie and doesn't have the drama like it had when Fisher was there (to be fair, Fisher was always really cool to me and I enjoyed dealing with him but the FMF/Pro Circuit thing was a mess for everyone). Dan doesn't say much but when he does speak, it means something and he's got the respect of his crew. His background in data acquisition makes him uniquely talented compared to some other managers. Fahie's a steady hand at Kawasaki and I think that's exactly what they like about him.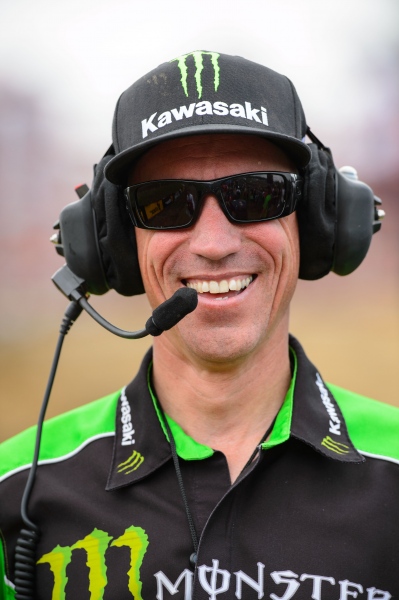 Dan Fahie is Canadian but he doesn't like hockey. So, so weird. Cudby photo
RESPECT LEVEL: 4 Clipboards out of 5 (As a factory manager Dan's in a position to deal directly with the promoters, Japan and much more so he is respected)
INTIMIDATION LEVEL: 3 Clipboards out of 5 (Dan's a nice guy, he's soft-spoken and isn't a yeller. I've yet to see him get angry but then again why would anyone be angry when you're number 1 rider wins 75% of the races he starts?)
BTOSports KTM: Forest Butler
Butler, like Brown at N-Fab Yamaha, is an owner/manager and has been the manager at the team for a long time now. As a matter of fact, Butler used to race for the team he owns! Yeah, that's right- Butler was a pioneer before the Chad Reed's of the world. He deserves a lot of credit in taking his team from a truck and trailer to a semi team that seemed to be there to only employ his Florida riding buddies (Bryan Johnson, Shaun Skinner, JT etc, etc) to now being closely aligned with KTM and a couple of great riders in Andrew Short and Matt Georke. He's also been an innovator with his VIP programs and tying his teams sponsorship money into a partnership with BTOSports.com. Some real solid moves and slowly Butler's built this into a real live team! He's a good guy who leans on brother Karsten (other co-owner of team) to help out with everything. I chronicled the negative side to having an owner as a manager with Brown at N Fab but one of the pluses is that the decision stops with one guy. So there's no red tape over on the team. There's no doubt that Butler runs a top program nowadays and has grown into the role.
RESPECT LEVEL: 4 Clipboards out of 5 (Guess what? He's been doing this a long time now and is analytical about the business. He has to turn a profit to keep doing this and he's been able to by working with the promoters)
INTIMIDATION LEVEL: 4 Clipboards out of 5 (Butler does a lot of Karate and he can get really, really angry.)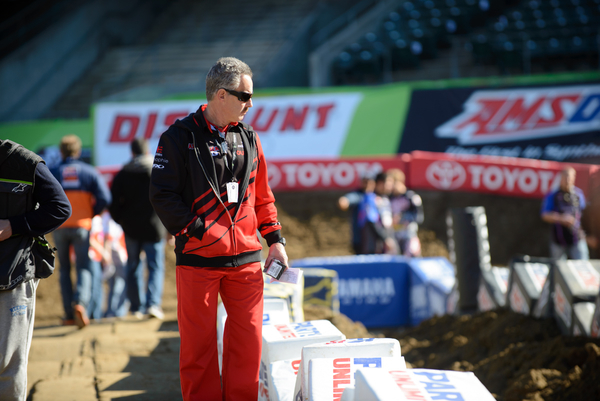 Ozzy's been around the sport for a long time, he knows a lot of stuff. Lissimore photo
Team Two-Two: Dave Osterman
Ok, we know Dave's the manager here but it's really team owner/head rider Chad Reed's program but still, Osterman is no puppet. He's been around a long time and has done a ton in the sport. There are plenty of people in the industry that have been around a long time and after you talk to them for ten minutes, you realize that they aren't smart people- they've just been in the same industry so people think they must be smart. But Osterman is not one of those guys, he's a very hard worker and old school. He's also very loyal and I have no doubt Reed loves the fact that Dave has his back with everything. Osterman's also an intense but friendly guy, ask him how he's doing but make sure you have thirty minutes to spare.
RESPECT LEVEL: 4 Clipboards out of 5 (Ozzy's been team manager at KTM, Yamaha of Troy, Pro Circuit and probably some others that I'm missing, he's also a sx championship winning mechanic for Mike Bell. Lots of people have time for Dave Osterman in the pits but I'd like to see if he has any of those "Oz" stickers left from his mid-80's defunct company)
INTIMIDATION LEVEL: 3 Clipboards out of 5 (Nah, Dave's too nice to scare anyone but he does have a mean mustache now and back in the day a fro like no other)
RCH Racing: Mark Johnson
Probably the guy I know the least on this list is Mark who's fairly new to the job of manager at RCH but not to managing. Johnson is Carmichael's guy so that's why he's here after stints in and out of IndyCar Racing as well as Factory Kawasaki, Motorsport Outlet team and head of Team Green when RC was an amateur. I interviewed with Mark one time for a mechanic's job and he was scary. It also didn't go very well either because I didn't get the job. RCH has a ton of chiefs (Johnson, RC, Kenny Watson, Carey Hart) over there so it's hard to know how Johnson has done. I know the team have taken runs at a few riders over the last few years and come up short but it's hard to place that blame on Johnson only.
RESPECT LEVEL: 4 Clipboards out of 5 (He's run factory teams and been around for a while so there's that. You have to respect the guy just for what he's done)
INTIMIDATION LEVEL: 2 Clipboards out of 5 (Mark's not scary at all and you don't really see him around the team running things. Better off for Mark to sick Watson on anyone he wants to get a message across to because with Kenny, you're not sure what you're going to get)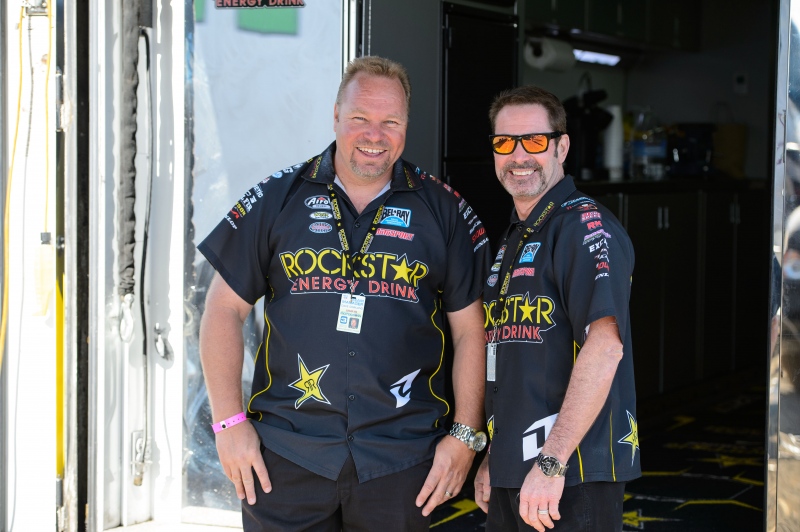 Dave Gowland (left) is also Canadian but he likes hockey and once tuned for Ross Pederson. It's impossible for me to not like him. Cudby photo
Rockstar KTM: Dave Gowland
I can't figure this out because I saw a PR saying that Dave is now working at ONE Industries but he's also the manager of the now-powerful Rockstar Racing team. I'm not sure what's up, maybe owner Bobby Hewitt is taking on more now with Dave running ONE? It's all up in the air at this point but if Gowland is back, it's a good thing for the team. He's a veteran of the sport, wrenched for Ross "Rollerball" Pederson so clearly I'm a fan. The Rockstar team was kind of rudderless and not putting in very good results a few years back but with the arrival of Dave, things started turning around. Gowland's not the only reason those results started coming but I don't think you can just say his hiring had nothing to do with it either. He's a fun-loving guy and as I said, when you hire a mechanic for a manager, you're going to get a hard worker who knows the sport inside and out.
RESPECT LEVEL: 4 Clipboards out of 5 (Running Thor, wrenching for Rollerball, head of Team Green, former mechanic about the only thing Dave hasn't done- that I know of- is be a flagman.
INTIMIDATION LEVEL: 4 Clipboards out of 5 (Although jovial, Gowland seems like he can have the potential to go off the reservation. I'd say he's a four.)