The audio interviews transcribed for your pleasure
The audio interviews transcribed for your pleasure
Photos by Ray Archer
If you want to read the Barcia transcription check out Racer X HERE or Trey Canard HERE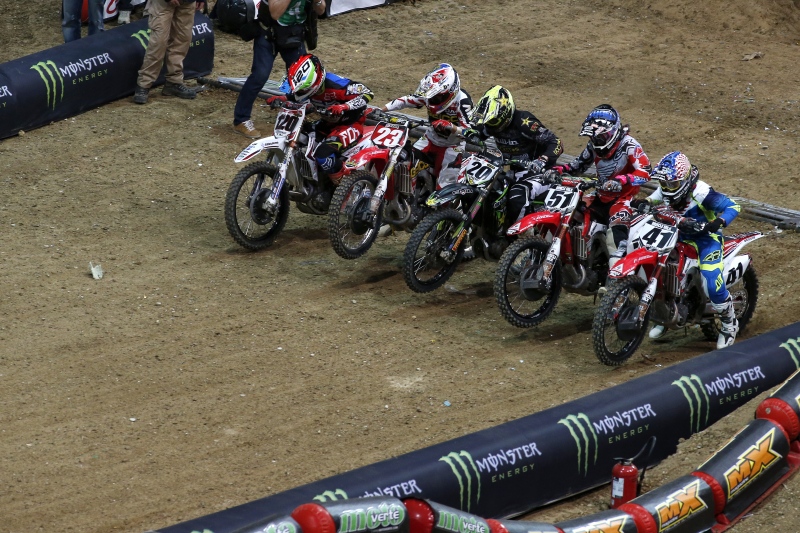 The Elimination race start!
Wil Hahn
Pulpmx: Tough ending today. Sounded like a serious crash.
Wil Hahn: Yeah, I don't know what's going on with me. I got a good start; that was new. I felt like the old Wil. It's coming around. It took me three days to get going but I felt really good the first couple laps. Tried to latch onto Trey and them and was doing well and I just mis-timed the rhythm section. It was hard all weekend and I just mis-timed it just right and caught the last one with my front wheel and went over the bars. It was one of those things. It's been a good learning experience. It's been great racing, tight racing, and making you elevate your game and learn this 450 quick. I'm just bummed I made that mistake because I finally got a good start and put myself in a position to run up front and we were pulling away from the pack. So that was nice to not have to battle it out with guys all throughout the first couple laps. Nice to just ride your race. But learn from it, go home, and get better.
It was a tale of almost two races for you last night. Shitty start, but then a real good second half of the race for you moving forward tonight. Good start, good first half of the race, and then the crash. So it was hard for you to get 15 laps together. There was speed there at times.
I feel like I have good speed and even Friday in the main coming from like last to 4th I was happy with that. I'm happy with the way I've been riding, I've just got to put it together. That's what these races are for.
We had spoken earlier to Cooper Webb about the fact that your first Bercy's always a little weird. Feel better coming into this one having gone through it last year?
Without a doubt. It's definitely easier to come here in your second year. You know what to expect, you know the food, you know the routine, all that stuff. But my results weren't any better, so I don't know. It could be argued. I would have loved to come back again and again. It's a good race. What it's about is good practicing and making us better for this off-season. But I'm feeling a little beat up.
Genoa last week too, you were just here for ten days, and God help anybody for being in Europe in ten days American-wise. But Genoa in itself a good learning experience. Trey Canard, Justin Barcia, the two guys you've been traveling with, they're going to be podium guys in America, so it's right in front of you. Kind of can see that's where I need to be.
Exactly. That's what we came over here to do is to learn and to put myself in a race position and getting off the gate. Those guys are riding awesome and they're good people to surround yourself with and just learn from. I can just continue to do that and go to the Honda track back home and just keep applying this stuff.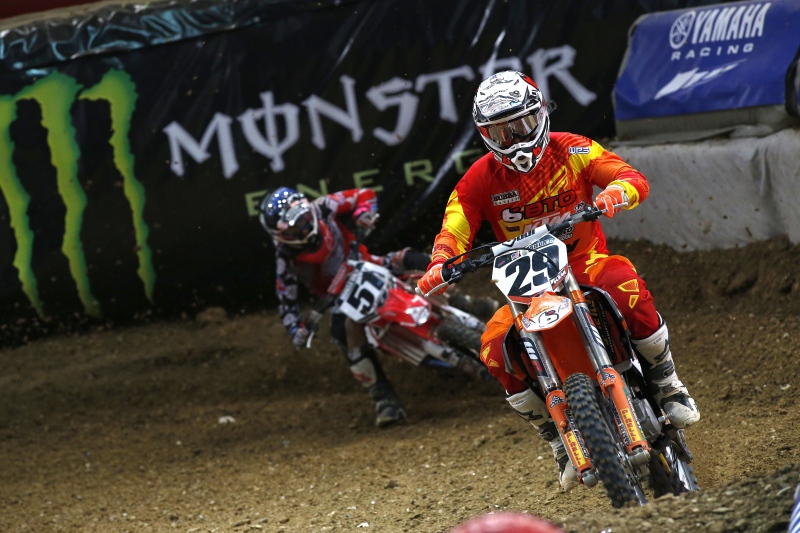 Short leads Barcia on Sunday's main event.
Andrew Short
Two-time King of Bercy. This year third place, which isn't too bad considering you lost some positions when you forgot to take a joker lane one night. But overall you even led the main tonight, so you have to be happy.
Yeah, it was great training for me to run with Barcia and Canard. You can ride at home all you want. This format's changed a lot since I've been here. A lot of one-lap sprints and elimination races, stuff that's maybe not my specialty, and great to work on those areas. I think it was great preparation. I love this race at Bercy. There's so much history. All the greats have ridden here. Even coming here this year to see JMB and Everts… Many great racers and the whole atmosphere makes this race really special. It's one of a kind, riding down hallways and whatnot. Overall I really enjoyed it.
Your practice times, like you said, just one area where you're not great at. But the in the superpole you'd stand up on top for a while and you led a main, but the practice times just were off.
Yeah, even back home it's the same way. I'm never very fast in practice. But when the gate drops, when it counts, something in my mind clicks. That's what's cool as a racer; everything else disappears and you just focus on what's in front of you. That's one of my favorite things about racing. I think tonight was the same way. I got to go over the gate with other riders and stuff. I got good starts, a lot better than Monster Cup so I feel like I'm making improvements. Hopefully I can continue on that path and have a strong first race at Anaheim.
You grabbed the lead in the last main event here. You know those two Honda guys are coming. What's your thoughts and when did you see them? Trey got you in the tunnels I think and Barcia got you in the first turn.
When Trey got me I wasn't so bummed. I was going to try to put a little buffer in-between him and Barcia but Barcia smoked me. I was a little timid. He ran in hot on me after the whoops on the first heat race. I was a little nervous, same thing. He's not afraid to run it in and it definitely had me thinking. But I felt like I rode a strong race. I need a little more speed to run with those guys.
So, joker lane, you missed it. But if you had to pick the joker lane, the superpole, the elimination races which you won today, what do you like the best? What's the favorite thing out of all those quirky deals?
I like the one-lap wonder race, the superpole I guess. It's definitely not my specialty. It kind of shows what everybody's got. The Euros are really good, especially the French kids. They can lay down one lap like no one else. It was interesting to see everyone's techniques. It's not my specialty, so it's something I can definitely work on. But it's an amazing feeling to be in a stadium this size with that many people. There wasn't an empty seat in the house, and all the eyes are on you. It's a gnarly feeling you don't ever really get to be a part of. It was cool. That was probably my favorite part. And to win the elimination race was a big surprise tonight and definitely put a smile on my face.
After the Monster Cup, you were probably like most people, and you were going "what was going through Dungey and Villopoto's mind and how could they miss the joker lane? I cannot believe it." And then you did it, so now you know. For the record, what's it like to miss a joker lane?
Over here it's weird. You're like in a daze the whole time. I wasn't too focused before the main. I was over here just trying to have fun and do my laps. It didn't even cross my mind until I went over the finish line like an idiot.
It's 40 second laps and the flagger guy is not exactly waving that thing.
No, but that's no excuse. I wasn't even thinking about it. It wasn't a priority for me. I'm thankful I didn't have 100 grand on the line like those guys. Over here no one really cares. But it was cool. Tonight I actually think it was faster than previous nights. Interesting twist. I kind of like it in Supercross.
The track, I don't know what it was like when you won, I don't think I was here. I've been coming here five or six years. It was the toughest one I've seen. The triple quad was gnarly; you had to hit it good.
Yeah, same track. It normally has more twists and turns when I've been here but I was on a 250F majority of the time or a 125 two-stroke and they had the over-under bridge and it seemed like the track was a little longer and a little more technical. It seems like this more of a four-stroke Bercy track.
You should have been here in years past when everything was so easy. It was ridiculous.
I missed those years, but I rarely raced Bercy where they had a lot of 180 turns and a lot of straight lines. So it was unique for me. I thought it was a great track. They did really good on the maintenance and it was challenging.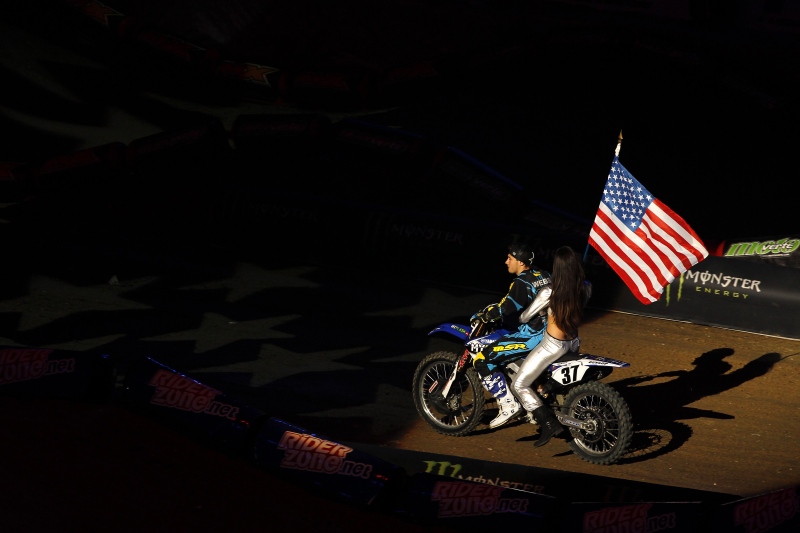 Webb picks up a hitch hiker in Paris.
Cooper Webb
Decent start. You and Wil Hahn came together and the work was ahead of you there.
We were 1 and 2 from the outside I think going in and the first turn's so slick tonight that if you just barely get on it you're braking loose. Unfortunately I kind of got pushed into that wall. I still came out 5th or 6th. Trey passed me first lap and then I made a pass on Aranda first lap and then just kind of made my way through the pack. Wil went down, got behind Soubeyras and we battled and ended up passing him and tried to pass Paulin but just was never really close enough. He was riding well tonight. It was an overall good night though.
You got better probably every time you took the track, and that was important, that was key.
The track got worse but I got better. I think it just kind of was experience and nerves and all that, getting used to the 450 in the tight spaces. We made some bike changes that really helped. It was good though. Unfortunately I had to go to the LCQ tonight but I ended up getting in and superpole was a lot better. I got 4th in that and had to charge through and got 5th in the main. Overall I think it was a good night and overall a great Bercy.
In the heat yourself and Wil Hahn had to go to the LCQ. Really wasn't anything you guys did. Izoird and Soubeyras were just riding really good.
They were riding really good. Me and Wil both blew it on the start. Once again, I got pushed into a wall again and I don't know what happened to him. But those guys ride good. They love the sprint type races. They're really good at just holding their own for those races. They rode good. I was freaking out making mistakes, but they kicked my butt. It was good to get them back in the main though.
Overall your first Bercy. What'd you think of the whole event? How sketchy are the tunnels?
It's definitely different. It's a whole new experience. Obviously I've never raced Supercross, but even from Monster Cup to this was so much different. But I thought it was good. We got to try stuff with the bike which I think will help us for back home. And just racing the unknown was pretty wild as well, because you don't know how these guys are. You hear they're good, they're bad, but you never know. That was a whole wild experience and then just the fans and the way you can hear every little thing is pretty bizarre.
They're right on top of you, too.
If you're battling with a Frenchman, every time I made a pass I just heard yells. It's nerve-racking, honestly. But I thought it was a great experience and I'll be glad to be back.
And they sang Happy Birthday to you at Opening Ceremonies.
That was awesome. The whole stadium sang Happy Birthday to me in French. That topped it for sure. I think I'll sit and look at that for years to come.