A first turn shot with a lot of icons in it
A first turn shot with a lot of icons in it
Hi everyone, from the late 80s through the mid 90s I was a contributing photographer for Hi-Torque Publications (MXA and Dirt Bike magazine). The photos that you see here were never published and have been stored as 35mm slides for the last 15-20 years. A month or so ago, I finally got around to purchasing a quality scanner and the journey began, going through these images has been a revelation, as I haven't looked at any of them since I put them away and had only seen them as tiny little 35mm slides. Scanning them, then seeing the images on a computer screen has been like seeing them for the first time, they stir up lots of great memories, and bring back a great era for motocross, lots of bright color, big characters and of course, some true legends of the sport.I hope you enjoy viewing them as much as I have-Mike Sweeney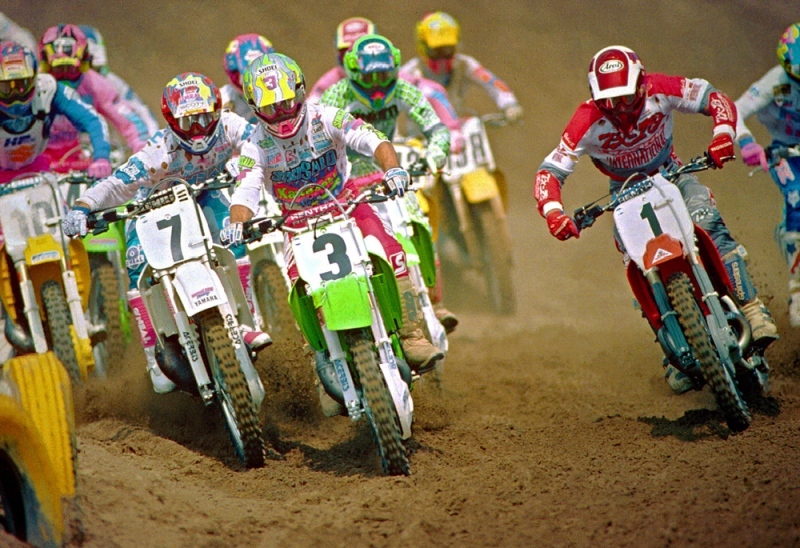 Great first turn shot with a lot of colors and legends in it.
Sweeney- "Southwick, 1990, first turn. I think this is of interest for a bunch of reasons, first the level of talent battling to get through the first corner, some all time greats here, Wardy, O'Show, Stanton, Dubach, LaRocco, and Bradshaw. Second thing of interest to me is Dr. D getting beat to the first turn, this didn't happen very often back then, Doug was known for holeshots much like Mike Alessi is today, except I dare say he was better at getting there first than Mike is. (sorry Mike). Third thing that jumped out at me was the direction, they're turning right. This used to be the normal direction for Southwick, they would run it the way it is now only to change things up.
1990 was a great season for Jeff Stanton, he went on to win, followed by LaRocco and Wardy. O'Show just missed getting on the box with a 4th overall, he went 6-2, not sure what happened in the first moto. Damon had a miserable day, going 8-12 for 11th overall.
You might also notice the "vented" shirts, the race was held at the end of July and it was a brutally hot and humid day in MA. The guys would take a razor out and slice up their cotton jerseys to stay cool. Also notice Wardy cut his sleeves off, if I recall correctly he believed it helped with arm pump."
Matthes- First of all, what happened to Wardy's front fender? That's a chain lube can propped up against the front tire to help straighten it waiting to happen. As Mike said, Dubach was the king of starts and it was a very rare time he got beat to the first turn. I'm guessing by the way his body language is he got chopped off by Wardy. First there was Donnie "Holeshot" Hansen, then Doug Dubach and now Mike Alessi- three riders who are universally known by their ability to get starts. Kudos to Dubach for wearing those O'Neal boots back then which were beyond horrid. DR D is many things and one of them is loyal to his sponsors, even to this day. Look at Stanton's attack position going into the first turn here. He just looks the part of being gnarly.
As we detailed in last weeks MX Captured, 1989 could have easily been Jeff Ward's year as he finished second at just about every race but Stanton nipped him. Well this year (1990) it was all Stanton as Wardy battled some injuries and his age was catching up to him. And Stanton was getting stronger. #10 there on the Suzuki is Mike Larocco who clearly didn't ALWAYS get bad starts. And John Dowd is right there on the inside in the pink jersey and Dowd would go on to have another good day here in the sand.
I love this photo for so many reasons. The colors, the crispness of it and the stories that it produces. Another gem by Sweeney from when men were men and motocross ruled.