David Vuillemin offers up some thoughts on A1
David Vuillemin offers up some thoughts on A1
Pulpmx: I thought Anaheim 1 tracks were generally pretty easy. I thought this one was tough and a little more technical, but yet 9 guys were in the same second in the Main Event so maybe it wasn't tough. What did you like and not like about it?
David Vuillemin: I read online on Twitter or forums that the track was tough for Anaheim 1. I'm like, are you guys serious? Were you there in early 2000s…
No, for sure the 2000 years, those were tougher, but I mean in the last five years.
If the track is tough you'll have a Bubba or a Villopoto do something different. If you look at it in a main event, the 250F, the guy that finished 20th in the 250F class was jumping exactly the same thing and doing the same stuff as Roczen or Bubba. So I think the track wasn't that tough or selective… Everybody jumped the same thing. I think practice, after the start, it was like 3, 4, 3, 1 that was kind of pretty cool. I saw Will Hahn do it right after the start of his semi on the start. But I think the track was actually really good. The main thing was 180 degrees turns everywhere.
If they go back east and they start doing 90 degree turns everywhere, everybody goes outside, apex, outside, it will be difficult to pass. I think the track was really good for racing because of the layout with bowl turns. The whoops were a little sketchy and slick before the finish but they always are in Anaheim since decades. Overall, they did a great job with the track and that made for great races all night
I guess we'll start with Roczen. What did you see from Kenny? Can he do this again?
It was the first race. I think he surprised a lot of people. We talked about that the last time, and I said people don't change. Riders don't change. But he actually did. He did because he changed his program. He's surrounded by different people. He listened to people that said you need to change some things for the 450 class. I think he's going to actually work with Baker and right now it's kind of cool for Villopoto to have him with him because that's kind of a big gamble for Villopoto, to have Ken work with him and on his program. Obviously Villopoto's program works. He rode good, but I thought Ken would have been a little more sketchy, but he was actually really smooth, one of the smoothest guys out there. I don't think he pushed like he could. I don't think he had to because his goal was maybe to be top 3 or 5. He got right there in the hunt to win and Villopoto and Bubba crashed. Those guys were a little better, faster. But I think he rode great. Not only that, I think he showed a lot of maturity in his riding.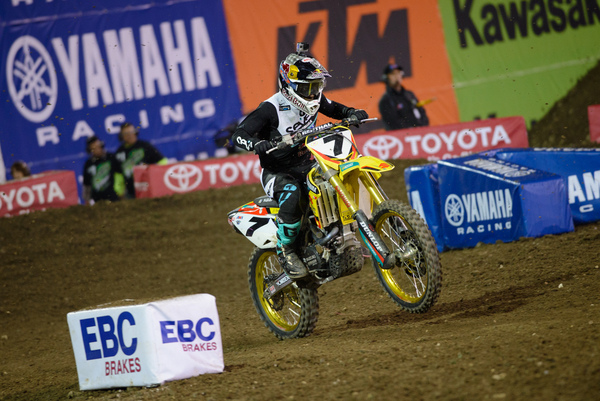 Former factory rider Vuillemin thought that A1 might've been the best he'd ever seen James Stewart ride. Lissimore photo
James Stewart, he wasn't balls-out crazy James Stewart. He slowly and steadily got better as the main event went on and got stronger. But I feel like this crash wasn't a typical James Stewart throw-away. He just got a little crazy in some slippery whoops. Or is it any different? Is it the same-old, same-old James?
Actually, if you know anything about the sport and watched it last night – I watched twice on TV – and everybody knows I'm a fan of him. I really like the way he rode all day in Anaheim. I think that wasn't as crazy as before, he wasn't jumping something crazy, but definitely the best I've seen him ride, maybe ever. Because he was smooth, he had great lines. He was riding off the slippery line the whole track. He was going inside riding in the parts of the track with the most traction and doing less distance as everyone else. His corner speed was not like crazy fast but he never stopped in the turns. He was really good. That was an amazing ride. He was actually coming from 9th, or whatever. And he came out and passed everybody. When he crashed he might have passed Roczen a few yards after. He picked his spots to pass. He passed Dungey and Reed at the same spot. He was really good at that on-off bouncy thing.
About his crash, everyone has their opinion and blame his history of yardsaling or blame the slickness of the whoops. I analyze it differently. He hits the whoops with the rear wheel higher as everyone else. That's what makes him fly through them. While hit them with the rear wheel lower, while it isn't as fast, it is also more safe because you have more plant on the tire and since you have more inertia when you hit them you have less chance for the bike to go sideways. James barely touches them which makes him so fast but it's not as safe when you catch an edge with the rear wheel. If he was hitting the whoops a couple of inches lower, he wouldn't have crashed. Basically, he's too good and too fast in them and went something wrong happen, catching an edge, he can't save it. He's pushing the limit of physics… Sometimes, like the french saying says, "the better is the enemy of the good"…
I was impressed with Chad. He wasn't happy after the race. But I thought it was good ride by Chad and, quietly, Dungey rode pretty well, both those guys.
Yeah, Chad, it was good to see him back on the podium. I think he still has some work to do, and mainly in the turns. If you take Bubba and RV for example, they're always going, not stopping in the turn and turning really tight as well. And you can see Chad going a little high in every turn and kind of stopping a little bit and going again. I think he needs to work a little bit on the corner speed and keeping his momentum a little more. I thought he lost the front a lot, and that was mainly why he has to go high in turns and kind of stop a little bit. I don't know if it was the tire or the fork setup, but you keep seeing him lose the front a lot, which did not really help him.
Anybody else catch your eye?
Yeah, you talked about Dungey. I like the guy, he's always going to be there, but I kind of need to see more from the guy. He's too mellow.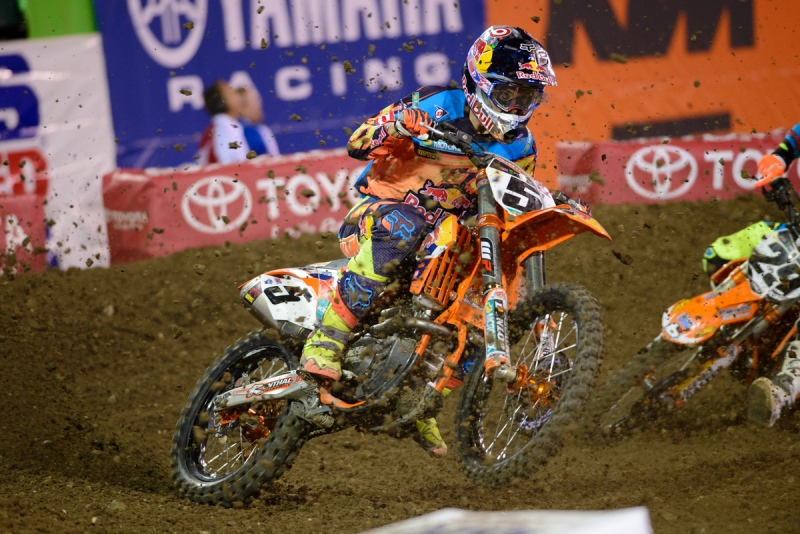 DV wants to see some more flash from Ryan Dungey. Lissimore photo
I thought he could have won if he'd gotten by Chad sooner, if he really pushed the issue, it might have happened for him.
Yeah, but I think he rides too much in his comfort zone almost. It's not really exciting to watch. The most exciting thing I've seen from Dungey in the last few months is his Halloween photo… I want him to lose the front one time because he's pushing his limit. I want him to show me that he's trying and he's getting out of his comfort zone. Because if he's going to ride like he is, it's not going to be enough. There is always somebody who is going to be better at any races, RV, Bubba, Roczen or even Barcia… He needs to kind of get out of his comfort zone and hang out a little more.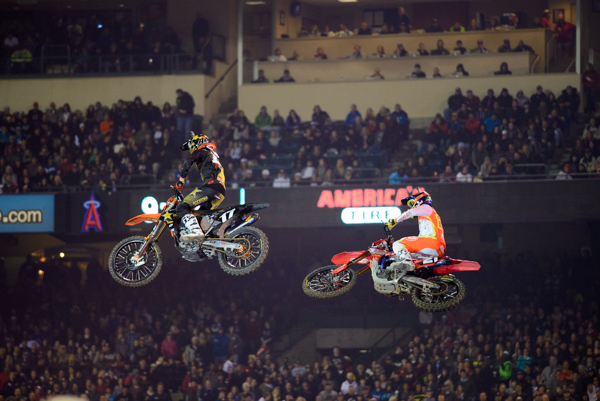 Vuillemin thought that Jason Anderson's pass on Cole Seely was fine. Lissimore photo.
So Anderson's pass on Seely-any problems with that?
No, it was amazing. I think he thought of that pass from the split he saw the opportunity getting out of the whoops and went for it. I don't think the lappers were an issue. I think Seely let him catch him a little bit in the last 3 laps and Jason never settled for 2nd. Cole was five seconds ahead and then he was losing ground the last few laps. In my opinion, Cole's last 3 laps cost him the win and you have to respect Jason for trying all the way until the checkered flag. But I thought the pass was amazing. That was really good.
Do we want to talk about Telliet? I was let down. I thought he'd be better.
I think he needs more time riding SX, just like Ferris. What do you expect? They got here like a month ago. You can't really expect too much from GPs guys with a small amount of preparation.
Ferris was just okay…
Yeah, I don't believe in miracles. You have all those guys, they've been pounding laps since the Monster Cup, testing, or riding Supercross. Most of them with a few seasons behind them, so it's tough. Roczen learned quick, was already more talented than those 2 when he landed here. You can't expect much with a small amount of preparation. What was good was actually Wilson and Osborne. I was disappointed by Wilson, really. He should dominate.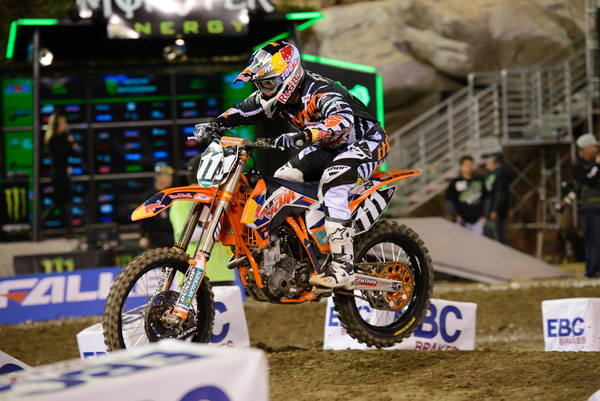 Dean Ferris's AMA SX debut was…ok. He'll get better. Lissimore photo
He's hurt. He crashed and hurt his back and elbow or something.
I thought his comebacks against Osborne were a little cheap at times. You can't really do that. If you do that, you're going to lose so much time. But yeah, if he's not 100%, we'll have to wait and see what he does when he's healthy… I didn't know about all of that so I was a little disappointed.