David Vuillemin gives us his take on Anaheim 2, after all- the guy raced the original track
David Vuillemin gives us his take on Anaheim 2, after all- the guy raced the original track
Photos by James Lissimore
What about the track?
David Vuillemin: I am never a fan of tracks with a lot of 45 or 90 degrees turns. Seemed like they had a bunch of them in the layout this time. I know it was a retro race but it doesn't have to be a layout from a previous year. I would have loved to see a track from the 80s like John Stavitski used to build them which a bunch of obstacles that don't make that much sense but that challenged today's riders. Anyway, the track is the same for everyone but wasn't very spectacular for the eyes of us fans. But, we had some great racing so at the end of the day, the track did the job.
What's the deal with Chad? Why is he better than last year, do we just blame the Honda?
I think Chad got a boost of confidence and looks obviously better than last year. Maybe the Honda was a problem for him as well as some new Showa suspension components in 2013. You know Chad as well as I do. It seems like when something bothers him, it gets to him and he gets irritated quick. He sounded really frustrated last year in his interview and his posts on social networks. It's tough to get the job done in this state of mind. It happens to all of us. Add to this, a not as good fitness as this year and you get a difficult season. Chad's riding style looks more explosive than last year. He looked slow, not in speed, but in his movement on the bike. I'd speculate and say that his new training program is helping him in that department this season.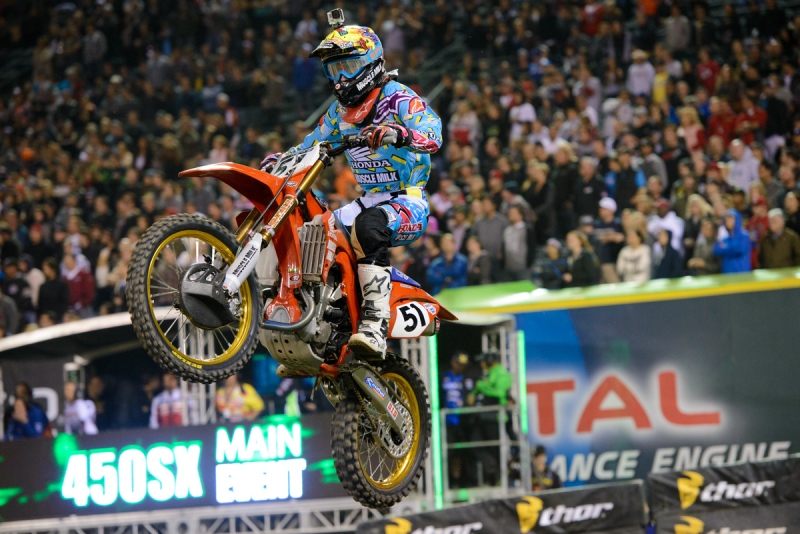 Vuillemin thinks that Barcia needs to slow down to go fast.
What's going on with Barcia?
Justin's riding style is really aggressive without much throttle control and on slick tracks we have on the west coast, it's difficult to be efficient. He's not doing as good as he's expecting and he's getting frustrated in his riding too. Which might work even more against him. It's a case of going slow to be faster even if I don't like this saying. Justin needs to realize that the more aggressive he is and the more he's gonna rev that bike the less he will be efficient. On the west coast, you have to keep your momentum in turn, flow on the track without doing sharp turn and feather the throttle. Brayton, Reed and Bubba (in A1) are a good exemple.
Should you be worried if you're RV?
I wouldn't too worried about it. He showed us in Phoenix that he was one of the only guys to come from a mid pack start and win a race. West Coast tracks are bit more difficult to him usually. I don't think it should be. There are ways to change a few things in bike setup and riding style to be better. It seems more to me like he's telling himself he's not as good in those kinda of surfaces, like a mental block. An amazing champion like RV could dominate anywhere because his speed and fitness are great. He could have won A2 easily without that crash when he collided with Bubba. If he would have won, we wouldn't even talk about being worried for him. I thought RV wanted to pass Bubba too quickly. There were still 6-7 laps to go at that point and plenty of time to get around him. Especially when Bubba wasn't riding like A1 and riding on egg shells the whole main event…
You must be happy that the YZ450F of Justin Brayton looks so good.
I actually don't care bud… I don't work for Yamaha nor anyone else. I always thought Brayton was a great rider that was losing some of his abilities comes A1 every year. The bike, as everyone that tried it, seems better this year but it's not only the bike. He's riding better and more relaxed this year. Like he told us in the radio show last night, he believes more in himself now that he can beat the best guys and it shows on the track. It's a good surprise for us to have another rider mixing it up up front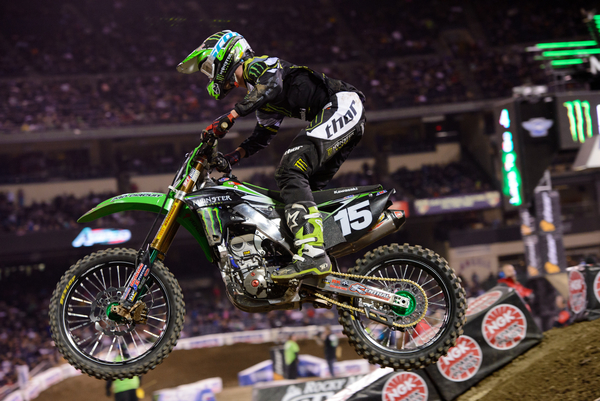 DV934 says Wilson needs to work on his turns.
What's going on with Dean Wilson?
Like I told you last week in this same column, Dean and Barcia have similar issues. When you watch Seely and Anderson ride compare to Wilson, it doesn't take a rocket scientist to notice the differences in flow and momentum in turns. That's something Dean will have to work on during the week to be able to stay with the top 2 guys.
Great job for Seely who no doubt saw Anderson coming, to hold on and take the win…who do you have in this title?
It's anyone's title. It looks like they gonna play cat and mouse all season. They are both riding very well. Jason impressed me in his heat race in A2. Maybe the best I've seen him ride since the start of the season. He's a little more on the edge than Seely and hangs it out a bit more. Which could mean making more mistakes. Those guys will have to avoid those because since no one else is capable of mixing it up right now, if one of the 2 loses a bunch of points in a race, it will be almost impossible to catch up. It's definitely going to be great dual…