Lars talks about the A2 win, 2013 and much more
Lars talks about the A2 win, 2013 and much more
Me: Congratulations on the win. That's pretty cool. Let's talk first about last year. He had got two podiums in 16 races and his outdoor season was absolutely horrible. How frustrating was that for you?
Lars Lindstrom: Last year was really trying on the whole team. We didn't get the results we wanted. He wasn't in the form that he is used to being in. It was really tough for everybody because we never stopped. The whole year we tried more things and tested things… We never gave up, which I'm kind of proud of that I guess. We never gave up on him and we just gave him everything he wanted. We tried some things that just were ridiculous and really a pain in the ass. He never was able to get out of his whole slump that he was in.
How much do you think was it the Honda and how much was it him not being in shape? What do you think was the reason why he had such a bad year?
I think it was a combination of things. I don't think you can blame it on one thing really. The combination was his knee, from the year before, and him doing everything he could to make that recovery, which is the longest recovery, and do everything right. He did everything the right way and still it wasn't where it needed to be. So that set him back from training as hard as he wanted to. And then on top of that we did get a new bike and it didn't suit him as well as the previous year's bike. So between those two things I think that took a toll on his head a little bit, a little mental. He was fast, coming in before the season he was faster than Barcia and Canard, at least right there at the test track. He did have the best lap times. I thought he was going to do great. We looked good for a while but he just didn't have that intensity and that aggression that he has at times. I don't want to blame everything on one thing.
And you, a former Honda guy too, I'm sure things were getting a little tense between yourselves and Honda? Which is also a difficult thing to manage and to work with.
Yeah. I put a lot of time in at Honda. You get a little bit emotional over things like that. You take a lot of pride in your work and you take things to heart a little more than you should. I think they did a pretty good job, especially guys like Shane Drew, of not getting their feelings hurt too bad, which may have been the case in the past. Chad's very honest and sometimes brutally honest, as you know. He doesn't care about your feelings. He's going to tell you what he thinks, which is tough to handle sometimes but it's cool because you know you're getting the raw deal. It's rare. He doesn't sugar-coat anything.
And those Honda guys, they got a lot of pride. They bleed red. Literally, Dan Bentley, Shane Drew, they bleed red like all of us!
Even me, being there for that long. If everyone said the bike's a piece of crap then it would be easier to swallow. But when the other guys are saying, that's good, and Barcia goes and wins the second race. It's a little bit harder to complain. But then again he doesn't like a lot of things that other guys do. And then those other guys don't maybe feel things that he feels. So you got to stay with him and his thinking as much as you can.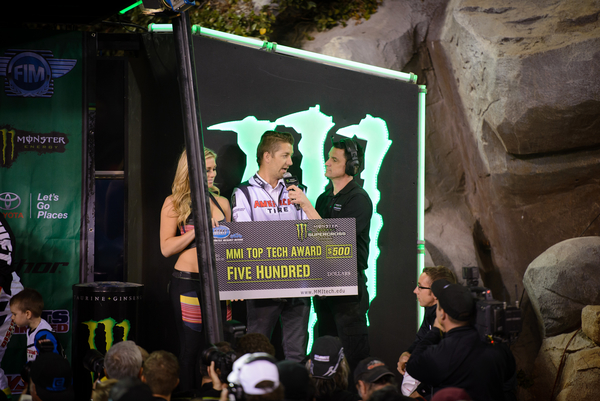 Pretty good night at Anaheim 2 as his rider won and Lars got the MMI Top Tech Award. Lissimore photo
The process of picking the Kawi… He rode it at Glen Helen one day. He rode a KTM at his house. RCH was going after him. What were your thoughts on what he should do? What did you think he was going to do? Talk about your thoughts behind that process.
We rode at Glen Helen, we rode a Kawi and a KTM that day. If we were going to pick any bike, I was kind of glad to get away from Honda because I didn't want to hear how bad it was anymore (laughs). I wanted to see how the grass was on the other side. I was kind of hoping he would pick the Kawi. I have a lot of friends that work at Kawi. I know a lot of guys at Pro Circuit. And on top of that it's won the last three Supercross championships in a row, and outdoors. It can't be bad. So I was hoping we were going to be on that bike but then I really thought we were going to be on KTM because we really liked that outdoor bike they had. But Kawi ended up being the bike, and I'm glad it was because obviously we've won a race now and been on the podium. So it seems to be working out.
Were you surprised at how soon he won? I think we all are, all of us experts in the media. Are you surprised that third race in, he has really a race that he comes from 5th and whatever he was to first?
I'm as surprised as anybody. I'm not going to sit here and say that I knew it all along. I was stoked that he got a podium that first race. And then we go to the next race and he didn't really have that same feeling all day. And then he got a bad start and he wasn't able to get through the pack as good as I thought he should have been able to, and probably he did too. And because Villopoto started in the back, he won.
I didn't think he was going to win right away. He is capable of surprising the shit out of me at any given time. Just like at Hangtown in 2011. I didn't think he was going to be able to catch and pass Dungey and Villopoto and he did. He's such a wildcard when it comes to those situations. In that way, I'm not surprised that he won, but at the same time I had no idea. The field is so damn deep. Who could have ever predicted it?
He went back to a spring fork at some point on the Honda but you guys are running the full Showa air fork on the Kawi. What's different? Why does he like it now? Did you just learn more about it?
I think that it's a matter of the motorcycle. I think the chassis setup and everything is quite a bit different on the Honda versus the Kawi. I think that the twin chamber, the standard air fork didn't really suit him on the Honda. Even that one seemed to suit him on the Kawi better. And then we got that triple air chamber and he really liked that on the Kawasaki, which we never got a chance to try it out on the Honda. I know that he's had to kind of eat a little crow or whatever and he said the air forks suck but now he's saying they're good. It's just a matter of the bike. And we could have had the option of going to a spring fork but we would have had to pay for all that. I think this year he kind of was like, screw the bike. He said "I'm just going to focus on myself." I think he really felt like he needed himself to be a little better. I think he kind of like, "you know what, it's fine. I'm going to stop complaining about it. It's fine. I'm going to focus on myself." That's how I feel, anyway.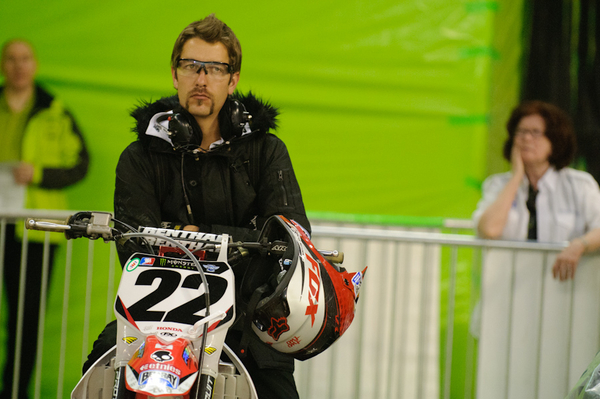 It was a long and frustrating season for Lindstrom last season. Photo by Lissimore
Pro Circuit, how closely do you work with them and how's that relationship? Talk about working with PC a little bit.
When we first got on the Kawi they helped us out a bunch, and they do help us out a bunch whenever we need something. We're not as reliant on them as most people think. We developed our own settings and our own engine. We're using a lot of different parts that we sourced out on our own. Although we do use some things. But they have been really instrumental in helping us get acclimated to the Kawi and showing us things that are maybe a problem or things that you should do. They led us down a path in the beginning, so things like that, they're really cool about doing all that stuff. Bones and Mitch, sharing information. And also testing at their Supercross track too.
You guys made a big move, hired Dean Gibson. Just another brain on Team TwoTwo I guess, right? He had a long experience at Honda with you there.
He's got a lot of experience that he uses, he learned over the years and learned a lot. He came over here and he is a workhorse. He puts in hours and really takes a lot of pride in his work. Just another great guy to have on the team that's not afraid to work and really puts in the hours. He built Honda's engines too and developing them. So between him and Goose and Oscar and everybody, our team is just super strong right now.
And Dave-O's (Dave Osterman) still as intense as ever? Still gnarly and yelling?
Oh yeah. He's on the phone right now. I'm surprised you can't hear him, actually. He's in his office but you can hear it resonating through the whole building.
What's Dave's biggest strength, do you think?
Dave's biggest strength is that he is beholden to the team. He's not afraid to do anything, whether it be calling sponsors or sweeping the floors. He is 100% all about TwoTwo Motorsports. I think that's his biggest strength.
You yourself, you left Honda a few years back. You had a good, cushy gig. You rode a little bit, worked for the King, worked for Windham. You happy with your move to Team TwoTwo and the chance you took? It literally was; you took a pretty big chance.
Yeah, I'm happy. I'm pumped. If I wouldn't have taken the job and worked for Chad I'd still be driving the test truck for Honda. I started there, which was cool and I learned a lot. But it was cool to go out on my own. 2011 we were a little team and we did a lot of work. I busted my ass. And it was successful which was hugely rewarding. And now moving to a different brand is something that I probably needed to do just to not be so stagnant, sit there and work on the same motorcycle forever. There's things I got to learn on difference branches. I think it's good. I'm glad we're on a Kawasaki. It's a really good bike. It's easy to work on. And obviously Chad likes it. It's been a good deal.
This could be an amazing year for you guys…
It is pretty amazing. We have a picture on the wall from when he won in 2008 and it says on the magazine cover, "Make or Break Year for Chad Reed."
I guess he's still making or breaking it. As far as the bike setup, give me five things about Chad's setup that maybe people would be surprised at, like suspension setup, motor setup, bar layout, pegs, anything like that.
The first thing is he uses a left-hand clutch adjuster like he does on a Yamaha. He still does that from those days. Another thing is that he likes a lot more bottom than most guys. So his engine stuff is more towards that. Whatever setup the team says is often like this, it's usually that Chad likes the exact opposite. Everyone will tell us that this works bitchin' and Chad Reed says it sucks.
Do you set his bars every weekend or does he still do that?
I used to measure it and I used to do all these things to do it all bitchin'. Now I don't know if he's gotten less picky or its just I've gotten used to what he likes, so I set it up for what I kind of am used to what he runs. And it feels good to me now. I don't think he ever really changes it. That's getting lucky I guess. Another thing is, he runs his throttle ultra tight. There is no play at all.