When it comes to the number 3 it can go either way.
When it comes to the number 3 it can go either way.
By Isaac Scoggin
Photos by: James Lissimore
When it comes to the number 3 it can go either way. It is an odd number, the last spot on the podium, and for one particular rider, it was the charm. For everyone else the number represents the chances they have had to begin this season off on the right foot. More so than any other sport, other than yo-yoing, this is one where momentum is hard to stop…good or bad. Many riders have already written off the first 3 races of the year and want nothing more than to turn back the hands of time to the moment just before the gate fell at A1. Nothing can be taken back though and I am afraid the battle is all uphill for many. But for a select few in the 450 class they have changed their ranking in the SX ecosystem and possibly upset the balance. It only took 3 races but in 3 more who knows what could happen.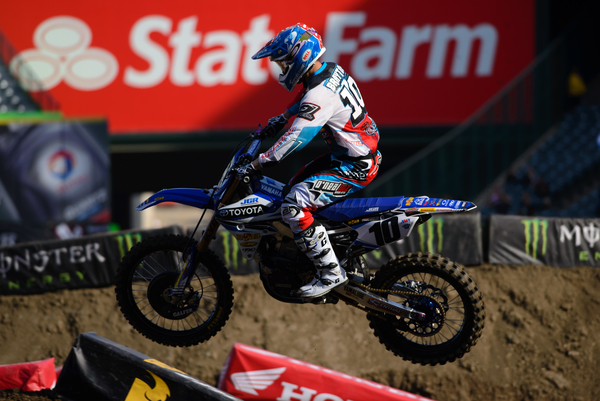 Brayton is definitely a new man.
The most obvious of these riders is Justin Brayton and his resurging Yamaha. He had acclimated himself quite well to the middle of the pack in his previous years of big bike racing. Aside from a few trips to the podium among a less than healthy field we had no reason to see this coming. He was "expected" and "supposed" to know his place among this most talented field. He apparently does not, not yet anyway. It is very unusual for a rider who has spent so many years beating his head against the wall to finally break through, but Justin has done just that. It is only 3 races in but he is by far the surprise of the series, and if it weren't for slick corners he may have accomplished his first "W". His mind set is much different from that of us fans, but you couldn't blame him for taking a breath at this point. or just a moment to say, "3 down…take deep breaths and it is only 14 more", but he isn't. He appears to be charging from race to race ready to reassert himself with the elite riders anytime. From practice to heat races to the main events, he exudes confidence and an understanding that he belongs. This is encouraging from many riders tirelessly working toward the impossible. In only 3 races it has been proven possible.
It hasn't come so easily for the likes of Weston Peick either. Years of being outside the top ten, and not being taken completely serious because of weight and size are in the past. Not a doubt remains that he isn't worth his weight in gold or Suzuki yellow. He has turned into a marketing dream due to no real effort. His personality and demeanor have collected a following, because of his hard working nature, and his willingness to bet on himself. I know only Chad Reed is allowed to do that, but with no choice Weston did just that. It is paying dividends tenfold due to our addiction for a privateer to stick it to the factories weekly. It hasn't hurt him that certain media members have coined many a phrase around him and his antics (which are really nothing more than him doing what he does, kick bikes on TV, and generally show toughness). Regardless of the problems he suffered at the first two rounds, the 3rd was indeed a charm of sorts. He rode hurt, he rode solid, he stole even more hearts, and it is only further proof that he deserves the praises he receives. One can only giggle with the anticipation of what he might do when completely health. Will he pull a Brayton and break down the final barrier between himself and a factory salary and ride? He has 14 more chances to show to the factories what every underdog-loving fan already sees.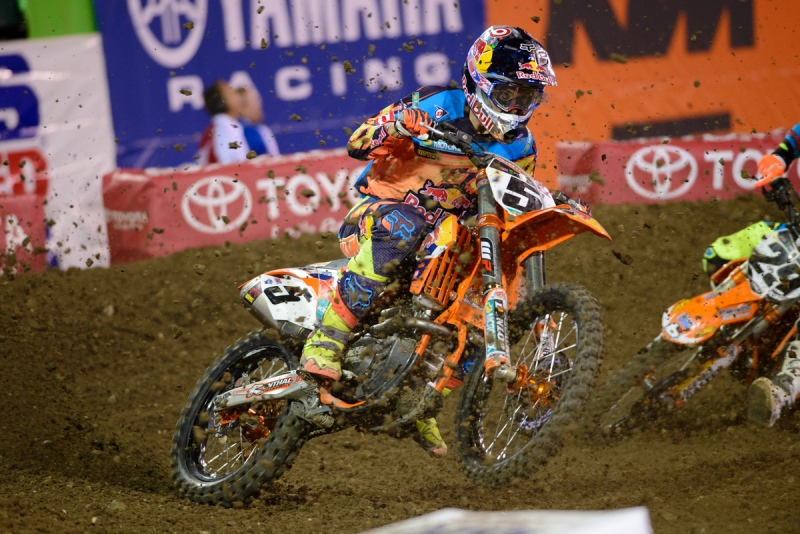 "Destructo-Dungey" Proving he does indeed have the capacity to lay waste to at least some of his competitors.
It has taken 4 full seasons and 3 races for Ryan Dungey to truly get aggressive in the 450 class. Welcome to a real chance at showing the competition what you can do and more importantly, what you are willing to do to win. This has been a long time coming and I hope it hasn't been overhyped, but with 3 down (riders and rounds, if you include Dungey himself) it is the perfect time to push towards getting some wins. In reality no matter how many crazy races take place early in the season we all know Villopoto will take control at some point. It is really only a matter of how far out front someone else can get before he makes a run. Dungey needed to win right away to try and separate himself, and now all he can do is try to go tit for tat with Villopoto. It appears he is willing to try.
Even though we are only 3 rounds into this 17 race "marathon", we can clearly see the riders who have made a conscious effort to do what they believed they could, even if others doubted. The real question will be if the series will eventually beat them back into their normal habitat. Is there really enough room at the pointed end of the field for another rider or two? Can Dungey and Villopoto's respectful relationship continue in the mists of Dungey giving Villopoto some of his own aggression back? 3 can be such a bipolar number and this year is not going to be an exception to that rule. 3 rounds with 3 different winners seems like the perfect way to start the season. For the fans the 3rd round was the charm and the old say goes that bad things come in 3s. It appears the same can be said for the good as well.