WIl Hahn left little doubt that he wanted the Balls-Out Award in Oakland.
WIl Hahn left little doubt that he wanted the Balls-Out Award in Oakland.
Photos by: THE James Lissimore
Wil Hahn is 4 rounds into his 450 career and he celebrated by showing that he is indeed a big boy himself, throwing down the Oakland quad before anyone. I felt that warranted a Corner all his own. Clearly, the Balls-Out Award was front and center on his mind in Oakland.
Swizcore: How did you become a die hard Eagles fan?
Wil Hahn: Mike Vick. Not cause of the dog killing, the athlete.
Serious commitment to a team for one athlete. If he left Philly would your dedication go with him or stay Eagle?
Both truthful. I'd still remain a fan of his; and now my love for Philly.
I may or may not be hitting you up for a dedicated a Swizcorner interview right this moment.
Got a few?
Yep. Via text or?
Yup right here bro.
Let's do it bud .
Firstly, do you feel Barcia dirtied you, or just a little chin music?
Chin music. You can't hang with the big dogs, stay on the porch.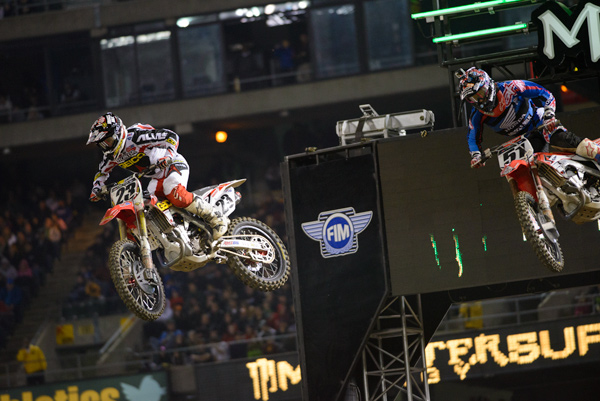 This is just before Justin tuned-up Wil a bit.
Hahn went balls-out and this move did not get him balled-up.
Man's-game.
I like that outlook. There's no crying in moto… well actually there's been a bit this year but I ain't knocking it.
I think you've looked good in these first rounds. Not the finishes you're capable of but you're bangin and finishing. How do you feel about the experience so far?
I'm loving it. I'm learning and learning fast. I'm not rushing anything and I wanna be here 17 races.
Where did you leave your Geico holeshot motor? Might wanna dust it off.
Yeah. We're in the process of that. Long series though, Haha.
Speaking strictly of the start, what's the main difference heading into a first turn with the big dogs compared to a regional series where the competition is divided?
There is 22 good starters. And everyone is on their game!
Were you on the gate or watching at A1 Heat-1 when Alessi pulled 3 bikes right off the gate?
On the gate.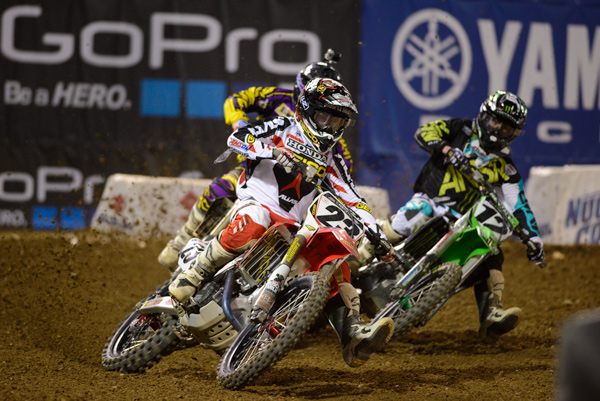 Wil has 4-rounds in the books with the big dogs and he's learning more each week.
Did you notice it at the time?
Yeah haha, I thought I had the holeshot.
Ha, then you look over and you're like "dear Lord I need to get somma that!"
So this quad last night; do you think of yourself as a guy who typically sacks up before others to go big?
Hahahahah
Well on the 250, yes I did; but tonight JS7 came up to me and asked how it was. That felt bad ass!
You ain't kidding.
Are you aware of the "Balls Out Award"? It was created by one Cory Moser and it is very prestigious as well as quite crude and a little homoerotic.
Hahahahahaha. Hmm, I wasn't. But did I win?
You did!
Matthes has it but is afraid to be caught with it by TSA as he'd likely be jailed for life and then he'd be the one going balls out with a lifer named "Bubba". You'll have to get a photo with it next time you're at the Lions Den.
Is the PulpMX/Wil Hahn sponsorship DOA?
Hahahaha, well I think he's over bringing me coffee.
That's ridiculous, he's stopping to get his own every morning anyhow.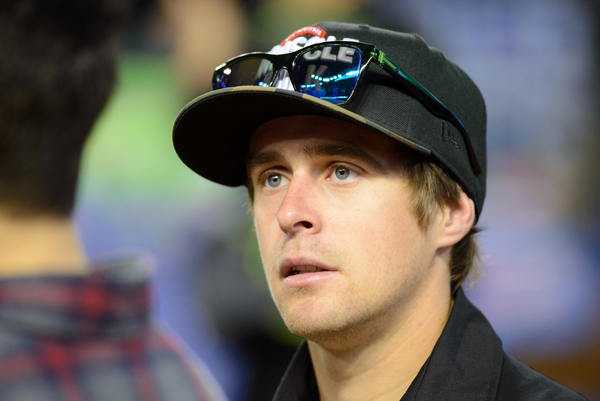 This is literally the moment Wil found out he won the Balls-Out Award. You can't fake excitment like this.
What do you see as the most obvious thing you need to improve on at this moment?
A little bit more aggressive.
And obviously, can always be better so… I'm still working too, so that and try to keep improving.
More than starts? Probably want to get more aggressive so when you get a start you can flex and people be like "dayyaaanmn!"
Yeah exactly. My starts were better tonight. I'm not going to complain about that so I'll continue to fine tune them and yeah…
Yeah I had high hopes right until Barcia came up the inside. You look a lot like Osborne to me right now. Super solid, not great starts, capable of more than you've seen so far.
Yeah. I mean I'm solid and I'll continue to improve.
Exactly. I'll let you get back to the joys of airport people watching. One last question, a two-parter; do you see the east coast dirt playing into your strengths AND we always hear about "the rookie in a 17 round series getting fatigued"- do you think your program is up to the task already or could this affect you? Barring injury of course…
I'm ready for the 17 races. I know it's gonna be hard but that's what I prepare for in the off-season and yes, bring on the ruts.
Beauty! Thank you sir. Keep doing what you do and by that I mean giving Matthes lots of shit.
I will!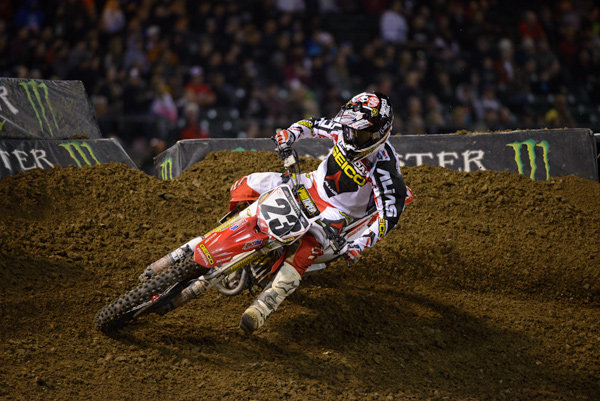 Wil is looking forward to the ruts of the east.