The project to end all projects. Or at least keep me away from the computer…
The project to end all projects. Or at least keep me away from the computer…
PHOTOS by The James Lissimore
Want to read part 1 of this column? Go HERE
If it wasn't for this little thing called the Monster Energy Supercross series, I would be a lot farther along into this rebuild. But it's begun and I forgot how awesome it is to scrape your knuckles taking hose clamps off and getting dirt under your fingernails! Yay!
By the way, I have an awesome idea for this thing when it's done and have got the go-ahead from Racer X to try and make it happen. Stay tuned, the way it's going my idea probably won't be in the mag until the May 2019 issue.
Let's take a look at what we've got going on so far on the #project90, errr, project.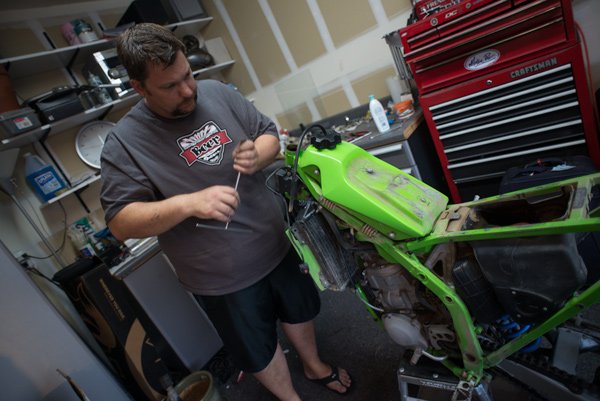 I'M BACK BABY!!! That's right, i dusted off the tools and started tearing down this machine. And it was about two minutes in before blood was drawn…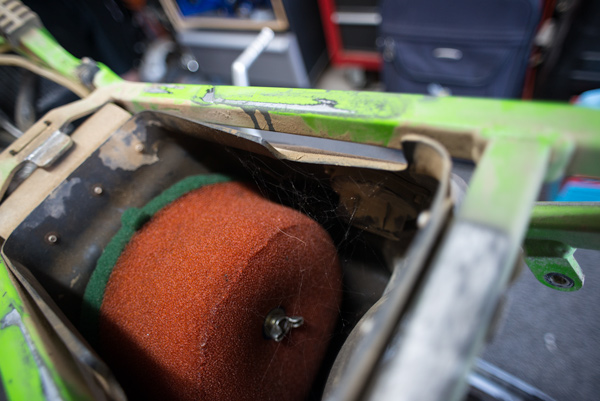 Hey, it had a UNI in it already! The bike is actually in not too bad shape.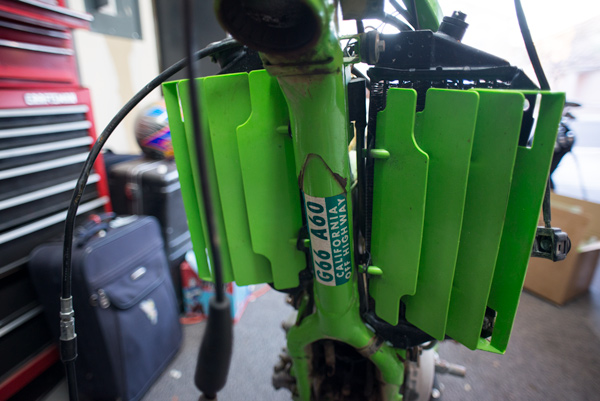 The frame looks to be in good shape, the shock towers aren't cracked, peg mounts are fine also. All Kawasaki trademarks in the early 90's.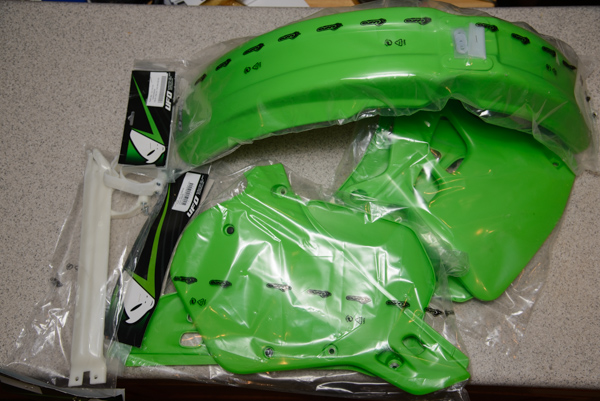 Thanks to the folks at BTOSports.com for carrying UFO plastic and thanks to the guys at UFO for actually still making this stuff. The bike's going to be looking awesome.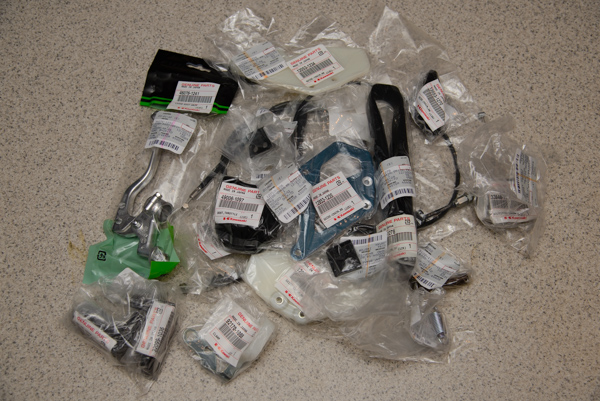 My first Babbitt's order came in! Yay! Mostly just stuff off the top of my head that I wanted to replace. I've got to put in another order maybe today. Go ahead and try them out if you want some stuff at great prices. I'll even give you a LINK to their site.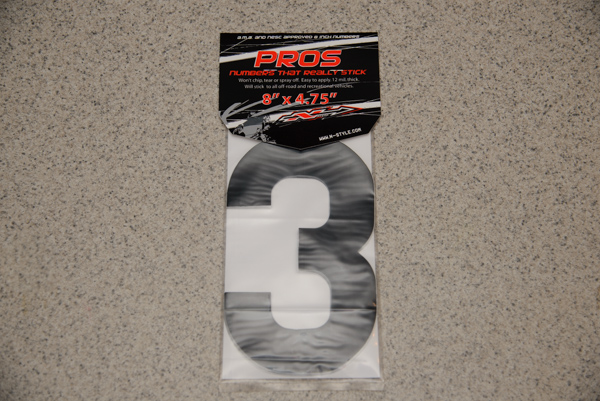 How's this for a replica? My bike's going to be a Jeff Ward race replica and WARDY USED THESE EXACT SAME NUMBERS back in 1990. Yeah, that's right. At least something is going to be real.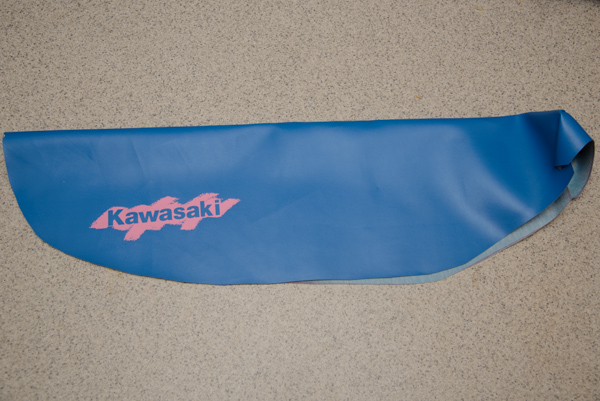 I got a knock-off cover from somewhere overseas on eBay. It's pretty good really, now about that seat foam…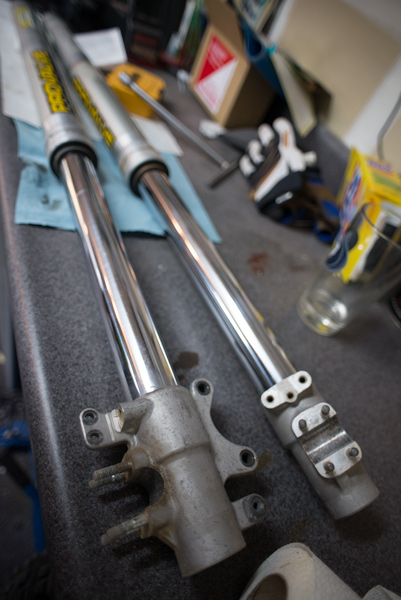 The seller had some suspension work recently done but too bad, I sent the shock and forks off to Race Tech for rebuild and as well to apply some cool coatings. Can't wait to see these things when they get back.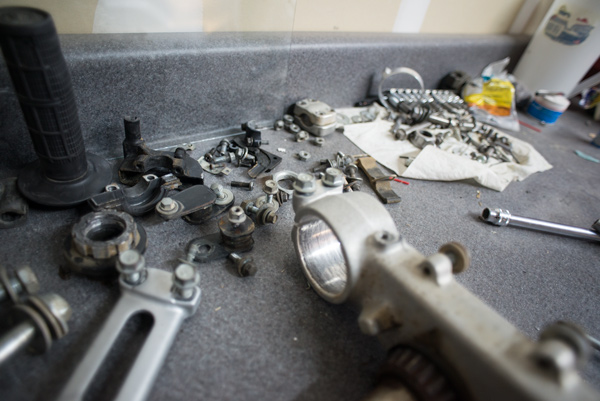 Trust me, I'm an expert. These things are grouped by part of the bike but I ordered a service manual for the bike to be safe. I'm going with stock clamps to preserve the look of the bike but I thought about getting some made.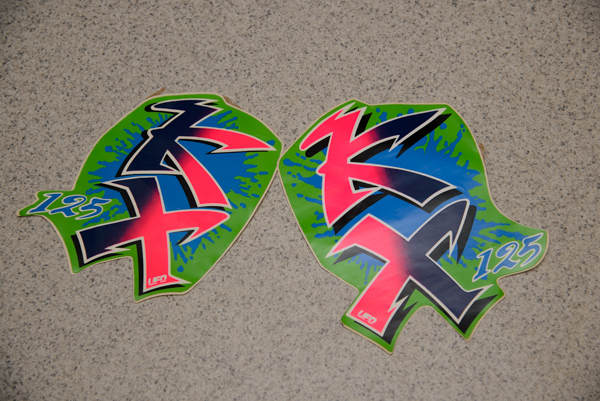 It's tough to find sticker for these old bikes but I found these UFO 1990 replicas on eBay in Holland. Don't ask how much I paid for them, it was silly. And yes I know they say "125" and I have a 250 but a little razor blade work and it will still have 98% of the look of the bike back then.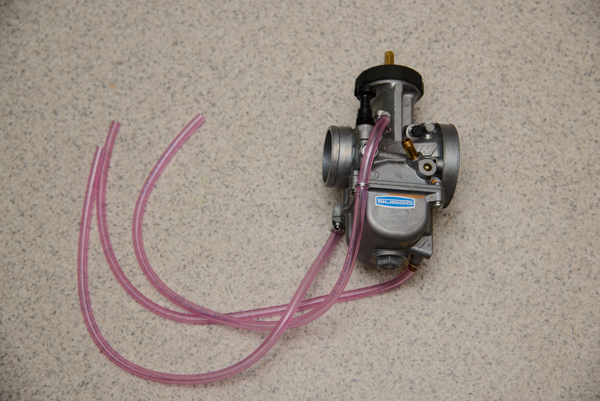 I know it's early in the process but this is what I'm most excited about right now. A reader named Chad works at Sudco (carb place) and GAVE me this brand new Keihin carb. Yeah that's right, how awesome is that? Year and make model specific as well. It's, like, so awesome of the dude. Because you know I would've had to rebuild the existing carb on the thing and god knows how that could've gone. Not now though, now I slap the thing on and I think I might name my next Bassett "Chad" now.