Blogger Scog talks about riders taking risks
Blogger Scog talks about riders taking risks
By Isaac Scoggin
Photos by James Lissimore
Let's skip the nonsense and get down to business: Ryan Dungey has been playing with fire. He has spent his career standing on the outskirts, getting as close as he could but never actually touching the flames. His safety kept him in many championships and even helped him win a few. He is methodical in his approach to racing. Showing too much respect at times to too many of the sports tops racers. He appeared to be lacking the confidence that his presence was secure near the top. Years and years of frustration have been mounting on fans, the team, and I am sure Ryan himself. We are not privileged to the exact chemical mixture of persons in his life, but many believe Roger DeCoster acted as the accelerant. Ever since Motocross of Nations we have been witness to public remarks of displeasure in Dungey's overall tactics by DeCoster. It was a long time coming on the outside but I am sure the discussions increasingly became more and more heated. After two rounds this SX season seemed to be more of the same; "if Dungey would be more aggressive he could have won those races". Fast-forward to present day and he has had run-ins with the elite, he has found himself on the losing end of the ground a few times, and even thrown a win away. What does it all mean and how will it influence the series?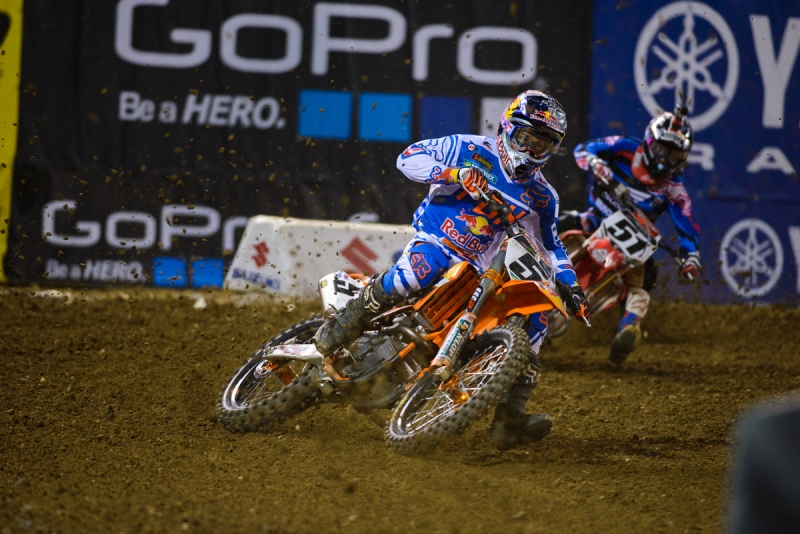 There's no doubt that #angrydungey is a nice sight to see but it's also led to some mistakes.
What did we really expect any way? Did we really think that someone who never uses other riders for traction or even takes their line away would somehow be great at it? Obviously he is pushing hard and trying to make it a point to put on display his newfound aggressive tendencies. It will take some time for him to figure out when and where and how to get aggressive, and even how to approach each rider with his new weapon. Ryan just needs to make sure he is not half-assing his attempts at being aggressive. It is apparent that he is picking some bad moments to get aggressive, and he really needs to decipher for himself what it is that is causing these mishaps. Is it because he wants to fail at being aggressive and be able to tell DeCoster, "That is why I don't ride like that man"? And while I am doing hypothetical's I would like to add that maybe he would say, " I am right, I am the new Man, and I want my own semi"! I am sure he is not making a conscious effort to ruin his own championship hopes, but unconsciously he may be hoping his own attempts fail. If he figures this out it will just make him that much better of a racer, and insure that his place near the front remains for many years to come.
Who else plays with fire from time to time? Pretty much every 250 rider. This championship may come down to who makes the least amount of mistakes as usual, but it may very well be who can accept mistakes and push forward through them. This is what is worrisome for Seely and the Troy Lee Designs team. He has "it" one weekend and not another because of pressure. What will he do if it comes down to the last race and he has to beat Anderson or Wilson? We all know Anderson and Wilson will both battle tooth and nail, putting down any rider that threatens their title hopes. The question remains, will Seely? Uneasiness has no place in the moment where you decide whether or not you are willing to do what it takes to be a champion. Seely will most definitely be put in a position at some point in the series where he must step into the flames of aggressive riding. He hasn't necessarily been pushed around, but he has been displaced from the #1 spot twice on the last lap due to aggressive riding. Maybe he should talk to Dungey about getting aggressive and take some pointers on what is a good idea and what is bad. It seems likely that Seely would not be as good at getting aggressive as Wilson or Anderson. They have both been in their fair share of events that involve front wheels and their own rear. I believe it was Hahn who said he was going to "saw off Anderson's front wheel" in the outdoors after an uncalled for move. Of course, we have all seen Deano's moves on Tomac a few years ago as well. Given Seely doesn't have the long history Dungey has of being completely non-confrontational, maybe he does stand a chance in this battle. I just wonder what or who will be the accelerant?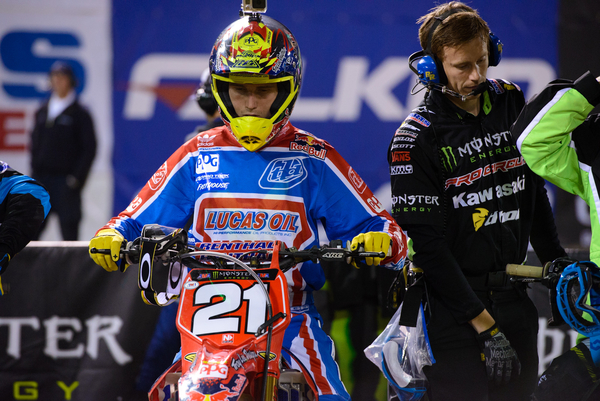 Seely's going to have to take some risks to win this title.
No doubt about it the SX battles are going to get gnarly this year. Too many great riders fighting for podiums and even top fives. Dungey and Seely have to see the opportunities for what they are and let themselves live in that moment. They have to understand how to control the fire or at least know when to use it. Being behind the 8 ball as they are, they need to steepen their learning curve dramatically when it comes to aggressive tactics. In the end it will just become another weapon in their arsenal that will help them in their quest for championships. These too are fun to watch because they treat many battles as chess matches. They methodically work lines and set up section to section in an attempt to make a pass without getting aggressive. Unfortunately, that can be hard to do when you are racing someone who is not thinking. They end up getting caught in a pace or out smarting themselves in the process. Sometimes it isn't a chess game at all, sometimes it is a crapshoot, and sometimes a pick-up pass is necessary to win. The best rider does not always win, but the best racer usual does. Dungey got burnt but he will learn, we will soon see about Seely. And you can bet whoever wins the titles this year are the riders most willing to play with fire.