The tides have certainly turned in our sport when the Australian most American race fans once despised, wins… even when he loses.
The tides have certainly turned in our sport when the Australian most American race fans once despised, wins… even when he loses.
Photos by: THEE James Lissimore
I need to apologize. I'm sure it comes off like this column should actually be called Reedcorner because every week, it seems– no it's the reality; Chad Reed does something which puts himself in the focus of bench racing discussions and racing conjecture.
James Stewart won his first race of the year. He passed the 3-peating Fireball, Ryan Villopoto early, much like Chad Reed did a week ago, and paced himself to the win. Who'd have ever thought that James Stewart would one day make finding wins seem as difficult as a nightmarish "Where's Waldo" book? Yet even though we saw JS7 seize victory, the fourth winner of the 2014 year and the 2nd Champion of yesteryear to dispose of RV2 on lap one and seal the deal; Chad Reed comes off as the bullet-point of San Diego.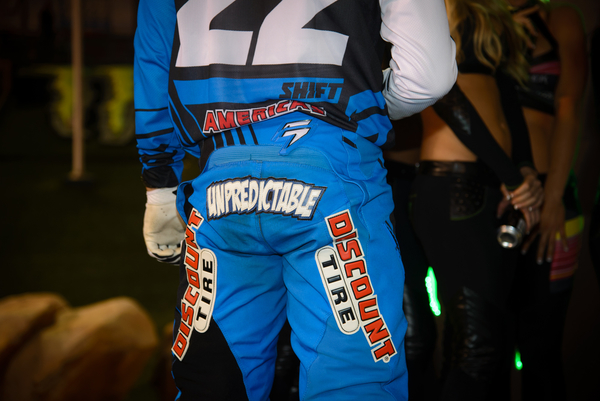 The very epitome of Reed's entire week leading up to Dallas SX.
It was all setup as the perfect situational-irony, ready to unfold. Chad has seen so much success in San Diego that it would be silly to not bet on him in the last SoCal race of the series. It was the Cinderella-Story in TwoTwo Motorsports' maiden season when Chad secured his first win as a Team Owner/Racer there in 2011. No one expected him to win then either, much like this year.
Situational-irony is first-cousin to Murphy's Law. Whereas Murphys Law assures us if something can go wrong, it will; situational-irony takes a likely outcome and puts it on its ear. The outcome is the exact opposite of what you'd expect. Chad Reed lying motionless on the face of a jump at the end of a whoop-section in San Diego, on lap 19 no less, is the epitome of situational-irony.
Looking at the incident itself, I see it as an obvious racing incident. Chad was clearly making a move at which point Roczen was decelerating and lightning struck as Reed's front wheel contacted Roczen's rear wheel. I don't see Wey as a factor of any kind in the crash other than possibly Roczen thinking Wey's line was going to affect his path of progress. In that event, Wey does become a factor and in real-time, I can definitely see that millisecond of consideration by Roczen, resulting in his deceleration.
The glory of James Stewarts win was utterly snuffed out by the wet towel Chad's crash blanketed the stadium, sport and homes watching the race, with. In that moment, with a hit that hard and the meteoric rise in Reed's fan appeal in recent years, every race-fan's focus and concern moved from the San Diego race winner, to Chad Reed's well-being and if this incredible season would or even could continue.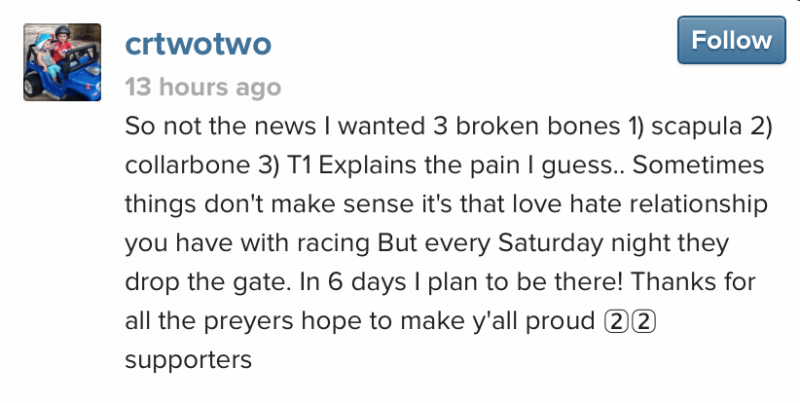 Bold.
Mum(silence, not the Aussie term for Mom) was the word for nearly 24hrs following the crash. We knew Chad had been taken to the hospital for close examination and word was spread that he had been coughing up blood but the extent of injuries and forced layoff from the series was unknown. Late Sunday night Chad broke his social-media absence with the injuries sustained (NOT superficial by a long-shot) and followed it up with a baffling claim that he's focused on lining up in Dallas. We all know how hard-headed Chad Reed can be but this goal of lining up a week after fracturing a vertebrae, shoulder blade and collarbone is shocking for even a Bionic-Man.
I noted on Twitter that in Detroit 2008 during practice, Chad's bike bogged and sent him ass over tea-cup into the face of jump in a rhythm section (DV12 designed track BTW). And resulted in, yes, a broken shoulder blade, cracked sternum and coughing up blood. He was sent to the hospital where he fought to be released, returned to the stadium (hospital wristband still in place) and lined up for the main, finishing 12th. Point being, it IS possible for him to set Dallas as a goal but wow is it going to be hard. I remember before I turned 30 how people would talk about the changes your body goes through at 30 which result in it being just a littttttle bit harder to bounce back from, well, bouncing off the ground. It's true, I've noticed it and I'm sure Chad has noticed it as well. Monday will be rough, Tuesday even rougher and when the gate drop comes Saturday night, we will know just how tough, or insane he really is.
I think Chad has proven over the years that he is a great example of mind over matter and Dallas is primed to be his biggest challenge yet, in that regard.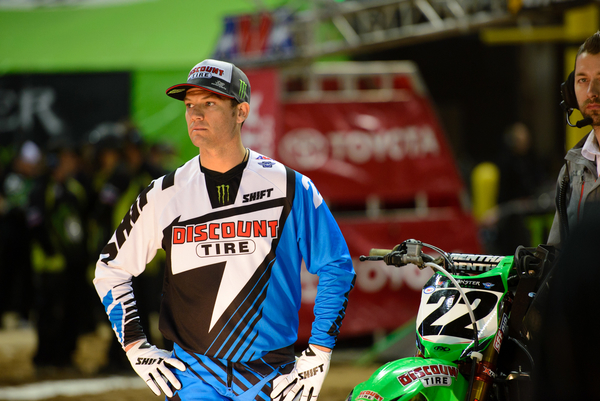 Just how strong is Chad's "Mind over Matter"? We'll find out.