Vuillemin gives us his opinion on what went down at San Diego
Vuillemin gives us his opinion on what went down at San Diego
By David Vuillemin
Photos by James Lissimore
James Stewart won, he rode a smart race without many mistakes and he admitted afterwards that he's trying to be a different guy this year. What did you see from his race and thoughts on him being "different" this year?
We can see since A1 that James has changed. He's not the "balls out" rider he used to be in the past. He's more cautious, except in the whoops in A1, while trying to pass Roczen, and he's riding smarter to score points. In the past, it seems like he was going for 25 points no matter what. I said it before, I was in A1 for the practices and he impressed me with the maturity in his riding. In San Diego, it was the same. He got a great start and kept composure even with RV on his rear wheel for most of the race. He scared me a few times towards this end of the race but rode really well. He takes his time now in each section of the track that could be sketchy and pushes when it's safer. We never really saw that before but he needs to keep riding in this philosophy. Around the 15th lap on Saturday, when RV caught up and was really close, I thought he might have gotten a little tired. But he made me lie by clocking his best lap of the race on the 16th lap.
He was way better than anyone else in the whoops and, like in A1, he was riding off the slippery main line. Often, less than a foot off the main line makes a huge difference. His lines evolved for the better during the main. I've been a Stewart fan since he turn pro, 2002, and he was impressing me even when I was leading the championship that year. As far as San Diego, I thought RV's strategy, if I understood it well, didn't work. Ryan rode patiently at the beginning and even politely just like he didn't want to pass James when he could. Reminds me of Dallas '02 with RC and I. I was definitely faster than RC in the first 10 laps and could have passed him a few times but didn't. I wanted to wait because I didn't want to have RC behind for that long. Turns out, that I wasn't able to pass him later on. I felt that it was the same for RV this weekend. James didn't make mistakes and rode strong. It's great to have another different winner in the 450 class!
Can you break down Chad's crash and analyze it?
I just re-watched it again. Nick Wey has nothing to do with it… It's the results of two mistakes, one from Roczen and one from Chad. You can see Roczen getting sideways and moving to the left while Chad is on the left and going for it. Chad gets kicked pretty hard around the 3rd whoop, grabs a handful (whiskey throttle) and gets out of control while Ken is losing speed in front of Chad. Reedy is kinda out of control and has nowhere to go but hit Roczen. It's an unfortunate turn of events and no one is to blame on this. With a few broken bones, it sucks to lose Chad for a while after he was doing so good. I hope he comes back as soon as possible but I'd rather see him ride at 100% rather than riding to score points while being hurt.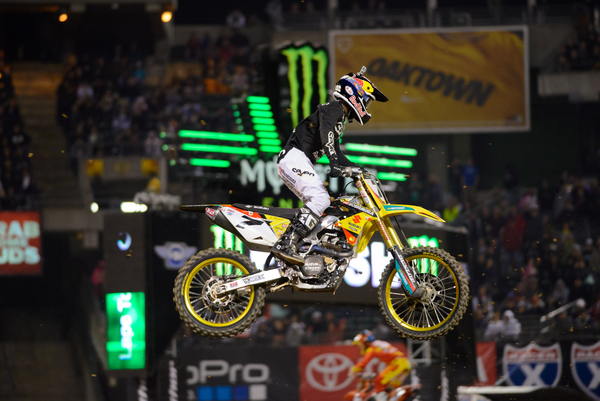 Stewart had an impressive win in San Diego.
In Dean Wilson's SX career, he's come so close to a title and has a lot of wins but once again, he looks to have no chance to win again. What is the deal with Wilson and his SX career?
Dean's 250 SX career is an enigma. On paper, he should be going for a grand slam in the class this season but he hasn't been able to win a title in Supercross since he turned pro when he already has an Outdoor title. In theory, it's way more difficult to win an Outdoor championship. The crash in San Diego was a crash we've seen in SX so many times. He stayed to high in the turn and he stood his bike up too early resulting in coming down of the turn right before the little double throwing him over the bars. It looked to me like a loss of focus or concentration. Whatever Stewart changed this season, Dean could gain in consistency and efficiency by using the same phiosophy
What about the San Diego track, most riders weren't very impressed with it–what did you think?
Having such a huge field to work with and make such a tight track with so many 90-degree turn that's what I didn't really understand. It was different but we've talked about 90-degree turns since over 10 years. They just don't work on a supercross track. In some sections I thought they put too many jumps, like before the finish but with a football field to work with you can't have a 47 second lap times…. They make a lap over a minute in Anaheim and just 47 seconds in San Diego? It doesn't make sense at all. It wouldn't have changed much results wise if it was a minute long… It just would have been better for us watching on TV or from a seat in the stadium.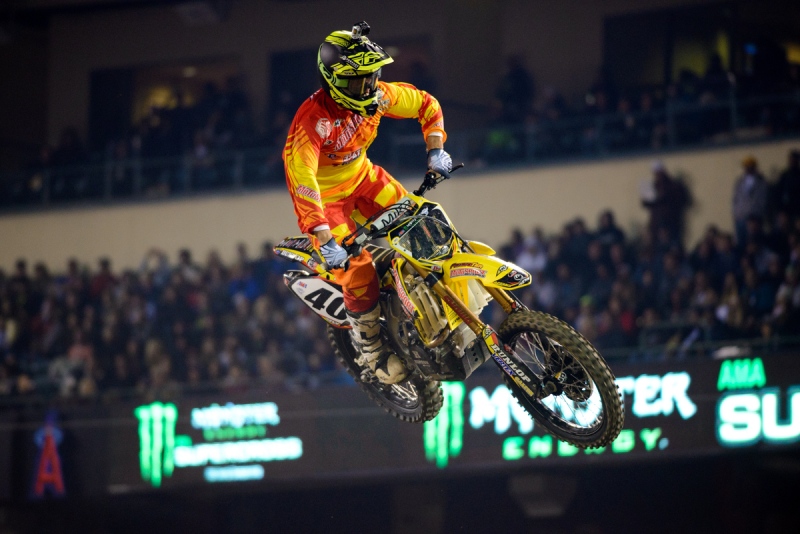 Weston Peick continues to impress and Vuillemin is a fan.
Weston Peick continues to impress, catching and passing Tomac and Barcia from a ways back, does he need to do any more to get a salaried ride in 2015 or has he done enough already in six races?
Weston has been impressive since a while now. Already last year in Outdoors with his 4th place finish in Utah. Last year in SX, on 17 races he only had 4 top 10 finishes with his best performance coming at the last race in Vegas which was a 7th. After 6 races this year, he already has a 7th and two top 5s. It's really impressive for a privateer effort. Those are better results than me when I was top privateer in 2007. My best was 6th, 4 times, and the field wasn't as deep then (yes I said it!) but I'm sure I was making way more money than Weston is making this year.
This is another enigma that he's not recognized as he should be and not paid as he should be. So many riders have had chances, good money and never really delivered but they are still around with better bikes than Weston and a bigger paycheck. His program is obviously working. Would he do better on factory bike? Tough to say but the logic says yes… So many people in the MX world is talking about Weston's performances and lack of support. I really hope he gets what he deserves soon but remember the French saying, "the better is the enemy of the good"…
Anything else about San Diego?
I have to give props to Justin Hill for his great ride and his first win. Lil'Hill really rode good on Saturday. Yes, he won but he did with great manner. Great corner speed, no lazyness in his riding, he was great in the whoops for a small little dude and it looked to me like he was trying to do 15 timed laps. His riding technique was on point and he showed once again that his fitness was good despite Anderson trying to catch him. It was an inspiring ride