Some big-time names here talking about Atlanta SX
Some big-time names here talking about Atlanta SX
Broc Tickle
Before we get into the incident, all day long you were fast, on the board in practice. Last week you had a good race too. So last few weeks you've really picked it up.
I feel like I started out the season well but the two races where I missed I set myself back. And now I feel like I'm back to where I was. Even today I was above where I've been ever in 450s. I was pumped with today, even though there was an incident that caused me to crash and have some problems. It is what it is. We erased it out of our books; the whole team's over it. We're going to do what we did last week. I'm pumped. Everybody's pumped with everything.
So why the great practice? What were you feeling, the bike, the track, everything like that?
Everything just came together. I just felt comfortable. Everything was coming to me and I felt really confident in the whoops. I felt like my bike, even if it did get a little sideways, it was controlled. I really didn't care; I just went for it. And even in the main, we're messed up, but guys in front of me were really struggling. So I'm pumped with it.
It was your best ride of the year, right, overall?
For sure. All day in general it was the best day I've had in a long time.
The Alessi thing, what was he thinking? Did he say anything to you or apologize to you?
I don't want to hear two words from him. That was ridiculous.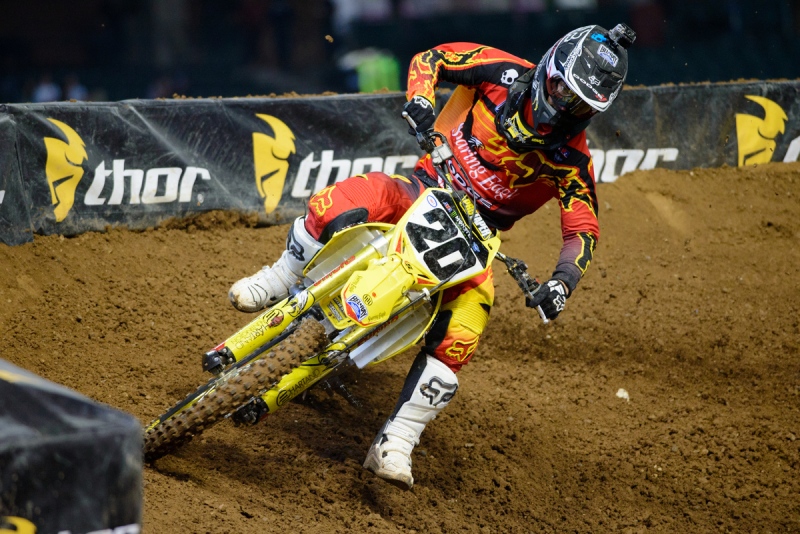 Tickle had his best race of the year despite his main event finish. He was fast all day long. Lissimore photo
You're lucky you didn't get hurt. Were you OK?
My ribs are bothering me again. When I crashed at A2 and Oakland I messed up my ribs a little bit and they've been bothering me and I finally got over them the last couple weeks, and then do that and it's bothering me again. So anytime I breathe deep or anything it's sharp pains.
Any regret about maybe you should have hugged the inside more? Anything like that?
I don't think there's any regret. Honestly, what do you expect? He is who he is and I think that can happen. I've been in some intense battles as you know with certain people on the track and that by far tops anything I've ever witnessed in person or anything I've had myself.
And talking to Berluti it sounds like he really had to scramble to get your bike. It was jacked up.
Yeah, for sure. I was actually lucky. There was a hole in the case and it could have been bad. I knew it was happening because my boot got all oily and stuff. So today was good, had another good week. I'll do the same thing next weekend. The team has stepped it up. We had everybody here that we need and it's showing now.
****
Adam Cianciarulo
I guess you're not going to go undefeated.
The undefeated season has officially come to an end. I officially suck.
The whole race really, from that start to the LCQ gate pick, nice job on that.
First of all, the heat race, I felt really good the first lap, just was in the flow. Then screwed up in the whoops, foot came off, right in the bales. That was RC, Houston heat race 2001 to the tee, watch it- same thing. Then I bent my front brake rotor, went down again in the whoops. So it looked like I had no idea what I was doing. Then I got the holeshot in the heat. I pooped my pants on the line in the LCQ; I was that scared that I wasn't going to make it in. I was like, please don't come from winning the race to not making the main. That would have not been good.
I can't believe I got the holeshot in the LCQ. The main event, I literally picked the worst gate I could possibly pick. I picked the one closest to the inside, but I should have gone farther out because my gate was so jacked up in the front of it. I did a sight lap start and it was so bad. I was like, "I'm screwed; it's over." And then something happened and I just got it right. I screwed up the first rhythm section. Marty got by me and then I'm like, okay, I got to stay right by him. He pulled away from me a little bit and then I actually started catching him. I freaked out in the beginning because I didn't think I was going to be up there and then I was up there. I was making mistakes. Almost looped it up the dragon's back.
So I was starting to catch him, I feel, and then the yellow lights popped out. I'm like, okay, yellow flags you can jump on, in my mind. Yellow lights, shut her down. Rolled the section twice and I lost 8 seconds both the times I rolled them. You can jump on yellow but you just can't jump on red flashing lights. I'm a complete moron. I'm not going to say that I could have won but I definitely could have given him a run. That was an unfortunate error on my part but in the end I'm happy to salvage. I felt really good. My fitness felt amazing too. I literally could have done 15 more, no problem. So really pumped with that. But I'm happy for Marty, too.
If someone had told you on the line for the LCQ, "hey, you're going to get 2nd," you would have took that all day.
Probably, honestly. But then I got the holeshot in the main, I'm like, "Oh, I can win this thing, dude." And then he got by me and I was right there, I'm like okay…" He's not really pulling away that gnarly from me. I started putting my laps together and then I made those two stupid mistakes. It was okay. I feel really confident going into Indy so it'll be good. I have the red plate by two points, so I'm happy.
****
Kenny Roczen
Great job tonight. Shadowing RV for most of the main event and taking advantage. The track was tough.
For sure. Grabbed a decent start and made a little mistake before the finish, and I was really mad because I don't know why I took that corner so tight and then I slid out and had to roll it. But he did the same mistake a little bit later on the triple that allowed me to get by him. It was great racing the whole way. The track was really difficult. In-between the rhythm section they were really rutted up and it was kind of soft. I would land sometimes perfectly straight in the rut and the bike would just take off to the left. It was kind of gnarly. Whoops were tough; we started jumping through them later on. I felt good the whole race, felt super fit. I'm really happy how it turned out with another W. It's great to be on the podium but having the win is that much better. Just happy to be back in Florida. I had a super good week. After the last couple of races I really like being on top of the box so I want to keep it going.
I was talking to Shorty earlier about you. He said that you said you weren't feeling into it. And funny how that works; you won the night.
I have a little big of a cold and I struggled all day. I was kind of tired and not feeling it. The track was difficult and soft. But I'm a racer; I'm never stress about it too much. Had a nice nap. Once it comes to racing I try to be there.
****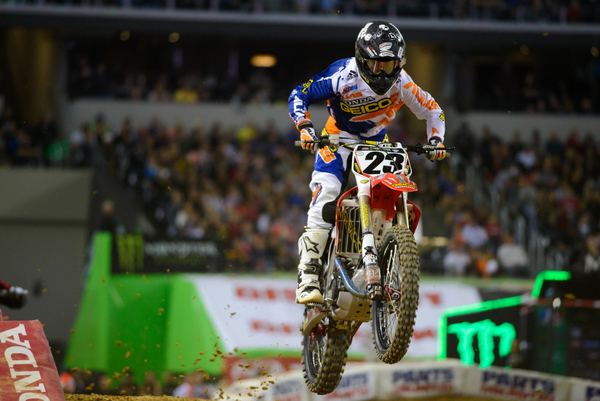 Hahn had a career-best 4th place at Atlanta SX. Lissimore photo
Wil Hahn
Great job, 4th place. Very impressive. Your heat race you were catching James and on a track that a lot of dudes looked like they were having trouble with. You did great.
I felt good all day, from the first lap in timed practice I felt comfy and I haven't felt that during the week just because of lack of riding, lack of seat time, but something special about the dirt here; I don't know what it is. Getting to ride this week was the main thing. I'm really happy about the progress I made tonight and hopefully just keep that stuff rolling during the week and bring it every weekend.
So this is the first week you're at Kevin Windham's. How's that?
It's great. His family's invited me in like I'm his son. They're treating me just like I'm a kid and one of theirs. They're great to me; they've been making me breakfast in the morning and just doing my thing. It's been great, it's like a second family. I love it there. It's my kind of living, just back there in the country woods and just doing our thing. Hanging out with Kevin getting a lot of crap.
Tonight's main event, a lot of time 3rd place not that far ahed of you but you had a good gap on Brayton. So you had a lot of laps to think about "hey, I'm in 4th; don't make a mistake."
I didn't know that I was in 4th. I knew I was up there but I didn't know I was in 4th until I looked at the board, like lap 15, looked down and saw I was in 4th and then I thought too much. Then Brayton started catching me and I'm like, "what am I doing? I'm riding tight." Getting squirrelly, I swapped in the whoops… It was like winning a race all over again, like "don't blow it." I think it was just something tonight I felt really comfy. Like you said, Dungey wasn't that far up but I should have latched on better at the beginning. That's what I got to learn; I just got to be better at the beginning.
What is the status of your hand? Does it bug you?
Yeah, a little bit, but I'm getting to the days… Tonight I didn't have to take a shot, so that's a big progress for me. The last couple weekends I've been taking heavy shots before the main event. Tonight I did it all with regular whatever and just powered through it.
So really, hanging with Windham is really why you got 4th.
No doubt about it. He's going to take credit for that all week.
Track, gnarly. Ruts, whoops… Hardest one of the year?
Yeah, maybe not rhythms but with the ruts and the whoops being that big, the conditions. The main event we were landing off the triple and I got head shakes so gnarly on that because you landed and it was like mush and then rutty and then you're like shooting all over the place. But the whoops were huge all night. I'm so glad they didn't knock them down for the main event because that was like a big separation. I really truly thought they would knock them down after practice and I'm really thankful they didn't.