Lots to talk about with Atlanta SX, here's Vuillemin's take on it
Lots to talk about with Atlanta SX, here's Vuillemin's take on it
By: David Vuillemin
Photos by: James Lissimore
Finally, Martin Davalos wins one and good for him, it was a great ride. He seems to be better than ever in his ninth year in the class. Our own Steve Matthes has been critical of Davalos for not winning over the years despite some great bikes. What are your thoughts on Martin's career as a whole and what do you see in him this year?
David Vuillemin: How can you not be critical… From what I've heard on TV, Martin raced 64 Supercrosses on factory or factory supported equipment to win one while Cianciarulo, or Fonseca (and maybe others than I can't think of), won their first ever SX… Martin has been fast, technical and a potential winner for most of his long "minor league" career. It's why he still gets rides in good teams. He's a very good rider but always seems to "brain fart" or lose the front end somewhere. You gotta respect the kid, he's been working hard, riding well, being tenacious all these years not to give up. Props to Martin for putting everything together and winning his first pro race. I can relate on how he felt in Atlanta… After what he showed in Dallas and ATL, he might be the fastest guy on paper. If he stays on 2 wheels, thing he had a hard time to do in 9 seasons, he will be the man to beat. He seems a bit better than everyone else this season when he doesn't crash.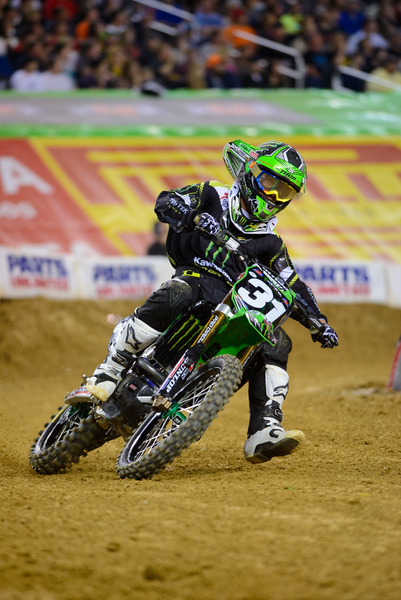 Martin Davalos won his first race of his pro career on Saturday.
Let's rewind 17 years and let me tell you about my first SX 125 win… In Seattle 97, my 6th ever 125cc US SX, I flew there with my dad. We put my YZ125 as well as a tool box and a shipping box with parts in the Pit Pro Team trailer to get to the Kingdome. When we got there, we rented a U-Haul box van, put our 4 things in it, bike, toolbox, shipping box, gear bag, and went racing. I ended up winning the race. I wasn't in a semi, I didn't have the nice embroidered team shirt and I was paying my expenses with my own money which I didn't have a lot of at the time… You can imagine how it felt standing with the winner's trophy on the podium after so many sacrifices. We (mom, dad and I) were following a dream, investing whatever money we had to go racing. My dad didn't work, my mom was making $2k/month working at an insurance company and I was reinvesting all my races purses into the program… When I think about it, we were borderline insane…
Kenny Roczen took advantage of an RV slip-up and took the win on a brutal track. With JS7 washing the front out (tire-gate!) and we're past halfway at this point, is Kenny RV's only challenger for the title?
I've been talking loudly and for a while about the "tire gate"… Yes, I don't agree in most people's choices when it comes to tires lately and I like to believe I make a point somehow. It might be the season when I see riders lose the front or the rear the most ever but Ken is using the same products and seems to do good in that department. Ken has been impressing me with his maturity and the way he rides. He doesn't makes mistakes, he adapts really well to the evolution of the tracks during the night of racing. For example in Atlanta, when everyone started jumping in the whoops, he was doing it perfectly while RV was struggling to find a good rhythm thru them. He opened his turn, meaning going early in the bowl turns to keep the momentum and the traction. He wasn't making sharp angles in the turns. On the contrary, RV wasn't doing that saturday but has been doing it all his career… Weird.
You could see Ryan going in tight in a lot of turns, losing his momentum and his traction coming off the corners. He was struggling to find a good rhythm jumping the whoops. Roczen has the consistency of a Dungey, rides with the experience of a veteran and when he is in a position to win, he does! Training with Aldon Baker obviously is helping Ken but there is a lot more to it. RV will have a bigger threat than he thought with Ken this season. Ken is impressing a lot of people as well as me. I didn't think he would have been that good and so close to have the red plate halfway thru the championship.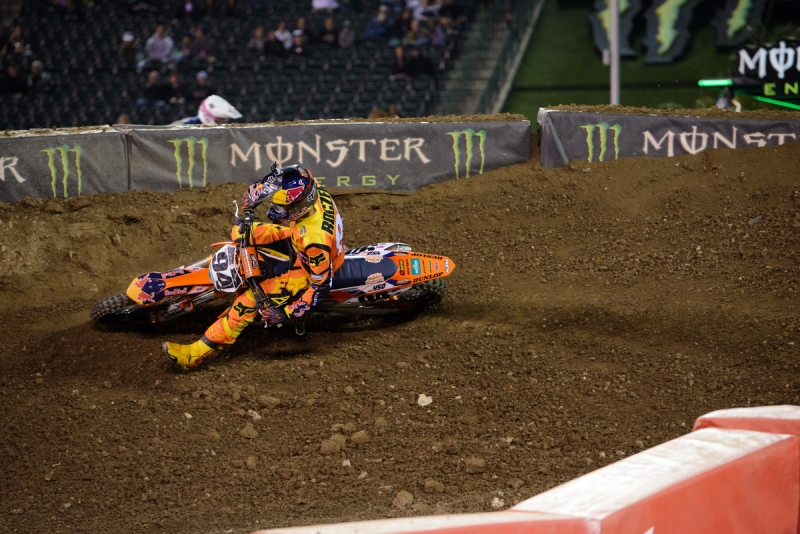 Kenny Roczen won his second race of the season in Atlanta.
Ok, the 800 and BT20 incident–what's your take on what happened and why?
Everyone with a decent vision knows what happened. It was a deliberate take out to make someone crash to go straight to the main event from a heat race. There is no other explanation and no excuses for this. When you gas it to hit another rider in his swing arm at the exit of a turn, it's not an accident, it's deliberate…
Do you agree with the $4000 fine and probation handed down from the AMA?
No I don't agree… It seems like he's been on probation for 10 years after what him and his family pulled so many times. What's 4 grand to a guy that makes 3 or 400k a year? At one point, the AMA needs to grow a pair (pardon my french) and take some real action. They've benched riders for less before. There is no consistency with their actions. 30 years ago, the Husqvarna french importer, the late Marcel Seurat, said something about the French federation that could be applied here, "They are amateurs governing professionals"…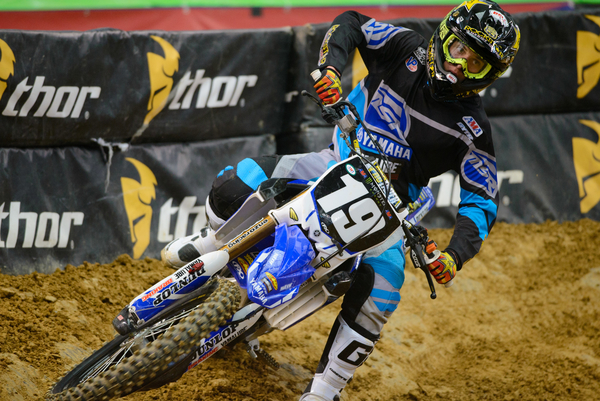 Just a terrible start to the 250SX east region for Jeremy Martin.
How do you, if you're Jeremy Martin, not qualify for either of the first two main events?
This is the biggest "bad" surprise of the year… This is almost impossible to think that happened. Jeremy will have to learn from it and learn not to put himself in bad situations to avoid this to happen again. It's not good from the number one Yamaha rider in the class but there is nothing he can do about those 2 races anymore. He's got to look forward, regroup and shows us his real potential in the races to come.
Anything else from the weekend?
We gotta to talk about Adam Cianciarulo. After a disastrous heat race, a bad gate pick for the main event, he went ahead to holeshot the main and finish second. Like Roczen, he's showing so much maturity for a kid that looks more like a spelling bee champion than a motocross rider. He learned from his mistakes in the heat race and made the right changes and decisions right away in the LCQ. He started to jump the whoops well and didn't let the heat race affect his main event… Very impressive!