The hows and whys and what of Chad Reed taking his talents to Kawasaki
The hows and whys and what of Chad Reed taking his talents to Kawasaki
This story is originally printed in CROSS Magazine, a monthly pub in Germany and was obviously written before Reed's San Diego crash. I still thought it was interesting and CROSS guys gave me the ok to print it. But IF you're in Germany and reading this, go buy the mag!–Matthes
The Decision
Somewhere out on track in the middle of the first 450MX moto at the new Miller Motorsports track near Salt Lake City, Utah Chad Reed reached a point where he just decided enough was enough. Running in 14th place and not really going forward, Reed pulled into the pits and he was done. Frustrated, upset and not a happy rider, Reed's motorhome was seen pulling out of pits before the 450 moto was even over. The 2013 season was certainly a miserable one for the three-time supercross and motocross champion. A fifth place in the supercross series with a career low two podiums (no wins) and outdoors it got even worse with consistent finishes outside the top ten.
Reed's slump really traced back to February of 2012 when he tore up his knee while chasing after Ryan Villopoto in Dallas, Texas. With that nasty crash, Reed was done for the year and went under the knife. After that his desire to come back waned at times as he was busy being a dad, building and racing go-karts and didn't have his usual 100% focus. With a new bike by Honda and admittedly out of shape, Reed came into the 2013 season hoping to ride himself into race shape and improve from there.
But it didn't happen. And it all cumulated in that pulling off the track at Miller Motorsports Park. Reed was unhappy with the new Honda all year, including the insistence that he had to run the all-new all-air Showa fork (later on Honda let him switch back to conventional spring fork but things didn't improve). At the end of last year Reed was out at Honda and looking to rebuild himself yet one more time.
"I really thought we were going to be on KTM!" says Lars Lindstrom, Reed's mechanic since he started up his Team Two-Two operation in 2011. Not long after that DNF/DNS at Miller, Lindstrom, team manager Dave Osterman and other team members were out at Glen Helen raceway in Southern California watching the team owner run a few different bikes through their paces. There was also a Pro Circuit Kawasaki KX450F out there that was basically the bike that Broc Tickle had raced for PC the year before.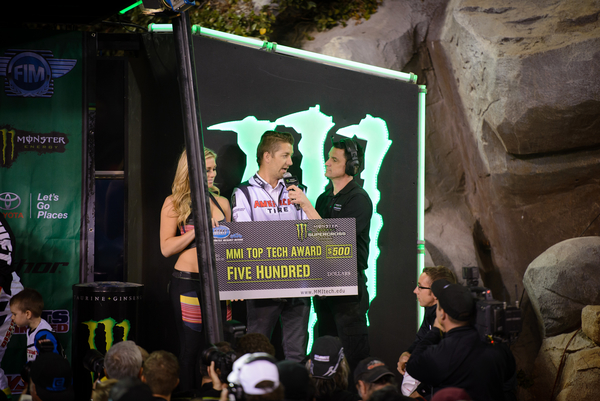 Lars Lindstrom, Reed's mechanic, thought that he would be working on a KTM in 2014. Lissimore pic
According to Reed, the green machine was initially last on his list as well. "The ergonomics of the Kawi felt right to me but there were a few issues with the thing. And my experience there before wasn't amazing, so I had my mind up that it wasn't going to be for me. I was really trying to not go there!"
Early on in the process Chad had received an offer from the Ricky Carmichael/Carey Hart Suzuki team (RCH) and that meant a return to a Suzuki (a bike largely unchanged since he last rode there in 2009) so to go along with the KTM and Kawasaki, there was a Suzuki test in there. Soon the three contenders were ranked by Reed as KTM, Suzuki and Kawasaki in that order
"The Suzuki felt rigid like the rest of the Japanese bikes and I didn't think they would support me for my own team" says Reed "The KTM I liked and I thought I would end up there. But the shortcomings, that you can see in supercross now, they can't wrap their heads around it. And I felt that, the more you went with what I liked, the worse it got."
The chassis changes made to the Suzuki since 2009 and the fact that Chad had to go to the RCH team and shut down his own operation that has grown into one of the best ones in the pits (and pink slip his employees) made going yellow a no deal. Now we were down to Kawasaki and KTM with the Austrian manufacturer looking to continue it's American motocross takeover.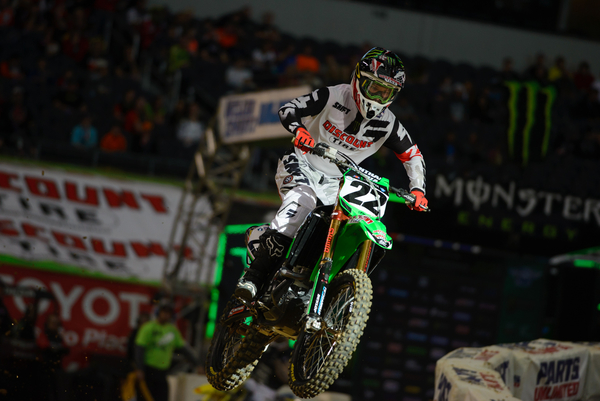 Even though Reed's supercross season is over, his decision to go green paid off big time. Lissimore photo
Lindstrom, more than just a mechanic to Reed but a close friend, may have thought KTM was in the future but inside he was hoping for green.
"If we were going to pick any bike, I was kind of glad to get away from the Honda because I didn't want to hear how bad it was anymore!" laughs Lindstrom "I wanted to see how the grass was on the other side. I was kind of hoping he would pick the Kawi. I have a lot of friends that work there. I know a lot of guys at Pro Circuit. And on top of that it's won the last three Supercross championships in a row."
But the KTM was still in the lead as far as Reed was concerned and there were even some rumors of Reed riding for the re-launched brand Husqvarna (owned by KTM now and for now, basically a KTM in white plastic). The KTM was the leader after that day at Glen Helen and soon after there was one bought in Florida and outfitted with white plastics to keep anyone from seeing and knowing what was going on back at Reed's ranch in the middle of Florida.
But in Florida the 22 crew noticed that when they added more and more power to the base KTM and made it suit Chad, things went in a direction that didn't work for Reed. So once again the crew circled back to the one bike that Reed didn't really want and hadn't gotten his usual results on when he rode for the factory team in 2010.
"When I wasn't getting results on KTM, We went back to Kawi, I rode a stock one and one of Pro Circuit's ones from last year and then we did our own thing" says Reed about the process "And it was easy to make into a race bike. It didn't do anything fantastic, but nothing horrible either. So with the bike being in the middle, we took it the way we wanted to in order to fit my style."
And that folks, is how Chad Reed got to being on a Kawasaki.
"So in early October, I flew to California to test for three days, went to the Monster Energy Cup and went home" Reed explains "I feel that Kawasaki is the one lone Japanese bike that hasn't gone to the trend of putting weight on the front end to help it turn. They're building bikes for average people who can't turn with the front end and Kawasaki isn't doing that. The chassis balance is good, the engine is solid but it's not as good as I had heard it was. For me, you read in some magazines how good the motor is but when I got on it- it was slow. I guess they're all slow stock (laughs), because I'm used to a factory motor!"
Reed's Kawasaki KX450F is a mish-mash of parts from three different sources. He's really taken some of the best from his sponsors and made the bike fit him. The motor work is done in house with help from industry standard valve and camshaft suppliers; Pro Circuit contributes some small pieces in the motor and on the bike. Reed gets help from the factory guys in terms of ignition and wheels that are on a lease program and he also leases the Showa suspension which includes the triple-air fork that are on the bikes of Villopoto and Weimer.
As a team owner hoping to one day attract some other top riders, Reed's trying to take the best of all the different companies he works with and he's in a sense trying to beat the factories at their own game- albeit with a helping hand from them.
"I feel like we've stumbled across a few things that maybe they (factory Kawasaki) haven't. Sometimes not having a direct line to Japan I think it helps because you've got to use your people and use vendors and stuff like that" Reed says about his bike "I think that you can attack it differently and just not rely on Japan's information. I think that maybe a few things chassis-wise we've got going on that they don't, is maybe a little better than what they've got going on."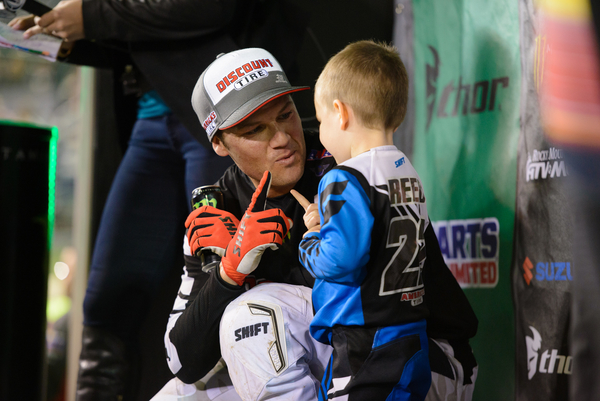 Reed's win at Anaheim 2 was an emotional one for the entire Team Two-Two team. Lissimore photo
As anyone talking to Reed week in and week out last year knows, Reed was not a fan of the air-forks on the Honda and now on the Kawasaki he's running them and by all accounts loving them. Lindstrom knows that this question comes up here and there.
"I know that he's had to kind of eat a little crow or whatever and he said the air forks suck but now he's saying they're good. But really, it's just a matter of the bike itself. And we could have had the option of going to a spring fork but we would have had to pay for all that. I think this year he kind of was like, screw the bike. He said "I'm just going to focus on myself." I think he really felt like he needed himself to be a little better. That's how I feel, anyway."
If two wins early on in the series and challenging for the title are any indication, the decision to reunite with Kawasaki has been a very smart one. And for a manufacturer like Kawasaki it was a smart move to have a motivated and hungry to prove his skeptics wrong Chad Reed on your side. Win or lose, the veteran rider still has the longest autograph line in the pits. Still in the honeymoon phase, Reed praises the guys in green for being the same guys they were the whole time.
"Honestly they've (Kawasaki) been super consistent. I felt like during the off-season it was pretty quiet. They were obviously busy with their own two riders and trying to get parts and build race bikes. We didn't really hear from them or have much communication in the off-season" says Reed days after his Anaheim 3 win. "Prior to the first race, like actually press day, the Friday and Saturday morning, we had great communication with those guys. They were super cool at giving us a heads up on a few things. They've been consistent. I wouldn't say that it's been more or less since the Thursday before Anaheim. So I'm thankful. I'll take consistency over not showing up one week and then showing up another!
For me, my biggest thing is there's no over-promising. There are some really solid people there. We'd like to let this thing grow and try to not be only one Kawi on the podium. Hopefully we can get both of us up there."
And to that we'd say mission-accomplished Chad. You seem to look better than ever in green.