A week in the life of privateer hero Adam Enticknap
A week in the life of privateer hero Adam Enticknap
By Adam Enticknap

Can I make the main? HELL YES I CAN, I AM THE 7-DEUCE-DEUCE BOY! Why haven't I made it yet? I KEEP GETTING BAD STARTS BECAUSE THAT BIG BOOTY ON DIANNA DALHGREN! Haha nope just playing with you I just need to practice them everyday! That about sums up exactly what didn't happen last week!
The start of my week on Sunday was lying in bed all day. I got cross-jumped on the start of the heat at Dallas SX and slapped the dirt (it was really concrete at Dallas SX, not dirt) really hard!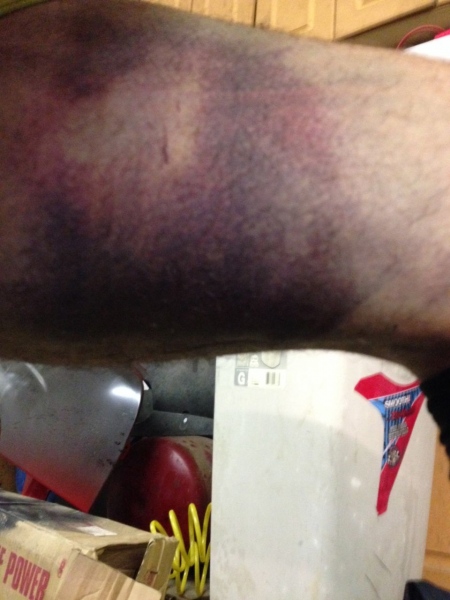 The results of Enticknap's crash at Dallas. Photo by Adam
MONDAY- it was about the same just sore as hell! Ice, then heat all day long, I was so messed up I could barely even move at all! Ted and I, the best I could do anyways, pulled all the bikes out of the trailer and cleaned them up. Every single week Ted and I get all the bikes (12) out and wash them for all the riders.
TUESDAY- it's the same thing again! Barely could get out of bed again. I was actually worried I wasn't going to be able to race in Atlanta. I iced and heated my leg, back, and shoulder again all day. My bright idea was thinking that doing a 20 to 30 min spin would help it, but it actually made it worse due to how badly the muscle in my leg was damaged.
WEDNESDAY- I felt a little better but really I couldn't lift my leg up and I was hunched over really bad still. The bummer part about today was the fact Atlanta was so far away it was the last day at Ted's house, so if I didn't ride today there was no riding for me. I am a supercross racer so I went out and tried to ride. I ended up riding about 5 minutes, I was in a lot of pain but I knew it was just muscle damage so I toughed it out and busted out a few fast laps and hung up the boots. We ended up loading everything up and taking off to ATL around 7pm and driving until around 1:30 am.
THURSDAY- We drove all day, THIS SHIT SUCKS. So boring I am not writing shit about Thursday. Highway, highway, and more highway, the end. Thursday over…
FRIDAY- We woke up early pulled into the GHETTO! I got shot at twice and seen two dead guys driving into the stadium. I was like dam this ain't even Detroit Haha just kidding, but for reals though, shits gnarly. Rolled up into the enclosed pits at Atlanta SX, which are awesome. Some of the nice parts about the indoor pits are that it's always a good temperature, no wind, and the floor is super clean. We got our new Suzuki and TPJ/FLY RACING tent all set up then went through tech inspection, sound, and changed the oil. Around 2pm my wheel finally showed up from Dubya wheels. Had my boy Max Steffans from Fly Racing help me lace it up. Well apparently on these wheels the spokes come to long so you have to grind them down so they don't poke a hole in the tube. Thank god for Ted Parks for bringing everything he has. Ted goes in the back of the trailer and sure enough whips out his construction grinder and I took care of business! Privateer problems bro! Haha
Enticknap doesn't believe in safety glasses. Photo supplied by Adam
RACE DAY- I woke up still in a lot of pain and went over to Asterisk medical unit. They wrapped up my leg with this special tape they had, called rock tape. Then I got a shot of pain meds and they sent me off to ride, if it wasn't for them, I don't know what I would of done. Asterisk really is amazing at what they do! Practice was interesting this week, I dodged more dirt bikes in one section then I've done in my whole life! The yellow flags on the track were everywhere! The whoops weren't even whoops, they where jumps, this weekend was INSANE!
Before the night program I hopped back into the Asterisk unit for my second shot of painkillers and sent it! Night program was not my best, didn't ride as well as I could have, and had terrible starts. I ended up with a 9th in the LCQ with faster lap times then the guys in front of me. I was frustrated and pissed!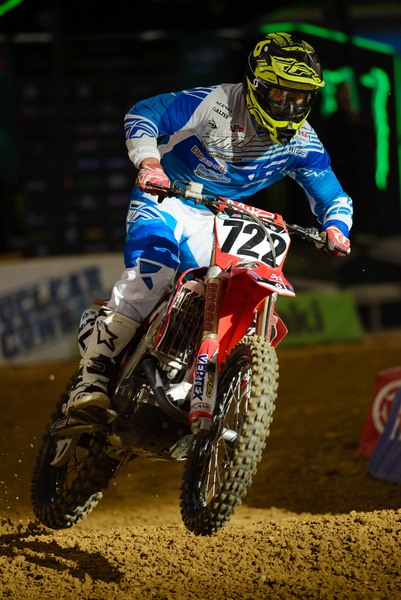 The #722 is back at this week grinding away, trying to get better. Lissimore photo
One of the best things about supercross is that there is next weekend, but I am so sick and tired of saying next weekend. I need to do it right now. I have to figure out what it takes to get to that next level. Is it my own self holding me back, is it my starts, is it my aggression on the first laps, is it all those? I don't know which one to put my finger on but I am over not making it and showing everyone what I am really made of. On that note look for the 7-deuce-deuce wide the hell open in INDY. In the words of TPJ owner I am coming to INDY SX ready to stomp yo ass boy. 7-deuce-deuce out, stay classy PULP MX readers!