Halfway through the SX championship already and it feels like we only blinked.
Halfway through the SX championship already and it feels like we only blinked.
By Isaac Scoggin
Photos By: James Lissimore
Halfway through the SX championship already and it feels like we only blinked. Unlike most stick and ball sport there is no halftime in this sport. Not a moment to really reflect and take in what changes need to be made or even what has been accomplished. That is what the off-season is for. Even the 250 riders out West are busy getting things dialed in for MX or still trying to get back up to speed on the busy SX tracks littering California. No, life is not easy for the stars of the sport. No matter if they are on top or bottom no one is afforded the time to reveal in glory or even enjoy the moment. Fortunately for us fans we can. We can use the halfway mark to look back and see who should be enjoying every minute, and which riders should be aggressively trying to improve. Essentially, we will see who has earned half way's hope. You know, the hope at the beginning of the year of being in the championship hunt come halfway?
Well, we are halfway or at least 10 laps away from being exactly there, but who is counting? I believe the first rider that should be over the moon on his performances thus far is Ken Roczen. At the beginning of the year I know he would say he "hoped" and "expected" to be in this position, but that seemed far-fetched to most. Most people had Tomac ahead of Roczen and most would agree that although he would be steady and fast, he would not be this steady or this fast. He has two wins at this point, and the second one showed his staying power as he rode Villopoto until a mistake let him seize the win. He is like a Dungey with a little extra kick in the jock! His hopes have to be high. The only issue now is it is hard to go anywhere but down in the second half of the season. If he shows any sign of weakness or a loss of intensity throughout the second half he will unfortunately be remembered for his shortcoming instead of his impressive start. But for right now he has plenty of hope. If you look at the standings he may be the only one left to challenge Villopoto down the line. That makes him the hope for many spectators who want to see a new champion.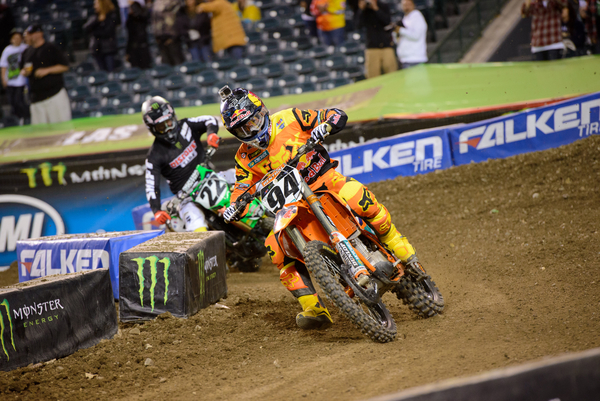 Roczen is the over-achiever of 2014 thus far.
Of course there are different levels of hope depending on a rider's projected results and now their actual ones. The leader of this category is Justin Brayton. No one could ever have seen him battling as steadily up front as he has this first half. He has not quiet become a constant podium threat but he is very much on the cusps of doing just that. Brayton seems to be a rider who must set the tone early in the day with great practice times in order to have a great night. That is not surprising because he is still molding his mind to tell him he belongs up front every time he races. No matter what conditions I believe he should expect to be up there after the first half of the season he has had. He could not have hoped for much more attention, much more in the form of results, and not much more in terms of where he sits in the championship. He is not alone in this category. There is the up and down Peick and the suddenly rising Hahn and Tickle. Between these three we could see a heavy battle to see who can produce down the stretch.
Now it was inevitable that we would eventually find ourselves staring directly into the group of riders who severely need hope at this point. Any form of it really. This list is chalk full of riders battling week-in and out in the hopes of showing on race day what they possess at the test track weekly. This could begin with a number of riders but I believe Barcia is #1 on this list because of the hype he was producing coming into this season. The production was not a vocal one, but rather a combination of off-season wins and a powerful rookie season. He has only been able to hold it together long enough to grab a lone podium. This is probably the hardest season of Barcia's young career, since he never found himself too far from a podium in the 250 division ever. Halfway through the season and he has only a sliver of hope to gather his strength and push for a win or two. In my opinion that is the only chance he has of making anything of this season. We will see once the season hits Daytona whether or not he can get his Honda handling correctly, and his head straight enough to live up to the everyone's season expectations.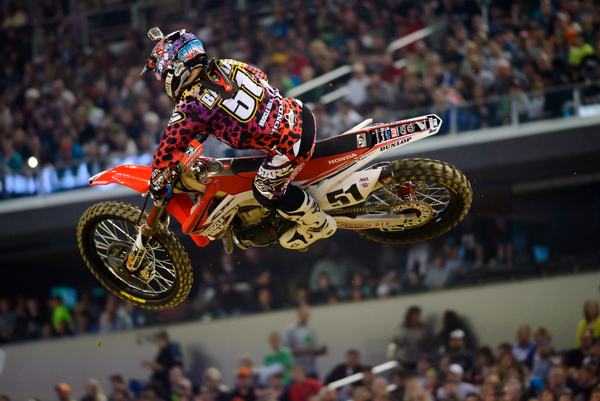 Barcia could use a little more luck this year.
Another rider who needed a breakout year is Jake Weimer. I know he is injured and a lot of this has to do with circumstance, but he really lost a great chance to shine. We all know he probably flies at the practice track and is a proven winner in the little class. He has the style, the fitness, the bike, and the support group to make some serious progress towards becoming a podium threat. Honestly, he should be right there with Brayton. Instead he has been plagued by a self-doubt that seems to engulf any sense of belonging among the elite. Jake has a down to Earth demeanor that gives him a mellow attitude, which lacks any form of cockiness. Fans should love this, but it seems to polarize them as some see him as unappreciative. Jake only needs to put together a solid season and then allow himself to build on it. I feel like his foundation has been cracked since his rookie season in the 450 class began with an injury. It is hard to rebuild confidence for any one, and for someone who lacks ego it is very hard. Jake's hope lies in his potential to rebound with a solid season and land a good ride for next year.
Hope is a meandering mirage of what we want to be our reality. Hope can be found in the smallest components of life if you are looking for them specifically. The same can be said for racing and the racers that grace the tracks we all hope to race on some day. They can all find it if they look hard enough, but only a select few can say halfway through the series that there previous hope is obtainable sooner rather than later. These few are unable to enjoy it but we can for them…half way's hope means there are aspects of every main event left to come to route for or appreciate. At least I hope so.