So that's what happens when the track condition is taken out of the preparator's control.
So that's what happens when the track condition is taken out of the preparator's control.
Photos By: THEE James Lissimore
Track
Early on in practice you could see, the Indy track was going to be the X-factor of the nights events. The NFL Combine had occupied Lucas Oil Stadium the week preceding Supercross and their load-out encroached on the Supercross-crews load-in. Effectively leaving Dirt Wurx between a rock and a frozen tundra with regard to preparing the track. The dirt which would have been trucked in and begun thawing in standard fashion got a late start. It doesn't help things that around here, we have seen one of the coldest winters in many years, which means (EFF)rost affecting dirt consistency and resiliency.
Just think, tracks used to ALWAYS be like this and worse! Perhaps we have a throwback series where each track is built by local crews near the venue? Now THAT would be a year with some varied results sheets… and with a lot of luck, no injuries. Crazy talk.
The track was soft early in the practice sessions, causing it to rut early and deeply. "Soft" and "Supercross" are antonyms so when they are forced to coincide together, shit gets weird. As practice wore on, you colds see the track was drying up, minimally but it was settling in better than it had looked early-on.
By the time the gate dropped for the first 250 heat, it looked incredible! The work the Dirt Wurx guys had put in had paid off. There was tons of traction, the once soft jump faces and had begun to firm and the race line wore in. It looked like the riders were actually enjoying the track a lot in those first heats. Traction has been MIA for the majority of the 2014 calendar race-year so far and you could see now the guys were hunkering down in the corners and grabbing gobs of gas to rocket out of them. Hooking up.
By the mains though, the track had deteriorated. When it began breaking down, it did so very fast and this was most evident in the treacherous whoops, rutted jump-faces and beyond-footpeg-deep corner-ruts. There was nobody navigating those whoop sections by the end of the night who looked stellar. It was man against nature and the chosen technique was pick-a-rut and keep the wheels on the ground. Committing to rutted jump-face triples is insane to me, yet these guys did it all night without pause. Balls out or not, when you're jumping triples whose take-off faces are rutted tuff-block to tuff-block, you're level of gnarly-ness is confirmed.
450
There was a lot of craziness going down in the 450 class. From the terrifying episode where Hot Sauce got both legs sucked into the rear wheel of Tevin Tapia on the start of the LCQ to the start of the 450 main where training-partners Roczen and Villopoto found themselves tumbling toward the first corner. Stewart and Hill both found themselves remounting their fight forward from first turn crashes as well. Back to Hot Sauce, holy shit balls! My first thought was "good thing that wasn't someone like Windham who didn't wear knee-braces". I don't know what kind of knee-braces Hot Sauce wears but he had to be thanking them following that incident. The last thing anyone starts wearing knee-braces for is the off-chance that your legs may be sucked into the rear wheel to server as a roller-skate brake but hey, it's just as good a reason as any. Seriously. Without knee braces, that type of leg trauma could easily result in a double-amputation. We are constantly introduced to new examples of how dangerous this sport can be, thanks to Ivan's knee-braces, this is a great cautionary-tale with no casualties. That live-shot of Ivan sitting on his bike after the incident nada pretty dire feel to it. What I saw was a guy thanking his lucky stars, wondering how the hell he got in that circumstance and asking himself with how this series has been going for him so far, is it really worth the risk anymore? Of course I could be 100% wrong– maybe I'm projecting my own thoughts on that shot after the incident. So scary.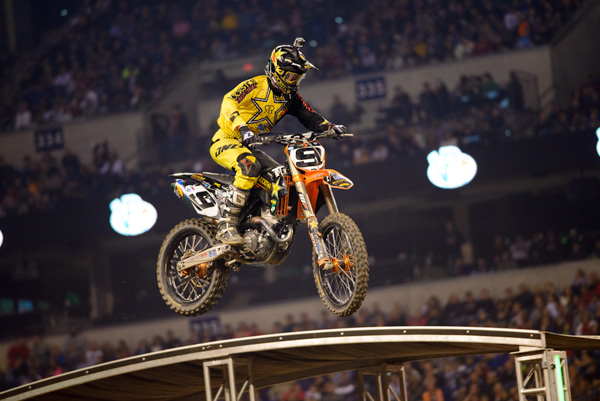 Hot Sauce and his legs survived a scary incident.
In the 450 main of course, we saw the carnage involving RV and Roczen. It's just racing man. Every-time the gate drops in racing, it's like 15 seconds of a grenade with the pin pulled. Who knows what the hell is going to happen and who it's going to happen to? Chances are good it's not going to involve the 800. Man, Mike has his starts dialed in once again and he just can't seem to miss lately. For all the crap Mike got last week, from every direction and aimed at every orifice, he really knows how to compartmentalize and focus on the task at hand. This reminds me… Mike's TV interview after the heat-race. Was it awkward? Yes of course it was but I won't fault him for that. Let's not forget, I was the guy defending Mike crying when he won the first heat of the year at A1. I still back him in that regard. He did something really dumb last week, I stand by what I wrote but the recourse from the Anonymist's was classic internet-idiocy. Death threats? Really? Get a grip moto-fans. I can only hope your karma-checks are cashed accordingly.
Mike's post-heat race interview was a little glimpse into the stress he had to deal with all week. Yeah he was all over the place but when hasn't he been in his interviews? It is what it is. Lets move on.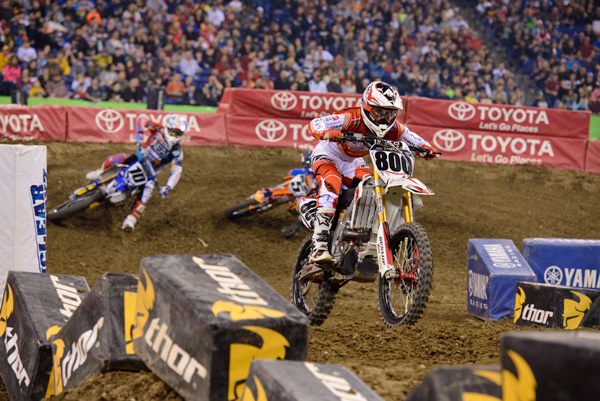 Mike Alessi is clearly better in Supercross with Michael Byrne in his ear.
Mike was the surprise of Indianapolis for me. Not his holeshot in the Main but how he rode in it up until he went down. As the opening laps clicked-off, the first thing I noticed was Mike was NOT looking over his should like a paranoid racer with a nervous twitch. This Mike Alessi, the Mike Alessi who Michael Byrne has been mentoring, has not only his starts dialed but he actually looks like a confident Supercross racer. He was racing the track and racing ahead, not looking to block the guy behind him. Emig noted in the broadcast that Mike was riding "wide", trust me, that's not "wide" for the old Mike Alessi. The old Mike Alessi would be darting from side to side, in the matter of a rhythm section. Listening for his opponent's engine, looking for him over every jump and straight blocking. That's not what this Mike Alessi was doing in Indy. I was watching for him to look over his shoulder and my eyes began bulging out of my head as I didn't blink and he didn't flinch left or right. The tv coverage moved to another battle for a few laps and not only was Mike still ahead of Tomac in 2nd, he had gapped him a bit! I say again, he had gapped Tomac a bit! Then Mike hit the deck and of course the crowd cheered. Stay classy, fans.. #SMH. He apologized, right? Quit piling on.
Remember the first time Cole Seely filled in on the Factory Honda 450? Yup, he lead about 6 laps or something and then scrubbed the over-under bridge and called it a night. I had high expectations for Cole this time and he delivered. As good as Cole is on a 250, I see him having a Tim Ferry-like big bike career. Not a lot of wins but solid and enduring over time. A lot like Broc Tickle has been over his last 3 years on the 450. Where does time go!?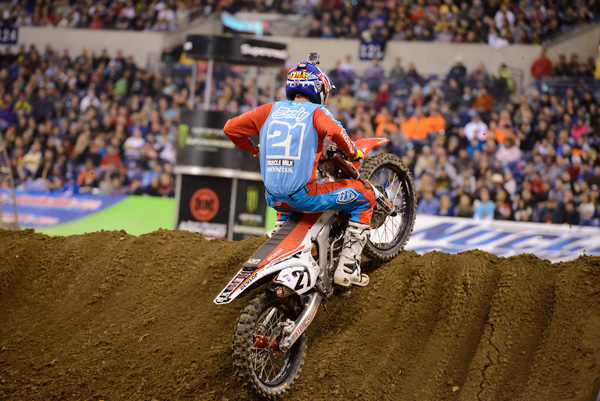 There's just something about Seely on a Factory Honda 450.
After seeing the track through practice, I was confident Broc was going to sniff the podium in the main. I was almost right. He could have been even better than 5th in Indy but it is still his best 450 result eve in Supercross so I aint mad at him. He's getting progressively better since coming back from injury and I see no reason why that comfort and his results can't continue to improve.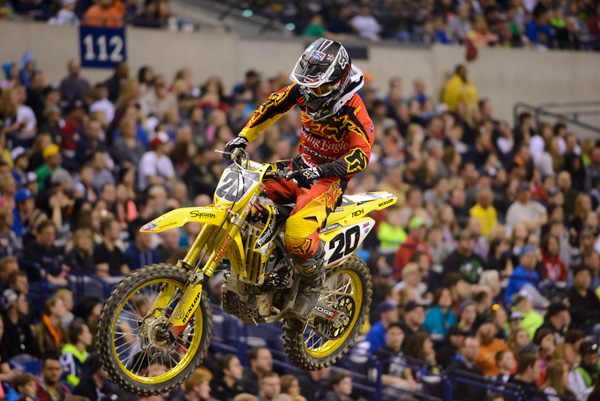 Broc scored his best ever indoor 450 finish in Indy.
Dean Wilson had his maiden-voyage on the TwoTwo Motorsports 450 and it didn't start well with him on the ground after the start. He remounted and worked his way back to 10th by the checkered flag which is really respectable on that track with only a few days of riding and testing the 450. For Dean it's a win as he gets more track time and for TwoTwo Motorsports it's a win because they are still getting race exposure while the boss is recovering.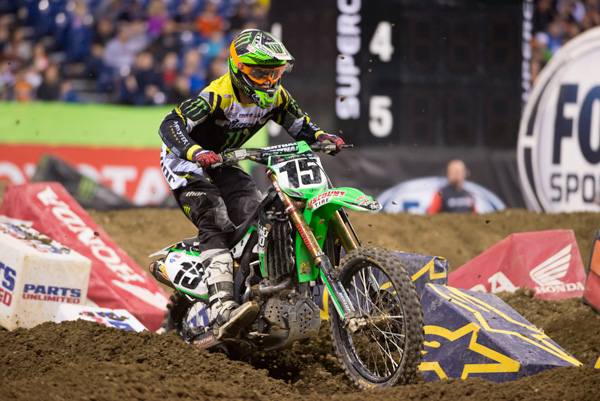 Dean settled into a charge forward from the ground in turn one.
Nick Wey grew up racing frost-hindered dirt in Michigan so it's not surprising that he tied his best finish of the season in Indy. With a better start, one more like the starts he's been getting in the Semi's, I think he could have broken the top-10.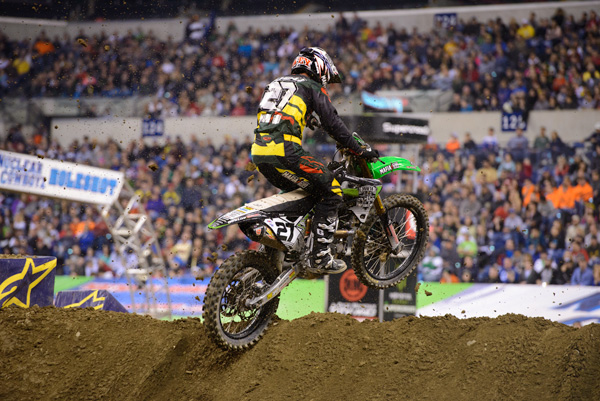 Nick felt at home on the frosty track but needed to couple a good start with it.
With Roczen and Villopoto, the top dogs in points, going down on the start the craziness of the 450 class continued. Villopoto went straight to work and put the traction at hand to work for him and his rear-steering riding style. He worked quickly and made lemonade out of his and Kenny's start straight lemons, to finish 4th. Kenny on the other hand had another spill of his own which left his back rashed and him looking a little confused when interviewed trackside by Jenny Taft. I don't want to go throwing around the concussion word but when the trackside reporter asks you what happened and you reply, "I think I went over the bars"; you may just be a smidge concussed? I was glad Kenny didn't get back on the track after seeing him in that interview. It would have been a bad idea. I'm sure there were thoughts of getting back out there if for no other reason to prove he learned his lesson at SLC last year when he pulled out of his heat and ended up missing the main. When your bell is rung, though, you don't eff around. It would be reckless and senseless to his own and every other rider's safety.