There is something about Daytona, isn't there?
There is something about Daytona, isn't there?
Photos: Thee James Lissimore
There is something about Daytona isn't there? Never seems to be a lack of excitement there. Racing is in the DNA of Daytona, and I assume it's in the top three of most riders wish list of races to win someday. It's hand down the gnarliest SX track of the year, a real "mans" track as they say. Anyone else surprised Daytona lets the Supercross series rip up the infield every year to build a track? Do they plant new grass every year? Do they remove the sod and put it right back in place? Why don't they just cover the infield with plywood and truck in dirt like a standard Supercross track? These are questions we need answered, by we I mean my dad and I. We are curious so please use the email link at the bottom if you have any Daytona grass related information, thank you in advance. Lets take a look at the guys who where Just Short of getting to tear up that infield dirt and grass in the main events.
#79 – Ryan Zimmer
The balls out award goes to Zimmer for unzipping his pants, firmly placing his balls on the handle bars and holding it wide open off the finish line in an attempt to get the last transfer position. I'm not going to rant about the finish line transponder discrepancy. I've already ranted about it last year at Daytona with Kiniry and Peick and the year before with Gavin Faith and someone. I've made my opinion clear and well heard. No sir I'm not getting on a soapbox again to explain the effing obvious that the cable for the transponders should be on THE FINISH LINE!!!!!! Not before, not close, not after, but on THE FINISH LINE!!!!!! Seriously this isn't that hard to figure out, we seriously can't make the transponder cable on THE FINISH LINE? What are you going to tell me next that a commercial airline just disappears and we can't find it, this is 2014.
Here I sketched this out on a napkin, granted I'm no engineer and this isn't to scale but problem solved. Take it you can have it, take my idea and please put it to good use. I don't want anything in return, just fix it please.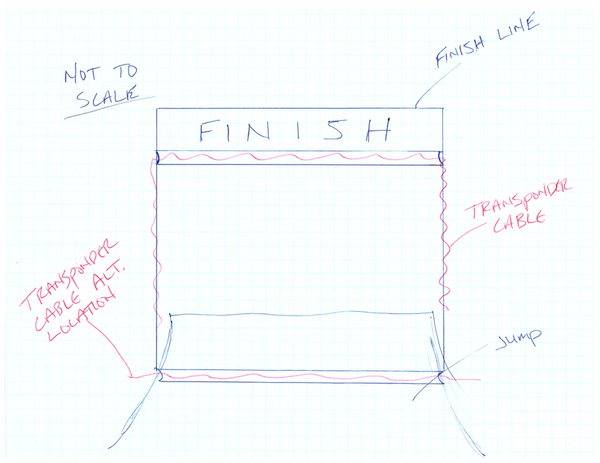 Sketch
This finish line jump will be a story people tell their grandchildren someday "Then Zimmer held her wide up to the stops and almost launched her into the grandstands, but came up Just Short".
If you didn't catch the race or perhaps you were grabbing a cold beer out of the fridge when Zimmer aired out the finish line jump like a space shuttle launch, one wood assume he posted a picture or clip somewhere. Instagram, Twitter, Facebook, Snapchat, MySpace? Nope none of the above. After a couple quick Google searches I realized Zimmer doesn't exist "online". I've ran into this before the last couple years when he's come up Just Short. I'd insert the links to my past Zimmer Just Short columns but how about you pretend you already read them and I'll pretend I inserted the links. I'm not a fan of this social medial blackball move, not a good way to promote your brand man.
The only thing Google found on Zimmer was this Short story on Vitalmx.com that was pretty cool go check it out, do it.
Zimmer could have made the "popular" page with the right clip or picture, he would have been showered with virtual fellatio comments. You could make a strong case Zimmer probably would have never had to buy himself a beer ever again with the legendary status he reached with his balls out finish line pass attempt. Now nobody will know now. We don't know how hard he's training, or what he's eating or watching on TV. Is he giving it 200% nobody knows because he didn't post it on Twitter. Zimmer is a man of mystery, but he will go down in history at the guy who went balls out in Daytona 2014.
When discussing epic finish line "photo finishes" there is no debate who the original balls out award goes to. Erik Kehoe is a legend. I'm not taking anything away from Zimmer but Kehoe just has bigger balls. I honestly thought his picture was photo shopped for the longest time. Both Kehoe and Zimmer are airing it out to flat land. Zimmer may be carrying more speed which I'm basing off his body language just after he leaves the face of the jump, but obviously it's hard how fast Kehoe is going in a still photo. Kehoe has way more height though and you just know it's going to hurt when he lands. The evidence is conclusive Kehoe still has the biggest last lap finish line pass balls the world has ever seen.
Zimmer video clip courtesy of Swisscore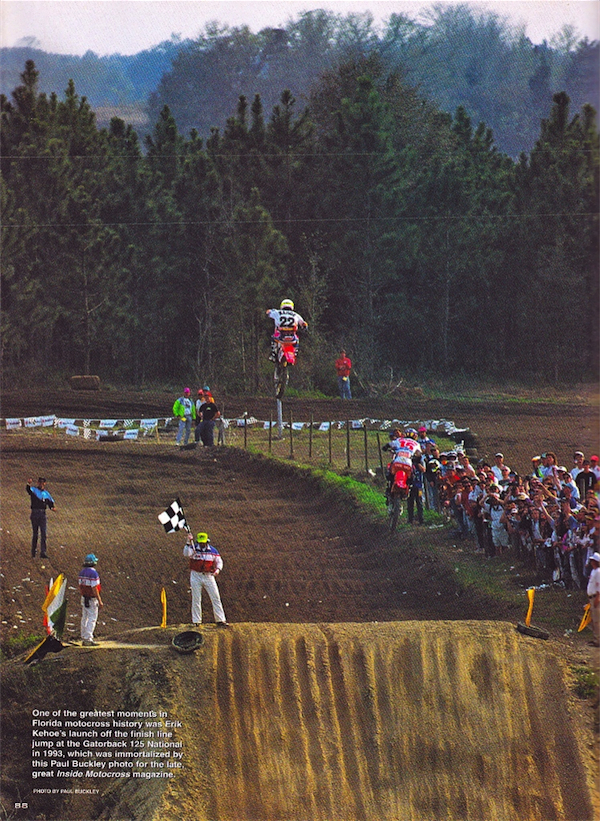 Kehoe picture courtesy of Tony Blazier
#64 – Les Smith
I got in touch with Les Smith and he tells us how to grill the perfect Bubba burger.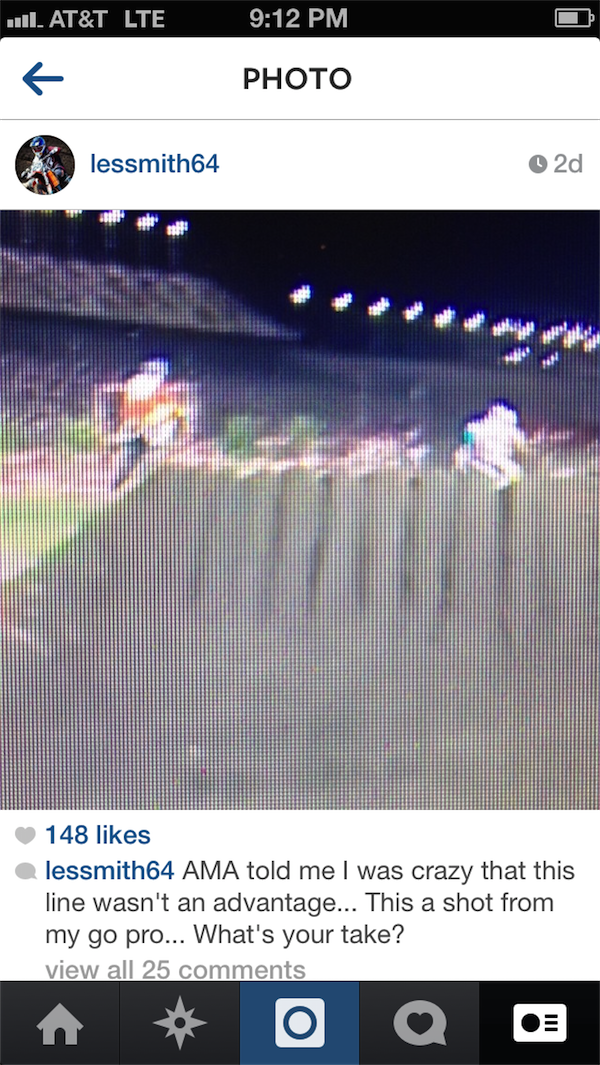 This is the Instagram GoPro picture Les posted of the cheater line people took during the qualifying racing. The universe is watching, your time will come.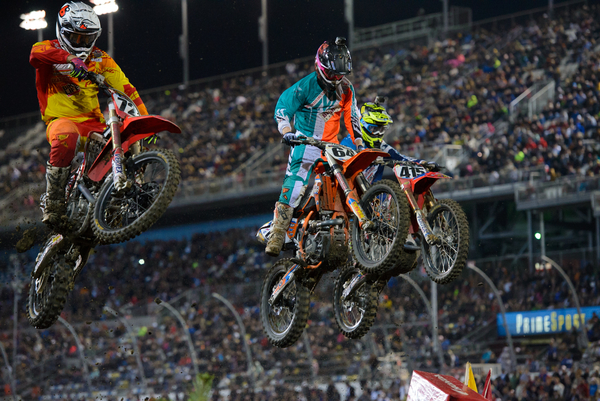 I am a fan of this new Fly gear, I had no idea it was Dolphins colors but it was a breath of fresh air. It's hard to be different in the ultra competitive gear world.
Thanks for reading please send any and all comments to jasonw@racerxill.com