He's #722 in your program, #1 in your heart
He's #722 in your program, #1 in your heart
7deucedeuce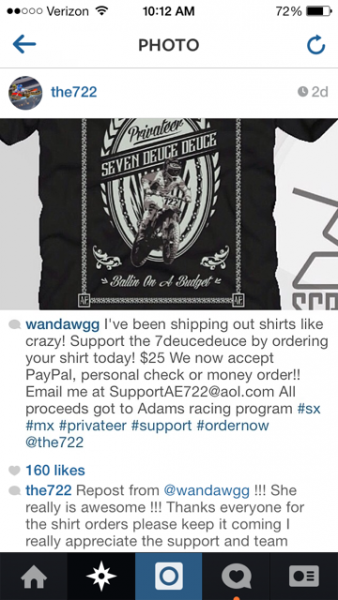 Support the 722 by getting a shirt!
Positivity: the state or character of being positive; a positivity that accepts the world as what it is. It's a proven fact that the human brain starts with negative thoughts before positive ones. When I saw that I said good thing the 7deucedeuce isn't human son! I was walking down the hall way to the track at St Louis and I asked one of the greats (Roger Decoster) how his boys were going to do tonight. He responded with "Well my boys are positive tonight so they should do good". He didn't say the bikes were set up good, he didn't say that they were fast in practice, he said they were positive. Hearing that from the guy who has mentored the greatest rider of all time was crazy to me. If Roger Decoster said that then it's a big deal period.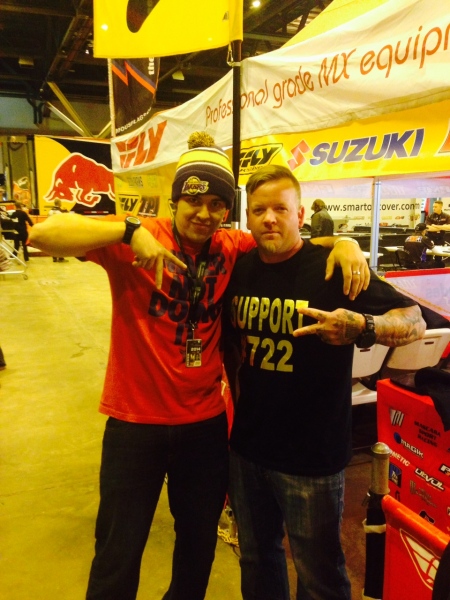 This fan made a homemade shirt.
The privateer life is not the easiest or most spectacular by any means. We don't have the best bikes. We don't have the best trainers. We don't have the resources that we could use to get the best results. Frankly we don't have a lot of shit. But what we do have is an opportunity to become a legend that never dies. We have a shot at becoming the guy that came up against the odds and showed/inspired people to believe. That is one, and only one, of the many achievements I am pursuing in my life. I am just a guy like you that works, has a chick at home that nags you everyone once in awhile, gets dirty and has a bad habit here and there. I put my boxers on one leg at a time, I just happen to get to race supercross.
I am all about wanting to inspire and make people believe that there is someone who can keep a positive attitude no matter what happens. You only get one life. You only get one chance at living it! If you know me at all, then you know that I am all about being positive and making my emotions electric throughout the world and the people around me!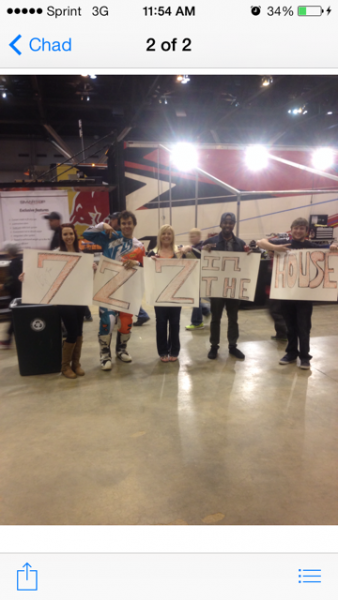 These fans went big with the signs supporting Enticknap.
This weekend in St. Louis was a weekend where everything was going so right and just one little mistake ended my night in complete disaster! I qualified great and felt absolutely fabulous on the bike. Everything for me was just clicking I was hitting my marks, feeling loose and I had in my mind thinking I was in the main event already. The heat race went well had a good start and ended up 10th place. I was pumped considering I had good lap times and I knew the semi was where I was going to put it in the main event. I had in 8th place start in the semi and caught Ben Lamay on the last lap but couldn't make a pass ending the semi in 6th. Now I am in the LCQ again, where I did not want to be. I had first gate pick and chose the inside! Got a fifth place start pasted one guy in the first corner and pasted myself for 3rd in the next corner. I was behind Cody Gilmore and said to myself I got this. I set a good pace and was sitting perfect. I came around the corner to the dragons back and missed the top whoop. DISASTER!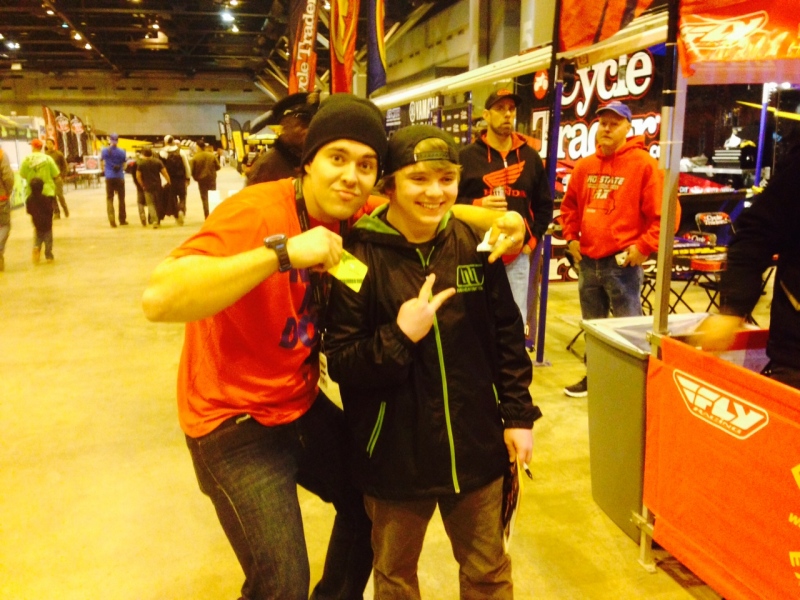 722 likes the kids!
I went into a straight endo like a squid. I threw it away on something I was perfect on all day long. I was literally surprised that I was crashing just because the fact I was so good in that section. As soon as I fell all I could think of was no main for the 7deucedeuce.
Now as the 7deucedeuce I am "positively" accepting the world as it is. As hard at it is to be positive and as easy as it is to be negative you have to just say "F**k that"! (excuse my language). Why be upset when you really can't do a thing about it? You don't, I threw that electric attitude on and got right back to what I love. Yeah I ate shit, had no chance of making the main and my bars were bent, but you can bet your bottom dollar I finished. No matter what, you stay positive and finish what you start, even if you're upset and don't want to. I am going to Houston SX knowing I am fast enough, and with a big smile of confidence. If you're a 7deucedeuce fan then share the smile with me, don't dwell on the past, don't be upset, take the smile and that electric energy that I gave you and share it with the person next to you! Lets make this Houston SX main event! 7deucedeuce fans please be loud and inspire me like I inspire you! 7deucedeuce loves YOU! PEACE OUT!