A classic photo of a classic rider
A classic photo of a classic rider
Hi everyone, from the late 80s through the mid 90s I was a contributing photographer for Hi-Torque Publications (MXA and Dirt Bike magazine). The photos that you see here were never published and have been stored as 35mm slides for the last 15-20 years. A month or so ago, I finally got around to purchasing a quality scanner and the journey began, going through these images has been a revelation, as I haven't looked at any of them since I put them away and had only seen them as tiny little 35mm slides. Scanning them, then seeing the images on a computer screen has been like seeing them for the first time, they stir up lots of great memories, and bring back a great era for motocross, lots of bright color, big characters and of course, some true legends of the sport.I hope you enjoy viewing them as much as I have-Mike Sweeney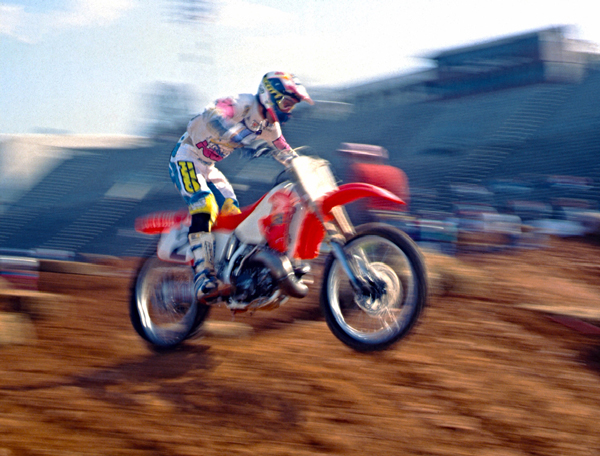 Having lost the title to JMB in '91, Stanton came out roaring in '92.
Sweeney- "Jeff Stanton running a hot lap at the Orlando Supercross, 1992 season. As our regular readers know, I love shooting SX practice, it's usually late afternoon, the light is just right and there's always something interesting happening on the track.
Quick photo tip for aspiring photographers, shoot as much as possible at the beginning and end of the day when the sun is low on the horizon and the light is warm and at an angle. If you can, keep the sun at your back and shoot away! The really good light only lasts an hour or so at the most.
This is why I always loved practice, that light! Anyways, I always liked working different angles, exposures and messing with slow shutter speeds to get some motion blur. I think it's cool seeing some parts moving and others sharply in focus. We definitely have that going here with this shot of 6 Time hammering it through a rhythm section.
Love the color going on here as well, the AXO gear and the red and white Honda's of that era look great even today, definitely a good indicator of solid design, it remains timeless.
As to Jeff, he rode pissed off all season, he DID NOT like losing his titles to JMB and had an epic battle with Damon Bradshaw which ultimately came down to the historic last round in LA.
That's it for this week, I hope you enjoy. If anyone ever has any questions about shooting hit me up on IG – @sweeneyphoto or on Twitter @MSweeneyphoto Thanks!"