Finally, Martin Davalos' time is here
Finally, Martin Davalos' time is here
Photos by James Lissimore
Martin Davalos sprang onto the supercross scene in February of 2006. In his first supercross ever, he landed on the podium at the Atlanta round of the series. Virtually unknown by most of the paddock coming in, that first race was a huge statement and bode well for his future in America. His relative anonymity was largely due to the fact that he is from the South American nation of Ecuador. The odds of an American youngster making it to the highest level are remote… The odds of an Ecuadorian (bandito) making it to this stage are astronomical. The sport is just so much smaller in Ecuador and the means to make such a jump are limited. Even so, Martin made the full time move to the Millsaps Training Facility and took off after his dreams. MTF molded him into a multi time amateur champion and prepared him for his debut that February night.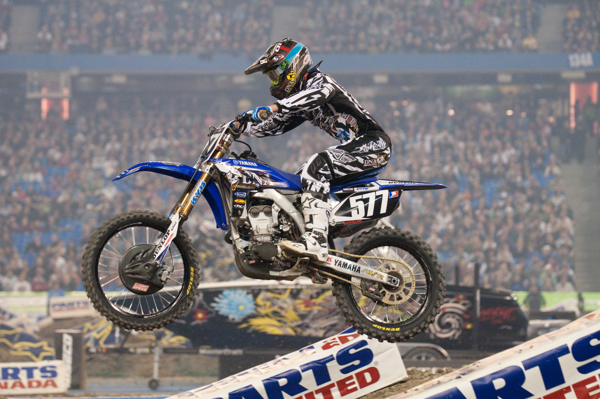 Martin Davalos as a Star Yamaha rider in 2010 at Toronto.
Since that debut, it has been a roller coaster of a career for the likable Davalos. He has always found himself on great bikes and solid teams and along with that comes expectations. He has taken plenty of abuse from fans and media alike for both his lengthy tenure in the 250 class and lack of wins to go along with it. Speed and ability have never been the issue as he has won scores of heat races and visually he is impressive to watch. Mentally, though, many have questioned whether he could hold up to the pressure of winning main events and contending for a championship. He has given them good reason to doubt him too, with many blown opportunities and disappointing results. Mitch Payton still had faith when many others didn't and put his money where his mouth was, signing him to a 2 year deal in the fall of 2012. His first year on Mitch's program saw more of the same. Great speed, great crashes and great variance. He just couldn't shake that inconsistency that plagued him year in and year out. Entering the 2014 season, he looked poised to be a series contender. He was easily the most experienced, arguably the fastest rider and aboard the most successful team in the history of the class. All of the pieces were in place, the rest was up to Martin.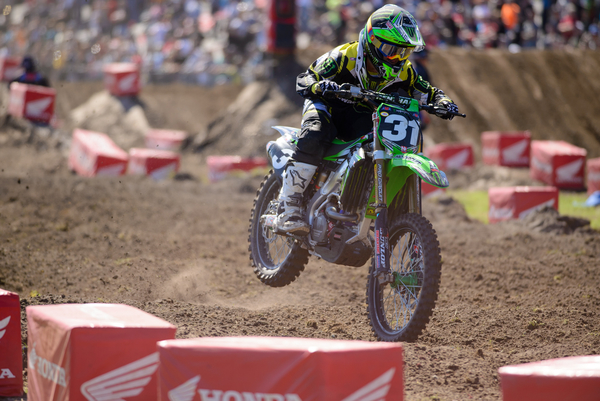 With two rounds left in the 2014 series, Davalos has an 8 point lead and is looking for his first title.
From the first lap of the first round in Dallas, there was no question who had the speed advantage. He came out swinging and even his most defiant detractors couldn't deny that he looked impressive. The big question was still there, however. Could he put the whole package together and win the race? Unfortunately, he gave many more ammunition to fuel their Davalos doubt. While leading the main event, he lost the front end and went down. This is a move we have seen repeatedly from him.. Seemingly has the race in hand and makes a small mistake that costs him the win. He would still land on the podium in 3rd but Cianciarulo's win would steal the spotlight. In Atlanta, Davalos broke through for his first win and we saw what he could do. The very next weekend in Indy, Davalos would repeat this same scenario from the first race yet again. He would go down while leading, handing AC46 another race win and extension of the points lead. Cianciarulo had stretched his lead to 18 points and looked to have the series under control… Until disaster struck. Adam had a big crash in practice in Toronto, injuring his shoulder and subsequently taking him out of this championship hunt. Davalos again came home just short of the win, following first time winner Justin Bogle across the checkers but in doing so earned his first ever red plate.
Coming into St. Louis, all of the pressure lay on Martin's shoulders. He was carrying the burden of the points lead and was Mitch's only real shot at a supercross title in 2014. You wouldn't have known it. Martin came out and qualified first again and once again scorched his heat race. He looked loose and fast like standard Davalos. As the main event approached, though, that age old question remained. Would Davalos finally stand and deliver? Could he shake his reputation that has followed him for years? He answered that with a definitive yes. He got into the lead early and tried to run away with the race. Bogle had other plans and locked onto the Ecuadorian bandito. As the laps counted down, everyone and I do mean EVERYONE was watching to see if Davalos would falter. He has fallen apart in that same scenario so many times that it just seemed inevitable. Not this time. For the first time in his 9 years of trying, Martin Davalos won the main event. In doing so, he leapt to an 8 point advantage with just 2 rounds remaining.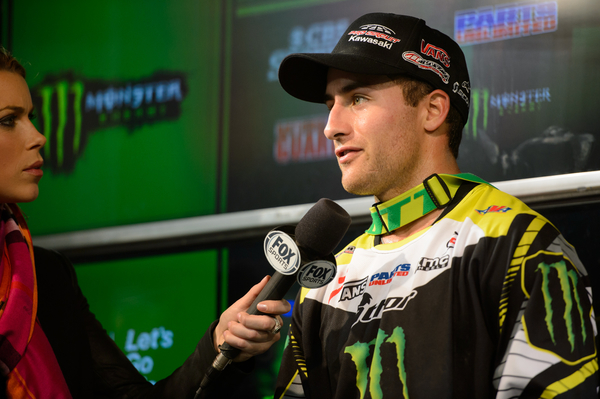 Getting his first two wins this year was a big step in Martin's development.
That win was huge in the overall picture for not only this title but in the story of Martin Davalos. He has been hounded endlessly for his shortcomings and although some will say "but he is so fast!" and defend him, it is BECAUSE he is so fast that he is criticized. With that much speed and ability, most feel he should have many wins by now and likely a title. This season is his chance to end all of the noise. If he can see this through and bring home a championship, no one will ever be able to snicker about his results or wonder why he has a certain contract. This is his opportunity to forever stamp his name in the record books. He can make good on the potential that every team, past and present, saw in him. As the spotlight shines ever brighter as we move closer to Vegas, I personally hope he rises to the challenge. There is just something about overcoming perception and making everyone give credit where they never thought they would. He can breakthrough the mental barrier that has stifled his legacy and paint a new picture for the future.
So, Martin, I hope you take this chance and run with it. Remember all of those who doubted that this day would come and use it to fuel your resolve. Life is about the risks you take, both in the magnificent triumphs and the catastrophic failures that result from those very risks. All you can do is chase this chance fearlessly and enjoy the ride. You may never get another opportunity and I can guarantee you will never forget it.
(This article was corrected to include Davalos' Atlanta win)