The second stop in Texas brought a tough track, crashes and cautious riding.
The second stop in Texas brought a tough track, crashes and cautious riding.
Photos By: James Lissimore
Almost every season around this time we are doled out a wet noodle of a race. Whether it's the points situation, shattered hopes, injury, track design, dirt or apathy and exhaustion; the lengthy 450 series sets itself up for a snoozer. This year in Houston we saw a little bit of everything added in to the mix to make this round pretty forgettable. Setting up the night was the word that James Stewart, winner of the last 3 straight, was ill and had been the whole week leading up to Houston. Unlike RV's sickness in Toronto which sprang from nowhere on race day, James was unable to ride, train or even eat normally for days leading up to Houston. The wind was not only out of JS7's sail, it was a gut punch for the collective fans who were expecting him to continue his bid for consecutive wins.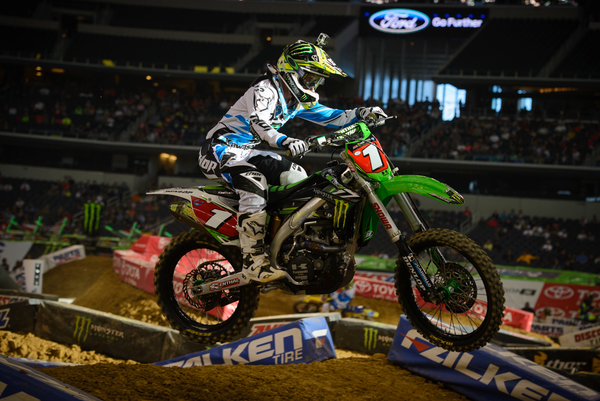 RV made quick work of the Houston track and the field. Race fans lose.
Lets get into the track design a bit. There was a definite feeling of the track being a little sketchy to dangerous. I find this a gray area of a highly technical track. There's nothing these bikes can't jump these days, so in that light it's merely a matter of picking your marks and hitting them as accurately as possible. Sure if the track designers are making landings too steep or not putting enough base down, things get dangerous and that is out of the riders hands. Aside from that though, it's up to the riders who either hit their marks best or in the words of Cooper Webb "has a lotta nuts". Supercross racing is like a sustained pissing contest. Whoever can keep their stream flowing the longest, uninterrupted, will be the victor. Never cross streams.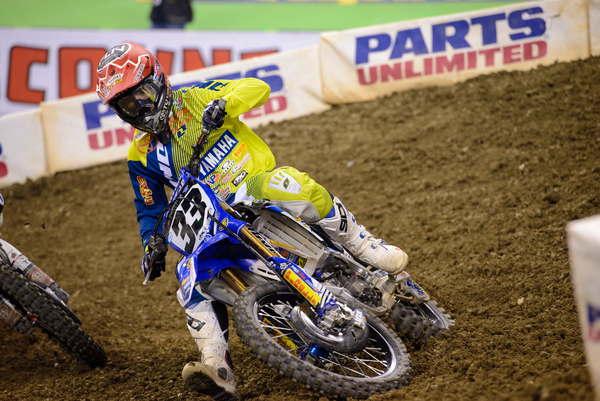 Josh Grant's early exit from the race was scary but familiar of late.
The best race action of the night would be found in the first 450 heat which saw JS7, Dungey, Barcia and Canard battling pretty much from green to checkers. The top 3 were separated by less than a second, with Canard close behind. It was an evil tease that had our adrenaline pumping but would not be a forecast of the main event.
The story of the 450 main wasn't the intense battles, it was the carnage to start the race. Josh Hill got pinched and turfed before turn one and Weston Peick's rear end got kicked into Josh Grant sending them both down HARD. It seems like for the past few seasons, the harder Josh Grant tries, the harder he hits the ground. As far as the race goes, as soon as the gate dropped and RV was leading the charge, the stage was set for just what we all hoped to not see. The points leader running away and hiding. By the checkered flag RV had amassed a 17 second lead! RV is now 45 points ahead of the new 2nd place holder, James Stewart and James is now 1 point ahead of Ryan Dungey, who's Houston 7th was his second consecutive uncharacteristic finish out of the top 5. Justin Brayton suffered his 3rd broken bone in 2 weeks; is this guy Stallone or what? Well, he did end up with a boxers fracture this weekend so, just maybe…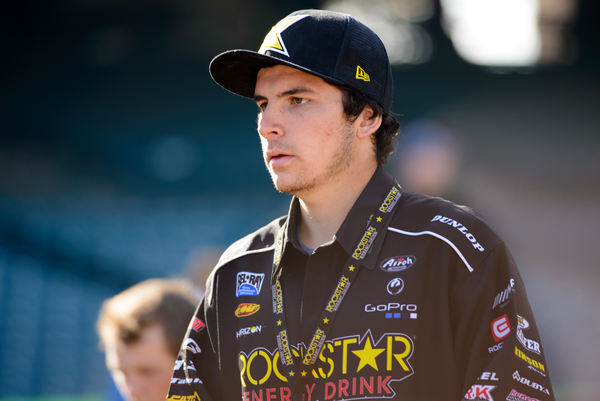 Jason Anderson flowed around Houston like the Salmon of Capistrano.
The 250 stakes were certainly higher but the main event racing wasn't amongst the title-would-be's we had come to expect when the series took off at A1. Jason Anderson was zero'd in like a missile on his goal and looked to be unstoppable. He was flowing around the track like it had been staged in his backyard. Dean Wilson shocked me with his ability to keep right with Jason and keep him honest, especially following his heat race crash in the whoops where he once again popped a shoulder. Cole Seely's shot at the win was dealt a serious blow on lap one when his rear brake was nullified by another bike. Finishing 4th on that track with no rear brake is damn impressive. Malcolm Stewart rode well and nailed down his second 250SX podium this series. Let's not start thinking he's going to be fine on the 250 just yet, I expect him to be full time 450 in 2015.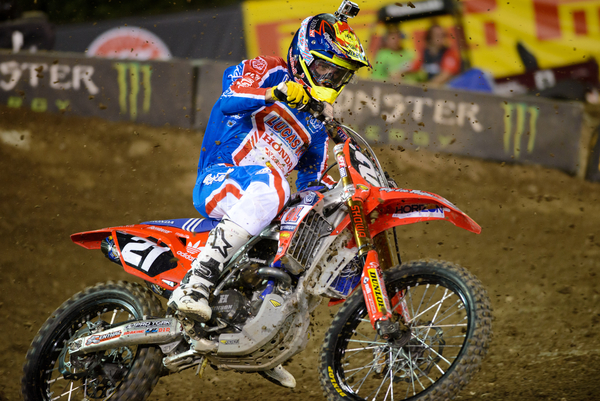 Cole Seely never got his chance to pressure Jason Anderson in Houston.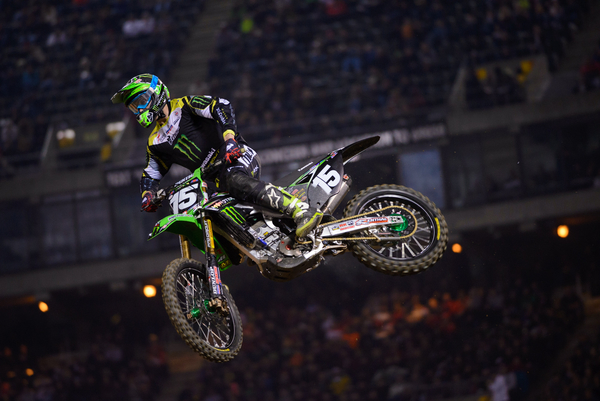 Dean Wilson shocked me in Houston. I didn't expect him to be so good, which sounds weird since I expected him to lead the series from A1.
I'm headed back to the beach, as this is my vacation, and going to hope that Seattle brings us back to exhilarating racing. Oh and say a prayer that this DBO Moto Tour that Moser's crazy friend dreamt up doesn't leave any casualties or lasting injuries.