A trio of riders talk about their Houston SX
A trio of riders talk about their Houston SX
Photos by James Lissimore
Ryan Villopoto
RV, an uncharacteristic crash for you. Looked like you hit your head a little bit there and had to ride a semi. Not a good start.
Actually I hit my shoulder. Get it right.
Hold on. You sat there for a little bit. You tried to pick your bike up…
Yeah because when you slam yourself on the ground, and your shoulder, then the bike slides up the berm… I'm a little guy. Thing's heavy, man.
Well, a rough start for you. But we saw what happened in the main event. Terrific main event. 20 solid laps and the holeshot I guess was key. You took Mike Alessi's gate for the holeshot, which is where he always wants to start, but looks like he taught you the way.
He taught me the way?
That gate position is Mike Alessi's.
Yeah but I picked it.
He was pissed I bet.
I'm sure he was not happy. He likes that space.
Really good main event ride. Not any mistakes that I saw. Did you have any sketchy moments?
A couple in the whoops but I think everybody did. The whoops were tough, but we were able to get through there pretty consistent and fast also. I think that was kind of the key thing. Obviously jumping the quad was quick too.
What about the triple in on the split lane? That was quick.
I think that was quick but I think the real deal was getting through the whoops quick and consistent.
In practice too you went down in the whoops also.
No, I didn't crash in the whoops.
The turn after it then.
That was actually in the heat race.
No, in practice after the whoops I think you washed out, didn't you?
Did I crash? No. I fell going in the sweeper. I slid out right as I took off that jump, landed on a tuff block. And then before that had happened I was rolling around the track and my foot caught a tuff block and it ripped me off the bike.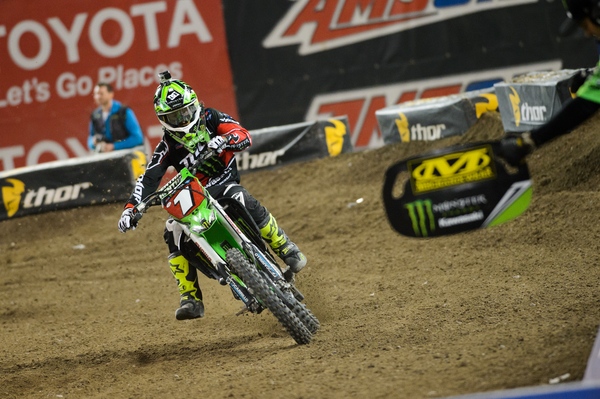 Villopoto's really, really close to clinching his fourth supercross title in a row.
Well lots of guys went down today. There was carnage everywhere. Why was that? Was it slick underneath that loose dirt?
It was, it was slippery. Definitely this place had a little bit of a harder base and it was kind of chunking away at places. But overall I'd say…
Just so many guys went down.
It was good because I won, but the dirt was one of the better places. I'm sure you could see. The dirt actually had some moisture in it and seemed like you could ride it pretty hard.
But for the most part it bit a lot of guys and it broke down.
I think the whoops were really tough and the track was breaking down and making you have to change up your lines. There were some technical sections but once they broke down it made them harder to do consistently.
You took a long time to get going after that heat race crash. Were you just shaking things out? And then also on the last lap you did your quad, you looked good, but again I think you probably could have got 8th or 9th if you had gotten up sooner.
Dude, they only take 4 so what's that matter?
Gate position, for the semi.
For the semi? Did it matter?
No.
Okay, so then what are we arguing about?
I'm not arguing I'm just wondering why it took…
You're arguing with me.
I'm asking you as a journalist what took you…
As the media you are arguing with me.
I'm asking you what took you so long to get going.
I was regrouping, I told you I crashed, my shoulder.
All right. And in the main event were you marking those guys and pulling out and then kind of just making sure that you stood where you were?
Yeah, I would jump the triple there after the whoops right away and kind of see who was in 2nd, where kind of things were. Obviously with being that Stew was a little bit farther back and being where we are in the season right now I don't want to push too hard if I don't have to. I was able to see who was there and then be able to kind of ride, I don't want to say just enough but at that level that was comfortable and quick and still pulling away.
Would you say that a lot of people talk about Stew, three straight, five wins in the series, but tonight you just put your foot down and you had a rough heat race but you still put your foot down. Is it more satisfying tonight than ever at any point? You crushed it at Daytona too. In Phoenix you came from 10th. But this was sort of a statement a little bit, like hey I'm still here. Shut up everybody.
Yeah, you're only as good as your last race. He's over it, he's this, he's that, it's whatever. It doesn't matter to me.
And you're not a guy really affected by that outside noise.
Beginning of the season we put ourselves where we are right now with the points lead. To go out there and the weeks past and go for something that's not there and put ourselves on the ground or lose a lot of points, what's that going to do? That'd be a stupid move on my part. Being where we are right now in the season and even three weeks ago, you pick and choose the races that you really go forward at and the races that you push the limit a little bit more. Being that I had a start like I had today and felt pretty good, but obviously getting a holeshot like that you go for it.
I don't want to toot your horn here but you would have had to get a pretty crappy start to not win tonight. I think you were really good. No matter where you started. I'm just telling you the way it was.
I felt good. We made some changes this week on the bike and then a little fine tuning today also. Just nothing major, just something minor.
As a former mechanic, what kind of stuff was it?
Little bit of a shock change.
High-speed, low-speed?
It's for me to know and you to try to find out.
Works link still or stock?
That's all the same. That's big changes, I said little. But if you knew what you were talking about from being a mechanic and knew what you were looking at… I struggled in the whoops last weekend and the whoops were a lot harder this weekend and I was better, so…
Thanks a lot for this. Appreciate it. Good job.
*****
Jason Anderson
That's perfect. The holeshot and runaway and hide. A little close at the end probably for your liking but still a great race.
Yeah it was a good race. I actually didn't know how close he was; I just knew he wasn't close enough to do any damage. It was kind of my race at the end. Lappers kind of played a key, or help have him close up. But I pulled it off. I'm pumped to finally lead 15.
I think you were the fastest guy through the whoops probably lap in and out lap. You really had those things dialed and a lot of your competition struggled a little bit. Is that what you thought?
Yeah, the whoops were gnarly. Towards the end of the moto I would just kind of blitz then hop into that little rut and go out, but they were definitely not the easiest ones. I think they were hard. It's not like they were big or anything, towards the end of the night it was just how deteriorated they got.
What'd you do on your off-time? Did you take some time off? When did you start riding?
I started riding… I actually rode outdoors the Monday after San Diego. I started early and I rode outdoors for probably 7 weeks and then these last 2 weeks I rode Supercross. I feel like outdoors, I came into Supercross and my breathing was a little bit off my first day, but my corner speed was way better riding a Supercross track just from riding outdoors. I felt like I was just… 15 laps is a lot shorter than 40 minute motos, so that made it a little bit easier.
I've been talking to Wardy tonight a little bit. What's the number one or two things he's really helped you with?
I would say starts.
He was a good starter!
Yeah, I'm running the old school one foot up. So it's starts and just helping me get stronger and approach racing. The way you approach racing. I think racing's kind of like a state of mind. I think he definitely helps keep me calm and keep me focused on the end game more than anything.
All right. Seattle, probably rutty, probably rainy, probably shitty. What are your thoughts on that?
I'm not bummed on how it's going to end up. I got 11 points and I know I can manage a mud race. It's not like I'm incredible but I can manage it. So I'm just looking to get points again and heading to Vegas hopefully still where I'm at.
Great ride.
Thank you.
*****
Eli Tomac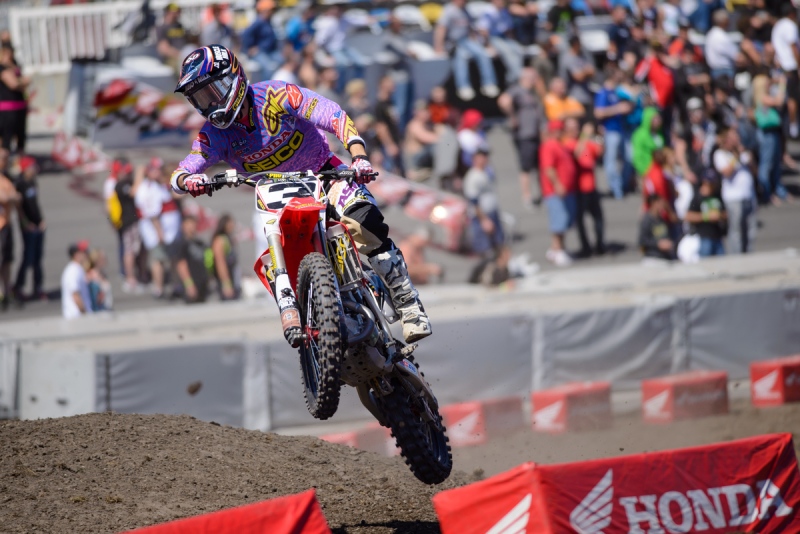 Tomac had a good main event going until he crashed on the quad.
You had a pretty decent main going until it looks like you went down at some point.
Yeah, going to the start I was third outside of the box beside Villopoto and Alessi. I think actually we were the best three starters on that gate. But too bad for me that Alessi and Villopoto did get such good starts because I got a really good start too. It was just a little bit outside. I was somewhere around 7th. Was behind James for a while. Got by him in the sweeper. Then I got by Shorty. Actually I didn't do the quad the whole entire time until the main. Started busting that out and then actually it got me around lap 12. I really didn't think I needed to bury it every time into it and obviously I didn't. One of the times I didn't either stick the landing or didn't bury the throttle enough. Literally just framed it. I don't even know what I did. Kind of pitched me sideways or a little bit over. That was it and then I was shuffled back to like 9th.
But it could have been a lot uglier than what it was. It looks like you're fine?
Yeah, well, I don't know. I thought I was going to be able to ride it out and the sucker just kind of bucked me off. I almost think I got the worst of this as possible. It was kind of weird.
You had a great heat race although you were at the short end of the stick. You had to go to the semi. But that was exciting.
Actually the heat race I was struggling in the whoops. I struggled a little bit in the big set all day and we made a good front end change in the semi and I rode like a whole different dude actually. That was good and I was pretty excited. I'm actually excited just to ride on this bike now in Seattle.
Track looked like it broke down pretty good.
It did. Biggest thing that broke down was obviously those whoops. They were edgy suckers. They were kind of biting guys and everyone was struggling in them all night.
The first two guys I saw do that triple in that split lane were you and RV in the semi. How was it?
It was good. I ripped it once in the second practice. And then me and RV started ripping it so that was cool. But I really wish I would have done the quad earlier because I think one or two guys did do it earlier. Maybe I would have known… I'm just still kind of mind boggled on how I cased that. I don't know if it was because I knocked my head a little bit from my first crash in practice or what. I'm not going to blame it on that; it's just I didn't bury the throttle.
Looks like you did some testing. You're back on the works Honda. Happier with it?
Happier for sure. I get really good starts on the thing. It's just a better base package for me right now. I'm going to stick with it. I can work closer to the actual Honda guys better so it's a better scenario now.
When does a guy like you just say okay, during the week I'm doing outdoors now? When does that happen?
That happened last week. I already started doing a day outdoors so one day supercross, one day outdoor. That's already been started.