About RV, the crash, Barcia, TV coverage and more…
About RV, the crash, Barcia, TV coverage and more…
Photos by James Lissimore
1- RV crushed them this weekend in Houston despite a nasty crash in his heat. What did you see?
The crash itself in the heat didn't look that bad. Just your regular front end that washes out-type of crash. He got caught by surprise and wasn't ready for it. Often, that's when you get hurt though. Luckily, Ryan came out of it fine and went ahead to win the semi and the main. I saw him lose the front end so many times Saturday night. I know I've talked about tires and suspension set-up for a while now but I'm still surprised to see those types of struggles. He dealt with it in the main even with an over steering front end. We got the Villopoto we know in Houston. He got a good start and checked out. I've talked about it in the last column. Ryan has this thing under control but when he doesn't, he scores a lot of very important points.
His ride in Texas was almost perfect. He jumped that quad the most efficiently of all. He didn't seat bounce it and didn't prepare himself (and lose time) for it like the other riders that were doing it. His corner speed was on point. He jumped the whoops before the finish line, which was faster and more efficient (I actually tweeted to jump those whoops before they started doing it). He has to have some super strong legs to ride like he does. He's standing up the most he can out of the turns to keep his momentum. When you see a rider over using the seat bounce technique, he's losing time and momentum. Ryan knows it and he's strong enough to do it for 20 laps. I really think that RV's ride was as good as any of Stewart's wins this season.
2–Ok, RV got a win and has four on the season and Stewart has five with three races left this year… who's going to end up with more wins this year? Break down the last three races as you see it.
Most wins in a season don't mean anything nor get more points… Ask Bradshaw about 1992. We know James might be (or "is") unbeatable when he rides at his best abilities but RV can win and, this season, he has shown such maturity and patience to score big when he knew he couldn't win. Being that intelligent and that good, like Ryan is on a dirt bike, is deadly for the competition in any sport. How I see the last 3 races? Just like it has been going. If RV is in position to win, he will ride to win but if he doesn't feel up to par because of numerous reasons, he will still score big. For the rest of the field, they'll have to wait until JS and RV are not at 100% to win one. Those 2 guys are still better than everyone else even if Dungey and Barcia have shown some improvements in the last few weeks. It's tough to beat two of the biggest legends of our sport. The other guys shouldn't be ashamed nor bummed about not being able to beat those two guys straight up.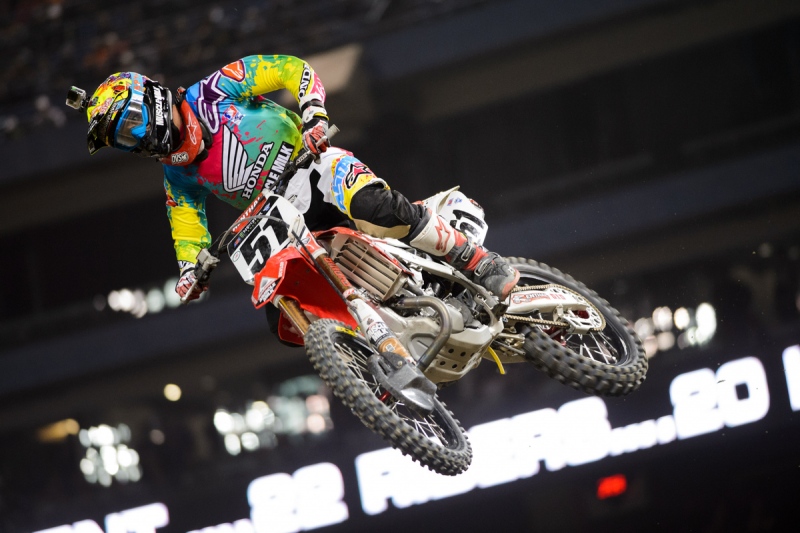 That's three straight podiums for Barcia now.
3- Barcia's got three straight podiums after getting one in previous eleven races– we know you're not a fan of his riding style but why do you think he's somewhat turned it around?
It's not that I'm not a fan of his riding style. What I like is irrelevant. What I see and what I say about Justin is to explain why he didn't win a race this season and what, in my eyes, he should change to win. I'm not saying that I have the recipe for that but when you ask for my opinion, I try to give it to you in an unbiased manner. His starts are improving, he's not as aggressive with other riders as he was in the beginning of the season. He was "wasting" time on the track by being over aggressive in my opinion, with other riders and in his riding style.
I'll say it again but you can't be efficient riding a 450 like a 125. The riders winning races this year-Ken, Chad, RV, James, Dungey-aren't really aggressive in their riding like a 250f rider has to be. You gotta keep your momentum, have throttle control, ride with your legs like I explained in the first question of this column. The smoother Barcia gets by staying in the same lap times as he's doing right now, the more he's going to be a threat to win races. From what I see, Justin is learning more this season than in his rookie season. If he can analyze his races, fix a few details and improve his racing IQ, he can be up there in 2015…
4- Jason Anderson stamped his points lead with a wire-to-wire win. What did you see from him?
I really love watching Jason ride like I loved watching Tomac ride last year. They look alike to me. Ando is on fire right now, super fast, super aggressive, fit and wants to win bad. For example, after talking about Barcia having too much of a small bike riding style, Seely, Jason's competition for the west title, is riding a 250f too much like a 450. If Cole wants to have a chance for the title in Vegas, he has to win and make a point in Seattle. It's maybe too late but he has to get out of his comfort zone to reduce Anderson's points lead before Vegas. Jason can also be a little scary and at the limit sometimes. At that pace and level, mistakes can be made especially on a 250f so Anderson's 11 point lead can be a lot and not much at the same time.
Looks like Seattle won't be a mudder this year which won't be that dramatic for the points but the track could be treacherous with that weird and soft dirt. Then, we'll have to see if Wilson and Hill could play the spoilers. Those two guys could help Seely or Anderson in some ways. Just like Bowers helped Hahn in Vegas last year. It's going to be more interesting than the 450 class that's for sure but Anderson already has a couple of fingers on that black AMA number 1 plate…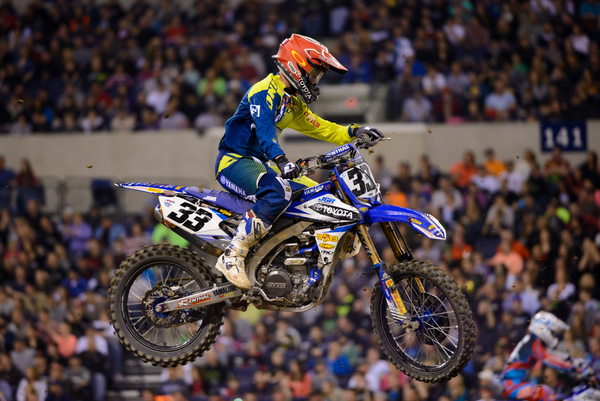 Josh Grant had an ugly crash right after the first turn that took down a lot of guys.
5- The crash that took Peick, Dungey, Grant down–what did you think happened and how scary is the first turn in supercross?
The incident with the other guys happened in the first rhythm section. It's pretty typical with a jump section after a short start and a 90 degree first turn. There isn't enough time for the riders to spread out and if anyone cross-ruts somewhere we get a domino effect. It's what happened with Peick and Dungey. They jumped towards each other and Grant became collateral damage. There isn't much you can do in those situations but squeeze your butt cheeks and pray… We can avoid those incidents by having a 180 degree first turn, a longer start and a mellower first jump sections. Those crashes have been happening for decades. It's sad to say but, unfortunately, they are part of our sport. Like we say in poker, it's all about minimizing your losses and when you are mid pack in the first jump section with 21 other guys, you just have to do that…
6– What did you think of the TV coverage this week? What was good and bad about it?
I really think they came a long way this season. They've started giving us more stats from the booth and I really like McGrath as a commentator. He's very genuine and humble up there and giving us some good feedback. I thought he would've talked about the past too much but he's the one that talks about it the least. RC and KW are good too but I like MC's simplicity and knowledge maybe a little better. I wish Ralph wouldn't cut off Emig and whoever the 3rd guy is that much though. I want to listen to what the legends of our sports have to say not learning about what color of bikes goes with what brand. It might be a "mean" example but if you watch the races on TV, you might know what I'm trying to say.