Herlings and Cairoli win in Bulgaria
Herlings and Cairoli win in Bulgaria
By Jonathan McCready
Photos By: Ray Archer/ Youthstream
Arnaud Tonus and Jeffrey Herlings are now the main protagonists after Glenn Coldenhoff struggled to seventh overall. Coldenhoff is now twenty points back of the lead after being only six points behind coming in.
Arnaud Tonus will be kicking himself. It looked like he had the win in the bag in race one after passing Herlings s they came through the field and pulling away. But late race pressure by a rejuvenated Herlings at the end perhaps took its toll as Tonus lost the front wheel in a slow turn and went down.
Tonus did try to pressure Herlings when he got up but five seconds back gave Herlings the breathing space he needed. Herlings wasn't the fastest in the moto but he won the mental battle at the end.
In race two it was all Herlings and Tonus. Both riders went at it and knew just how important the race win was not just for the overall but also the momentum in the championship. Tonus had the holeshot but Herlings wasn't messing around even if the track was getting slick from the rain.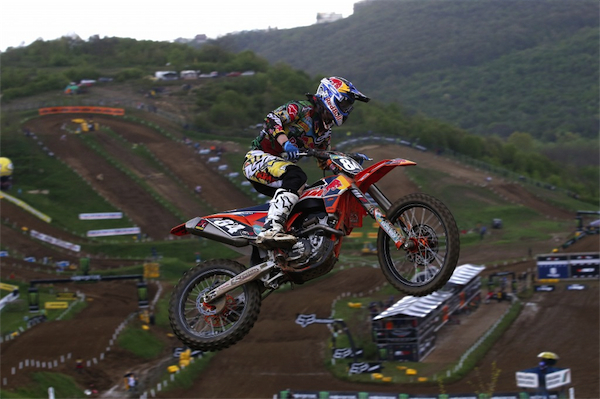 Herlings oddly wasn't the fastest but still came out on top.
The Dutchman passed Tonus early but then was unable to break away from the CLS Kawasaki man. Tonus wanted this win badly and their pace pushed them to beat third place Jordi Tixier by 49 seconds at the flag.
Maybe Herlings is finally coming back to form but this year Tonus is going with him?
So far Tonus has the speed but mentally is just that couple of per cent off Herlings' self-belief level and that is making the difference right now. Tonus has never been in the his position so far but he could have won both races in Bulgaria to stretch his lead to 16 points, but now it is down to four with Valkenswaard next, a place Herlings has never lost a moto at in GP racing!
Tonus though is right there and Herlings knows he has to be on his game because Arnaud can run his pace. Herlings greatest strength so far this year has been his mental strength to find a way to win even when he hasn't been fastest and that is a new string to the bow of Herlings.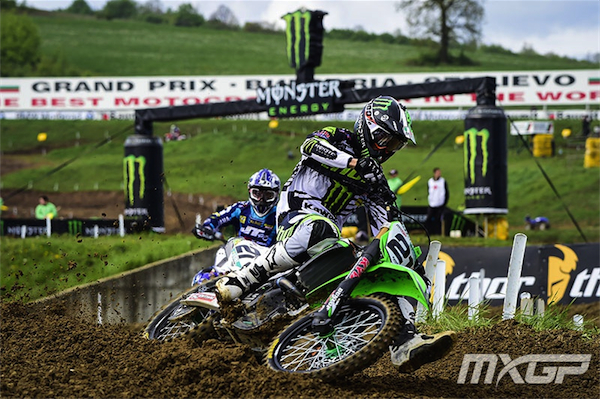 Paulin is still trying to put it all together.
The happiest man on the podium might just have been Jordi Tixier. Despite nursing an injured hand Tixier finally showed his form for the first time all year. Tixier rode fantastic all day and hopefully that will be the result he needs to get back to his 2013 level.
After his DNF in Italy that took him out of the championship hunt, Dylan Ferrandis rebounded with a solid fourth overall. He doesn't have the pace at the minute to go with Herlings or Tonus who have reached a new level, but Ferrandis will be determined to get to that level and win more races before the season is over.
Petar Petrov was very impressive in his home race at Bulgaria and came from behind to take sixth overall. The big question is why can't he do that every week? He clearly has the talent to do it!
Max Anstie had another bad day and his early season form at Qatar and Thailand seem a distant memory as the rest of the field seem to be stepping it up now they are back in Europe and have a few races under their belt.
Thomas Covington is struggling to find his speed too. But Covington is really only finding out what GPs are about now it has hit Europe and this is a learning curve he has to go through while trying to maintain his confidence. In the long run these tough couple of weeks and learning how to ride such a variety of tracks will make him a much better rider, especially next season.
Up next for Covington is Valkenswaard, his first sand race, but it isn't the bottomless sand pit of a Lommel or Lierop so he should be fairly comfortable.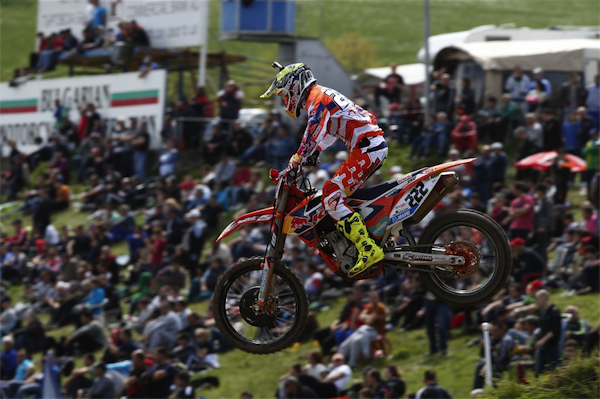 Cairolli is once again, indomitable.
In MXGP it looked like Cairoli was going to lose again but when the rains came for the second moto, Cairoli got the all important holeshot and took the win and the overall despite a couple of mistakes that meant Cairoli hurt his still tender ankle.
In a dry race one Gautier Paulin was just awesome. The Frenchman was still angry after his DNF in Italy and proved again that he has the stuff to beat Cairoli. But once again Cairoli still prevailed at the end of the day. That is the riddle Paulin and the rest are still trying to solve.
Jeremy Van Horebeek made the podium again and he will be getting more and more impatient to get his first win. He has everything he needs to do it, he just needs some better starts! Van Horebeek is tied for second with Clemente Desalle, 26 points behind Cairoli.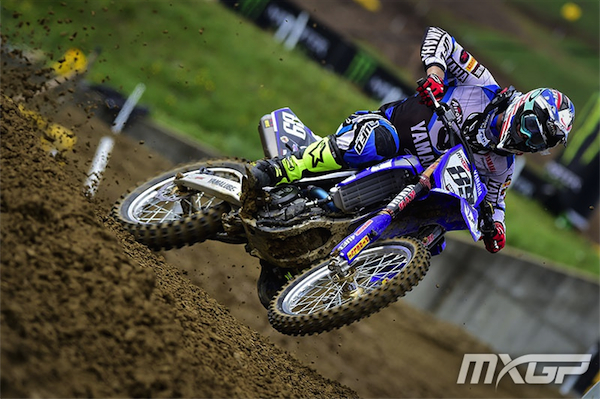 Van Horebeek is on the cusp of his first win.
Desalle had a good weekend but a couple of crashes thwarted his advances. But Desalle is right where he usually is, in the top three in points!
It wasn't the best day for HRC Honda who are still looking for Nagl and Bobreyshev to find consistency at the front of the field. Nagl had a couple of crashes but was riding while while Bobreyshev had a disastrous day and is now ninth in points. Again speed isn't the issue for Bobby but staying on the bike is. Bobreyshev will be looking over his shoulder if his results don't improve as HRC will be on the look-out for a rider to put the bike constantly on the podium next season.
Shaun Simpson looked on for at least a top five in race two after tough first moto but he went down trying to pass Paulin. Simpson still got eighth overall though and will be looking forward to Valkenswaard, the site of his first ever GP moto win.