It's nearly time to put the SX series on ice and start the outdoor inferno.
It's nearly time to put the SX series on ice and start the outdoor inferno.
Photos By: James Lissimore
The most advertised and pumped Supercross of all-time just came and went with very little to be gained by the actual racers themselves. Pride and a job are all there is left to push for. At this point in the season you have many riders looking forward to the outdoors and simply mailing it in as far as the results column goes. The moment when the mind begins to look past the current season and on to the next, you have gone far enough mentally to find compliance in getting what you get on Saturday night. It isn't that they don't care; it is more that their focus has shifted so much towards the upcoming series that all that matters is that progress during the week. Ironically the races are more of a formality than they are a break from the routine. A simple train of thought adjustment changes what priorities that used to be superior to inferior. It is no longer a game of just relax and maintain during the week to be ready to put your best foot forward for the race. No, it is now about pushing on an outdoor track to make sure you get the bike and body worked into a great place to start the new season. Being fresh for SX takes a back seat for being fresh for the outdoors. A1 is in the past and all that matters is Glen Helen …and the eleven rounds that follow.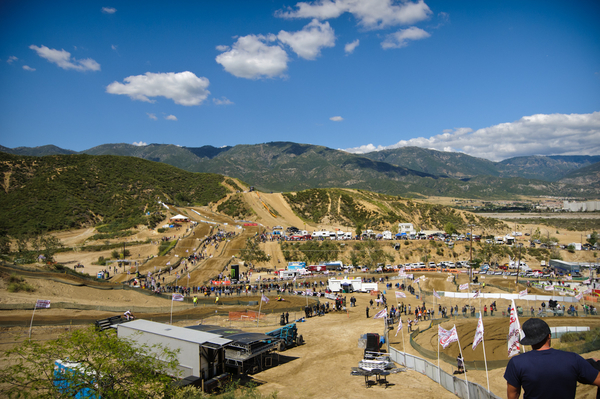 As a whole, fans of MX have been waiting for Glen Helen's return since it "went away".
These riders are the ones who feel they are not in a position to race for a certain number in the final standings. These riders have the luxury of using foresight to plan for the outdoors while others are piling on for SX results. Now we all know Alessi looks forward to the outdoors before A1 is even in the books, but that may no be giving him enough credit. However, he is a little on the extreme side of this classification because his manager, and father, spend every day trying to come up with the secret to winning the MX championship. It is not out of the norm or even a certain time during the SX campaign that they begin thinking of what comes next. He races every race with an eye towards the great outdoors and the drop of the gate with 40 riders instead of 22. As bad of a model as this may be for rising stars, this may be the best model for certain riders venturing here from another country. Yes, some riders are fine…the young ones that have fewer bad habits and are easily subjectable to other's opinions and views on bike setup and technique. The older riders are set in their ways, on and off the bike. I will just use Ferris, as an example of someone a team would have just liked to save it for the MX nationals. Instead he was injured and now will miss the majority or all of the nationals. Can he ride SX well? Yes. Will he win a SX title? No. I am sure he had DeCoster in his ear telling him to rein it in a little in SX, but the insight into foresight is not a newcomer's game.
It became apparent early that Dungey was experiencing a weird season. From the beginning he has been making erratic mistakes that are so unlike Dungey that people assumed he was very angry. If he was or wasn't it didn't matter, I thought it was a good thing for his craft of racing. A new technique to help move people out of his way quicker and with authority would have been a nice trick up his sleeve. In the end it appears it was merely an experiment by him to see if his results would improve, and he obviously did not see a benefit to it so he stopped riding that way. Throughout the middle part of the season he captured a win and was a constant podium guy as usual. He had no flashes of that speed he has shown from time to time. You know the speed that rivals Villopoto and Stewart on occasion? Then a funny thing happened, he began showing less signs of pure passion and determination to not let Villopoto get away. In fact, it almost appeared as if he decided it did not matter and was not worth it to push the pace like he would before. I know with Dungey it can be hard to tell, but it has become evident, clearly I might add, that he just does not want to go that fast. I may be wrong, but I believe he started hearing the rumors that RV might be out for the nationals and began looking ahead. At the end of the nationals we will know if this was a wise move or not, but it seems so unlike Dungey to be so far off of the pace. And now it is not just Villopoto, it's Stewart, Barcia, Roczen, and maybe Tomac and Hill. Many believe he is just sliding back in the ranks, but I think there may be more to this than that. He may be using his own insight into the length of series', both indoor and out, to craft a better game plan for the outdoors. He does have a new trainer and maybe the bugs needed to be worked out before he could make the push he wants. One thing is for sure, we will know more later…hindsight is 20/20 after all.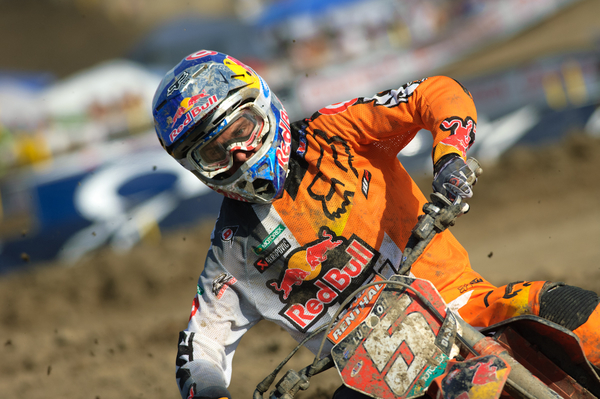 Is Dungey's new program a step forward? We'll see.
On the opposing end of this classification lie the riders that are using the last few rounds of SX to build momentum heading into the outdoors. The three Honda riders seem to be heading the charge on this front. Over the last several weeks they have all made strides towards asserting themselves at the front end of the field. With some better starts last week we might have seen Honda in 2nd, 3rd, and 4th. They are riding that good. Barcia has been climbing up the ladder a little slower than most thought this year, but nevertheless he has almost reached the top. Tomac has been putting solid finishes in after such a terrible beginning to the season. He is still pushing as he has another year on his contract and knows he must race SX on the Honda next year, plus he is building some serious confidence for the outdoors. The third man is the 41 Canard. He has come back from injury with a vengeance, as he always seems to do. It never takes him long to find the speed of the front-runners, and with a good start I believe he will podium. The approach these riders are using can be just potent as preparing completely for the nationals, because we have all heard how dangerous a racer is with confidence and that is exactly what they are gaining. They are saying screw foresight; just let me finish where I belong.
The same classifications can be applied to many riders in the 250 class. No matter what picture you show me of Baggett's eye I will still believe he is trying to no point out of the class and decided to focus his energy towards the outdoor championship. On the other hand you have Bogle building confidence and I imagine he will be very inspired come Glen Helen as well. Only time will tell which method works out. Foresight is a wise man's tool, but that doesn't mean the fool can't employ it as well. It just might work the same for the end result.