Lets be honest, truth and forthrightness have never been in the vanguard of motocross history.
Lets be honest, truth and forthrightness have never been in the vanguard of motocross history.
Photos By: James Lissimore
It's weeks like this where I'm super grateful to Matthes for not making me write specifically about the current weeks racing action. With only one title left to decide, the action in Vegas had, at best, a shot at being an exciting footnote on the series. Davalos didn't roll out in a wheelchair to make things interesting in the East series. Likewise, Cianciarulo didn't line up with all his controls mounted on one side of his bars to make a run at Bogle with one arm. Bogle secured the title and it was a well-earned accomplishment even if the top two dogs early on couldn't see it through. You gotta be "in it to win it", as they say and even when the PC crew was uninjured, Justin was finding his groove, with results improving. It wouldn't be the crazies thing ever to think Justin would have nailed a W even with the 31 and 46 on the line.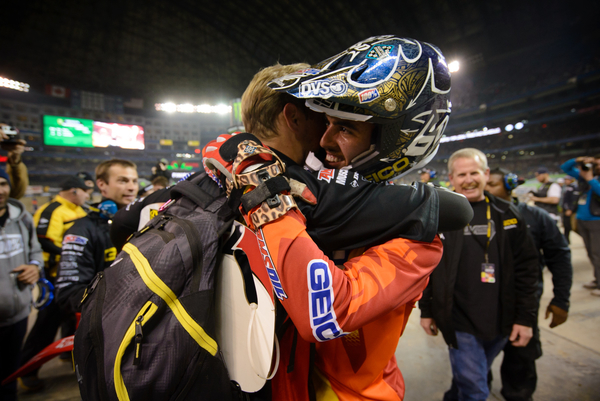 Justin Bogle started his SX career by lid-smacking Mookie and won the East title by laying that smack down on the field this year.
In the West coast, the one title in this series finale which had the potential for drama, we saw the title hopefuls both get subpar starts, with Anderson further back than Seely but the excitement was more anemic than fever-pitch. This race was all about title-management and Anderson pulled it off, bum ribs and all. It's a great story of resurgence for the Las Vegan, New Mexican, Seattlan, SLC-ian, Anaheimian, Oaklandian… Jason came into the pro ranks having won the Lorreta Lynn's Horizon Award and immediately proceeded to look like a boy amongst gladiators. He became painfully aware that talent wasn't going to get him anywhere near the results it garnered in even the top level of amateur racing. Nearly everyone has that talent in the pro ranks, the advantages are gained in millimeters and seconds with superior bike setup, more effort and of course, good fortune. Good on Jason for figuring this out and not only applying it but cashing it in with the ultimate result. Well done.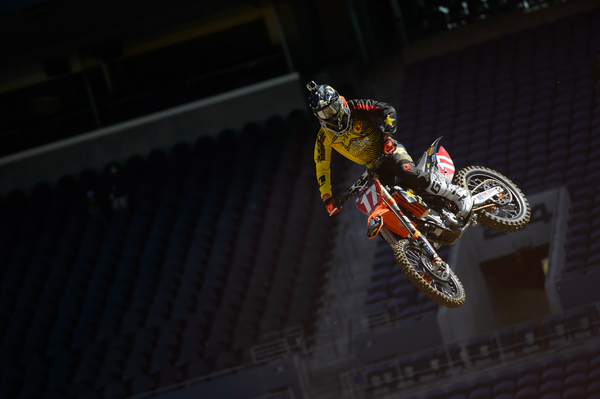 Jason Anderson is a story of redemption.
On to the actual topic this week.
Only a few short hours ago came the news that RV would indeed miss the Nationals to have his ACL repaired and be healthy leading into the 2015 Supercross series in the final year of his contract. This situation is perplexing for a few different reasons. For a few weeks now there have been public rumblings of RV possibly missing the Nationals. In the beginning there were no possible reasons stated, simply the possibility, nay, high probability that RV would miss the outdoors. The first I heard the news was a month ago which was before all the backpedaling from within the Kawi-camp began and at that point the word was that he was out. Not a possibility but a certainty. Shortly thereafter as the mumblings started sweeping through the pits and making their way into public conversations and of course the "Vital-sphere", those inside the "RV-camp" began naysaying the rumors. The backpedaling from within their inner circle was so pro-active, even those usually trusted members of the moto-media began second guessing the validity of their sources who were claiming definitive RV absence from the Nationals. When those sources stood behind their claims, the discussion turned to "why the mis-direction from the RV camp"? That's part one of this confusing situation, and it's not unique in that regard. This sport is well known for mis-direction, mis-information, attempted secrecy and maintaining that heir of normalcy even when the reality is anything but. Just like riders surrounding themselves with an entourage of "yes-men" supporters, conducting yourself in a bubble of "manufactured-reality" is not only acceptable, it appears to be the rule.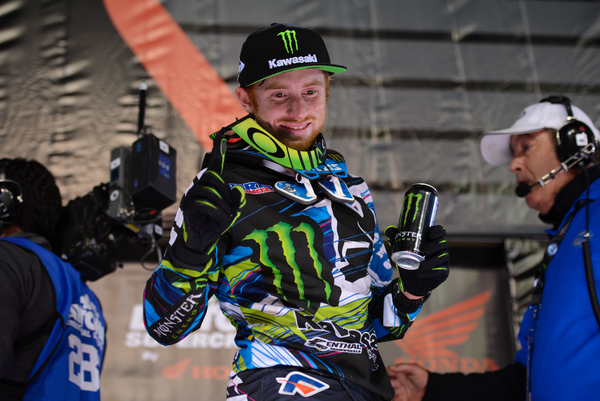 RV finished the the '14 SX series with a bum knee and will have it fixed to contend for a 5th straight title in '15.
What this mis-direction accomplishes is baffling to me. It falls right in line with the Pro Circuit go-to move of not announcing which riders are attacking which coast until the very last minute. Hiding injuries is commonplace in this sport. One argument against this phenomena is "why not be forthright with injuries, its not like riders would attack a riders injury in racing". Well, if you think back to Thunder Valley in 2009, Josh Grant exited his line and came across the inside of Mike Alessi and his highly publicized recent patella injured knee. Perhaps you recall the incident more if I remind you this was the birth of "The Universe" in moto. [insert laughing emoji here] So there is precedence supporting this theoretical concern but this doesn't apply to the RV situation for this National series.
The last thing that really mystifies me with this situation is the backlash from fans toward RV and his camps' handling of the misinformation and decision announcement. There is genuine disgust aimed at their camp for the perceived intentionally misleading process behind this ultimate decision. This is hardly an isolated case of misinformation and a circle of deceit in moto. RV wasn't telling the media or the public he was dealing with a possibly season ending knee injury, people in his inner-circle were relaying this info. Is that RV's responsibility? As the mumblings reached unavoidable volumes and RV was asked point blank, he responded with the lynch pin of this situation that has fans up in arms. He stated that yes indeed he would be at round one of the Nationals and racing. Perhaps he was sick of all the conjecture and wanted to shut everyone up, media first and foremost, with a real stunner. A straight up deception. Maybe he really was ready to commit to the Nationals at that point contingent on a positive second opinion on his knee? I don't know where the truth lies and in all honesty I think it's unfair to fault RV for doing the same thing we see happen all the time in this sport. Honesty has never been a virtue in sports in general, let alone moto. Don't hate the racer, hate the game.
It really doesn't matter in the end, there have been plenty of deceptions and intentional misinformation deliberately put into public circulation in this sport. That is the biggest reason I don't get the fiery backlash against RV and this announcement. It's business as usual in sports today. Loose lips sink ships… and fanfare for the sports most dominant racers.