Bob Hannah talks about a couple of his favorite tracks & Buckley weighs in as well
Bob Hannah talks about a couple of his favorite tracks & Buckley weighs in as well
I started shooting Motocross Photos in 1975 basically just because I liked to but then when I started showing some of the guys I knew who raced they would tell me, hey you should sell those, when I asked them "who would buy these?" they said we would we'll buy them all. Those guys were true to their word and they bought every photo I took of them and that was the start of Buckley Photos. Since then I've shot a ton of local races around here in New England, I'd say 99.9% of the novices that have ever raced in New England have a Buckley photo of themselves hanging in their garage.
I also shot a ton of nationals and supercrosses X Games Gravity games road races GNCC's a little bit everything over the years traveling around the country shooting for almost every motorcycle magazine in the world I guess as well as shooting for almost every motocross clothing and accessory company in America. Want to order a classic print or something else? Go to buckleyphotos.com and we'll hook you up. Thanks for reading- Paul Buckley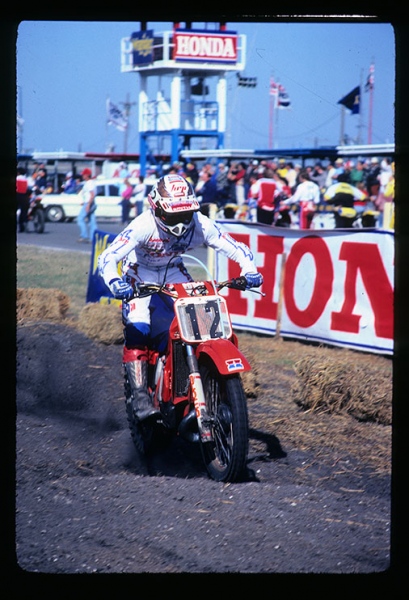 The Hurricane in Daytona in 1983- his first year with Honda.
Bob Hannah: "I had good luck at Daytona. I won it three times I think. I really should have won it at least six, I just had on three of them, and two of them I was leading. One of them until the last lap and one of them some guys leaned on the fence and caught my brake lever in '84. In '83 and '85 I won and '77 I won. In '79 I led until the last three corners to go and pulled over and let Weinert by because I thought he was a lapper. He ran into me in the corner and I went, I'm going to let this idiot by. The mechanic didn't tell me he was coming. The pit board area was in the sun and I couldn't see very good either, but I don't even know if he told me.
I like any track that's rough because it's the riding ability and the shape you're in that makes the difference. If they're smooth anyone can win. That's the only reason I liked Daytona and Southwick. They're both sand. Daytona when it was in the hay day when it was a big track it was fantastic. Probably still is, it's just smaller. Fantasticly rough!"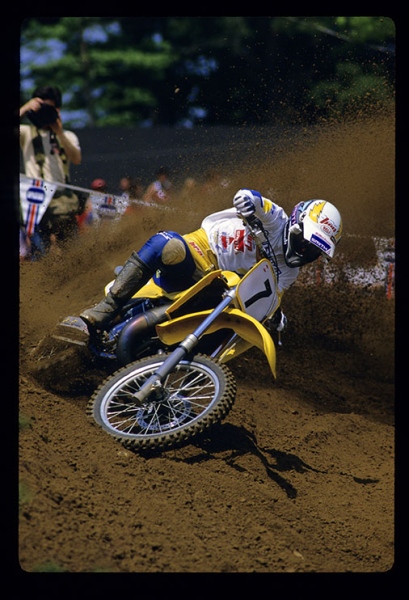 "I went over to Suzuki in '86. The bike was such a tub of shit it took us a while to make it better but by '89 it was." This is a photo from 1986 when Bob was on the "tub of shit" Suzuki.
Hannah: "I only remember bits and pieces from Southwick. I rode a 250 there every time. I don't think we rode a 125 there. I remember breaking a hand on a corner post in there, and the bone behind the little finger. I continued riding. I remember Howerton and I had a battle and Howerton's bike threw a chain. I think he threw a chain and I just ran right into the back of him. The last race I rode there in '89 I should have won. I got 2nd the first moto behind Lechien I remember. But I screwed up. I wanted to go in the 2nd moto. I was back about 5th and I was trying to rush to get to the front because I didn't want Lechien to get away and Wardy knocked me down. Otherwise I was stupid, I should have just sat there for 20 minutes because Lechien tired out and went to the back. That was stupid.
I was still in fairly decent shape that year, not as good as I was. But I like that stuff. If you could wear them down you could win. Like Lechien, he could out-ride the shit out of me nine out of ten tracks. That's the one of the only places I could have beaten him that year.
The keys to being good in the sand are- stand up, knees tight, butt up off the seat. Don't sit down until you're ready to turn the thing or don't sit down at all. Carry your speed into the corner. Sit down on the seat right in the corner then boom. Foot back up, back up off the seat."
Paul Buckley: "I've taken photos of Bob Hannah since the 1976 Southwick national, his second year on the national circuit and probably the year when he first achieved a lot of notoriety. It was really fun to him shoot mostly because of his wild hang on win or crash riding style so I got lots of really cool photos of him. Probably my favorite memory of shooting Hannah came at the 1981 Southwick national which was a couple weeks after the Massacre at Saddleback. My girlfriend at the time was a huge Hannah fan and I was a big Kent Howerton fan so that adding fuel to the fire, Hannah and Howerton went at it in both Motos that day at Southwick and I spent most of the time running out around the course trying to get photos of those two and just about forgot about anybody else on the track. There have been lots of other races were Hannah was hugely entertaining winning races on the Yamaha and then winning races for team Honda even after his ex-boss, team Yamaha manager Kenny Clarke, said he would never win again.
Maybe the one that stands out the most was his win at Daytona I think in 1983, when he first joined team Honda that seemed especially rewarding to him after coming off those overweight Yamaha's that he didn't seem to like at all. Hannah was always entertaining on the podium too (much more so than any of today's riders) never rattled off all his sponsors trying to plug everybody from his tire manufacturer to his tear-off guy instead Hannah would tell it like it was no holds barred. I remember one time at the US GP at Unadilla Hannah was on the podium and said to Larry Maiers "Some effing Commie tried to knock me down". Of course that was a year the Russians came over, not sure if they knew what he said or understood it but I don't think they would make them very happy.
One off-track incident that stands out was on a Saturday at the Holiday Inn in Oneonta New York after practice for a Trans USA I think. Hannah was out in the parking lot flying his RC plane, the longer he flew the more of a crowd that gathered to watch him do loops and spins and whatever else you do with an RC plane. Well Hannah flew it for a while getting closer and closer to the big sign out front when on one pass he misjudged how close is plane was and T-boned the sign square on. The plane crash to the ground, the sign all broken up fell to the ground And the crowd of people scattered running for cover like it was their fault. I'm not sure if Hannah even went over to recover the plane or if anybody from the hotel discovered who did it maybe if they're reading Pulp MX they'll know now and send Hannah a bill.
Another one of my favorite memories of watching Hannah was at the 1987 MX des nations at Unadilla where he rode an RM 125 for team USA. It was so muddy that day and his 125 could barely make it up some of the steep hills but he never gave up. I saw him get three quarters of the way up the hill and have to spin around go down to the bottom and try again but he did whatever it took to score points for team USA and America won another title."