Here's all we thought about the big boy class final standings.
Here's all we thought about the big boy class final standings.
Photos By: James Lissimore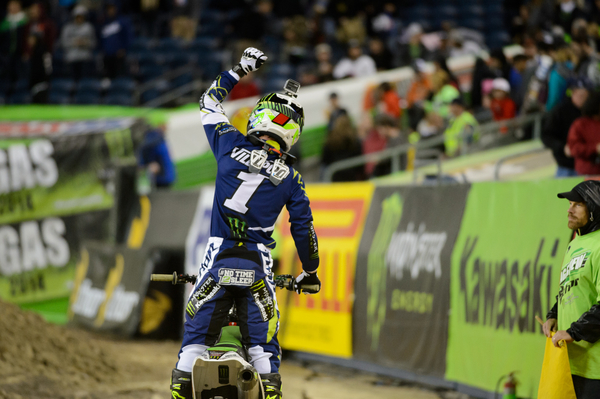 1st Ryan Villopoto
Best Finish: 1st (7 times)
Worst Finish: 6th (Toronto)
The now four-time supercross champion's worst finish this year was one where he didn't ride practice! Early on Villopoto looked like he was going to use consistency to win this title as he wasn't nowhere near as dominant as he was in the past. But oh no, Villopoto was absolutely pissed at St Louis when Stewart caught, passed him and left him behind for the win. He made sure that was not going to happen again and after that he won the last four in a row and LED EVERY LAP. So yeah, he was as good as ever. And remember he did all this with a bad ACL and meniscus in one leg that caused him to miss the outdoor series. I've always thought that RV's lack of wins this year was due in part to the quality of the dirt. With it being so hard and slippery at most rounds you can only go so fast and if RV wasn't up front then he could only hope mistakes bit his competitors and sometimes they didn't so he took his podiums and moved on. No matter what, week in and week out he was the best rider in this series and deserved the title. Again.
Swizzle Take- With the points as my evidence, yup RV was once again the best of the best. I don't care what discipline RV dedicated himself to, he is the epitome of a fierce competitor. He has the mental fortitude to dominate at whatever craft he commited to. It just happened to be racing dirt bikes. Is it his natural talent, intense training, hatred of losing, desire to be the best? Yes. All of those.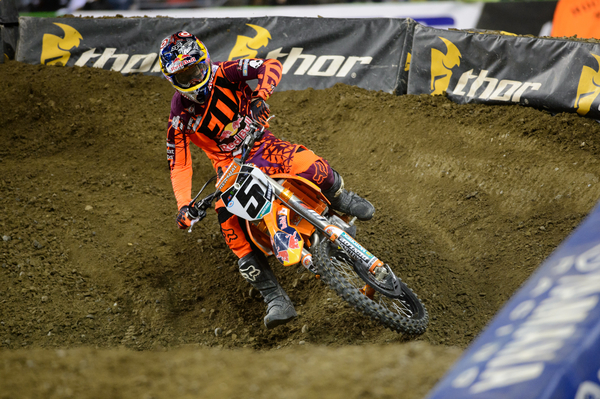 2nd Ryan Dungey
Best Finish: 1st (Indianapolis)
Worst Finish: DNF (Anaheim 3)
I was thinking the other day about how Ryan's DNF's in the last few years really haven't had much to do with him. Sure, some crashes that he caused have been the catalyst but plenty of people crash without anything breaking on their bike. You have the running out of gas and chain coming off in 2011, you have the battery going dead at RedBud last year and this year his clutch master cylinder breaking off at A3. It's remarkable how durable and consistent Dungey the Diesel really is. And this supercross season was a lot like some of his other ones really. He's a great rider but this year, maybe more than ever, he was a tick off of Stewart and Villopoto in terms of speed. And I would say, until he got hurt, Reed as well. But still, a nice win and ten podiums is a season almost anyone would take but like I said, I thought he was the "slowest" (relatively speaking people) he'd been in a while and also telling is he had his worst supercross podium drought of his career this year when he went a whole four races without being on the box.
Swizzle Take- In the words of Denny Green, "The Dunge is who we thougth he was"… ok, maybe Denny didn't say that but you get the point. The "lack of pro-active initiation" (my new term for making passes happen and stick) was obscenely glaring in the early rounds, so Dungey flipped the coin and became "Dirty Dunge". It's no surprise that he faltered in his attempts to become "physical Dunge" at first but he found a common ground and it netted him 2nd in the series, again. I hope he elevates that common ground in 2015 and see him silence his critics.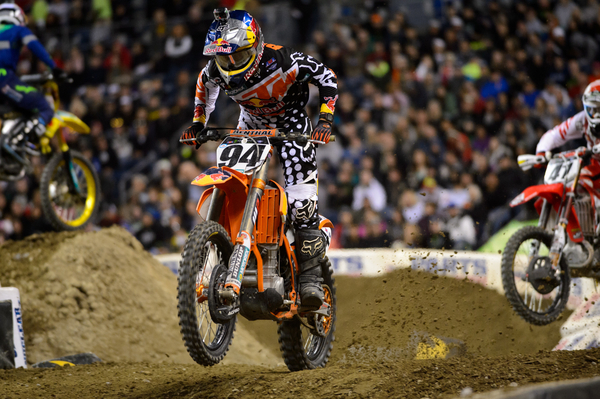 3rd Ken Roczen
Best Finish: 1st (twice)
Worst Finish: DNF (twice)
Der rookie hatte recht gut rechts which means "the rookie did pretty well right?" Roczen's debut into the 450SX class went better than I think most expected it with a couple of wins (his Anaheim 1 win was something else for sure- what a statement!) and some solid finishes. Kenny admitted that the grind of the season had caught up to him near the end and you could tell he wasn't the same guy as he was in the beginning but hey, third isn't too shabby. Roczen's lost some of the aggressiveness and style he had from his first year in the 250SX class but that's probably a good thing. He seems to have fun out there on the track and he's a refreshing interview after the races. That is when he does well, when he doesn't I've never seen someone bolt out of the pits as fast as Kenny when he's had a crappy night. Anyways, he's moving to the RCH Suzuki team next year and it will be interesting to see if he can improve on these finishes or if the "Justin Barcia second year blues" strikes him. If I was a motocross company and had unlimited budget I really think that from a results/PR/future/likeability standpoint you couldn't do any better than Roczen and would throw whatever money I had at him. He's the future people…
Swizzle Take- It's still crazy to me that after all these years and examples of people mentioning how hard it is to move up to the grinding 450 schedule, there are still riders who get struck by it's effects. Shit, if Ken Roczen, who is on Aldon Baker's program AND rides with RV all week experiences it, everyone will. Stamp that. Anyhow, yes, Ken started off blowing everyones wig back but he ended up fluctuating often during the series; even still, 3rd for a rookie effort is a standing almost anyone on the gate would gladly accept.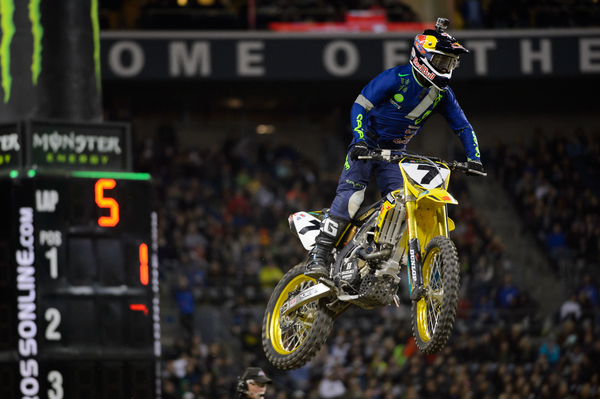 4th James Stewart
Best Finish: 1st (five times)
Worst Finish: DNF (three times)
No matter the series finish, Stewart was the second best rider this supercross season. A crash while passing for the lead at A1, a bent up header at Daytona, a knee injury at NYC and a fork malfunction at Vegas all conspired to keep him here in fourth. But with five wins and three other podiums (typical Stew in the fact he's got more wins than podiums right?) it was really nice to see him back to being the same old regular James Stewart. It got a little weird there for a few years where I wasn't sure he was the same guy but I think in 2014 we saw the old Crazy Balls Stew out there more than a few times. But in a much more subdued sense than before. He's older now, thinks about hitting the ground more than ever before and so he's lost some of that pizazz from his riding but the talent is still very much there. It's very rare in our sport where a rider gets back to being on top (or close enough) after he loses his edge. Stewart's done that, he had as many wins this year as he had in the previous two years combined. Generally in our sport the wins come right away (Stewart in '06), then the rider peaks (Stewart '09), then he wins a bit more (Stewart '11) and then they slowly fade off before he calls it a day. Oh no, not Stewart- he's got more lives than a cat and that's something to tip your cap to in this sport.
Swizzle Take- JS7's series was a win/win even though he didn't finish on the podium. With 5 wins, you've got to believe he's back, well, for one more year anyway. Even if 2015 is James' last year, this year is a great step toward redeeming his legacy.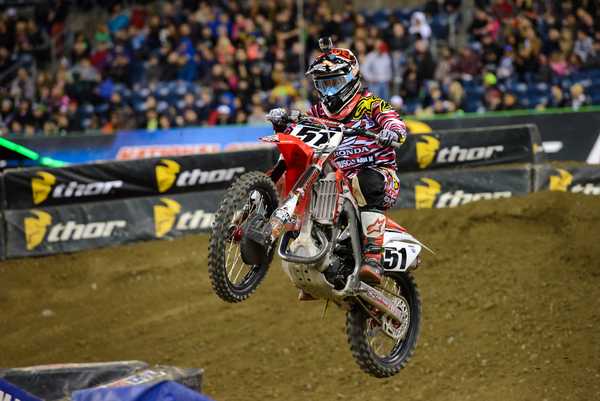 5th Justin Barcia
Best Finish: 2nd (twice)
Worst Finish: 12th (Daytona)
And here we have Justin Barcia. Years from now motocross scholars are going to look at this fifth place in the points and think it's pretty good… but we know it's not. We know that when everyone was healthy and going, Barcia was far off where he thought he would be. Sure he rebounded with some nice rides in Toronto and other races (start to finish I think Toronto was his best race of the year) but after two wins last year, you would have liked him to take a step up to that next level. At least be what Roczen was this year right? He didn't like his bike all year (this was pretty obvious) and that got him into a funk. It's a weird deal, Barcia set the fastest time at Anaheim 1 in practice, caught and passed Stewart for the win in his heat race and then came from way, way back to a sixth in the main. And the next week he passed Justin Brayton for the lead and you figured that was it- the race was over. Keep in mind he won in Phoenix last year but Brayton slammed him back and Barcia slowly faded back from there in an inexplicable manner. It was like the Brayton re-pass just mind effed him from there. He also didn't get good starts and worked with Honda and Jeremy McGrath to make those better. I thought he would challenge RV for wins this year. I couldn't have been more wrong. He's going to JGR Yamaha next year so should be interesting to see if it was indeed the bike like he and his camp thought it was.
Swizzle Take- I heard early on that Bam Bam was very displeased with his bike and when your mentally eff'd before the series starts, you're in a baaaaad place. A1 is no yard stick to judge from. It's ground zero for the year. Everyone is *hoping* they can set themselves up as the new years alpha-dog and reel in all that ever-so-important confidence. Justin had it for a couple hours at A1 but after that it was all talks of whips in the face, transfer of power and blue bikes in his future. blue bikes which I hear he is super duper stoked on.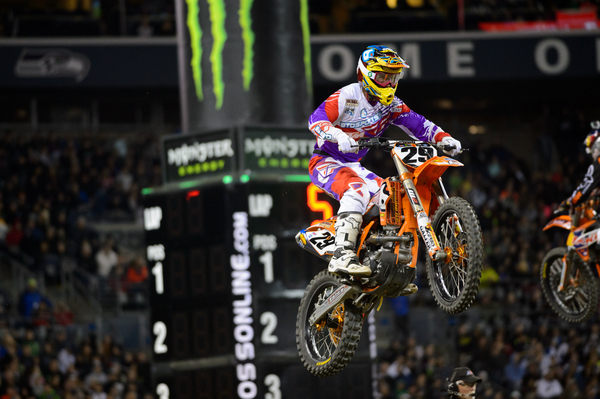 6th Andrew Short
Best Finish: 4th (Detroit)
Worst Finish: 11th (Toronto)
Here's where expectations are different. Short finished one spot and 38 points behind Barcia and JB's season is a disaster while Short's is strong. But it's true, Barcia is being paid to win and podium while Short is paid to do exactly what he did this year. Only ONE race outside the top ten this year in supercross which is amazing (he didn't seem to think so though) but to be fair he squeeked it in there with five tenth place finishes but hey, a tenth is a tenth! Last season Short rode three different bikes (factory Honda, production-based Honda and BTOSports KTM) on the way to a seventh in the series with 214 points. This year he was sixth with 218 points but injuries or not, I believe the field was deeper this year. Short's more at home on the KTM and with Pirelli tires and he was his usual solid self. Somewhere along the line he geared his bike and figured out 3rd gear starts which helped him on the longer stadium-length starts. With supercross that's half the battle and Andrew helped himself out with this move. He seemed to not fade as much as he did last year either but I could be wrong about that. Shorty's a solid rider for any team out there, there's no drama, no worries- just hard work, solid results and a good guy with the fans.
Swizzle Take- Ehhhhh, "Short's is strong"? I'm not sure I agree, remember that string of podium series finishes Andrew had a short few years ago? He was nearly a guranteed series podium finisher. It was easy money. For sure the gates are more stacked than ever so I guess that's all I need to look at to agree, yeah Andrew's season was strong but I believe his finishes have a higher ceiling. The sum of the parts is solid though and I guess that is what matters most. If you needed anymore proof of how good a guy Andrew is just look at him or talk to him after a race. He's just as appreciative for all he has now finishing where he does as he was in his Honda glory days, always on the podium. There's growing old gracefully and I guess there's accepting your fate in racing gracefully as well. He's a fan favorite and that has legs, my friends.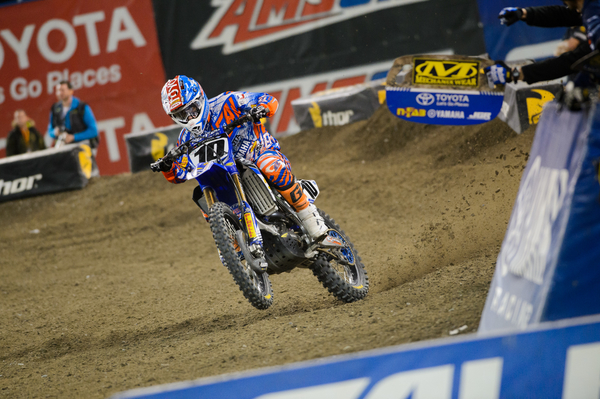 7th Justin Brayton
Best Finish: 2nd (Phoenix)
Worst Finish: 10th (St Louis)
Brayton was another guy that was never out of the top ten until he was forced to miss the last four races with injuries he got in St Louis. Also ironically his worst finish was at a race that I think he was most impressive in (St Louis). Brayton should've, could've won Phoenix if he was a bit more of a dick but as it was, he had a nice comeback season this season. He was solidly in fifth in the series when he went out with the injury so compared to last year when he raced all season and finished 8th (he scored six more points this year compared to last year with four races missed!) so you can see the improvement on paper. Early in the season, with all the top guys there, he was simply on fire as he racked up top qualifying times and rode great in the main events. No question as the series went on his magic wasn't there as consistently but I look at the early season results and the fact that in St Louis and Toronto he was jumping things that many, many others were not and I'd want him on my team. Yeah he's getting a bit up there for a guy who has never won but he's a solid 1A/second rider on any team in the pits. I can't understand why JGR just won't buck up for him and make him the second guy alongside Barcia.
Swizzle Take- When I think of Justin Brayton in 2014 SX, I'm not joking, I still think of how he could have won Phoenix if he'd only believed more in what he was deserving of. He backed off a move on RV in the closing corners that would have secured the win for the 10. Yup, Im still bitter about it.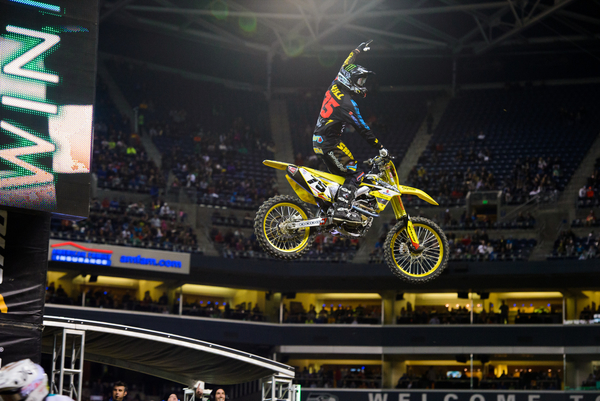 8th Josh Hill
Best Finish: 3rd (NYC)
Worst Finish: DNQ (Phoenix)
Hill had a nice comeback season as he made a podium and won a heat race as well. Coming this far back from some serious injuries is indeed worthy of some golf claps as it seemed that Josh would never be able to make it all the way back to his old level. And sure, maybe he's not quite there yet (remember he was leading the series for a bit there on the L&M Yamaha team) but he's pretty close. A very talented jumper, it was odd to me that Hill and the RCH team seemed to be at odds over the bike during the year. These complaints from Josh along with some other things led to his release from the team after supercross. I bring this up only because I think Hill has earned himself a shot with another top team in the pits next year. Not qualifying at Phoenix sucked (he was sick though) and breaking his collarbone wasn't very good either (he came back really fast after the plate was put in) but Hill still had a fine series. It should be interesting to see where he lands next year and what kind of equipment he has. But if he retired tomorrow he can still look in the mirror and know that all that hard work after his big crash was worth it and he was able to get some, if not all, of his magic back.
Swizzle Take- This series was what I (and probably Josh) was hoping to see 3 years ago. It's better late than never and I am intrigued to see what dividends it now pays for 2015.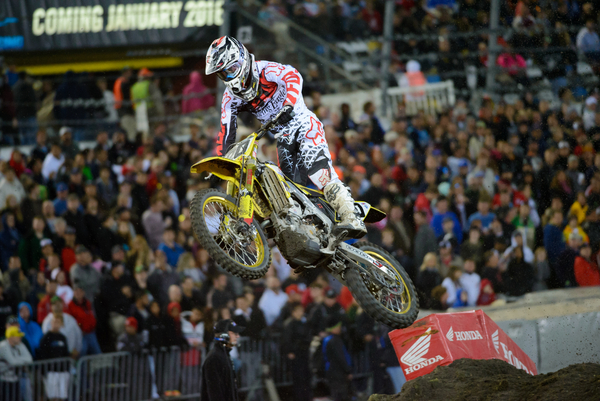 9th Broc Tickle
Best Finish: 4th (Daytona)
Worst Finish: 11 (Anaheim 3)
There were times last season when Tickle, on the factory Suzuki, went unnoticed out there on the track. You just wanted more flashes of speed from the #20 and wanted him to step up and get better. He did end up ninth in the series racing the entire season while this year he missed the last six races with a serious injury and don't forget about the two races he missed earlier in the year when he crashed at one of the Anaheims. So the good news is he's ninth in the points with only nine main events scored. That's pretty solid in my books. There were more flashes of 'Holy shit, look at Tickle out there' this year than last so that's good. As it is though, the eight races missed make it harder to judge Broc that much and we'll have to see where he ends up next year (sources say he can come back to RCH but at a pay cut) and how he recovers both mentally and physically from his bad back injury.
Swizzle Take- This year was definitely a progressive one for Broc. He's struggled with increasing his intensity over the years, it's just the way things go for technically accurate riders. They need to disengage their brain for periods at a time and "flow" more than "place" the bike where they want. Broc managed to land somewhere in the middle and increase his intensity without sacrificing the control he is known for. His Toronto crash was scary but he'll be back at 100% and I'll be interested in seeing how his race craft changes in 2015. Even if he went back to his old 7th place self, that's a pretty impressive credential. But I know he is not thinking about anything other than continuing the progress he made early this series.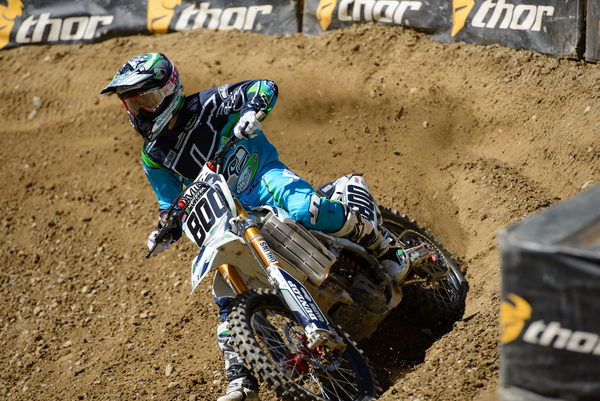 10th Mike Alessi
Best Finish: 6th (Atlanta)
Worst Finish: DNF (Anaheim 3)
I know that Mike won two heat races this year and that's good and I know that working with Michael Byrne this year helped Mike's whoop speed (I don't remember one time shaking my head in disbelief at how a top rider could be SO bad in the whoops this year so there's that) but I think he was better last year. But then again, the field was deeper this year. Still Mike raced every race this year and only made the top ten four times this year and last year he made five top ten's and raced two less races. He was still better than most expected and a lot of his mistakes were the results of commission rather than omission. In other words he was trying hard out there. And also take away that Tickle thing because he lost his mind right there. He was good this year, better than he's ever been at supercross- except for last year. I seem to remember being more impressed with the 800 last year but he crashed out a few more times than he would've liked. Mike's starts were also gone for the first part of the year and that was weird but later on he seemed to dial them in again.
Swizzle Take- MIKE ALESSI SUFFERED TEMPORARY INSANITY AND INTENTIONALLY TOOK BROC TICKLE OUT… (sorry I had to…)
In all seriousness, Michael Byrne's effects on Mike can not be overstated. He was a completely different rider. His finishes were sporadic and a series finish of 10th is nothing amazing but Mike looked better than he ever has in SX. Next year should be markedly better in the results sheets… unless the Alessi's do something crazy like think they can continue the progress without Byrne.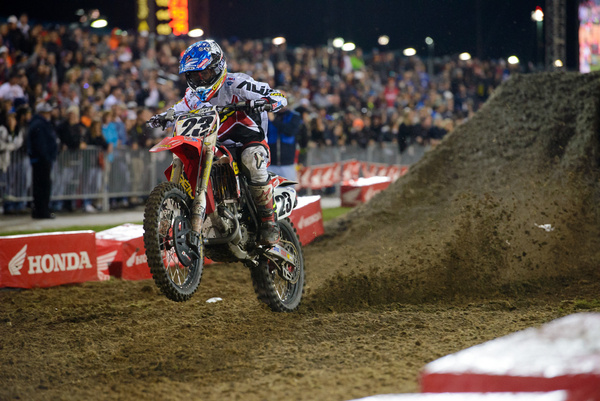 11th Wil Hahn
Best Finish: 4th (Atlanta)
Worst Finish: 14th (twice)
Hahn missed a top ten by one point and he, like Tickle, got this result with a limited amount of races. Just eleven races out of seventeen was Hahn's final count in his rookie 450SX season. I think Wil was lost in the Roczen/Tomac/all the 250 champs were moving up shuffle and in the end, he did pretty well. I think he opened some eyes of other teams with his rides out there and with GEICO shutting the doors on its second 450 rider program next year, he'll be on a new team. I think Hahn showed that he's got some skills in terms of jumping, he's in shape and he's a good guy to deal with. The media all love him, he's good with sponsors and that's important (not as important as results as teams in the pits would hire Hitler if he could consistently win races) as well. I guess the big thing with Hahn is he's been injured quite a bit in the last few years and he did have some big crashes this year. No matter, this was still a successful year for Hahn because managers will look at him and think they can work with what he did.
Swizzle Take- It's no secret I thought Wil was the best story of 2014 before his massive crash. This kid is gold, I'm very interested to see where he sets up shop and continues his 450 career.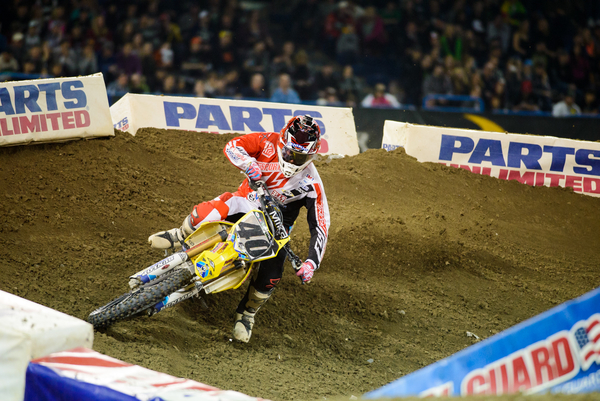 12th Weston Peick
Best Finish: 5th (Twice)
Worst Finish: DNF (SEVEN times)
Wow. What a weird season for Peick. It was still very, very good but the privateer hero DNF'd a supercross SEVEN times this season out of sixteen races (he didn't race Daytona). So he got this finish with just nine main event scores. Same as Tickle but Weston didn't make a good salary, have a works bike and have 46 people standing around him asking him if he's ok. I know we've all said it over and over but there's no more improved supercross rider than Peick. It's simply amazing that he's gone from this beast casing jumps everywhere to being a top ten guy. And sometimes better. Peick rides with hatred and aggression and that's usually a good thing but it has bit him a few times (him being upset with Barcia at St Louis for example) but it's way better to have a guy who needs to tone it down sometimes than try and get a fire in some riders who are just riding around cashing checks. Peick's got a full ride with RCH for the summer and I'm going to be interested to see if he can adapt to the different bike/team/sponsors. I've been there as a mechanic for top privateers who are happy with everything and then when they have something forced on them it upsets everything. And with Weston, he's not scared to tell you his feelings. Weston's 12th place in the points doesn't even matter, if you went to the races this year and watched them, you know he's far from a 12th place guy. Ask a bunch of factory riders and they'll tell you that.
Swizzle Take- I see all Steve's reasons for why Weston's series finish is so impressive but it makes me think of the great Ron Lechien and how he was asked what he thought his career would have been had he trained and prepared like RJ and his teammate Jeff Ward. He thought that maybe he wouldn't have done as well. These guys all approach it in their own personal way and just becasue someone has more effort, team assistance or whatever doesn't necessarily mean it will work for them as a benefit. With Weston joining RCH for MX, we'll see my theory put to the test.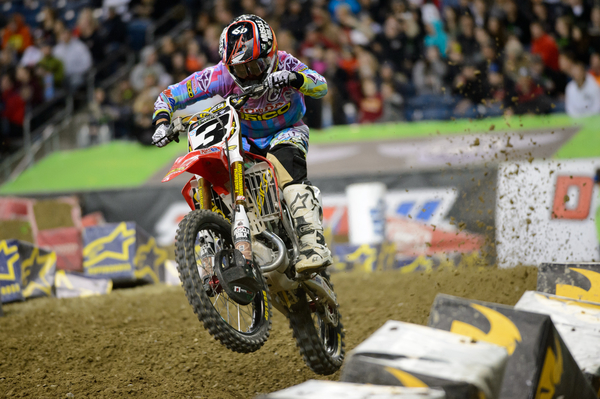 13th Eli Tomac
Best Finish: 2nd (twice)
Worst Finish: DNF (twice)
Well that certainly didn't work out like we all thought it would right? Tomac's season was basically write off when he collided with Jake Weimer at A1 and jacked himself up. And when he came back he wasn't that happy with the factory Honda to the point where he went back to the production-based bike for a couple of rounds before making peace with the factory bike. I can't help but think it's not a coincidence that Tomac's best results this year (Indy, Seattle, NYC) came on tracks that were tacky, rutty and had looser dirt. Either he's much better on those or his bike is. Or maybe it's a combination of those two. Either way, his rookie season is a wash. There was some good, there was some bad but with the injuries it was really pretty hard to judge one way or another.
Swizzle Take- Definitely the rider who's season went "most opposite of what was expected". It was indeed a write-off.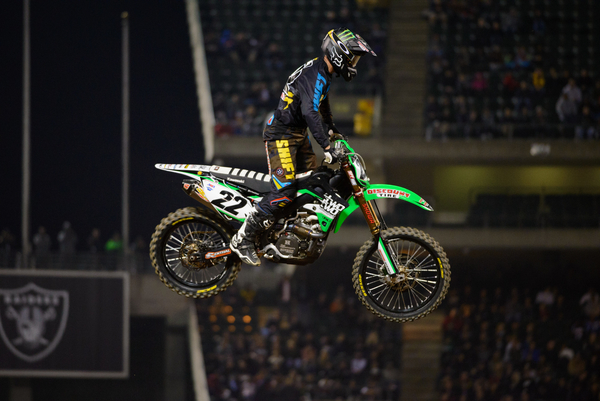 14th Chad Reed
Best Finish: 1st (twice)
Worst Finish: DNF (San Diego)
Well this sucks. Reed was a revelation this year as he was back on a Kawasaki and obviously much happier than he was last year. A couple of amazing wins (him and Stewart's race for the lead at Anaheim 2 was amazing and very memorable) had him looking really good for title contention. His crash at San Diego seriously took the wind of the entire series. From the promoters to the media to his sponsors, shit to OTHER competitors involved in the series it was a blow. Reed was very good this year, better than I thought he would be that's for sure. I've never completely believed that it was the Honda's fault he was so bad last year…he also wasn't in the shape he needed to be in to run the pace along with some difficulties with the bike. As a former mechanic I'll never believe that you just CAN'T win on any particular bike- motocross is mostly rider. Always, always remember that no matter what the riders tell you. Anyways, back to Chad and yeah, he was awesome man. I don't know if he would have won the title had he stayed healthy but he would've been right there until the end that's for sure. Chad Reed was probably the coolest thing to happen to supercross this year and it sucked he got hurt.
Swizzle Take- Steve, you said it, "it's mostly the rider" and a rider's mentality is what everything else chugs along off of. SO even if it wasn't the bike, when it IS in the riders head, it IS the bike in reality–especially in Chad's case since he(more than just about anybody) knows exactly what he wants a bike to feel like. Anyhow, yeah, Chad's crash in San Diego literally felt like a kick to the nuts to everyone watching the race. My nads are still tender…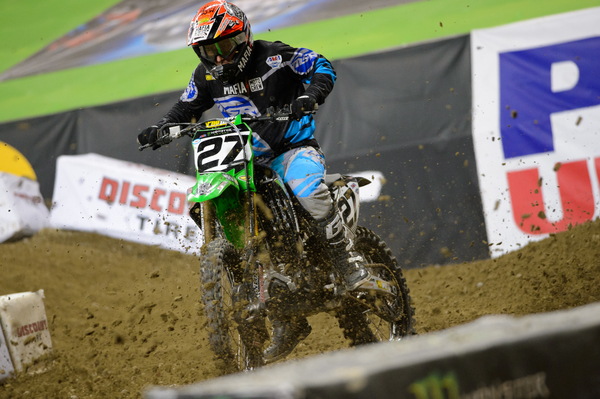 15th Nick Wey
Best Finish: 11th (twice)
Worst Finish: DNQ ( Anaheim 1)
After Wey's not-so-good motocross season last year and the fact that he missed all of supercross 2013 with an injury, his ride at Anaheim 1 this year had more than a few people averting their eyes. No one wants to see a good guy like Wey go out as a shell of his former self (I still have nightmares thinking of Grant Langston post-eye injury out there in the outdoors on the Yamaha just getting waxed). But to Wey's credit the first race of the year was the only main event he didn't make (he didn't race Vegas due to injury) and he looked pretty good most weekends. He was in the LCQ too many times in my opinion but that's because often more than a few guys he would beat in the mains had him covered in the shorter races but they couldn't string together twenty laps like the veteran Wey could. More than a few times he commented to me about this fact and it frustrated him. Guys would make the mains and cruise around not really caring but Wey would put in as many hard laps as he could and end up beating a lot of guys. He wasn't happy with his 15th in the points but look at the guys ahead of him…at his age, as a privateer- he's just not going to beat too many of them straight up in the series. This was a fine showing for the oldest rider out there and I don't want to hear any more about it.
Swizzle Take- Nick benefitted big time from the re-introdcution of the semi's. He won his share of LCQ's too. That's a lotta track time and energy but the tv exposure is a worthwhile trade-off, right? Ending the series in 15th isn't what Nick expects from himself and he'll never quit working but it's not going to get any easier next year. And he knows that.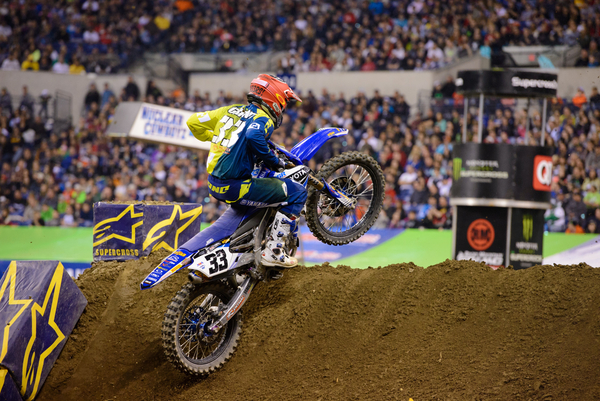 16th Josh Grant
Best Finish: 7th (twice)
Worst Finish: DNF (Houston)
Josh Grant didn't make all seventeen supercross races. Hold on, I know you're shocked by this revelation but we mostly all predicted we would see this from him this year. That's just what Josh does now- he more times than not will not be able to make it to all the races. His 16th in the points was achieved with just 11 main event finishes. We usually see this from Josh but in years past we would usually see some flashes of brilliance from Grant in practice, qualifying or sometimes the main event. That was what was missing to me this year. We saw a kindler, gentler Josh Grant this season. It looked like he was really just trying to make it through all the races (which he couldn't do) but in the process he was maybe slower than he's ever been. So many times you would see Grant bust out some impressive moves or jump combos but this year he didn't seem to have that. Or maybe my memory is failing me. Anyways, he is what he is at this point and it should be interesting to see where he lands next year in terms of teams. I can see him packing it in if he can't get paid or have good equipment in 2015 but that's just me.
Swizzle Take- My question, is it better to burn out or fade away? I'm serious and I think it's a relevant question in Josh Grant's case. I can't decide.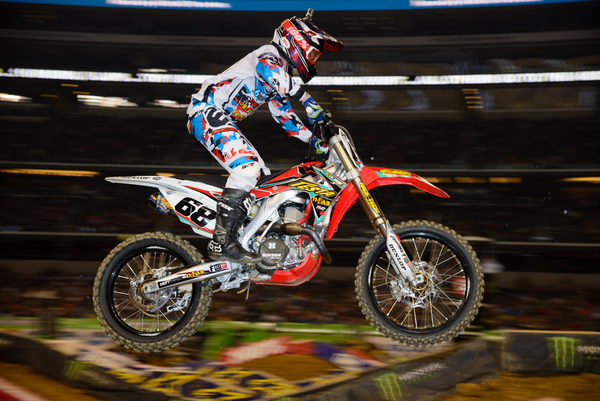 17th Chris Blose
Best Finish: 9th (Las Vegas)
Worst Finish: DNQ (twice)
Blose had a strong finish to the series and it was no surprise he had his best finish at Vegas on the dirt that just about everyone hates but he does well on. And you like the fact that as the field got more and more thinned out with injuries, Blose stepped up and started doing better and better. There are plenty of definitions of the word "privateer" out there in the world but whatever definition you had of one, Blose is a privateer. In terms of privateers it was Peick, Wey and then Blose…in the olden days this would have netted Blose 10K for third in the privateer challenge thing but instead he'll have to settle on the 10K for series ending cash. At one point he was in a battle for the last spot but with his good rides at the end of the series he made it happen. He can't win a main event (yeah, I said that) but Blose is still a solid veteran rider who impressively showed us that he's still got some skills out there.
Swizzle Take- Chris Blose can win. (whew) Blose is a work horse, a privateer of old. It aint pretty but it gets the job done and he finished 17th in the toughest series on earth. He's a badass.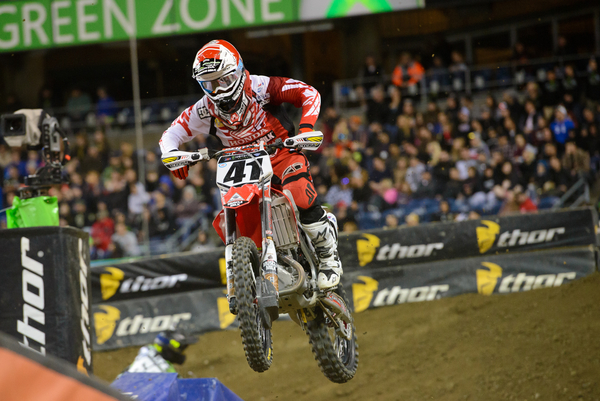 18th Trey Canard
Best Finish: 4th (Houston)
Worst Finish: 9th (NYC SX)
With just five main events, Canard gets 18th in the series and although I thought he would make a podium at one of his last races, he was still pretty good. It's really hard to jump into the series like he did and have strong motivation to just kill yourself to do well. After all, Canard probably had one eye on the outdoors the whole time while he was out here. The last thing a factory rider who has the perception of being injured all the time wants to do is go out there late in a series with nothing at stake and get hurt again. So like Tomac, Canard's brief supercross series showed some good, some not so good (he didn't podium dammit!) but all in all it's a complete wash out. He's back with Honda next year and I hope he's able to come in strong and ready to go.
Swizzle Take- Hey, he came back to get into the groove of adrenaline pumping competition for outdoor prep and finished respectably though nowhere near his capacity. The series and sport are better with Trey in it.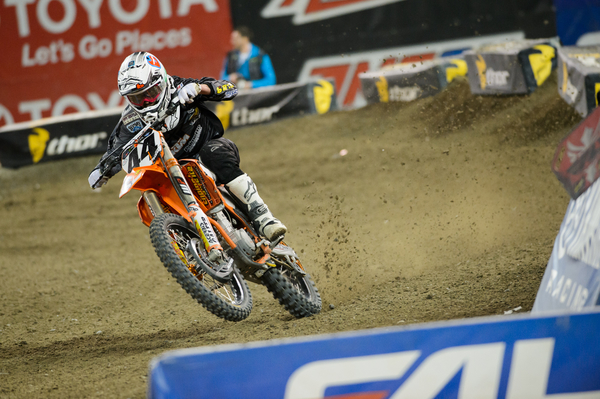 19th Matt Goerke
Best Finish: 10th (Toronto)
Worst Finish: DNF (Anaheim 1)
Well this sucked. Matt was the surprise of the series last year and really looked to have improved his supercross skills (he credited his move to Socal to a big part of his improvement indoors) but his entire 2014 supercross season went off the rails when he broke his finger at Anaheim 1. He had to learn how to work the clutch with a different finger and got a pin put through the broken digit in order to race on the weekends. And then, just as he was getting back to 100% and coming off his best race of the year in Toronto, he crashes in St Louis and dislocates his elbow. And this injury is going to eff him for the outdoors as well. It sucks to be Matt Goerke this year folks.
Swizzle Take- I found myself asking myself, "self, who is number 44 again"… many times this year. That's a good thing, he was impressive when he was out there.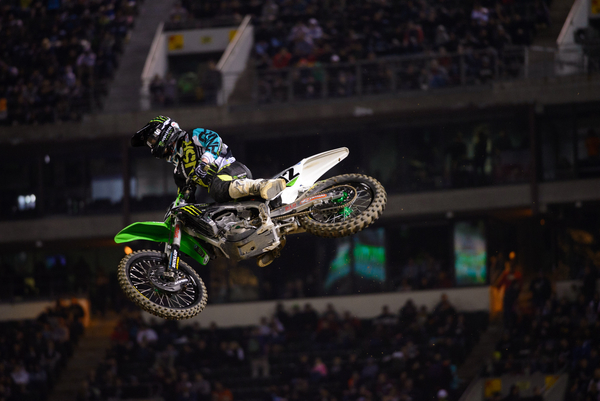 20th Jake Weimer
Best Finish: 8th (three times)
Worst Finish: 18th (Phoenix)
And here we have another factory guy with just seven main event finishes getting him the twentieth spot in points and the last guy to get paid by the promoters. Weimer's supercross season wasn't very good mostly due to injury but even before that he wasn't awesome. He wasn't bad either but he didn't look like he could make podiums or top fives before he got hurt. And once he came back into the series for the last two races, like Canard, it doesn't really matter much. Jake's going to be on a different team next year and has the 450MX series to impress those guys with open spots because supercross 2014 was a wash. A good guy who took a brave jump this year getting away from Aldon Baker as a trainer and "Camp RV", it didn't look like it worked out for him. He's better than what he showed this year in his limited races.
Swizzle Take- Jake gets a bad rap for his honest interviews. People bash him for being whiney or complaining but if he didn't say what he does, they'd dish on him for being a robot or being too PC. Eff you people who can't be reasoned with or satisfied. Jakes been under a funk cloud for a while now and I'm still holding out hope that he can lift that cloud and find the happiness in life and racing he had in his title-winning year on PC. I believe he has the skills and in his case I feel it's all between his ears.