Add a couple of Paul Buckley photos, a little bit of Johnny O'Mara and you have MX Captured
Add a couple of Paul Buckley photos, a little bit of Johnny O'Mara and you have MX Captured
I started shooting Motocross Photos in 1975 basically just because I liked to but then when I started showing some of the guys I knew who raced they would tell me, hey you should sell those, when I asked them "who would buy these?" they said we would we'll buy them all. Those guys were true to their word and they bought every photo I took of them and that was the start of Buckley Photos. Since then I've shot a ton of local races around here in New England, I'd say 99.9% of the novices that have ever raced in New England have a Buckley photo of themselves hanging in their garage.
I also shot a ton of nationals and supercrosses X Games Gravity games road races GNCC's a little bit everything over the years traveling around the country shooting for almost every motorcycle magazine in the world I guess as well as shooting for almost every motocross clothing and accessory company in America. Want to order a classic print or something else? Go to buckleyphotos.com and we'll hook you up. Thanks for reading- Paul Buckley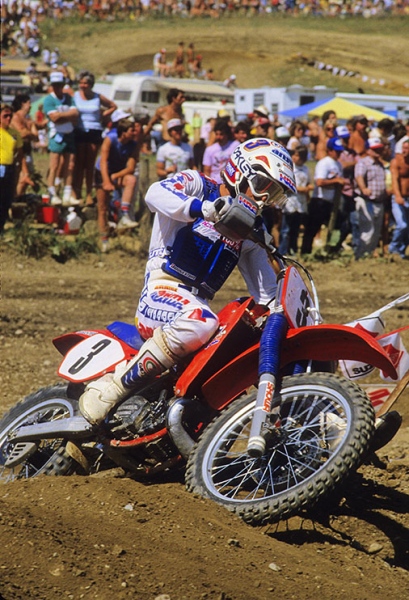 This photo is from 1985 at Binghampton, New York and is O'Mara's first in the 250MX national class.
Johnny O'Mara- "I won the 125 national title in 1983 and in '84 I finished second to Wardy. So for 1985 it was time to jump up to the 250. Wardy really shined in those years you just talked about. Fortunately I was able to get the better of him a couple times. But then he went on, and we all know what Wardy did. I had some fierce some competitors no doubt. Wardy was right on top of the list there.
That was always my timetable, to get that 125 title and move on. I got it a year before Wardy and then Wardy took it away from me. So at least I got the big class Supercross one and then I was into the big class outdoors. And Honda had Ronnie Lechien so they already had 125 specialists. Even though I dropped down from Motocross des Nations that one year, the following year, it was time. I just moved on and got second in the series behind Ward again. But these photos were from Binghampton and someone else reminded me that I won. I guess I got out front, I was already out front in this one shot, and just put all the rocks on everybody else. Those rocks were brutal at that place.
You know what I kind of remember a little bit about in terms of that '85 Honda? We had a chassis change on that bike. I think from the get-go I wasn't totally liking the feel of it. That's what I kind of recall just right off the top of my head. With that being said, I should have adapted or whatever. I do remember the two-moto format in supercross that year, it was a weird setup. Then I was trying to think, did I hurt my knee already by '85? But I think I hurt my knee right in that first or second race of the season before Anaheim '86, so I don't want to blame it on my knee at all.
The '84 bike, when I won Supercross that year in the big class, that one was I think spectacular, but I remember something being changed. It still probably had the full works HRC look and the fuel pump and all that stuff, that we all back then drooled over. But somehow they changed something. We had no excuses; they can change anything. I changed chassis I believe. I can't remember if I used my 125 chassis or something like that. I made some drastic changes trying to find that comfort feel that I had the year before, but I think I was just behind the 8 ball then, especially with two motos indoors.
Supercross that year, I can't really totally remember everything about it, but obviously if I didn't win I'd probably say I didn't like it too much! That was the year they ran two 12-lap main events and it only lasted one season so I don't think it was a big hit anyway. I think I was more probably more into having a 20-lap main. I was more used to it. When you throw in the two motos it's just like too many risk factors. Maybe I had a bad moto here and there and that's what put me out of the series right away.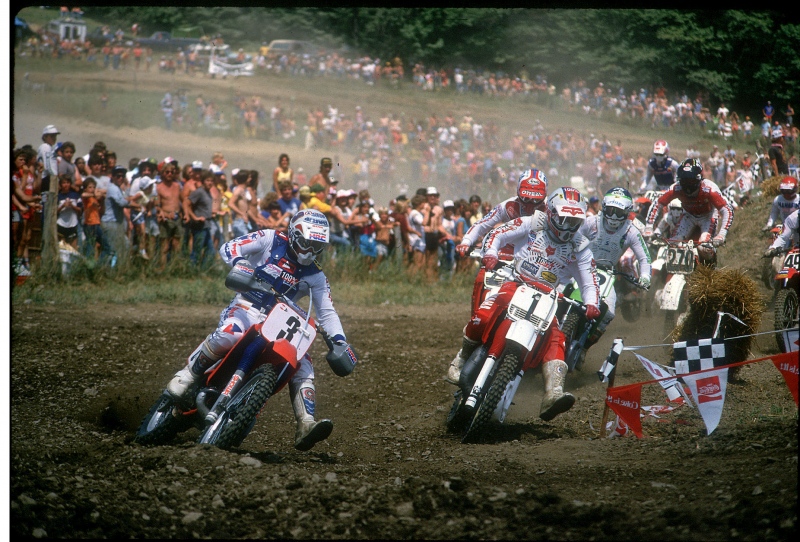 "When I look at this picture-look at those rocks! I can't believe Johnson didn't even run hand guards. I didn't care how big mine were – they weren't big enough in my opinion. I remember just around my chest protector, even if it was lappers, I had cuts on the collarbone. Anywhere where it was exposed or you didn't have covered, we're giving butterfly stitches and this and that. It was gnarly. That was brutal!"
I think probably all of us on the Honda team were a little bit bummed when the AMA went away from works bikes for 1986-just because we had such killer stuff in the works department. I don't want to say my bike was no good in '85, because I still feel like we had the best machinery out there. But we were probably all, damn, now all the other teams that didn't run works bikes were going to definitely probably close the gap on us a little bit. But also still our whole personnel and management and engineers are still in place. We had a really gnarly group of engineers in the '80s. So our bikes in '86 were spectacular, from what I remember.
In '85 it was me, Hannah, Bailey, Lechien all on Factory Honda and that might be the biggest, most stacked team ever. Hannah was unreal in '85- probably the fastest guy. We were a little bit younger, and you know how it is, the wear and tear on the body, Bob's body was starting to deteriorate a little bit. But any given day Hannah could win by 20 seconds. I remember he was the old guy but looking back at it, I'm sure he was like 29! I think of that a lot too. I retired in my later 20's also. You don't see any guys running into their 30's at all back then but nowadays it's commonplace."