Here is JT's Honest Look at the 450SX thoughts
Here is JT's Honest Look at the 450SX thoughts
Hammerhead Designs was launched with the intent to provide new and better parts and innovative accessories for motocross bikes. One of our goals has been to design entirely new and unique products with improved ergonomics and the shift lever was the first part that we felt could be dramatically improved by providing a feature that would allow for the shifter to be repositioned to perfectly suit the riders size, shape, and preference.
Photos by James Lissimore
So, Matthes and Swizcore took an "honest" look at the 450 SX points a few days ago. While we know that Matthes is completely off the rails at times with his opinions, I usually find Swizcore's view fairly agreeable (unless he is on some tangent about Tickle and Lemoine world domination). I decided to review their stance on each rider and then weigh in with my own 2 cents. This should be fun as I always enjoy showing Matthes how and why he is wrong.
1- Ryan Villopoto–I am going to have to follow along here in my praise for the 4 time defending champion, Ryan Villopoto. Early in the season, there seemed to be some vulnerability in RV1's game. He didn't look to be the dominant rider we were accustomed to and other riders proved that they could win in a heads up battle. As the series continued, however, Ryan showed just why he is the champ. He soldiered through injuries and illness, slowly building his points lead up into a comfortable margin. Before many even realized what had happened, his lead was 20+ points. His last 4 races were a huge statement, in my opinion. He surely had heard the early season detractors just like we all did and knowing his personality, he was not amused. He went on an 80 lap rampage, leaving bruised egos and broken hearts in his wake. He put his stamp on this championship with those last 4 wire to wire victories. I am sure there are still those who would love to talk about JS7's mid-season wins but Villopoto ruled with an iron fist when it mattered most.
2- Ryan Dungey–I think that Dungey is one of more underrated riders in recent memory. He won a title in his first try and has consistently been the biggest threat when the season ends in subsequent years. I do agree that his speed seemed to be a bit off from previous years but I also contribute that to more depth in the class. His struggles to pass were magnified by the increase in quality riders. He seemed to search for settings at times during the year and didn't appear to be overwhelmingly happy with the bike. But, as Ryan seems to always do, he put that aside and ended up 2nd in points. Many will point to his one win as a sign that it was an "off year" for the Dunge but no matter how you slice it, runner up in that field is no joke.
3-Kenny Roczen–KRoc was shot out of a cannon to start the season. He was on the podium almost every weekend and after winning the first round, looked like a serious threat for this championship. As the weeks rolled on, though, he started to show the tell tale signs of fatigue. His intensity seemed to drop a tad and he just wasn't the same guy. Early in the year, I was thinking he was the guy to beat before every main event but late in the year I just didn't have that same vibe. Whatever edge he had seemed to be a bit dull. He was still fast but he wasn't up front on every start and pushing the pace like before. I would have to agree that the grueling season took its toll on the German. We have seen this before from him (outdoors 2012) so it shouldn't be a surprise. Still, he will be the man to beat for years to come. Stamp that.
4th- James Stewart–James Stewart was the fastest version of himself we have seen in a few years. I wasn't buying this Matthes theory of James being "different" and I feel like I was vindicated. Sure, he did, at times, show poise and patience. Even still, he had crashes and weird races that blew any chance for a title. His A1 crash was his season in a nutshell for me. He looked incredibly in control, comfortable and had the race in hand until WHAMMY and he is on his head. No one will ever doubt James' skill set or raw speed but to win a title ever again, he HAS to eliminate that tendency to toss it away. The talent level in the field is too high to give away 25 points on a random crash.
5th-Justin Barcia– As Steve Matthes stated , Justin Barcia's 2014 season was far below everyone's expectations. I wasn't quite as high on Bam Bam as Steve was but I certainly thought he would be a factor. I attribute his struggles to where he felt with the bike. Whether or not you believe there are issues with the bike, all that matters is if Justin believes it. Much like Chad Reed in 2013 and Eli Tomac this year, the Honda chassis has them flustered and unsure of a solution. I think the switch next year could be a good move for the 51. Mentally, he must feel like it is a positive move or he would have stayed at Big Red. Simply being excited for the switch could be the catalyst he is searching for.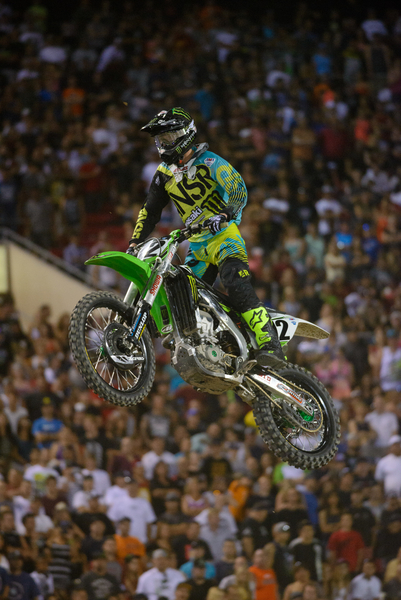 Jake Weimer's season was a write off but he did make the top 20 in points.
6th- Andrew Short–Andrew Short had a solid year. Period. He didn't land on the podium, which would have been huge for both rider and team, but he was still there every weekend and won a ton of Semi races. He is THE class act of the paddock and if you have a child, teach them to be more like this guy. I know Andrew is always looking to get back to his form from a few years ago but keep in mind that he also 30+ years old and the field isn't getting any shallower. I am fully on board with Matthes here, Short had a good year and 6th in the championship is something to hang your Fly Racing hat on.
7th- Justin Brayton–Justin Brayton's season was eerily similar to Ken Roczen's. They both started out simply on fire and then seemed to lose that razor sharp edge. Justin obviously was a bit different in the fact that injuries piled up and eventually forced him out of the series. Still, he proved he can be up front and battle for the lead which is a highly sought commodity. Where he lands in 2015 is yet to be seen but in the right circumstances, he is a week in/week out podium threat. That should be highlighted, written in bold and all caps in his resume. It's a huge plus in the Justin Brayton pitch.
8th-Josh Hill– Josh Hill finally, finally, finally made good on the investment that Carey Hart has continued to make for the past 4 years. I saw flashes of this speed at Minneapolis last year, when he won his heat race but he still needed that 20 lap performance to show everyone. He didn't have a great year, in my opinion, as there were a ton of highs and lows. I am a little wary of what situation he will find himself in come 2015 but there are a lot of chips yet to fall. I would imagine his agent is beating prospective teams over the head with the results from April 26th. Just like with Brayton, podiums are a strong pawn in this silly season chess game.
9th- Broc Tickle–Broc Tickle was on pace to easily have his best 450 supercross year to date. He had everyone, including me, nodding our heads in approval this year. He was noticeably faster and pushing towards a podium each week. If his starts were even decent, he could have been right there more than once. His horrific crash and subsequent injury in Canada certainly put a damper on what was shaping up to be a fantastic season but I like to look at the positives. Many wondered if he would ever be able to turn up the pace from his current form and I think he proved that he can. Take that, cheese pizza!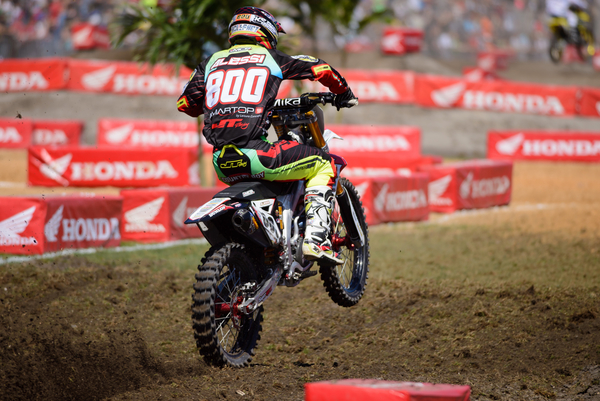 Thomas thinks Alessi was better than ever this year.
10th- Mike Alessi– I am going to have to disagree with Matthes here. I think that Alessi was EASILY better this year than last year. His results might not show the whole story but he won the opening heat race of the year and was able to run the "leader pace" many times during the season. His downfall was a lot of weird crashes and bike malfunctions and the results become skewed as a result. The bike setup change that was steered by Byrner was key in this improvement. He was night and day better in the whoops in 2014. That has always been his Achilles heel in supercross and to eliminate that liability was a massive coup. I do think that having to rely on their own resources to develop the bike contributed to the mechanical failures and that is tough to justify. These bikes should be able to finish a 20 lap final every weekend.. End of story.
11th- Wil Hahn– I was a bit pessimistic about how Wil's 2014 campaign would go. As a person, Wil is top notch. Every team would love to have him around. I just thought that he might struggle to meet his own expectations coming into the season. I think I was proven right and wrong at different times this year. Some of the races he did seem a bit off the pace and where I would have guessed. Other times, at Oakland or Atlanta for example, he was very much on the level and very competitive. It was definitely a bummer to see him suffer a big injury at St. Louis as he has been through quite a few of those in the past few years. He is one of the guys fighting for a few top level rides but like I opened with, his personality may help win out. Never underestimate off the track value when these jobs are up for grabs.
12th- Weston Peick– Weston Peick continued his improvement in 2014, passing some serious contenders along the way. He was very hit and miss, though, as the points show. A few big crashes (Phoenix was scary) and bike problems cost him valuable points. As both Steve and Swiz pointed out, this summer will be the big test. All of the distractions are now gone and the stage is set to see what he is capable of. In essence, he is getting his dream shot. I expect him to step up and deliver. Other than his gear, that may hold him back.
13th- Eli Tomac– I think the jury is still out on Tomac. He certainly seemed to struggle at times but keep in mind he was very good in timed practice before the aforementioned shoulder injury at A1. I do think there was something to the bike problems that both he and the rest of the Honda riders were complaining about. I think as the bike improves (and it will), so will Eli. Eventually he will find himself in the thick of the fight. He is too talented and too driven not to.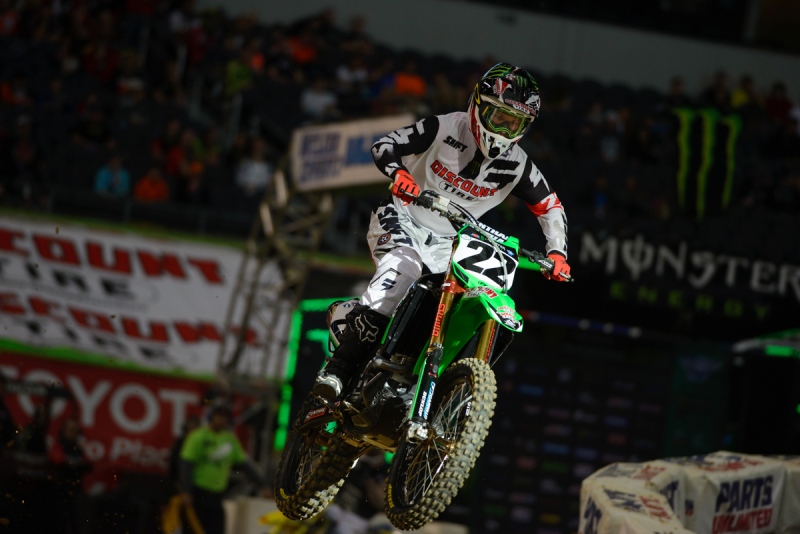 Thomas agrees with Matthes on Reed being the story–on the bike not mattering all that much, not so much.
14th- Chad Reed– Chad Reed was THE story of 2014 until his crash at San Diego. I do agree there. Where I disagree, and strongly at that, is in Matthes' belief that the bike doesn't matter all that much. I think the bike plays a HUGE role in how a rider does. Look at Langston in 2007.. He gets the new and improved 2008 chassis and goes on a tear and wins the outdoor title. Villopoto in 2011 gets the 2012 chassis and immediately catches fire and takes off with that title. James Stewart switches to a Suzuki for the summer of 2012 and wins 4 straight motos before injuring his wrist. Chad Reed complains about the new Honda for 2013, switches to a Kawasaki for 2014 and is immediately back to his old self. I really think Matthes is way off on this one. Sure, the rider is the key component but the thought that the machine is a small piece of the puzzle is silly and flat out wrong in my opinion.
15th- Nick Wey– Nick Wey was going through many of the things I experienced in 2012. While his results were certainly better than mine that year, he was still being beaten by riders he didn't feel should beat him. It's a very difficult pill to swallow and frustration mounts as it just doesn't click like it used to. The kids improve and gain confidence and as a rider in your 30's, that prime physical and mental game starts to slip a bit. Even still, he was out there in almost every main event, earning points and building on his legacy. For Nick, the key is to keep everything in perspective. He is about to turn 34 years old and most pro riders can't hack it for 3 or 4 years, let alone 15 or 16. That perspective is even more difficult when Nick was once a podium guy and is now working hard for a top 15 finish. It's just a tough adjustment to mentally accept it. In any case, if 2014 was the last year we see the 27 and his leather vest, the sport will surely miss him.
16th- Josh Grant– I am on board with Steve's assessment here. Josh has always been the "fast but erratic" guy. He couldn't seem to put consistent seasons together but he would always have a main event or moto that just blew everyone's mind. He didn't have that this year. I don't know what that means for 2015 but me thinks it can't be good.
17th- Chris Blose– Chris Blose made the 2014 supercross season happen by any means necessary. The man was racing out of a rental car for crap's sake! Finishing in the top ten with this field and those circumstances is very commendable. Great job.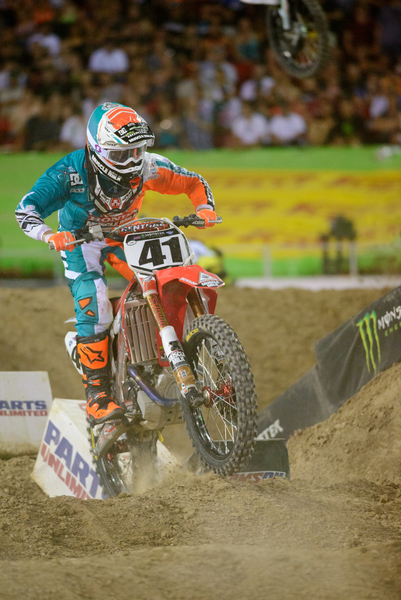 Thomas says speed and talent are not lacking on the #41.
18th- Trey Canard– Fly Racing's Trey Canard missed a huge portion of the series due to a nasty wrist injury suffered in pre-season training. I agree that he was probably looking more towards a fresh start at Glen Helen but knowing Trey, he also wanted to prove that he is one of the top guys before the SX season ended. Speed and talent are never lacking on the 41 so hopefully his troubles are behind him and he can display his true colors this summer.
19th- Matt Goerke– Beef had a rough and tumble 2014. Matt Moss did him the favor of breaking his finger at A1, requiring surgery and weeks of struggle. Then came the big get off at St. Louis and it has been on the couch ever since. Hopefully he can put in some great results in this outdoor season and either re-sign with BTO/KTM or find a good home elsewhere.
20th- Jake Weimer– Jake Weimer has a very serious summer ahead of him. With all of the teams and rides up for grabs, Jake's name has not been one I have heard often. He needs to make some noise in a big way in the next 24 motos if he wants good equipment and multiple 0's in his salary. The skill set, bike, team and opportunity are there… Can Jake make his case for 2015? We are a few days from starting the 12 week answer.