Here are four major players from The Helen talking moto
Here are four major players from The Helen talking moto
Photos by Simon Cudby
Brett Metcalfe
You just do what you do. No one talks about it, no one gives it much thought. There you are tied for 3rd overall, 4th overall on the day. You got to be pumped.
Yeah, pretty happy. Coming in today I haven't raced… Well, I did those three last year on my own, complete on my own. Coming in this year obviously a big team. Last two weeks have been a big change for me getting used to it. But it's kind of like, didn't really know where I was going to slide in. I haven't raced Supercross, I haven't raced these guys for a little bit for a big race in probably six or seven months, realistically since des Nations. So coming in I was a little nervous. But I got out there, good starts, besides moto 2. Two top 5s, 4 and 5. It was good. I'm happy with it.
How's your fitness? First race, you never know where you're at, how you're going to do. What'd you think?
I think I looked fine from the outside in. The first moto blew me. I didn't perform very well myself and I rode tight really early. Halfway through I was like, give me the flag please. So that was a struggle and I didn't really recover from that all day for the moto 2. But I rode much better. We made some changes. Got to thank the Monster Kawasaki team here. They made some really key moves for me for the 2nd moto. Freed the bike up and made me ride much more fluid. I was able to get in the zone a little bit better. I think the 2nd moto I rode better, but just the start wasn't very good in that 2nd moto and I came through, made some moves and moved up, so that was cool.
Nice to come around and see Canard and Stewart laying down too in the first moto, right?
Yeah, that first moto I gave away myself. I was up front and I didn't ride the way I needed to and I kind of gave it away myself. And then those two dudes did the same thing even worse. They were on the ground so I can't complain. I took those whenever I can take them.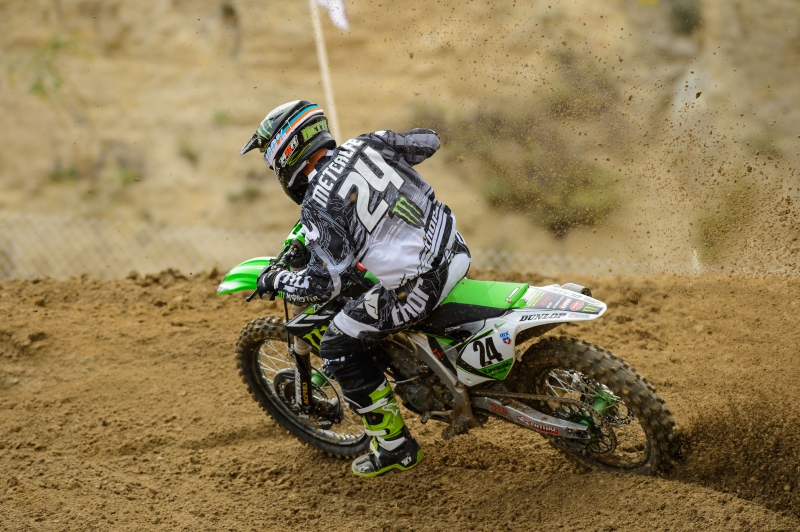 Metcalfe tied for third overall at the Helen
And what about the track?
The track was brutal at the end there. That last moto… It was awesome to see. It's good to see Glen Helen back on the circuit. There was some sketchy stuff out there as always. You always expect that. Every lap you're on your toes. That's the beauty of this track and it's also the beast of it. But I enjoyed being back here, and looking forward to this whole season. I'm just happy to be racing here. It's all good.
What about hanges on the bike for Hangtown. Nothing like race pace to figure out where you're at in your testing. You think you're good but then the gate drops and things change. What do you want to change, if anything, on the bike?
Not a lot. Coming in two weeks ago it was like a whole new ballgame for me. It's no joke. The bike was completely different. I just said, give me the thing, let's spend as much time as we can so I can adapt to it and learn about it. This was just the biggest learning curve today for me. And then, what changes are we going to make? Pretty minimal. I thought my pace was good. The way I need to approach the race, the way I need to ride is more than what we need to do to the bike.
So you're telling me the Factory Monster Kawasaki is a little different than the Aussie Dave Racing/Metcalfe machine?
(Laughs) Yeah, and also throw in the Canadian Monster Energy Leading Edge team. It's a lot different. The bike's a weapon. It's good. I need to ride it the way it needs to be ridden, and then it's really, really good. But if you don't ride it right it's not that great. You can really wear yourself down. You got to ride it fluid and relaxed. That first moto, being the first moto in a long time, I didn't do that. So I got to really mentally just lock in and ride correctly from the start. But overall my lap times and splits were really good the second moto. I was strong the second moto after those changes. That made me a little more happy. The first moto was a good result but I wasn't stoked on that.
*****
Chad Reed
It wasn't JT but it was one of your inner circle people that told me you would be happy to walk away from Glen Helen with a top 10, and you seem like you are and that's what you did.
Yeah, the goal was to try to come here and be inside the top 10. It's easy to say and then be happy with it once it actually happens and be on the backside of the top 10, not on the front side. But we just have to take it. Three weeks is just not enough. I've just been fighting myself and trying to be super patient on trying to get back and not blow out my hand, kind of all the same stuff I said on your show. It's just a matter of taking the steps. The positives are the bike felt good and I couldn't tell you that I've ever been at Glen Helen and been happy with the bike. And we only spent 2 days of testing. I think we're in the window, I just need to get stronger and get some bike fitness and I think we'll be fine. I think we'll be back in this thing pretty soon.
How's the shoulder itself? Obviously your hands, like you said, got to get in shape, your whole body's got to get in shape, but shoulder itself that probably was a big worry coming down the hills?
Honestly I didn't have any moments. Just rode well within my limits and didn't really push it anytime. As it's over and I finished 8th overall I think, it's kind of like part of me I feel like I left a lot out there. But I tried to be smart. There was a goal and I tried to fight to stay with that goal. No matter who was around me, I just tried to be consistent and just ride my race. It was slower than what I would have liked.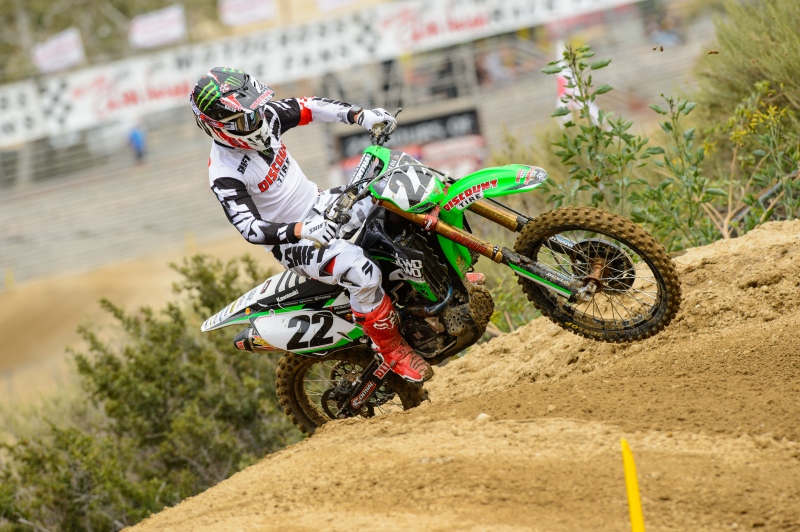 Tenth overall for Reed on the day but he's ok with that.
So was the opener in '09.
'09 there was a lot less guys. I want to say I went 6-3. I think I was on the podium in the last one. The only reason I say that is because I remember being up on the podium. I don't know if I pulled a K-dub and they just put me up there just to say hi to the fans or not. But way less guys and I was battling today with those same guys that I was battling back then. Stew wasn't there, but Tedesco and Short. So honestly we're happy. Now the challenging thing is to make big strides in one week and then do that again for Denver. Denver's a place that I actually really like the track but for whatever reason I struggle there. So I'll try to not struggle there this year. Overall I'm happy. We're here, we're healthy. And to answer your question about my shoulder, no pain, nothing like that. Just a little weak. I just felt like I didn't have the strength to just bullseye it down the hills and if I was to get a little out of shape, I didn't want to put myself in a vulnerable position so I just tried to be smart today.
Shorty had a good one right in front of you.
Actually it was funny… it wasn't funny, but he stopped by the truck and we had a laugh about it. I was kind of in the middle of the track and I tried to push him in there hoping that he would get in there, try to gauge off of me and actually get in there a little bit too hot and run wide. But then he was pretty committed to the inside so then I pretty much aborted trying to get to the inside and went outside and then next thing I just seen him eject towards me. I'm glad he's all right and I was able to hold him off.
****
Cole Seely
You lost a few spots in the first moto, that probably you weren't pumped about, but overall I think a good day for you.
I was still pumped with the first moto for sure. These guys are going so fast. I felt so solid. Made my way into 2nd from starting 5th or 6th. I was pumped. I was kind of in awe of myself. I felt so solid on the bike. We've been doing a ton of testing with the team. Honestly our testing was cut short because I filled in for Honda and kind of had to wing it there at the end but we've come up with some good settings. So I'm pumped and feel very strong on the bike.
Yeah, nothing wrong with it. You lost some spots but still that was a pretty impressive ride. Second moto again you came on later and kind of went to the front.
Yeah, I started 13th.
Where were you on the first start?
The first one maybe inside the top 10, still not a great start. I probably started 13th and then just started clicking away, clicking away, hitting my marks. Before I knew it I was in 7th and passed my teammate. Then unfortunately Wilson went down and then Anderson, I don't know what happened to him. Everything started falling into place. I feel like my fitness is way better than it's ever been. I think that's the main key to my success right now.
You had a good battle with Pourcel. Like you said, Nelson all over you. So it was good.
It was really good. It's tough to race your teammate because you can't be too aggressive and then once I passed him I was looking at Pourcel I'm thinking, this guy's smart. I got to be real smart to pass him. He's not going to just let this thing go easy.
Did you get him off that triple in the back?
I got him before the wall. Or no I didn't, I almost got him there. I got him, I passed probably seven people, probably all my passes really, in this front sand section. Everyone was going to the left before and I would just bomb down the right side, have the inside line and just hope they were going to shut off before I did. It worked out every time I tried it.
***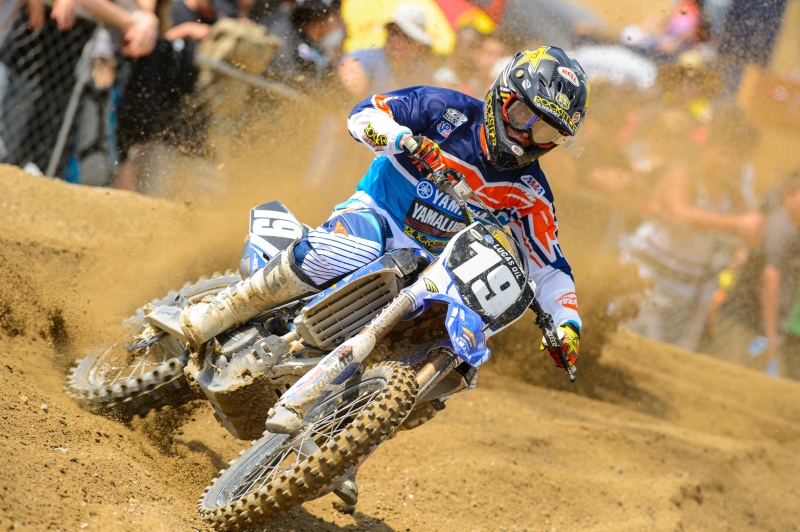 A 1-1 day at Glen Helen for Jeremy Martin.
Jeremy Martin
This was a day that you dream about as a motocrosser. Holeshots and 20-second leads and you did it. What a ride today.
It was a good ride today. I had fun out there. That Yamaha's working pretty good and I got a good group around me to help push me and get things in the right direction.
Your starts I guess were a big key getting out front, and even on the restart you got it again.
Yeah, these guys, they're fast. If I probably wouldn't have got quite as good a start it might have been a little bit of a different story.
I don't know about that. You were going 4 seconds faster like on lap 10 or whatever.
No, but these guys are fast. It's only the first round. The hype's gone. Now you got a lot of teams, they're not happy. They're going to work harder. I got to step my game up and I just got to keep moving forward.
You always struck me as an east coast kind of guy. Obviously we know you haul ass at Millville and stuff. The second half of the season last year the tracks seemed to be better for you but maybe not, maybe SoCal's where it's at. You don't strike me as a SoCal guy.
I don't necessarily enjoy being out here a whole lot. I like the east coast, laid back kind of relaxing. But I've been out here since Daytona with the team and it's been a big change for me. I've been able to get a chance to ride the tracks and get used to the hard pack and stuff. I think when you're wanting to get better, even if you come out here for a while you can learn a lot, and I've learned a lot from riding it. I think it's benefitted me quite a bit.
Tallahassee normally for you, right?
Yeah.
So the Thursday Stopwatch National here at Glen Helen never bothers you?
It gets kind of old, that's for sure. But if you go there and you focus on yourself I think it's fine. I get to go back after Colorado so I'm looking forward to that. I get to have Meanie Jeanie beat up on me, and I'm looking forward to that too. They're a good group. They feel like family and I really enjoy that.
Only guy to consistently do that triple after the finish line all day. You had that thing nailed. Looked like you came up short a couple times, but it didn't scare you. Did you come close to eating it?
The one time I did. But I just knew I needed to do it and I wanted to make sure that I kept doing it. I figured they were doing it behind me because they were pretty much doing it all day and I just figured I had to do it.
What happened on the last lap of the second moto? You lost a lot of time. Were you just going slow because you had it?
I just slowed down. I was kind of enjoying the moment I guess you could say. I've never had that before. I just kind of slowed down, enjoyed it. It was pretty cool. I kind of took it in, was looking up the hills and stuff and looking how rough it was, and the sun was starting to come into your eyes. It was just a good lap.
First Yamaha 250 win since 2004, you and Cooper Webb. You just re-signed with the Yamaha Star guys. You're kind of the face of the younger program. You've got to be stoked about giving Yamaha a win here, and then again like I said being sort of the face of the program.
Yeah, it's cool. I don't need to be the face of the program. I just love doing what I'm doing. I want to do good because I work hard and I know I can do good. It's cool to be on the face I guess. I just want to do good for those guys because they gave me an opportunity at the end of 2010 and no one else was there. So it's pretty awesome that these guys picked me up and they saw something in me and here we are a couple years later and it's nice to say thank you.