The World Motocross Championships march on.
The World Motocross Championships march on.
Cairoli and Herlings win in Britain
Words: Jonathan McCready
Pictures: KTM Images/Ray Archer and YS
It was an emotional win for Italy's Tony Cairoli only ten days after the shock passing of his father. Cairoli wore black AXO gear all weekend as he continued to mourn the loss of his dad who had been behind him his entire career.
But in true Cairoli fashion he did what it took to win the GP after a hard fought win in race one after holding off a determined Steven Frossard. A bad start in race two saw Cairoli have to work from outside the top five, he got the gap to leader Desalle down to four seconds with three laps to go but a mistake brought the gap back to five seconds and Cairoli settled for second and the overall win.
Clement Desalle was dominant on a wet and rutted Matterley Basin on Saturday and it looked like he would in the GP on Sunday but Desalle got passed by Cairoli and Frossard and just as he was putting a charge on the catch them he went down hard. Desalle was back in fifth but got his teammate Strijbos for fourth, however it was not the race Desalle had envisaged.
The Belgian showed he still had the speed by running away with race two until Cairoli put some late pressure on but Desalle hung on for the win and second overall.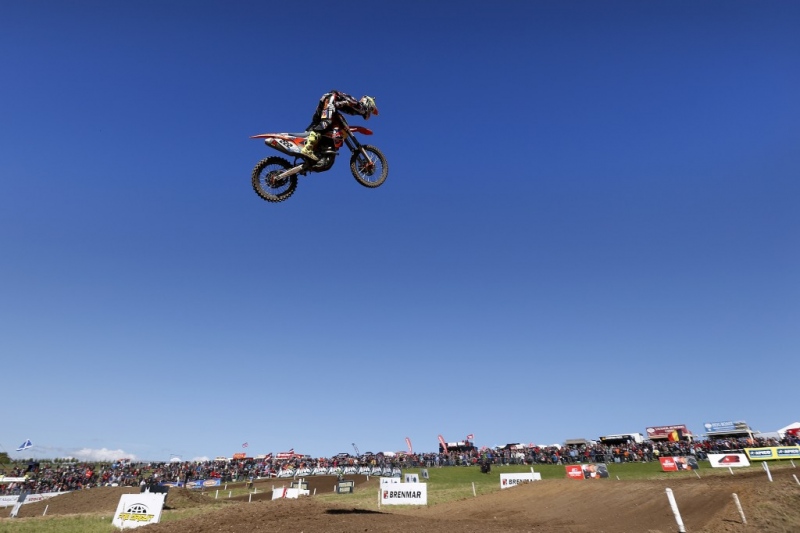 Just days after hs fathers sudden passing, the #222 captured the win.
Jeremy Van Horebeek was third overall but didn't have the pace to challenge for the win all weekend, however he made the most of what was a sub-par day for the Belgian to still mount the podium.
Tyla Rattray somehow got fourth overall. Rattray struggled all weekend, outside the top ten in timed qualifying but good starts saved Rattray's GP. Tyla started third in race one but slid down the order to eighth. In race two he got away fourth and finally hung on to the pace of the leading trio for a while to stay in fourth in what was his best ride of the year. This might turn out to be the moto that saves Rattray's GP career.
Britain's Tommy Searle rode his first full GP weekend since his horror crash in Thailand. Searle had two bad starts but rode strong in both motos to get an impressive fifth overall at his home GP. Searle will only get better from here on out.
Steven Frossard should have been challenging Desalle and Cairoli for the race win in moto two but a first turn crash let Frossard at the back of the pack and he laters DNF'd. Frossard is still searching for consistency but he showed this weekend that his speed is back.
It was an embarrassing day for HRC Honda who already had Max Nagl injured. But Evgeny Bobreyshev was finally healthy and ready to go for a podium only he wasn't allowed in the UK! The Russian wasn't granted a visa so while his team was there the rider wasn't. HRC will be hoping their luck turns around soon.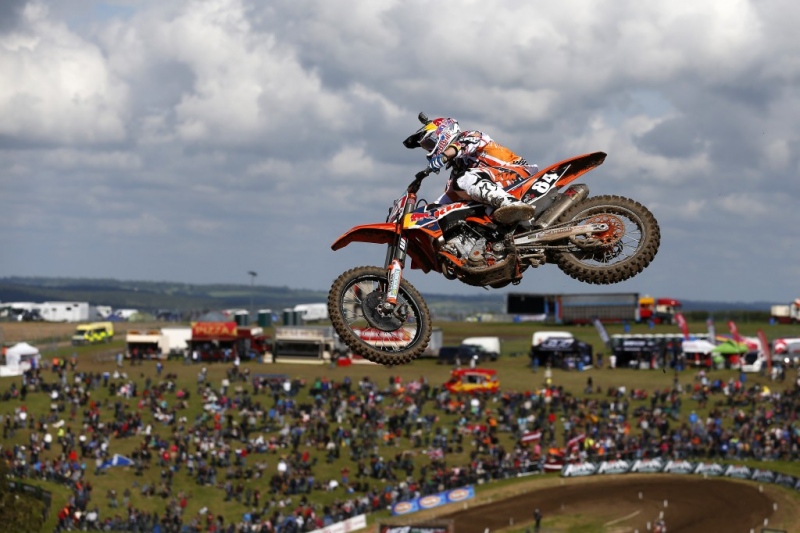 Herlings won! Again…
In MX2 Herlings dominated but did have to contend with Arnaud Tonus for the first ten minutes of race two. Tonus had Herling' speed in the beginning but just couldn't sustain that pace to the end of the moto. Tonus is still Herlings nearest challenger but Herlings has his number right now.
Tim Gajser saved the day for HRC Honda with his first ever GP podium. The 17 year old Slovenian was fourth in race one and came from tenth for fourth in race two before getting stuck behind Ferrandis when he stalled and coming from sixth back up to third.
Gajser was feeling the flow in the that second moto and this should be his first of many GP podiums, the kid could well be a future world championship and will be hot property this off season.
Tixier missed out on the podium on a tie-break after not being able to pass Romain Febrve for fourth in race two. But he rode well for second in race one holding off a motivated Max Ansie to do it. Tixier is now up to fourth in the standings.
Anstie looked back to his Qatar and Thailand GP form at the British GP where he finally rode the 2014 Yamaha. The Brit was the only rider in MX2 to do the quad jump and worked his way up to third in race one cheered on by the home crowd. But in race two he was forced to retire two laps in after a rock damaged his finger.
This was the first GP track that Thomas Covington had raced before but, in keeping with the last few GPs, Covington didn't show his best form until the final moto of the weekend. But in that second moto Covington was on the gas to work his way into 11th position passing teammate Ferrandis to do it.
Covington currently lies fifteenth in the championship but that second moto ride should do wonders for his confidence. But as is the case every week, Covington will be riding a completely different track next week again in France and it will be a question of how quickly he can adapt to the surface.
MXGP Overall top ten: 1. Antonio Cairoli (ITA, KTM), 47 points; 2. Clement Desalle (BEL, SUZ), 43 p.; 3. Jeremy Van Horebeek (BEL, YAM), 40 p.; 4. Tyla Rattray (RSA, HUS), 31 p.; 5. Tommy Searle (GBR, KAW), 31 p.; 6. Kevin Strijbos (BEL, SUZ), 30 p.; 7. Shaun Simpson (GBR, KTM), 27 p.; 8. Jake Nicholls (GBR, KTM), 26 p.; 9. Steven Frossard (FRA, KAW), 22 p.; 10. David Philippaerts (ITA, YAM), 20 p.
MXGP World Championship Classification Top Ten: 1. Antonio Cairoli (ITA, KTM), 351 points; 2. Clement Desalle (BEL, SUZ), 323 p.; 3. Jeremy Van Horebeek (BEL, YAM), 316 p.; 4. Kevin Strijbos (BEL, SUZ), 250 p.; 5. Gautier Paulin (FRA, KAW), 205 p.; 6. Maximilian Nagl (GER, HON), 166 p.; 7. Steven Frossard (FRA, KAW), 164 p.; 8. Shaun Simpson (GBR, KTM), 159 p.; 9. Joel Roelants (BEL, HON), 153 p.; 10. Xavier Boog (FRA, HON), 145 p.
MX2 Overall top ten: 1. Jeffrey Herlings (NED, KTM), 50 points; 2. Arnaud Tonus (SUI, KAW), 38 p.; 3. Tim Gajser (SLO, HON), 38 p.; 4. Jordi Tixier (FRA, KTM), 38 p.; 5. Romain Febvre (FRA, HUS), 31 p.; 6. Aleksandr Tonkov (RUS, HUS), 27 p.; 7. Jose Butron (ESP, KTM), 25 p.; 8. Damon Graulus (BEL, KTM), 23 p.; 9. Dylan Ferrandis (FRA, KAW), 23 p.; 10. Jeremy Seewer (SUI, SUZ), 20 p.
MX2 World Championship Classification Top Ten: 1. Jeffrey Herlings (NED, KTM), 344 points; 2. Arnaud Tonus (SUI, KAW), 305 p.; 3. Romain Febvre (FRA, HUS), 263 p.; 4. Jordi Tixier (FRA, KTM), 253 p.; 5. Dylan Ferrandis (FRA, KAW), 248 p.; 6. Tim Gajser (SLO, HON), 209 p.; 7. Aleksandr Tonkov (RUS, HUS), 197 p.; 8. Jose Butron (ESP, KTM), 184 p.; 9. Glenn Coldenhoff (NED, SUZ), 176 p.; 10. Valentin Guillod (SUI, KTM), 173 p