Thomas and Matthes talk about the impending Barcia move
Thomas and Matthes talk about the impending Barcia move
Hammerhead Designs was launched with the intent to provide new and better parts and innovative accessories for motocross bikes. One of our goals has been to design entirely new and unique products with improved ergonomics and the shift lever was the first part that we felt could be dramatically improved by providing a feature that would allow for the shifter to be repositioned to perfectly suit the riders size, shape, and preference.
Photos by James Lissimore
This week's column is going to be a discussion between Steve Matthes and myself about the impending move by Justin Barcia. With him getting ankle surgery and being out for the summer, he'll never race a Honda again as he's leaving his long time home at Honda and moving over to the JGR Yamaha squad for 2015. It's an interesting move with many reasons behind it and ripple effects stemming from it.
JT: I am still not quite sure what to think about this move. It isn't a big secret that Barcia has been unhappy with his Honda. The new Honda, watching from afar, seems to be a bit quirky and tough to get dialed in. Barcia's frustration is going on its second year and he was becoming more and more vocal about it. Sometimes when a rider has been with the same team/manufacturer for his whole career, as Justin has, a change can revitalize a career. He looks like he could use a change to cheer him up and add some fun to his program.
Matthes: Well something is definitely wrong with him this year. His "people" will have you believe it's the bike (oh no, here we go again) but he did pretty well last year, his first on the 450. Supercross wins, lots of podiums indoor and out- how much better could he have been as a rookie in the big bike class? Oh well, sometimes change is good. JGR struck out pretty bad on the James Stewart acquisition in their only other "big time rider" signing but I really don't think this will be anywhere near that experience. But if Barcia thinks it was all the bike and now by switching to a blue one he's going to win- well I'm not buying it.
He's never ridden anything but a Honda (he was on the brochures for the CR80 people!) so it's got to be a bit of a bummer for the red crew to lose him. I think this is a lateral move for Bam-Bam but who knows, maybe he can step it up. The Yamaha has come a ways back from it's initial launch huh JT?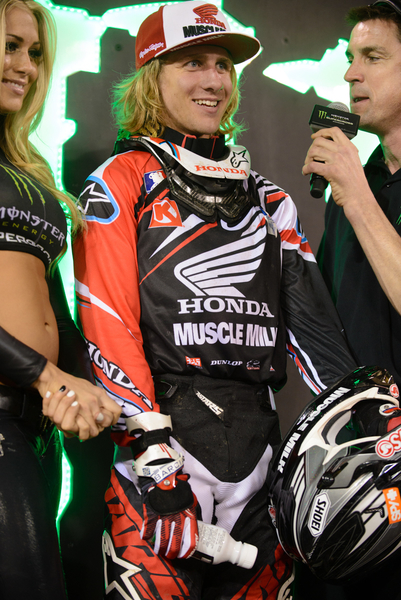 Barcia's been a lifer at Honda…going to be weird to see him on blue.
JT: I sorta agree on the lateral move idea. The Honda has taken its share of criticism as of late and he is walking into a motorcycle that has also taken an absolute beating over the past few years. The 2014 model seems to be improved but it is still the reverse engine design so it still has the same basic characterstics. Moving from one motorcycle he doesn't seem to care for to a different motorcycle with a troubled reputation seems peculiar. Surely he has ridden the JGR bike (legally he isn't allowed but it always happens) so I am sure he knows what awaits him. One thing I can see him enjoying is the massive horsepower that the Yamaha wields. The production Honda unit is way down on power and while I am sure the factory edition is far superior, fast production bikes often lead to fast factory bikes and vice versa.
On JGR's end, they went through a nightmarish tenure with James Stewart and even though they won races, it was still far less successful than anyone anticipated. They won't want to repeat that episode so I am sure they are preparing in earnest for Bam Bam's arrival. Josh Grant and Justin Brayton are both exceptional riders but if Barcia is at 100%, I feel he is a genuine title threat while the current riders aren't quite there.
Matthes: I wonder how much of Barcia's move was for money or a better bike or just ego? First of all let's tackle the money thing. There's no doubt Honda is a top notch team that pays its athletes well but they also have Trey Canard and although Muscle Milk is a good outside sponsor, it's not the title. The team is still called "Honda Muscle Milk" and one would think that the red guys didn't get the price they needed to call it "Muscle Milk Honda" like when it was "Red Bull Honda" a few years back. I would think that JGR can outbid Honda but I'm not sure. Wonder if that was what did it?
If you're going for the bike then that's weird to me. Although it's better than it has been for a while, the reputation of the YZ450F isn't a strong one in the pits and yes, he definitely rode the bike before agreeing to a contract. But then again, so did James Stewart and we saw how that turned out. The JGR guys recently switched back to KYB suspension components and it's a work in progress. And factory Honda, although not in the mid-80's HRC so-much-better-it's-not-even-funny mode anymore, are still full of smart guys who can make a bike do and feel however you want. I really strongly feel the bike thing is a wash but for a rider who hasn't had a good year, the grass is ALWAYS greener on the other side.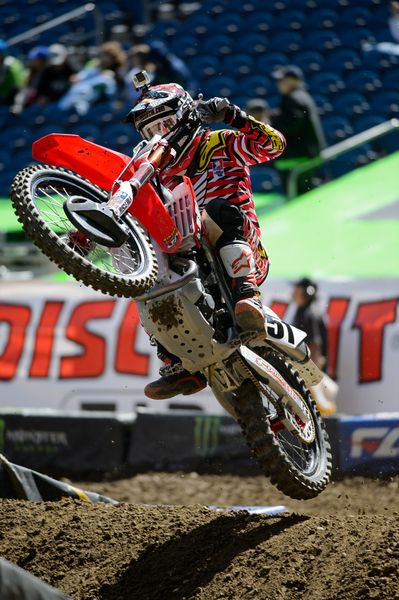 2014 hasn't been the expected Barcia break out year.
And lastly there's ego. It's no secret that Barcia and Trey Canard aren't best buddies-although they're better now than they once were. Justin is often being beaten by his teammate and he's not "the man" on the teams. Do not ever underestimate how these top riders want to be "the man". I'm 1000% sure that JGR's pitch to Justin is that he'll be "the man" and will get all the attention and love from the guys. And maybe from Yamaha itself. It's amazing that a rider can make over a millions dollars a year and still not be happy but it's out there. Perhaps Justin wants to be more loved?
What's it going to be JT-money, ego or bike? Why did he switch?
JT: I think it is a combination of these. I don't think that JGR made an offer that Honda just couldn't come close to. I have no evidence to back that up but it's just logical to assume that Honda has budget if they absolutely need it. I don't think that Trey is breaking the bank and with no other real superstars on the roster, there had to be money available if they felt justified. I do think there is something to being "the man" on the team but whether that is enough to prompt him leaving, I can't be sure. I really think it was a combination of many different variables. He has been at Honda, as you said, his whole amateur and professional career so he may have just wanted to change it up. Yamaha needs a legitimate threat, under the JGR umbrella, and I am sure they made him feel very wanted. Having a team not only desire your services, but being genuinely excited for the prospect, can go a long way in influencing a decision. Also, as I said before, their engine is visually impressive and the JGR guys seem to be up front on every start. Barcia has expressed his disappointment in his inability to get starts on his machine this year so I feel that may have also helped turn Justin blue.
I think there are way too many factors in play to point at one and consider it the tipping point. When you add all of these together, though, the picture starts to become clearer. Change, simply even for the sake of change, is sometimes enough.