Some of the front runners from Saturday speak
Some of the front runners from Saturday speak
Photos by Simon Cudby
Justin Bogle
You were leading, lost the lead in the first moto, but a good second moto. You still got to be happy. Maybe you're pissed, because you didn't win, but I still think it was a good day.
Yeah, it was a good day. It was a good learning experience today. I haven't led laps I don't think and it's been a long time either way since I've led laps.
You led Unadilla, didn't you? Early, your first year?
I led Pala my first year I think. Maybe I led a few laps last year like at Utah or something. Other than that, I don't know. It's been a long time. So good learning experience to get up there and lead some laps. Felt a little bit flat that first moto. I just didn't have it. Those guys rode good, made the passes on me. I tried to hang tough there and learn something, and picked up on the spots where I was slower in that second moto but I just didn't get the start that time. All in all good day, consistently up in he top 5. Good step in the right direction. Still got a lot of motos. I'm still trying to get up there and I need to be getting up on that podium every weekend, so that's my goal. Like I said, progression over perfection here. We're making progress and I can't be mad at that.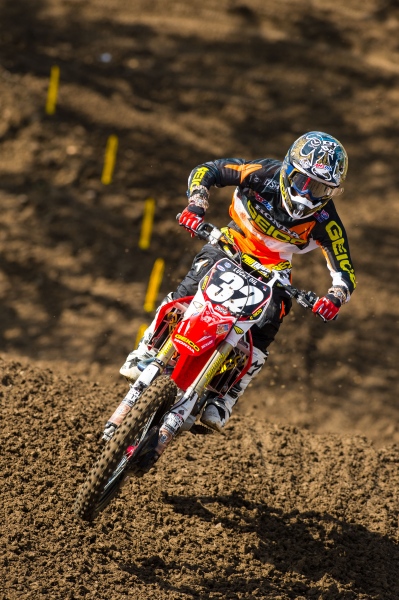 Bogle had a good day at High Point.
Tried for the pass on Pourcel over the hip jump. Couldn't get it, then you kind of weren't able to jump it. That kind of did you in. But it was a good battle.
Yeah, I really thought I had it. He's definitely tough to get around. He's a tough guy to pass. Last weekend it took me about 14 attempts to make the pass on him. So I knew it wasn't going to be easy. I thought I had it. Wasn't quite close enough. Again, just learning and going to learn and apply here and come back in Tennessee and try to get up there on the box.
Obviously you won a Supercross title, it was a great year for you. But really I'm impressed with your outdoor skills/fitness. They seem much, much better. I can't help but think the Supercross title and just everything's kind of just rolling for you.
Yeah, I appreciate that. It's been tough. A lot of people are writing me off for outdoors this year, which is fine by me. I know how hard I work. My trainer Ryan Federow has been an incredible part of my program. I owe a lot of this to that guy. Just feel like my fitness is good, my mind state is good. I know where I belong. Good confidence from Supercross of course. Winning a championship is always good for the confidence. I got a taste of that and I really want some of that. I want to get up there and be winning. I want to be up there on the box. I want to be fighting for this thing. Doing everything I can and I'm definitely not going to just lay down and let anyone have it.
You're back in Oklahoma my sources tell me. How's that?
It's good. I just got back last week and did some riding with Trey and Jimmy and my buddy Colt Nichols back home. Worked with Robbie a little bit. Actually Ryan came back with me last week and helped me get set up and stuff. It's good. Nice change of pace. California, I've been out there since like October, so gets a little bit tough to be out there for me, just being a Midwest boy. So it's good. I'm looking forward to the second half of the season. Like I said, we got a lot of time. Going to just keep plugging away.
Part of the good thing about being there too humidity, right?
Yeah, you get used to the humidity and the heat, all of that which we're going to have the rest of the season. All those cooler races I think are over with. We're going to have for the most part be hot and humid outdoor races, man stuff. I'm ready for it and I know it's going to be tough so I'm prepared.
****
Trey Canard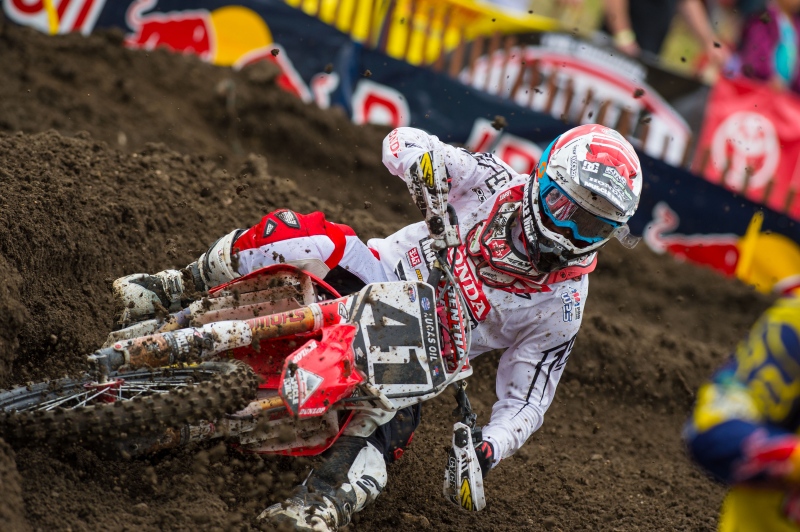 Canard was oh so close to going 2-2 at High Point.
You were two laps away today from going 2-2. Lost the front end in the first moto. But I got to say, and I told Kenny Roczen the same thing, it was a great day of racing. You three guys, and James to an extent too, really put on a show.
Yeah, it was fun. I had a good time. More so the second moto.
It's got to be so gnarly. You had two guys on you the whole time and it's 30 minutes plus 2, and they're not giving you any breathing room and you're coming up through the lappers. It's got to be tough.
Yeah, for sure. It's a lot of thinking going on. You try not to think about it but you're like, is he going there? Is he going there? I hear him there. I think I was a little for sure slower than those guys the first moto, which it's always a nuisance to come up on someone and be held up.
But you're still two laps away from holding them off.
Yeah. I felt a lot better about the second moto. I felt like I had a little more in the tank than the first moto. I thought it was good.
Starts were good.
Yeah, those were a huge bonus. I hate getting roosted.
One thing I noticed, you weren't jumping onto that table and those other guys were. Why not? Was it a little sketchy? It looked sketchy. Talk about that a little bit. I don't know if it was any slower but it was just something I noticed.
Yeah, I didn't think I was losing time and I didn't want to take risks there. I know it's stupid but you always think, that's where I broke my wrist a few years ago. There's always kind of that thought. I took a risk there and I'm like, I don't want to take a risk.
But it's kind of a different obstacle than when you did it.
Yeah, but it's staying. There's an aura there. It's very organic, very spiritual.
So you still happy with the day though and the way it went? Again, we saw those KTM guys run off and hide and everybody was closer. James went 1-1 today. You guys had about 27 seconds on the next guy, so it's shaping up more and more to be 4 of you.
Yeah, and hopefully it stays that same way. I think James and I need to work together, not in a strategic way but I think…
Like form a corporation?
Yeah, maybe start an LLC. No, I think that him and I have got to be careful around each other. We don't need each other particularly too hard to where one of us goes down because those guys do have a gap on us and I think that we've got to help each other kind of push up. I might be totally wrong. Probably get blasted on your forum.
Who cares. Stay off those things. It doesn't matter. Looking forward to the week off?
Yeah, it's always a good time to make improvements. It's so hard to really do a lot during the week when you go racing, so it's a good time to get some good training in.
Let's talk about Bogle for a second, not Albertson because he doesn't race anymore. Let's talk about Bogle. Very impressive this year. Fitness seems great. Obviously he gets a little confidence from that Supercross title, but he's stepped his whole outdoor game up and, like I said, his fitness seems great.
He works with Federow and Ryan's a really good guy, really knowledgeable guy. It's good for Bogle. I kind of had the personality of I almost don't want someone there. It's almost better for me to have a guy on the phone who comes once in a while to kind of make sure I'm doing everything right. He's kind of got that personality a little bit where it's kind of good for him to have someone there kind of encouraging him and pushing him. It's good. He came back to Oklahoma this week and got to do some riding together. I'm a big Bogle fan. I've always been a Bogle fan, so I'm happy for him.
He seems like, and maybe this is easy to say because he won a title and now he looks really good, but he seems like he's a little more professional. I don't know if that's the right word, but do you know what I mean? Like he's taking this a little more seriously.
He won the championship and I think that takes a little bit of pressure off because you always dream of that and you're like, what if I never do? And then you do it…
Some of us come out and win the first 4 races of the year in their rookie year and don't worry about it.
That's the bad thing to do, it just puts a lot of pressure on you to do it again. I think he's just in a good place in life with his rap career.
Why is he scared to talk about that?
I don't know. I told him that he should write raps about dirt biking.
Enticknap does.
That's what he said. He said I don't want to be like Enticknap.
What about Albertson's switch to the KTM? Are we for or against this?
He's like 8 seconds a lap faster. Sometimes people just need changes and he wanted change. He got some free KTMs, which really helps. When you're paying for bikes to get something free you're like pumped. So I'm happy for him. Hopefully this is a good change for him.
Thank you today for providing me, the spectator, with a great day of racing. I was very happy and it was great to see lots of racing and I like that. Thank you.
That was my big concern, you and John Knowles. I wanted John Knowles to not have to worry about me getting roosted and pulling tear-offs. And I wanted Steve Matthes to have a good day.
***
Ken Roczen
You didn't win so you're probably not happy, but as a guy watching the races it was exciting, man. You guys had some great racing today.
Yeah, for sure. I had really crappy starts which kind of bummed me out because I could make it much easier on myself. After being 15th after the first few turns in the first moto, I got in a good flow and I felt like I was killing it so I got up there pretty quick. But I had a few mistakes, like I hit neutral on one jump so I got passed again. Had some little issues and then I went down. So I had to work my way back up there again. Did a strong ride. I finished in 2nd again and I'm happy about my riding. I just really need to get starts down. The second moto I didn't have the best start again and was just up there. I really feel like at one point every time I got a lapper in-between me and the other guys and they had a gap, I feel like I could close it really quick but unfortunately I couldn't pass them and that made it much harder. I think 2nd overall on the day was still solid and as long as we keep it consistent it's all good.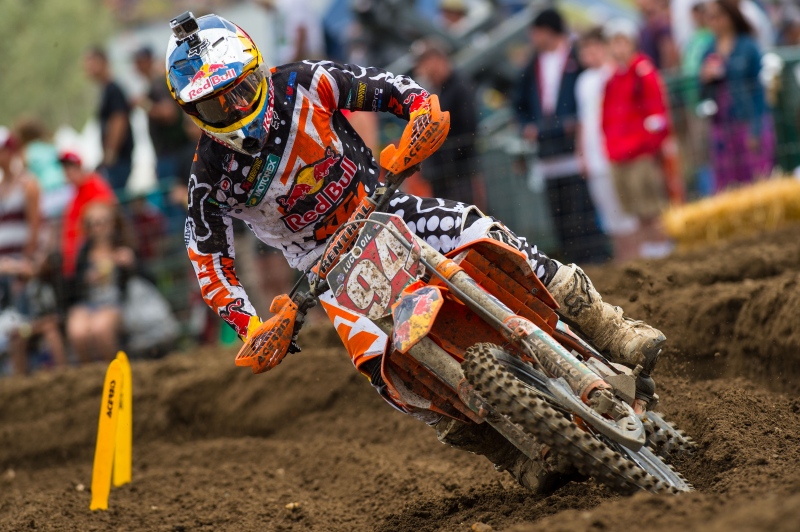 Roczen remains the 450MX points leader after a good day at High Point.
Especially for both motos, 3, 4, 5 laps in a row you were the fastest guy on the track, lap time-wise. So you know that the speed is there. Starts – what happened? Can you pinpoint it?
The first one I got crooked out of the gate and right then and there you're behind and then you're banging bars with other riders. Same thing in the second moto, I kind of just didn't have the best jump. As soon as you're behind the other guys' bars it's just a battle around the first few turns. The roost doesn't necessarily make it easier and you come together with other riders.
Track was sort of sketchy today, slippery. I think in the practice everything got pushed off and it ended up being pretty slippery and shiny.
I agree, especially in that first one. I was surprised. It actually looked pretty tacky but, man, on some spots it was just super slippery. That's what I struggled with a little bit.
****
Jeremy Martin
You didn't go 1-1 today but first moto was a strong ride from the back and second moto, without a fall you might have been right back up there.
I agree. Like you said, I think I would have been right back up there if I would have got a better start. Unfortunately kind of got stuck behind those guys and kind of fell into a pace. You know what? Leaving here in one piece and I'm excited. I get to go home and work on things. I got good people around me to help me and help me get better. This is in the past now. I know what I need to work on. I learned from my mistakes and I'm going to make it happen.
What about the second moto start? What happened? What went on?
Just a little slow out of the gate. My front tire, the way the gate is it's like at a tilt, and my front tire hit the gate. So then the holeshot device unlocked. But no excuses. If Baggett and them guys can go through the pack I need to be able to. I just need to commit a little bit more. There were a lot of lines on the track today but they kind of conjoined together. There was one or two good lines and you had to really hustle to get in them and to get around them. So it was a tough racetrack.
One of those deals where if you had gotten the start that probably could have been your or whatever. I was talking to a bunch of riders that said the dirt got pushed off, shiny, slippery.
I think the first 4 races I got out front and I got to set my pace and I got to go. Now these races I haven't had the best of starts so I've had to work through the pack. But I'm learning and I'm having fun and I'm going to change things.
You got the red plate, you're the points leader, you've been riding great. Do you feel like a little bit of a target with other guys out there? Say, even in practice they're jumping behind you, or in the motos they're maybe trying to race you a little differently or harder. Do you feel anything change at all with the red plate?
Yeah, I do, but I don't really look at it that way. I feel like I'm racing a hare scramble on the weekend. My dad won the hare scramble national championship and they always ran red plates, and that's what they do in Minnesota. So I just kind of laugh at it. Bring it on. I enjoy it.
Let's talk about Troll, 10-10 today.
We were by each other and I was messing with him and since he bashed me on your show I'm going to do a little bashing today. I blew by him down the hill. He said, whoa, I went off the track and hit the banners. I said, because you were trying to go my pace down that hill.
You don't understand, that's 3 miles an hour faster, Troll. You don't understand. Thanks a lot. Good job today.
Thank you guys and looking forward to Muddy Creek.